This post may contain affiliate links. As an Amazon Associate I earn from qualifying purchases. Please read our disclosure policy.
Two crazy flavors come together perfectly in this Detroit Style Reuben Pizza recipes! Pull this recipe together when you want to cook outside the box and in the pan.
We are going to get crazy with our Detroit Style Pizza series and mash it up with Reuben flavors. That's right, we are going to take the classic Reuben sandwich and put it on our current favorite thick crust pizza. Pizza traditionalists may scoff at this and whether it is technically a pizza or not, but I am a firm believer that you should eat what tastes good. This tastes awesome. So, here we are… not caring if it is technically a pizza or not and putting sauerkraut on our pizza. Join us as we make a Detroit Style Reuben Pizza.
What Makes This a Reuben Pizza?
We are not being strict about our interpretation in this Reuben Pizza, but we do have some great flavors on this pizza that are on a traditional Reuben Sandwich. We are adding sauerkraut, corned beef, and swiss cheese to this pizza. I decided to use mustard instead of Thousand Island dressing and there is no rye element to the pizza.
To be honest, one thing that inspired me down the Reuben path was a mustard pizza served by a Detroit Style Pizza shop in New York. I decided to make my own interpretation of this pizza and it was fun to explore. So, instead of going full-on Reuben, I decided to use mustard.
Irish History In Detroit
Corned beef certainly is not the summary of Irish food in America, but it is often associated as such. One of the things I love exploring is history and Irish immigration to Detroit is another thing that inspired this recipe mashup.
I often find local dishes by exploring immigration history and Detroit led me in the direction of this pizza mashup. Detroit was an early Catholic city and was an attractive destination for the predominantly Catholic Irish immigrants. The Detroit News reports that this is in large part because of the predominance of Eastern Protestant cities and religious intolerance. Catholic populations and Protestant populations did not always live in harmony and the Protestant majority may have made it difficult to be Catholic in much of the East. So, they moved to places like Detroit.
How Much Mustard To Use
This really is a personal taste, but it does not need much. I use about a quarter of a cup for the whole pizza. And I use a bottle squirt it diagonally across the whole pizza, so each piece gets a bit of the mustard.
Part of doing this job involves making mistakes. Mustard absolutely adds to the flavor profile, but one of the mistakes I made along the way was adding too much mustard on one of the pizzas I made. These are really some strong flavors in the pizza with sauerkraut and corned beef and we want the mustard to balance them, not overpower them. If you add too much mustard, you will know.
Around a quarter cup of mustard and spread it on the crust so each of the nine pieces get a touch of the sauce. What I did was take my bottle and just quickly squirt it diagonally across the pan so that each piece would get a touch of mustard.
Squeeze Dry the Sauerkraut
Moisture can be an enemy of the Detroit style pizza, so we want to make sure that we have dry ingredients going on to the pizza. So, for the sauerkraut, that means draining it and then using your hand to squeeze some of the moisture out of the fermented cabbage.
Corned Beef
This is a great way to use left-over corned beef from St. Patrick's day or whatever reason you made it. I was able to get a few pizzas out of a single roast, plus some left for sandwiches. An alternative to making a whole corned beef would be to get it by the pound at your deli. Honestly, it probably is more cost efficient to just make the roast and get a few meals out if it, with one of them being this pizza!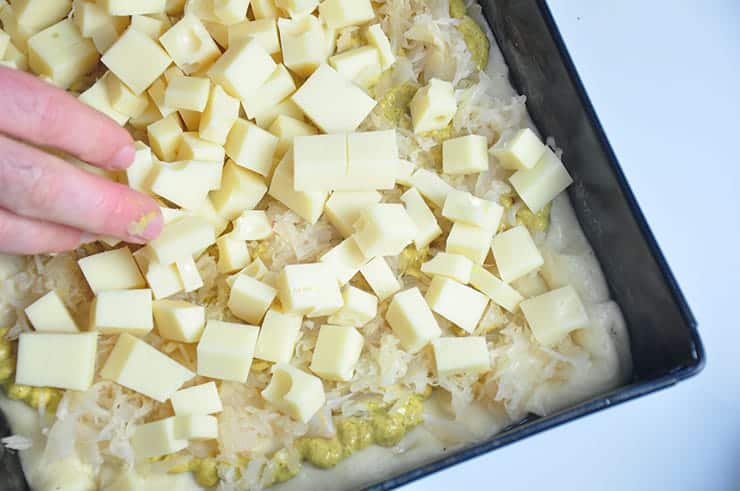 Detroit Style Pizza Pan
I purchased a 10 x 14 Detroit Style Pizza Pan that makes this style easier to make. The nice thing about this pan is it allows us to cook our Detroit pizza at high temps, but still get a nice crust at the center. Pick up your Detroit Style Pizza pan here!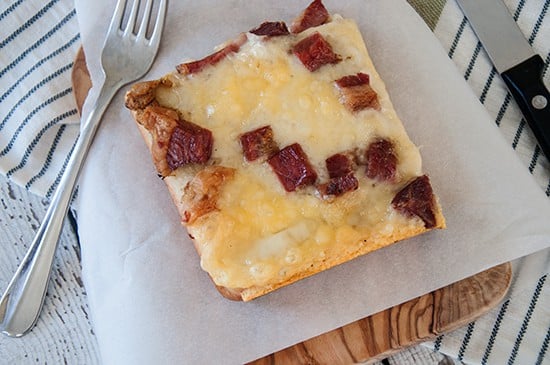 Ultimately, this is a fun pizza to make and you don't even need to call it pizza if it makes you feel better. It is a flavorful take on the Detroit Style Pizza that you can make at home! Let me know if you make it and how you like it. If you do, please take a second to share this on Pinterest and sign up to get emailed our latest updates.
Products I used in This Recipe
Print
Detroit Style Reuben Pizza
Author:

Ben Myhre

Prep Time:

2 hours 40 minutes

Cook Time:

20 minutes

Total Time:

3 hours

Yield:

9

Slices

1

x

Category:

Pizza

Method:

Baking

Cuisine:

Detroit
---
Description
This Detroit Style Reuben Pizza is tasty and has some great flavors. Between sauerkraut, corned beef, and swiss cheese, this pizza is a show stopper.
---
For Pizza:
200 grams

luke warm water

2 grams

sugar

1 grams

salt

3 grams

Dry Instant Yeast

65 grams

canola oil +

1 tablespoon

to oil pan

350 grams

bread flour

14 Ounces

Sauerkraut, drained and patted dry

12 Ounces

Corned Beef, diced

1

pound Swiss Cheese, chopped into small cubes
---
Instructions
Mix salt, sugar, and water in large bowl
Sprinkle yeast on top and let sit for 5 minutes
Add 65 grams of oil
Slowly mix in Bread Dough until it is all mixed
Put in Mixer with Bread Hook on low for two minutes or knead by hand for 5 minutes
Put in Oven with oven light on for 2 hours to let dough rise. If it is cooler in your house, also add a separate container of hot water to sit in oven along side dough
After two hours, add remaining oil to Detroit Pizza Pan and spread all around
Stretch dough to cover bottom of pan
Put Pan back into the oven with the light on for another 30 minutes to allow it to rise
Once 30 minutes has passed, remove pizza and preheat to 550 Farenheight, making sure one rack is on bottom space.
Press out any large bubbles from the dough and make sure dough covers bottom. Stretch out, as necessary.
Squirt mustard lightly across the dough, so that every piece will have a little mustard.
Spread drained sauerkraut across whole pizza.
Add corned beef and cheese.
Once preheated, add pizza to bottom rack for 13-17 minutes. Watch to make sure it doesn't burn, but you do want a nice golden brown crust with darker edges.
Remove and rest for 5 minutes
First, use knife to release crust on all sided. Then, use spatulas to remove entire pizza and put on cutting board.
Use pizza cutter to cut into 9 pieces.
---