New Orleans nightlife can feel a little naughty and so can this delicious hemp-based Sazerac spinoff, the Grasserac cocktail! As a bonus, it is tasty and fun.
You guys. I just couldn't help myself with this one. While pondering the mysteries of life and thinking about the Sazerac cocktail, the idea for this drink came to me… the Grasserac. So I toiled and stewed over my mixing cauldron and came up with what I think is a great drink that celebrates the Sazerac and makes great use of hemp-based vodka. Enjoy The Grasserac!
Ben. Why? Why You Do This?
To me, it actually makes a lot of sense that this should be a cocktail. One of a Sazerac's key ingredients, absinthe, has been demonized for a very long time. As we learned while looking at absinthe history, the drink was banned in the US in the early 1900s. Somewhere along the way, they figured out the demonization was a bunch of hooey and in 2007 was reinstated as a legal spirit in the US.
Look, I choose not to partake in the wacky tobaccy, but I think it is easy to come to the conclusion that marijuana has been demonized for a very long time. It shares this past with absinthe and the Sazerac. We are not even using the real thing, but it's THC free cousin, hemp.
I just think the combination of the ingredients, hemp and absinthe, make for a great marriage in a story of troubled pasts.
Hemp Vodka
I knew the Grasserac needed hemp in it. I called down to my local Bottle Barn to see what they may have had in terms of hemp infused alcohol.
So, I picked up a bottle of this vodka, which was reasonably priced, and brought it home. The first step was to just taste the booze and get a feel for it. It tastes good. I am not a vodka connoisseur, but we did look at vodka a bit in our Moscow Mule series. A straight-up classic vodka should impart no flavor, but I didn't expect that from this spirit and that is what I got. It advertises a subtle nuttiness and that is what I got. There was no strong flavor, but a decent one that would serve as a good alcohol base with a twist of hemp.

Straight Vodka or Mix
While developing this cocktail, one thing I struggled with a bit is whether to use just vodka or to also use whiskey. I didn't really want to alter the cocktail in a way that would make it unrecognizable and wanted to pay appropriate homage to the original cocktail. After testing the cocktail out, I decided it needed both.
The Grasserac contains the Colorado High Hemp vodka and Sazerac Rye Whiskey. The whiskey gives the cocktail the flavor that people expect from the Sazerac. The vodka does dilute the flavor of the rye just a tad, but adds the subtle hemp flavors from the vodka.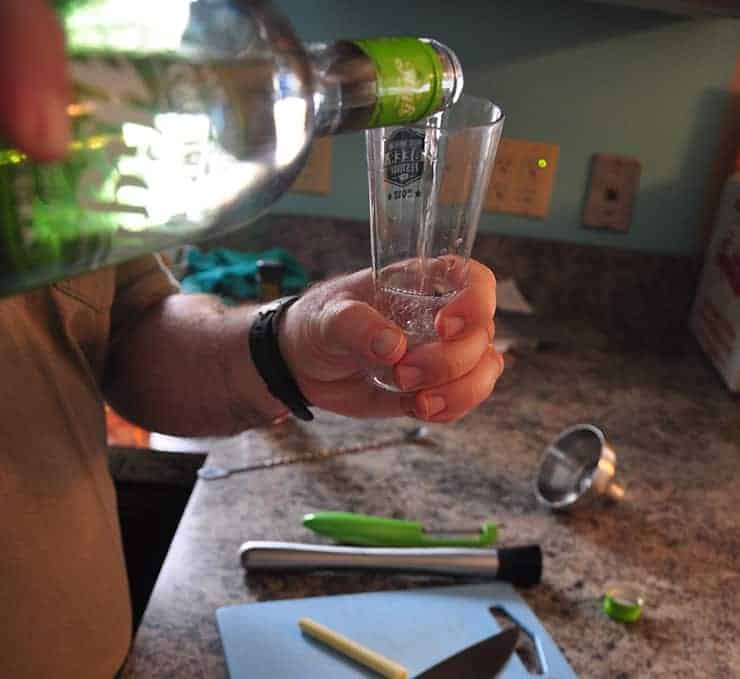 Enjoy the recipe and sign up to get my updates via email.
Print
The Grasserac - Sazerac's Hemp Based Cocktail Cousin
Author:

Ben Myhre

Prep Time:

2 Minutes

Cook Time:

3 Minutes

Total Time:

5 Minutes

Yield:

1

Drink

1

x

Category:

Cocktails

Method:

Stir

Cuisine:

New Orleans
---
Description
The bad boy of the Sazerac is its absinthe. Pair that with hemp infused vodka for a double dose of bad boy with The Grasserac!
---
1

Old Fashioned Glass

1

Mixing Vessel for muddling, mixing, and straining
Ice
Water

1

stick of lemongrass

1

Sugar Cube (SEE NOTES)

4

dashes Peychaud's Bitters
Dash Water

1 ounce

of hemp vodka

1 ounce

rye whiskey
Splash of absinthe
---
Instructions
Fill Old Fashioned Glass with Ice and cold water
In mixing vessel, add 1 sugar cube and add bitters
Add 1 " of the stick of lemongrass
Add a splash of water
Muddle
Add ice to mixing vessel
Add vodka and whiskey
Add whiskey
Empty the glass filled with ice water
Add the splash of absinthe and swirl around to try and coat inside of glass
Dump any remaining absinthe
Using mixing spoon, stir whiskey vodka concoction for about 10 seconds
Strain into empty glass
Garnish with remaining lemongrass stick
SERVE
---