We just started our series on Chicago style pizza and why not kick it off with a celebration of all pizzas. Also, we are celebrating the 100th post on Ramshackle Pantry! YAY! That is right, we are at 100! I have already said it and will say it a few more times – Pizza is the perfect food. So, why not look at some recipes from around the web to get our mouths watering and our ovens in motion?
I am a regular on Christine's site and she is ALWAYS cooking up some great dishes. Pizza is one of my favorite foods and right below it somewhere is BBQ. All kinds of BBQ. Bringing BBQ flavors to the pizza pan is a fun way to change up a traditional pizza pie.
Flammkuchen, eh? In North Dakota (and Germany), we have this dessert called kuchen and it is freaking awesome. If flammkuchen is anywhere near as good as the kuchen I know, then I guess Lorena is right and the Italians better watch out! German pizza seems like an interesting take on a classic. Another thing I really appreciate about Lorena's recipe is the simplicity. Like some really great Italian pizzas out there, simple and sparse ingredients can go a long way. Some of the best pizzas only have a few ingredients. Check this recipe out.
Fruit on pizza is underrated. If you can get a great fruit combined with an excellent cheese match, you can have one stellar pizza with a ton of flavor! Oh, and Betty adds bacon's grown up cousin, Pancetta, to the mix to really pop that flavor. This is an excellent pizza.
Karen knows pizza. I can tell from this recipe. She constructs the sauce and the crust from scratch. And that sauce is legit. That she has her crust ingredient measurements down to grams always make me feel a bit more secure when it comes to baking because measurements can really matter when it comes to bread items. This is an excellent pizza recipe.
It is a pizza… FOLDED IN HALF, AND TWICE AS TASTY!  Julia and Slim also link to some great crust and sauce recipes in this Calzone pizza. It is a fun trade up from traditional pizza and allows a person to get twice the calories in the same mouthful! 🙂 Seriously, check this recipe out.
Linda sums it up best in her first paragraph:
dough matters, using a stone matters and setting your oven at a really high temp matters
In fact, many think the dough is the most important part. I love her take on pizza and I also love the non-roundness of her pizza. When I am cooking a pizza in this style, I have long since given up working to make it perfectly round. To me, these not-perfect shapes are a sign of a real pizza.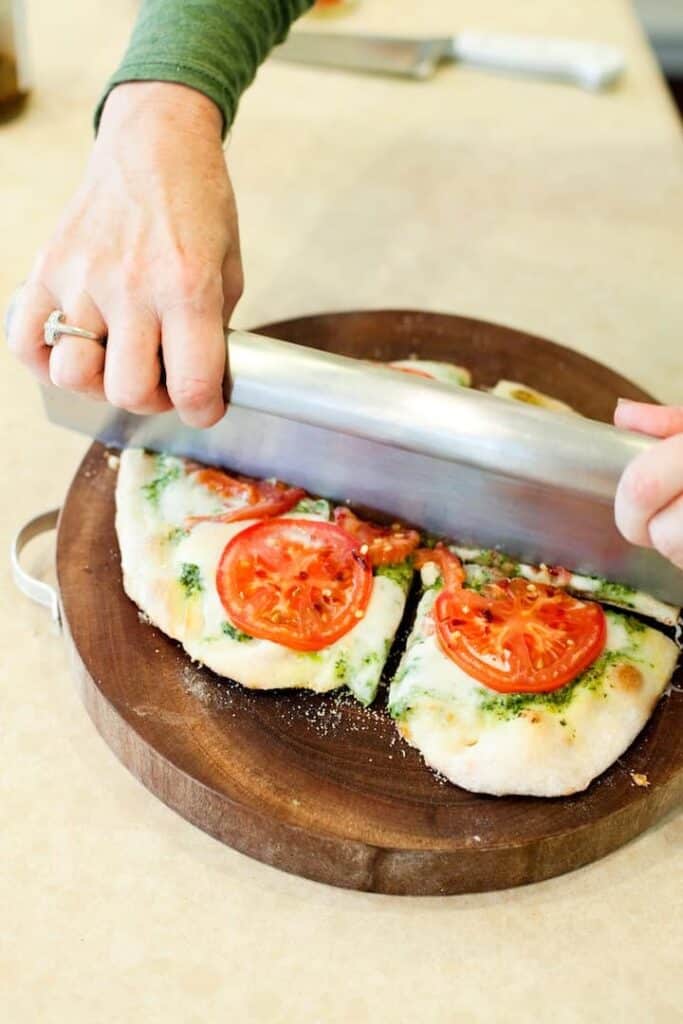 You saw that right. The crust is chicken! I love it. This low carb version of a classic pizza probably will make many of you swoon because of the carb savings. I, on the other hand, love all the carbs (please pass a donut) BUT think this looks super interesting and tasty.
That about wraps up our roundup post on pizza. There were so many other pizza recipes out there, but these recipes and the photographs really stuck out to me. I would encourage you to visit those blogs and try out these recipes. Give me a follow on Pinterest, follow me on Instagram, and have a great day!