Hey all! Thanks for reading and I hope you are enjoying the recipes and history that we are publishing. I thought it would be fun to take a post to give a bit of a personal update.
CSA just started
Most years we sign up for a food share program and this is no exception. Our first delivery is this week and things are just getting going. Most of the stuff is things I really like and would want. Things I can definitely build a meal plan around. Carrots, thyme, sage, lettuce, and radishes. Then, of course, the red headed stepchild…. The turnip!
Turnips are not my favorite. The best use I have found so far of them is to cook them with, and mix them in, mashed potatoes. While this is acceptable, my goal is not to mask the food I get. I want to celebrate the food. I want to find stuff that makes me say "ooo… I can't WAIT to get turnips so I can XYZ."
The only other food item I have found that I simply cannot do anything with is liver. I really wanted to like liver. I tried to cook it several ways. I know… some people go gaga over pate, but not me. I have been served liver twice that I found reasonable. Once my cousin made a good one. It was marinated in some pretty strong flavors and then swaddled in a tasty (and ample) blanket of bacon. The other was a liver macaron that I was served at The Great American Beer Festival last year. Yeah, it sounds disgusting, but it was surprisingly good.
In both cases, the flavor was acceptable only because it was overpowered with other stuff. My dislike for turnips is not quite as strong for liver, but same concept. So, I am gonna try a few things this week and see what happens.
Kate Winslet is being a puppy
It is a good thing she is adorable and seems to love us, as she is trying our patience. I didn't expect less than a bunch of chaos, but it can be tiring when you are in the thick of it. She hates her kennel. Let me rephrase that… she is fine with her kennel when she doesn't HAVE to go in it. When she has to go in it, it is a problem. And we are working on several things to make her more comfortable, but nothing has stuck yet.
Also, one of our little kitties has really taken a liking to her. Our newest cat (Val) is about a year old and thinks Kate is the cat's meow (i did that on purpose). Well, Val is a dainty little thing and also only has three legs. She also really wants to rough house with Kate. And Kate really wants to rough house with her. Maybe I am crazy, but an 8 lb three legger should not be rough housing with a 50 lb clumsy puppy. So, I have been micromanaging that whole thing and it gets to be a lot.
Fishing at Devil's Lake
I got to go fishing for a few days this week and hang out with the family. Every year we go somewhere in North Dakota to fish. The fishing was not that great, but the beer drinking and camp firing was top shelf!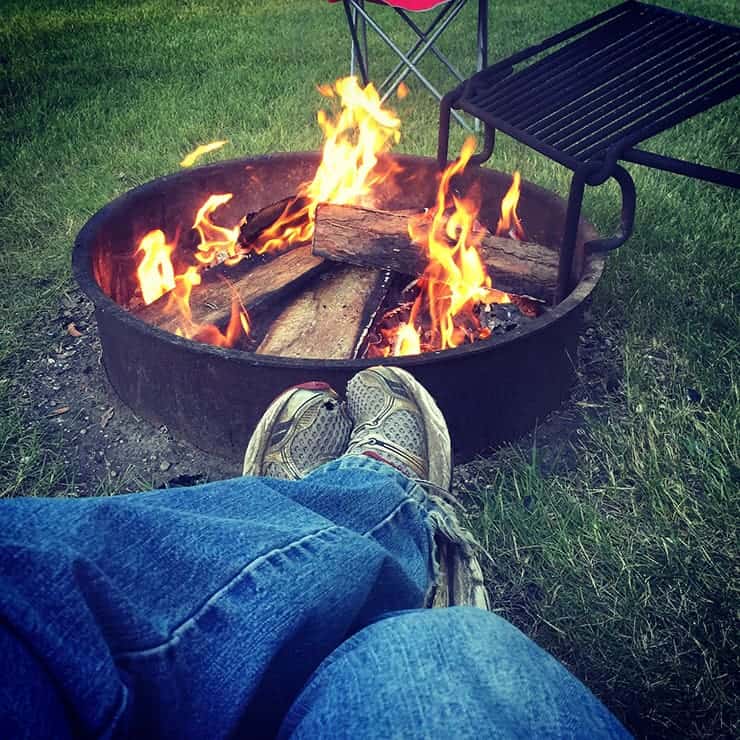 Some positives
I really do love getting the CSA… even stuff that I don't like. It makes me work to find new recipes that I can cook.
Kate Winslet is getting better with potty training so I consider that a win.
On the technology side, this month I was able to spend a good chunk of time in React and get my feet wet a little.
I got to get out and enjoy North Dakota summer at the camp ground.
Closing out month two of Ramshackle Pantry with a gain in page views and viewers.