This post may contain affiliate links. As an Amazon Associate I earn from qualifying purchases. Please read our disclosure policy.
The Jack Rose Cocktail that is a classic and can even be found in legendary Ernest Hemingway's novel, The Sun Also Rises. So, drink with me and Hemingway by sipping on this tasty cocktail with origins in years past.
I have been on an Ernest Hemingway kick and the mention of the Jack Rose Cocktail in one of his books I just read sparked my attention. Of course, I had to see if I could find this cocktail, which was mentioned twice in Hemingway's famous novel The Sun Also Rises. It is a popular cocktail of the early 1900s and if you know Hemingway's writing (and life), it is filled with cocktails. So, today, I am going to share some details about this classic cocktail and also share the Jack Rose cocktail recipe with you.
Jack Rose Cocktail Summary
This really is a fruity, sweet cocktail that retains the punch of a proper cocktail. The flavors of pomegranate from the grenadine, the apple from the applejack, and lemon make this a cool, fruity concoction that is really worthy of being a classic. After making a few of these, I know that this is going to be added to my regular rotation of drinks.
Drinking With Hemingway
I loved seeing the Jack Rose mention in The Sun Also Rises. The way it is mentioned gives me the feeling that it would be a drink that anybody from that time would know. I am now on my third book from Hemingway and even though I have some mixed emotions about how much I like his novels, there are two things I am finding.
Amidst the stories, I find tidbits of wordsmithing and connection to feeling that I adore. In chapter 8 of this novel, the description of the love of bullfighting and bullfighting "aficionados" of is absolutely stunning. While I have no desire to watch a bullfight and there are plenty of metaphorical things going on with this, how he describes this love is awesome. No, I am not going to put the full quote, but you can get the book here.
There is always liquor of some kind around in Hemingway novels. How the hell did the man get anything done or never NOT have a headache? I am now deep into my third Hemingway book Farewell to Arms and a constant in all his books are booze and drinks. I guess it is a time when liquor was more prominent and Hemingway did not shy away from the barstool. It seems a rarity to read through more than a chapter without a mention of alcohol of some sort.
I have even talked about Hemingway and liquor on this blog before and the (incorrect) legend that he loved Mojitos and drank them regularly in Cuba.
Applejack vs Apple Brandy – What is the Difference?
There is a distinct difference between applejack and apple brandy. While we have given a rustic DIY apple brandy recipe in a previous post, a traditional brandy is fruit wine that has been distilled. So, in the case of apples, it would be the distillation of apple wine. Applejack, however, is slightly different in that it is apple brandy that has been cut with other neutral spirits. It has a slightly lighter apple flavor and my understanding is that the alcohol percentage can vary. For example, I would imagine that the apple brandy could be cut with an Everclear type of alcohol and the strength would increase. It could also be cut with weaker neutral alcohol.
One of the premier applejack and apple brandy producers in the US is Laird's, which is the applejack we used.
Lemon vs Lime
One of the places I look to for cocktail history on occasion is my copy of David Wondrich's book Imbibe!, where he looks at specific cocktails. There is a part on the Jack Rose where he gives a recipe that has Lime. I use Lemon. In his notes, he mentions that there is historical precedence for both. I chose lemon, but always love and respect the information he provides!
Jack Rose Cocktail History
Wondrich goes on to talk a bit about the history. There is some legend behind the origins of the cocktail, but history is likely more that there was a bartender in Jersey City that went by Jack Rose and this was his signature cocktail. The evidence Wondrich provided is from 1905 so it would have likely been during the heyday of pre-prohibition when this cocktail was created (1860-1905). Of course, you can find out much more if you buy the NEW classic book, Imbibe!.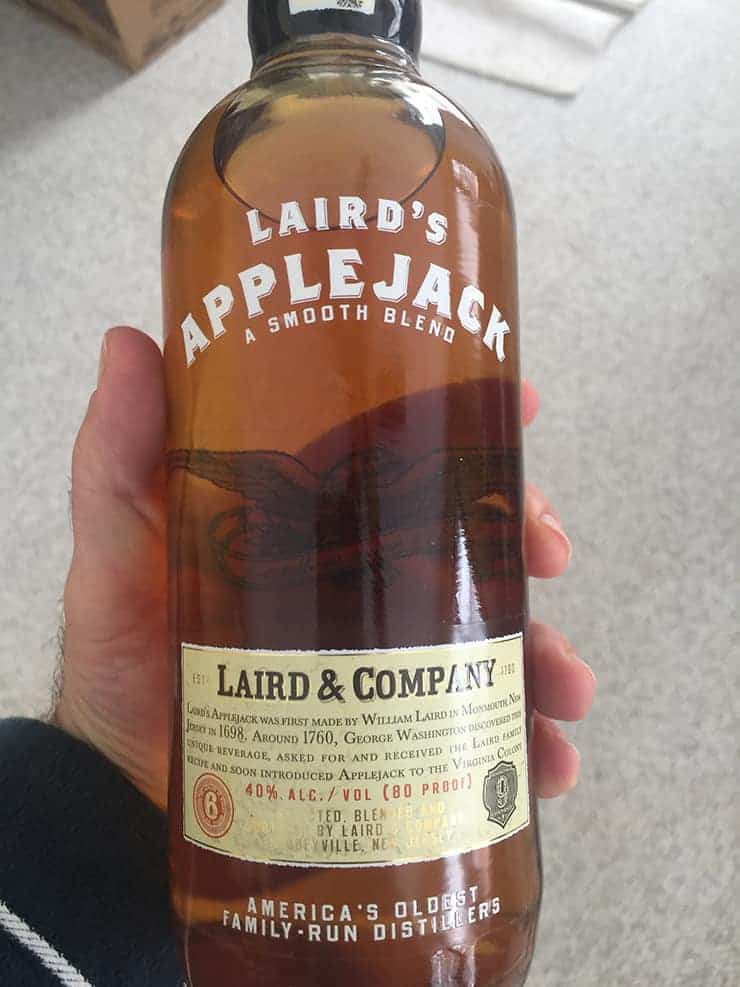 Products I Use In This Recipe
The Jack Rose cocktail is a simple, but tasty, classic cocktail that should be in the arsenal of every home mixologist. If you like what we are doing here, please make sure to follow me on Instagram, Pinterest, and also to subscribe to get updates by email!
Print
Jack Rose Cocktail – Drinking With Hemingway
Author:

Ben Myhre

Prep Time:

1 minute

Cook Time:

2 minutes

Total Time:

3 minutes

Yield:

1

Cocktail

1

x

Category:

Cocktail

Method:

Shaker

Cuisine:

American
---
Description
The Jack Rose Cocktail that is a classic and can even be found in legendary Ernest Hemingway's novel, The Sun Also Rises. So, drink with me and Hemingway by sipping on this tasty cocktail with origins in years past.
---
2 Ounces

Laird's Applejack

1 Ounce

Fresh Lemon Juice

½ Ounce

Grenadine
Lemon Peel, to garnish
---
Instructions
Fill shaker with ice
Add all liquid ingredients
Vigorously shake for 15 seconds
Strain into a cooled coupe glass
---
Keywords: Jack Rose Cocktail