We are covering grilling in this series, but there is so much more to a good cookout than what is on the grill. Today, we are going to cover one of our favorite side dishes, Rancharoni Macaroni Salad. This is a slight twist on a traditional macaroni salad with the addition of, you guessed it, ranch dressing flavor. So, liven up your regular cookout and give this spectacular Rancharoni Macaroni Salad a whirl! Go straight to the recipe.
Use The Dry Ranch Packets For This Macaroni Salad
You might be tempted to try and do some replacement in this recipe for the bottled or jarred ranch dressing, but don't. Pick up the one-ounce packets of dry ranch seasoning and use your normal (but real) mayonnaise. Even when I use ranch dressing for other things, I prefer the packets. I feel that it tastes better and allows you a bit more control over the amount of zing that is in your recipe. Heck, sometimes I even make a salad and toss it with just a bit of the powder and vinegar. As far as salads go, it maybe is about to as close as I can get to a 'comfort salad' and it is light on the calories.
But Ranch Dressing Isn't Fancy Enough
Hey, we are talking cookouts here. There is plenty of room for fancy, but something close to ranch dressing is probably being served with that veggie platter, right? I think I have come close to making my own ranch dressing from scratch, so I suppose that would be artisanal ranch? HA.
At the end of the day, I love ranch. When I order fries at a burger joint, I get ranch. We always have a bottle of ranch in the fridge and usually, have a packet or two in our pantry. It isn't like I am making ranch bisque and eating it up like soup or anything, but I think ranch dressing is the bomb. It deserves a place in macaroni salad and this Rancharoni Macaroni Salad is a hit in our house.
How Long In The Fridge
Optimally, this macaroni salad sits in the refrigerator overnight to allow all the flavors to meld nicely. I understand, however, sometimes you need to make something quick. I would give this a minimum of 4 hours in the fridge.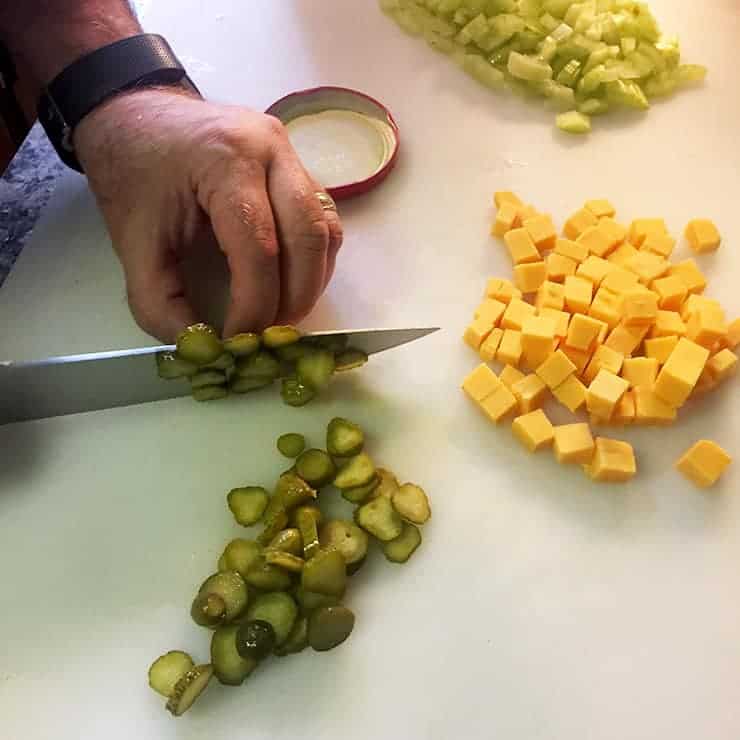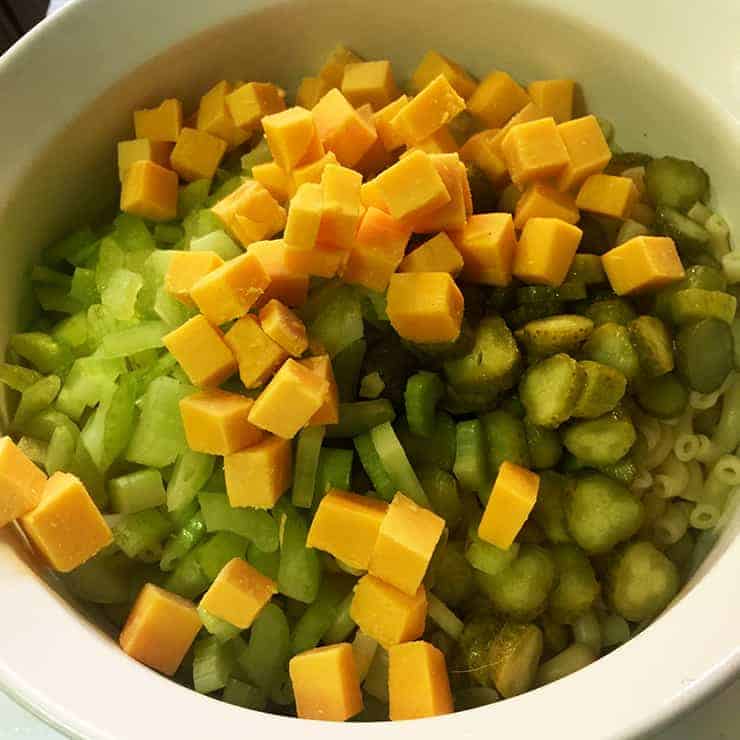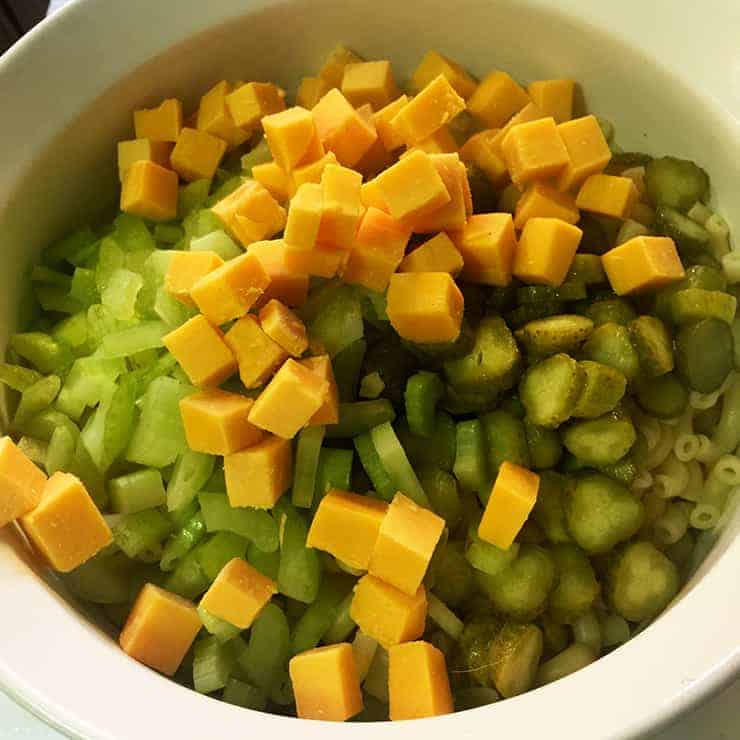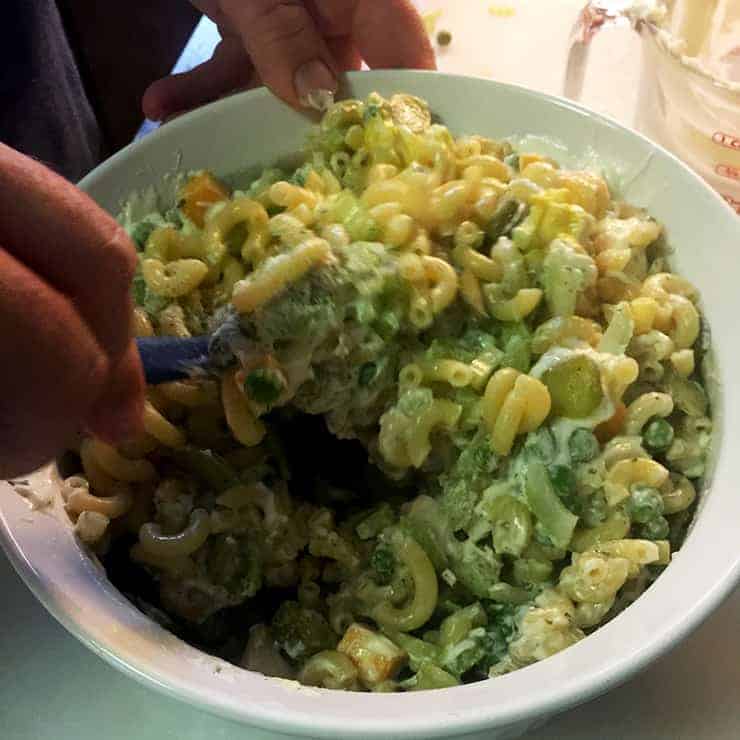 Hey, give this Rancharoni Macaroni a whirl, check out the rest of our grilling series, and if you like what we are doing here, subscribe to get updates via email.
Products I Used In This Recipe
Rancharoni Macaroni Salad
Print
Rancharoni Macaroni Salad
Author:

Prep Time:

4 Hours 20 Minutes

Total Time:

4 Hours 20 Minutes

Yield:

4 Servings

Category:

Pasta Salad

Method:

Refrigerator

Cuisine:

American
---
Description
Get your cookout and bbq right with this Rancharoni Macaroni Salad. It is a nice twist on the traditional macaroni salad and packs a whole lot of flavor.
---
Ingredients
2 Cups macaroni, dry
1/2 cup chopped pickles
4 ounces cheddar cheese, cubed ½ inch
2 celery stalks, diced
1 cup mayo
1 tablespoons mustard
1/2 cup frozen peas
1 packet ranch (1 ounce packet)
Salt and pepper, to taste
---
Instructions
Heat large pot of water to cook 2 cups of macaroni pasta
While water is heating, chop pickles, dice celery, and cube cheddar cheese
Cook macaroni per package
Run cold water over cooked macaroni to cool.
Once cooled, add rest of ingredients and mix
Add salt and pepper in, to taste, and mix.
Cover and put in fridge for at least 4 hours, preferably overnight.