Holidays in many Norweigan homes means getting together with family, sharing a dinner together, and lefse. Lefse is an iconic holiday food served on the tables of Norweigian Americans on Thanksgiving and worldwide on Christmas. This delicious potato bread is akin to a tortilla, but Scandinavian style. It is often served with toppings, such as butter, sugar, cinnamon, jellies, and even savory ingredients. If you are new to lefse or want to get close to your ancestral heritage, check out this Norwegian Lefse Recipe using real potatoes.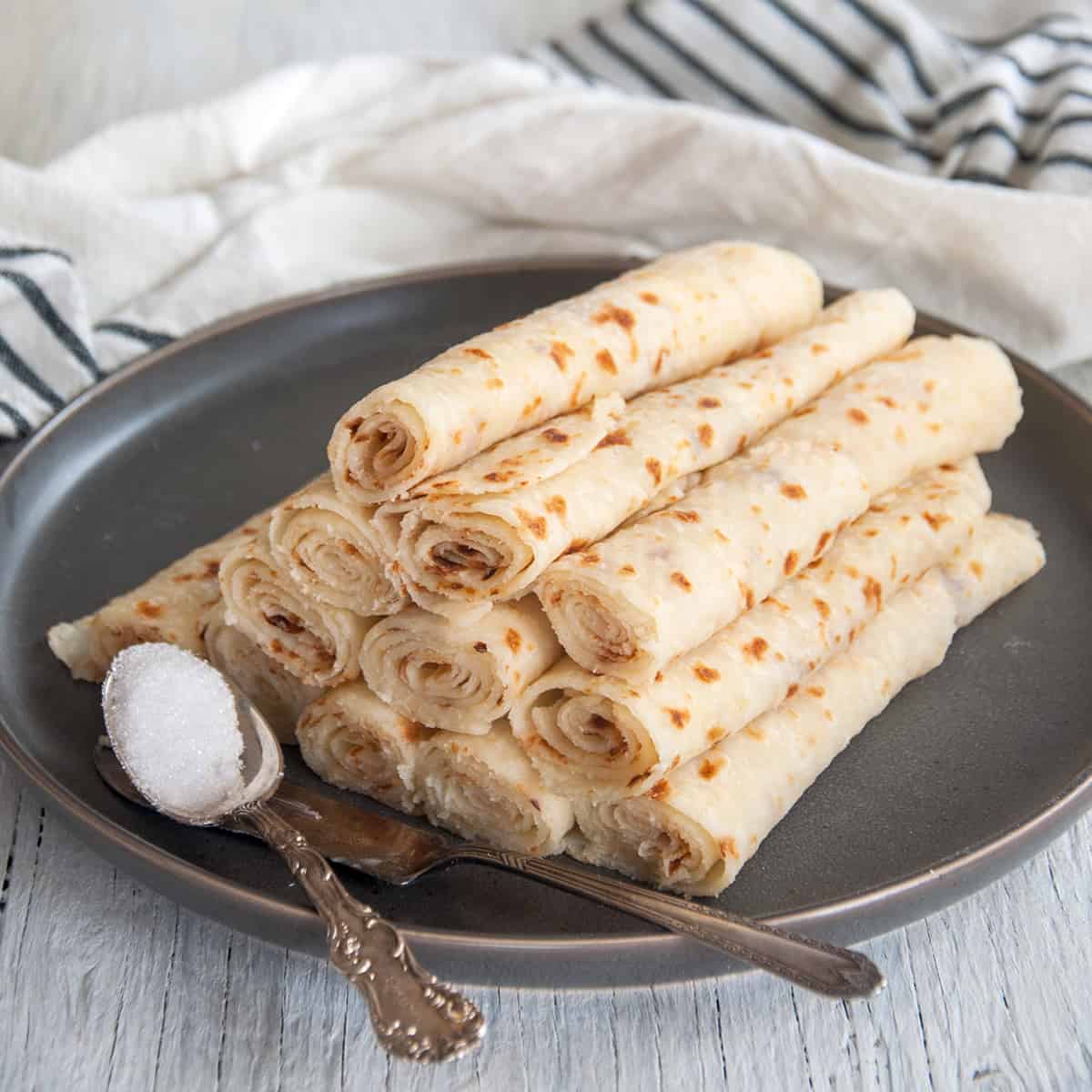 Lefse Recipe Summary
I have been eating Lefse for as long as I can remember, but it just hasn't been in my family's tradition to cook the stuff. I decided I was going to bring this tradition back and make some homemade lefse. In my experimentation, I quickly learned that the fresh stuff does not disappoint. It takes on a softer, fresher, more lively flavor that is totally worth it.
Not to mention, I am super happy that I might be able to help your family make something beautiful and start a tradition that can be rewarding and fun. Lefse is great and if you can make it together as a family or enjoy the food together as a family, it becomes that much more special.
We previously made a traditional Klubb recipe and this is another great Norwegian recipe that tastes absolutely amazing.
Buy a Lefse Making Grill and Kit
I usually provide a list of products I use at the end of a recipe, but I am breaking my rules here by bringing this to the forefront. If you want to make lefse making an enjoyable experience, I recommend purchasing a Lefse Making kit (Affiliate Link). This would include a special grill, a mat for rolling it out, a corrugated rolling pin, a special turning stick, and some cloth covering for the mat and the rolling pin.
The following is a great kit that I use and would wholeheartedly recommend. As a disclaimer, this is an affiliate link, but check out the following specific Lefse Making Kit.
Check out this affiliate link for a Lefse Making kit: https://amzn.to/332qC8c
Why You Need Special Equipment
The dough is very delicate
The potato flour mixture is very delicate and is prone to tearing and sticking. The equipment that comes with the kit helps to ensure that you are able to more easily spread out the dough as thin as you can without tearing and sticking.
Using the turning stick and flat grill
The stick is really just a stick that is shaped a certain way, but it works perfectly. And the grill is ideal for making and turning lefse.
Do I Really Need The Special Lefse Equipment?
Probably. I suppose you could hack together some things that approximate the kit. My opinion, however, is that if you are going to make lefse, do it right. Unless you want to spend a bunch of time researching how to make equipment or willing to make a crappy product, just buy the kit (affiliate link). If I were to say there are two pieces of the equipment that is most important, it would be the lefse grill and the turning stick. The other pieces might be a little easier to improvise
Real Potatoes for this Lefse Recipe
There are many recipes out there that use instant potatoes and I don't knock that at all, but it just isn't what I like to do at Ramshackle Pantry. I like to try and make things from scratch and if it calls for potatoes, I want to use real potatoes. I think there are a few considerations to using real potatoes that you need to be aware of.
What Kind of Potato to Use?
I use Russet potatoes. It is a common potato that is inexpensive and it works well for this purpose. I think some interesting opportunities are possible with different kinds of potatoes. Many potatoes have unique and subtle flavors that might make for some great (or worse) lefse. There is some risk that moisture content will mess with your end product, but there might be some interesting opportunities with other kinds of potatoes. Still, I used Russet potatoes.
Make Sure Potato Are Well Riced
One of the issues I encountered in my lefse recipe journey was ricing potatoes. I use a ricer, but I would imagine good mashing will give a similar effect. However, I found that one ricing did not quite do the job. I found that the best result with creating a fine potato mixture was sending the potatoes through the ricer twice.
Make Sure Butter is fully melted and integrated
In our instructions, we have you rice the potatoes into a ceramic or glass dish that already contains a stick of chopped, room temperature butter. The potatoes should still be warm enough to melt all the butter, but you want to make sure this is the case. Using a fork or your hands, make sure to fluff the potatoes and mix them enough so that all butter is melted into the potatoes.
The risk runs that you will end up with chunks of butter in your cooled potato mixture, which you don't want. This will make rolling out the potato mixture more difficult and make the rolled out potato cook unevenly. In between the time of the second ricking and leaving the potatoes on the counter for 30 minutes, make sure all butter is melted.
Prep Your Cloth
Stretch and tie the rolling board cloth over the board. Liberally apply flour to both the board cloth and the rolling pin. Spend time rubbing flour into both the board and the cloth covering for your rolling pin. In between cooking each lefse, expect to reapply the flour. All of this flour helps ensure things are not sticking.
Rolling out the Lefse Dough
Use your corrugated and covered rolling pin to gently roll out your lefse balls into disks that are as flat as possible. This is a part of the process that takes particular care. You want to make sure this dough is as thin as possible, but you don't want to tear the dough and you don't want the dough to stick to the rolling pin.
I am liberal with using flour to make sure everything is easy to work with. I then take my dough balls and pat them into a disk by hand. Then, I place it into the center of my rolling mat and use the pin to try and make a nice, big, and even uncooked lefse.
My lefse balls tend to be about 150 grams and I would not get much larger than that. You may, however, find yourself using smaller balls if you want. Anywhere from 100 grams to 150 grams will make a nice size lefse, with each lefse providing two snack-size servings.
This is a Delicate Dough – Be Gentle
I mentioned this once, and I am going to mention this again. The dough is delicate. When you are rolling out, take care. When you are moving the dough from your rolling matt to the grill, take particular care to be gentle. Once the dough is on the lefse grill for a good 30 seconds to a minute, the structure hardens up a bit and it becomes a bit more hearty and easier to manipulate. Until then, always make sure to handle them with care.
The Lefse Turning Stick and Cooking the Lefse
The Lefse Stick is an important piece of the cooking process. If you try and move your rolled out lefse from the rolling board to the lefse grill by hand, it is likely you will end up with a mess. Use your stick and gently slide it underneath the center of the rolled out disk. You should be able to get all the way under without tearing the dough.
Take a look at the process shots below, but this part is a bit critical. Lift the rolled out dough (that has the stick mid-way through) and drape it onto the edge of the preheated 500 F lefse grill. You should be able to gently lay the first half of the disk onto the grill and then by turning the lefse stick, fold the other half onto the grill.
If you find yourself with some of the dough draped over the edge, don't correct it. Just let it cook for 30 or so seconds and the dough will stiffen up enough to the point where you can work with it.
At 1 minute and 30 seconds, use the lefse turning stick to flip the lefse over and cook until the timer reaches a total of 3 minutes. The total cooking time of each lefse is three minutes. Remove the lefse and put on a large plate to cool.
Don't Start Rolling Another Out Until the First Lefse is Done
This gives your lefse grill a moment to heat back up and get ready for that next delicious bit of potato goodness!
Allow To Cool and Eat!
This recipe makes 8 large lefse, or about 16 servings. Once they are all cooked, allow them to sit at room temperature for at least an hour. If you are eating them later in the day, you can just leave them out, but it is suggested that once they are completely cooled, you store them in the refrigerator in an airtight container.
Can I Store Lefse?
I strongly suggest eating the lefse the same day it is cooked. If you want to store it, make sure it is well wrapped and it can keep in the fridge for about a week. If you freeze, it can keep for 6 months.
Toppings for Lefse
This is a topic of much debate in many Norwegian American Households with the main point of contention being sugar. One of the most common ways to serve lefse is spread with butter and then rolled up. Most civilized people (you see where I stand? lol) also put sugar on our lefse. I would recommend a teaspoon or two per sheet of liberally buttered lefse. Seriously, though… all kidding aside, eat it the way you like!
This is far from the only way to do this, however. On the sweet side, some people use sugar and cinnamon, brown sugar, or jellies.
Some people like it with savory fillings. Things such as cottage cheese, liver, salmon, or even lutefisk is served with lefse. I eat a lot of things… lutefisk and liver are past the edge of what I like!
Can I double the recipe?
For sure! Just take the ingredients and multiply by 2! This will give you 32 snack-sized servings.
Lefse Recipe Process Photos
Here are some pics that hopefully will make following this recipe a bit easier.

Ricing the warm potatoes the first time.
Ricing the warm potatoes the second time into a ceramic container with a stick of butter. Following this, make sure the butter is completely melted and incorporated into the potatoes. From here, you allow the mixture to stand on the counter for 1 hour and then put into the refrigerator (uncovered) overnight.
Get in there to mix the flour, salt, potatoes, cream, and butter.
Measure your total dough size and divide by eight.
Roll them into balls, put them on a plate and store in the fridge. About this time, you can start preheating your lefse grill to 500F.

Prep your cloth (both the rolling mat and the rolling pin) with flour. Rub plenty of the flour in.
Get out one ball from the fridge and using your rolling pin, roll out each ball. Remember that this dough is fragile. Be gentle and be aware of your dough. This is gonna be a bit cheezy, but get a little zen with your dough.
Once rolled out AND after allowing your grill to preheat for at least 10 minutes, use your lefse stick to move from the rolling board to the grill. Use your stick and gently slide it underneath the center of the rolled out disk. You should be able to get all the way under without tearing the dough.
Lift the rolled out dough (that has the stick mid-way through) and drape it onto the edge of the preheated 500 F lefse grill. You should be able to gently lay the first half of the disk onto the grill and then by turning (or rolling) the lefse stick, fold the other half onto the grill. Start your timer
Allow to grill for 1:30. Pictured is the grilling lefse. At 1:30 flip and cook on the other side until your timer hits 3:00. On both sides, it cooks for a total of three minutes. After this, put the lefse on a large plate. Repeat the process for each single lefse.
Cooking Lefse Tips Summary
Buy yourself a lefse making kit! (affiliate link)
Use Russet potatoes and when skinning them, take extra precaution to get all the skin bits off of it.
Warm your butter to room temperature before using it.
Make sure your butter is well integrated and completely melted before putting it into the fridge overnight.
Yes, put your potatoes in the fridge overnight.
Be gentle with the dough.
Allow cooked lefse to cool for at least 1 hour before eating. If eating the same day, you can leave on counter. Otherwise, put in the refrigerator for up to a week or freeze and save for up to 6 months.
If storing, make sure to store in an airtight container.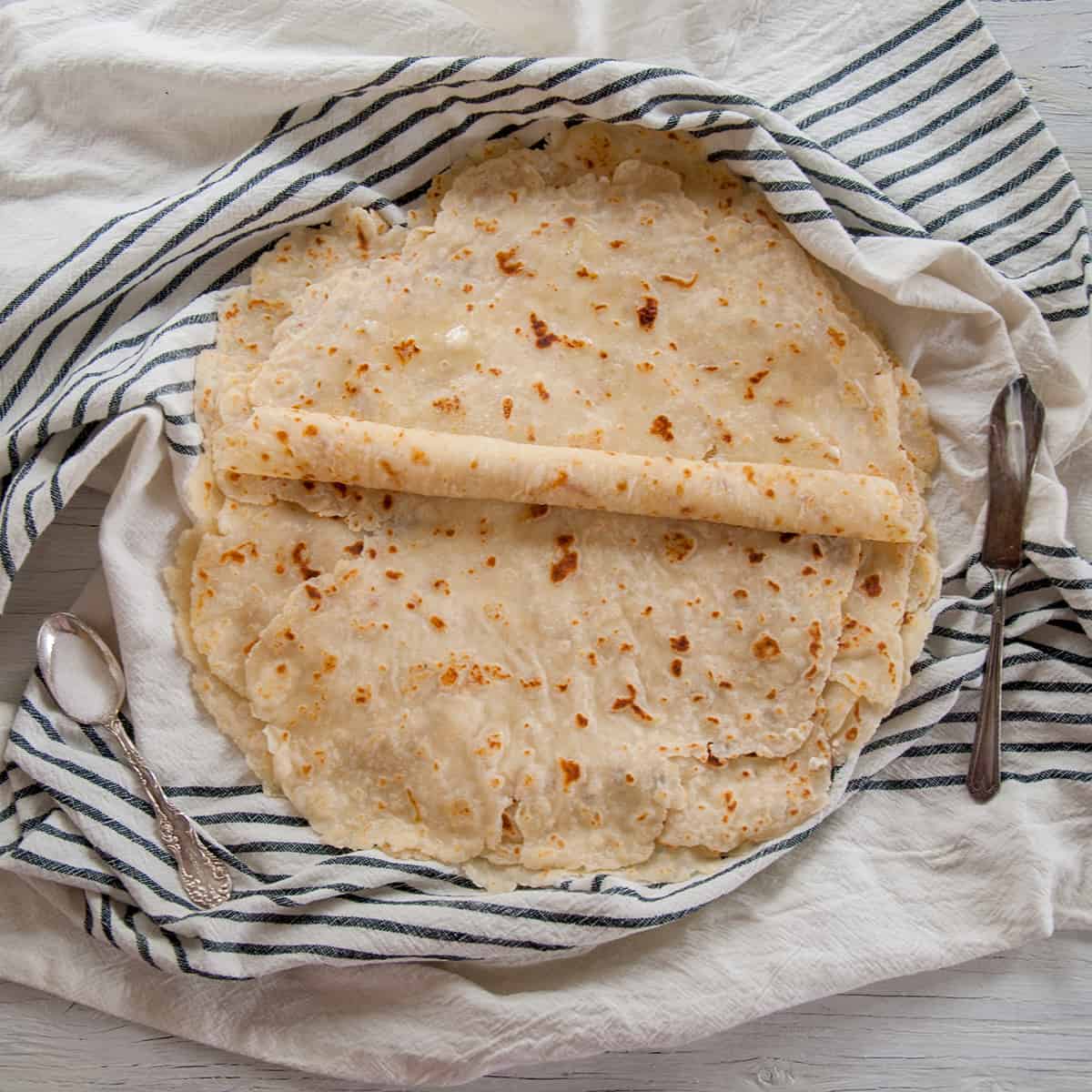 Products Used in Cooking this Lefse
Did you make this recipe?
I hope you loved it! Let me know how it went in the comments below and I would be so appreciative if you shared this on Pinterest, Facebook, or even mailed it your grandma! 😉 Of course, I would appreciate you subscribing to our email list so I can share recipes with you in the future.
Print
Lefse Recipe Using Real Potatoes – A Norwegian Tradition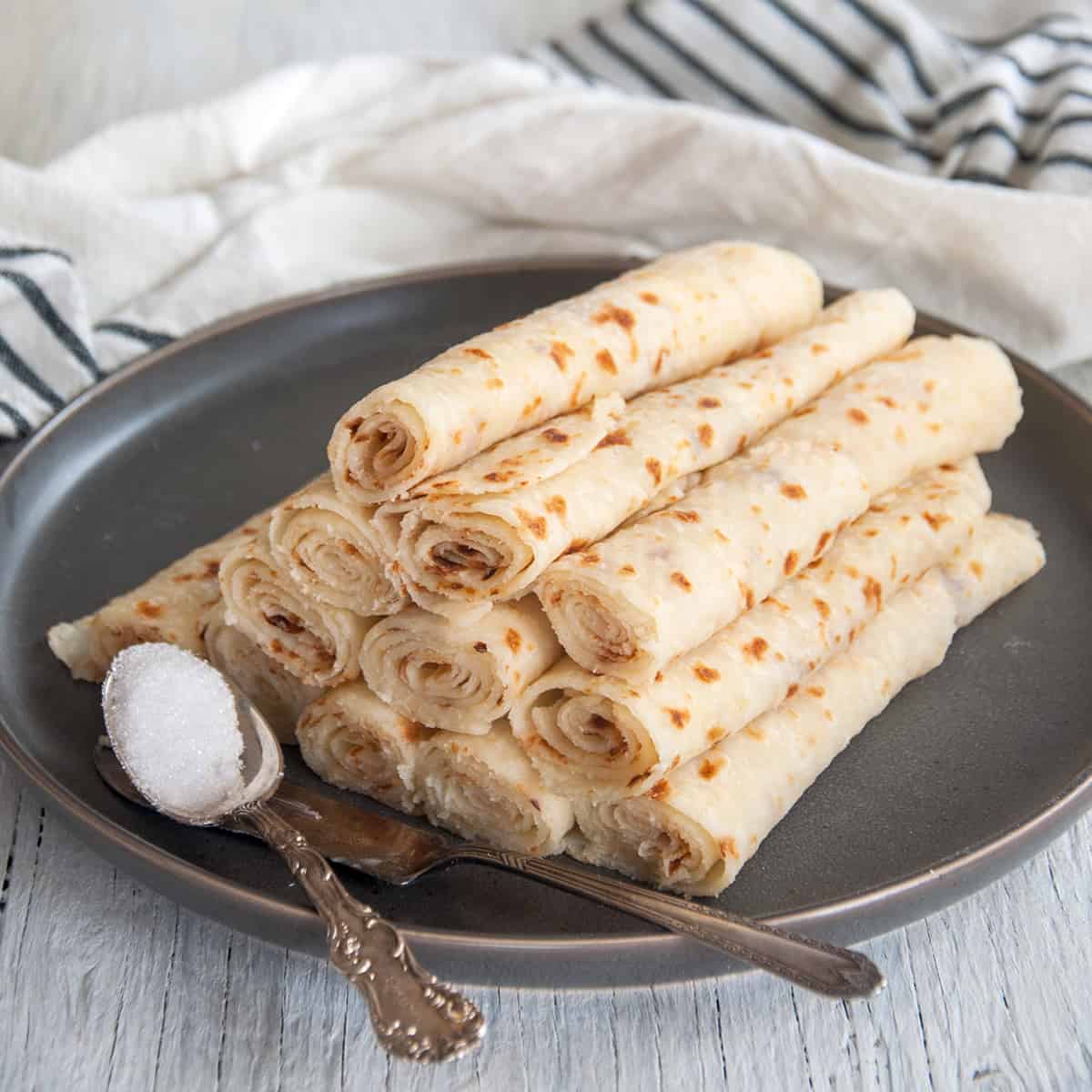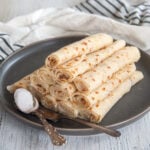 Lefse is a delicious Norwegian treat that is a tradition among many families. Your family can start this tradition today and make some of the best lefse you have ever had! Learn how to make a delicious lefse recipe using real potatoes.
Author: Ben Myhre
Prep Time:

12 hours 30 minutes

Cook Time:

30 minutes

Total Time:

13 hours

Yield:

8

lefse

1

x
Category:

Holiday

Method:

Grill

Cuisine:

Norwegian
Scale
Ingredients
2.5

pounds of Russet potatoes

1

stick room temperature salted butter, choppedd

1/2 cup

heavy cream

1 teaspoon

salt

1 cup

all purpose flour + plus more for keeping equipment floured
Instructions
Peel potatoes and simmer in large pot of water for 45 minutes or until tender all the way through.
Strain potatoes and rice.
Place butter at the bottom of ceramic or glass bowl and rice potatoes for a second time into it.
Combine and mix togtether. Make sure butter has been fully incorporated into potatoes, but try to keep them as light and fluffy as possible.
Let container sit on counter at room temperature for one hour and then place into fridge overnight.
The next day, take out potatoes and in large bowl, mix potato & butter mixture, cream, flour, salt. Get in there with your hands real good and mix right in the bowl. You should end up with a dough that is somewhat similar to a bread flour consistency, but a bit more crumbly.
Weight entire weight of dough and divide by eight. Roll each of these 1/8 dough portions into a ball. Place all on a plate and put in the refridgerator.
Preheat lefse grill to 500F
Add flour to both your rolling mat cloth and also to the rolling pin cloth. Massage the flour in and be liberal with the flour.
Take one of the lefse balls out of the fridge and with your hands, gently form it into a disk. Place down on rolling mat and using the rolling pin, roll out the ball to be as flat as possible. If you feel like the lefse may start to stick, apply just a small amount of flour to ensure this does not happen.
Once the lefse is as flat as possible, use the turning stick and gently slide it underneath the center of the rolled out disk. You should be able to get all the way under without tearing the dough.
Lift the rolled out dough (that has the stick mid-way through) and drape it onto the edge of the preheated 500 F lefse grill. You should be able to gently lay the first half of the disk onto the grill and then by turning (or rolling) the lefse stick, fold the other half onto the grill. Start a timer.
When your timer hits 1 minute and 30 seconds, let timer keep going and use your turning stick to flip the lefse.
Once your timer hits 3 minutes, remove lefse from lefse grill and put on a large plate.
Repeat steps 9 through 14 until all lefse has been cooked.
Allow all lefse to cool for an hour.
Top with whatever toppings you want to use ( I like a pat of softened butter and a few teaspoons of suger) and roll up.
Cut each in half and serve.
Notes
Buy yourself a lefse making kit! (affiliate link)
Use Russet potatoes and when skinning them, take extra precaution to get all the skin bits off of it.
Warm your butter to room temperature before using it.
Make sure your butter is well integrated and completely melted before putting it into the fridge overnight.
Yes, put your potatoes in the fridge overnight.
Be gentle with the dough.
Allow cooked lefse to cool for at least 1 hour before eating. If eating the same day, you can leave on counter. Otherwise, put in the refrigerator for up to a week or freeze and save for up to 6 months.
If storing, make sure to store in an airtight container.
I added in .5 cups of flour to the nutritional information to account for flouring the cloth and rolling pin
The nutritional information does NOT take into account any toppings you may add
Nutrition
Serving Size:

1/2 lefse sheet

Calories:

164 calories

Sugar:

1 g

Sodium:

151 mg

Fat:

3 g

Saturated Fat:

2 g

Unsaturated Fat:

0 g

Trans Fat:

0 g

Carbohydrates:

30 g

Fiber:

2 g

Protein:

4 g

Cholesterol:

12 mg