Quintessential comfort food right here in this All American Apple Pie recipe. We throw a decadent caramel sauce on top to just make it that much better.
Make this classic, traditional pie for your next dessert, and find these wonderful apple flavors. What a beautiful dessert, and you can make it today.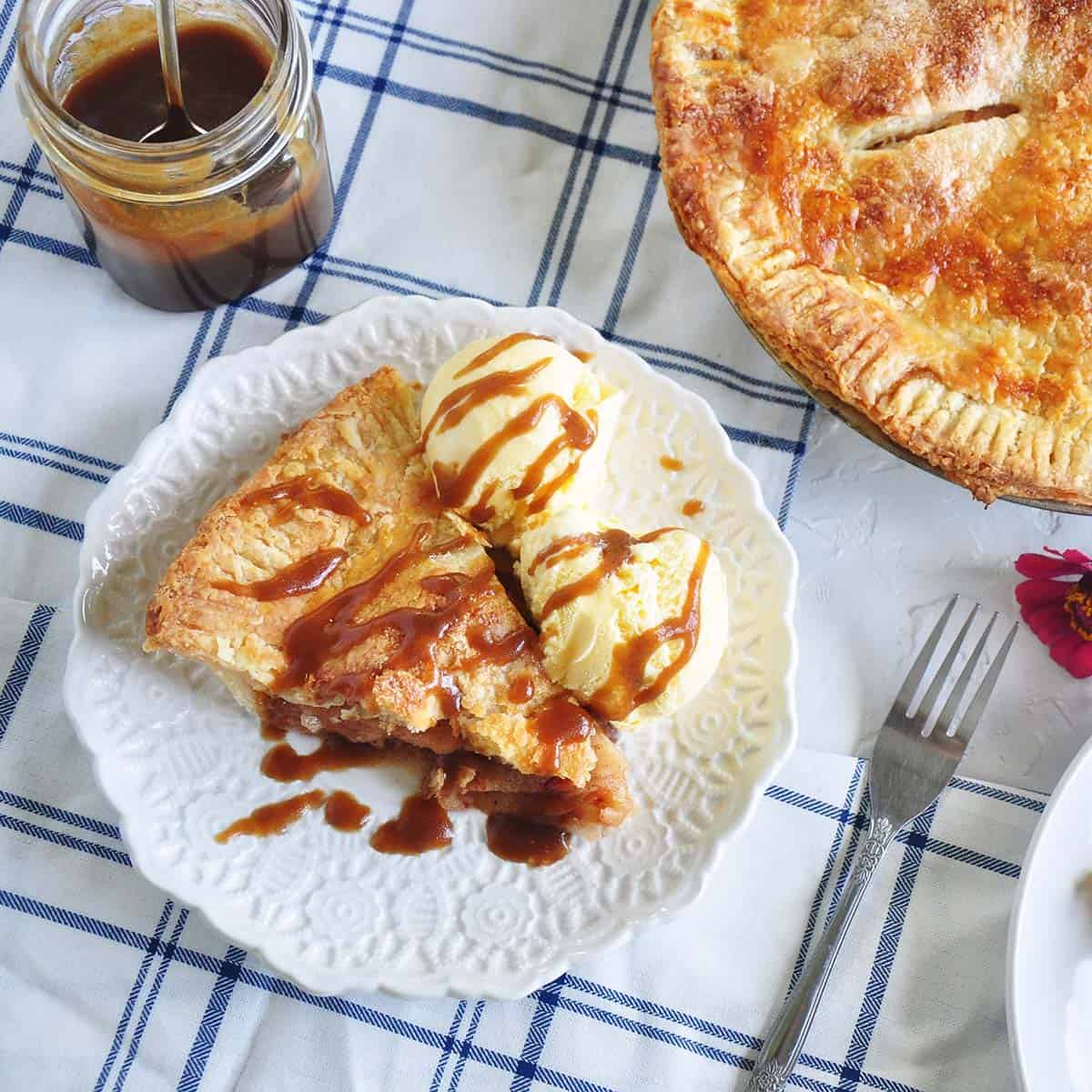 🥧 What makes this recipe special?
America and Apple Pie go hand in hand. Today we will do our best to help you make the best dang American Apple Pie you ever have. In addition, we share a simple caramel sauce that is absolutely divine. We give you some great flavors and the best American Apple Pie!
This recipe will give you all the steps necessary to make a fantastic homemade apple pie. This recipe is excellent for premade crusts, but you can level it up with this homemade Best Butter Pie Crust recipe.
Whether you are looking for a dessert for your Thanksgiving recipes or just want to make a great pie, this recipe is for you. Also, check out our blueberry pie or dutch apple pie that go great with your special dessert.
Don't forget the vanilla ice cream. No matter what dessert you make, make sure to treat yourself.
Jump to:
🍎 Ingredients
While we love making our own pie crusts, we have a separate recipe for that. This recipe is intended to have the pie crusts already ready. Here is a list of ingredients you will need.
Pie Crusts
All-purpose flour
Apples
Sugar
Cinnamon
Nutmeg
Butter
Egg Wash
See the recipe card for quantities.
🍲 Instructions
The filling is the superstar of this recipe. You either have purchased your pie crusts or have made your homemade butter pie crust for this recipe. The filling, fortunately, is the easiest part of the pie.
Making the pie slices thin is important, as this will ensure a good bake of the filling. Also, selecting a great apple is important. I believe Granny Smith and Braeburn are the best widely available apples for apple pie.
They both have a crispness that holds up during the baking. Granny Smith apples, however, can be pretty tart. Good thing we add a boatload of sugar, right?
I ended up going with Braeburn, but I think either would be fine. Perhaps a combination of both would be a fun thing to try!
Slice the apples. Combine with the flour, sugar, cinnamon, and nutmeg. Top with butter. Fill your pie crust, and then add the top crust. Crimp.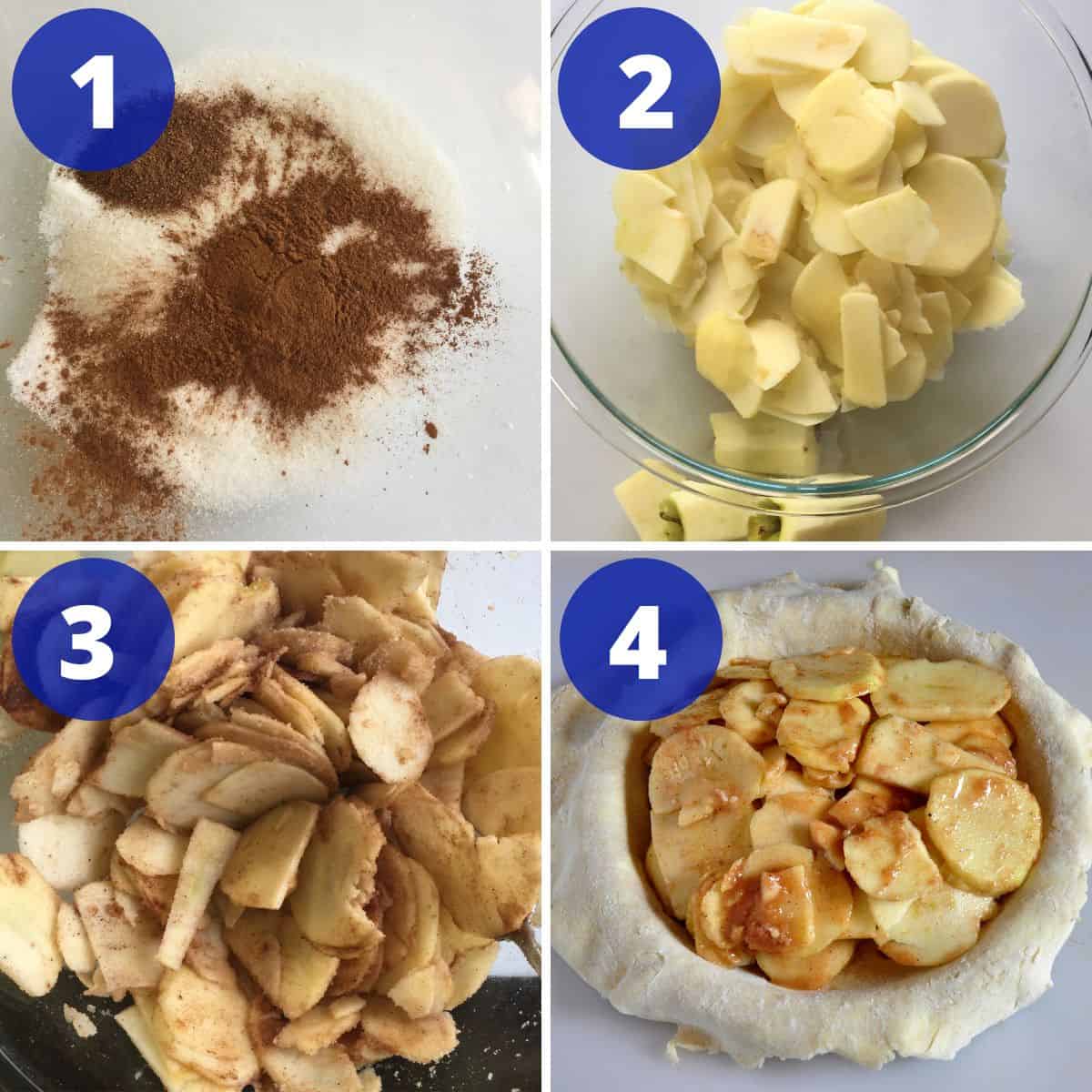 You have rolled out your perfect butter pie crust, filled it, and sealed your pie. You have put the slices atop your crust so air can escape, right?
We are not done yet. Put an egg wash on top of the pie. This will give it a nice golden brown color, and I feel like it adds a bit to the texture. Sprinkle a bit of sugar on top of that!
Also, add tinfoil around your crust for the first 35 minutes of baking at 425° Fahrenheit. There are also crust guards available, but I used tin foil. This will help keep your crust from burning. I remove the guard in the last 5-10 minutes of baking so the color can catch up.
Once your pie is removed from the oven, place it on a rack and let it sit for AT LEAST 2 hours, but more is preferential. Let that perfect American Apple Pie rest and fill your house with the awesome smells of the nummy pie.
We added caramel sauce to our pie, as we probably need more sugar, right? We made a half batch of Pioneer Woman's Easy Caramel Sauce, and it tastes absolutely divine on top of this pie with some ice cream.
🤷 Substitutions and variations
There are a few different ways you can change up this recipe and make it your own.
I use Braeburn apples, but this is up to you. Other apples work well, but Braeburn have a great combination of sweetness and crispness.
I like to make this with a homemade pie crust, but a purchased pie crust works just fine.
📦 Storage
This apple pie can be stored in the fridge for a few days. If wrapped well, it also freezes very well! Thaw and either eat or heat up.
🎓 History tidbit
The only apple native to North America is the crab apple. Nearly all of the apples that were grown in America were brought by settlers or invented at a later date.
❓ FAQ
What is the best apple for apple pie?
I think Braeburn apples are perfect for apple pie. They have a good amount of flavor and crispness for this use.
Do you cook apples before putting them in a pie?
No. Add them fresh for the best result.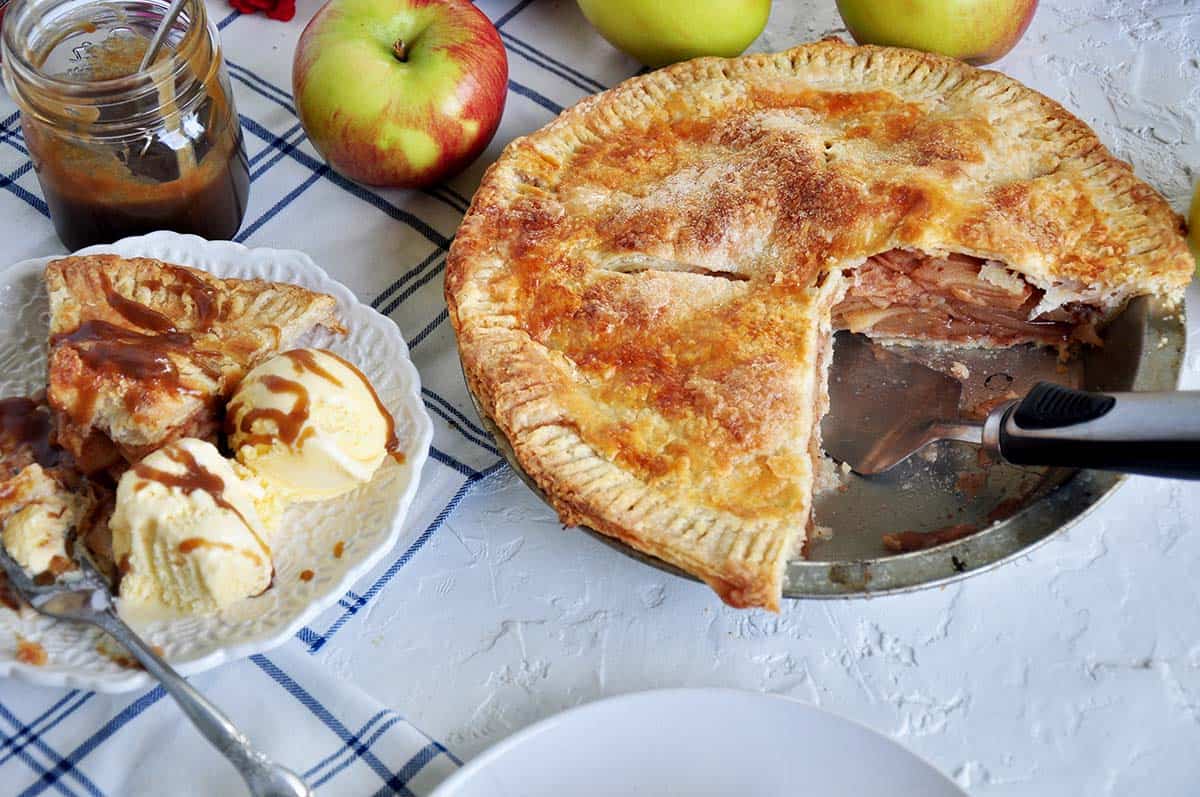 📝 Tips and tricks
When baking, your dough will shrink a bit, which can impact the lip of the crust. Be generous with what you leave on the pie when you trim it.
Use tinfoil to guard your crust. There are also pie guards for sale, but i have had better luck with just plain tinfoil.
Let that pie rest for a while before serving.
🛠 Products used in this recipe
😋 Did you make this recipe?
That is awesome, and thank you so much for giving this All American Apple Pie recipe a try. If you could leave a rating in the comment area below, it would be greatly appreciated. This lets me know how I am doing and also helps others decide if they want to make this recipe. Most of all, thanks for visiting Ramshackle Pantry.
Print
📖 Recipe
All American Apple Pie Recipe With Caramel Sauce
Author:

Ben Myhre

Prep Time:

30 minutes

Cooling time:

2 hours

Cook Time:

50 minutes

Total Time:

3 hours and 20 minutes

Yield:

6

slices

1

x

Category:

Dessert

Method:

Baking

Cuisine:

American
---
Description
This American Apple Pie has a great crust, an awesome filling, and is the quintessential American dessert. Treat yourself and your family to this Apple Pie Recipe today.
---
2

pie crusts (makes

one

whole pie)

5

Medium Braeburn Apples

⅔ cups

sugar

¼ cup

flour

1 teaspoon

cinnamon

1 teaspoon

nutmeg

2 tablespoons

butter

1

egg, beaten

1 teaspoon

sugar
---
Instructions
Peel and finely slice 5 large apples.
Mix apples, ⅔ cup sugar, ¼ cup flour, cinnamon, and nutmeg.
Preheat oven to 425° Fahrenheit
Place one pie crust on the bottom of 9-inch pie tin
Add pie filling
Add 2 tablespoons butter that has been cubed
Add top crust
Use fingers to pinch crust together
Trim excess dough, but the crust will shink a bit, so leave a bit
Using fork, crimp the two doughs together further
Brush light coating of egg on dough crust
Sprinkle with sugar
Using knife, slit four holes in crust
Loosely wrap the crust edges with tinfoil to help prevent overbrowing of the crust edges.
Put in oven for 35 minutes
Remove tinfoil
Check every 5 minutes and remove when it looks done. 40-45 minutes
Let rest for at least 2 hours
SERVE
---
Notes
When baking, your dough will shrink a bit, which can impact the lip of the crust. Be generous with what you leave on the pie when you trim it.
Use tinfoil to guard your crust. There are also pie guards for sale, but i have had better luck with just plain tinfoil.
Let that pie rest for a while before serving.
Keywords: American Apple Pie Recipe