This post may contain affiliate links. As an Amazon Associate I earn from qualifying purchases. Please read our disclosure policy.
Feeling down and need a pick-me-up? This Hot Toddy For a Cold is soothing, flavorful, and can make a person feel better. Get the recipe today!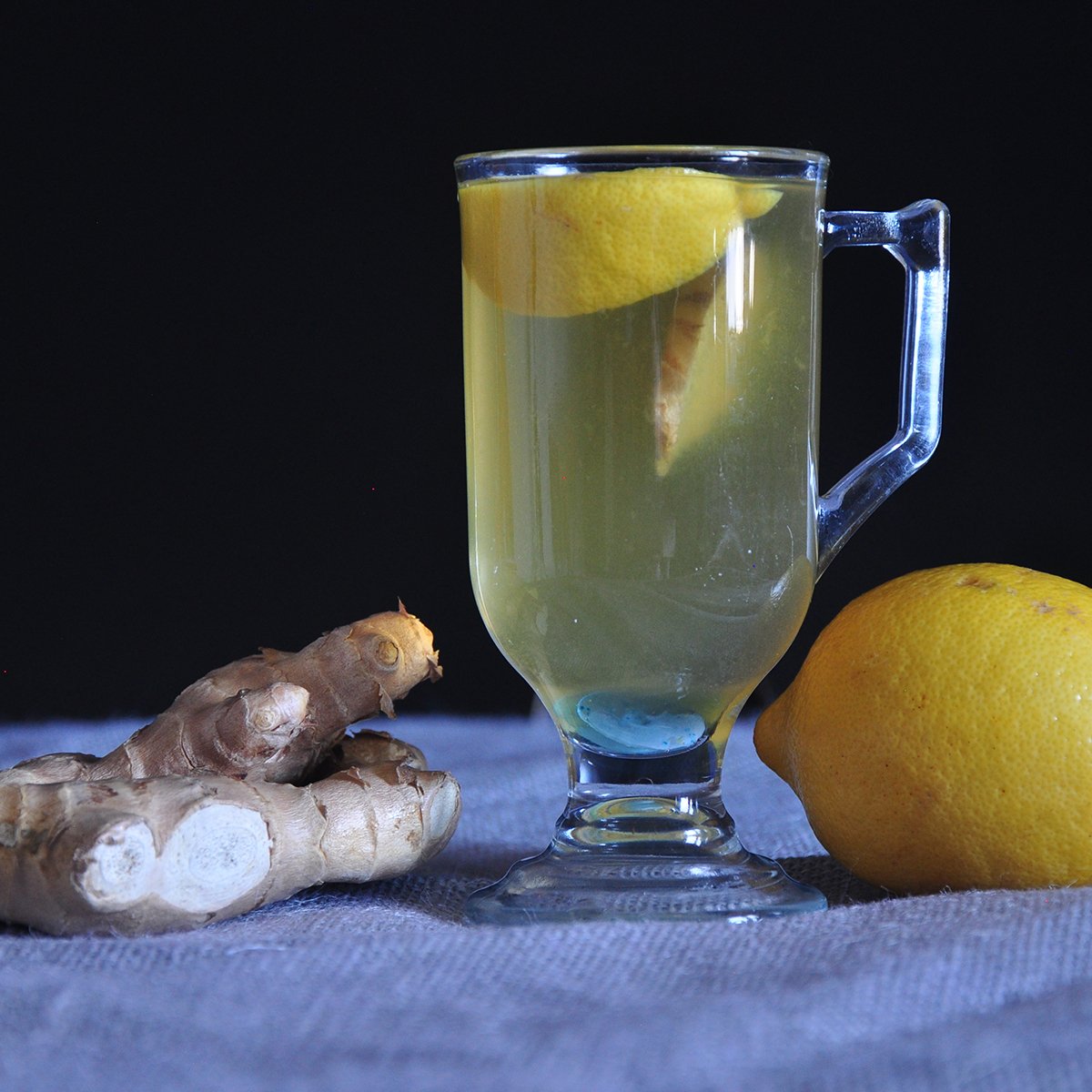 As we have already discussed, there is historical precedence in using a hot toddy for medical purposes. I will never claim that you should drink a hot toddy as medicine. For Pete's sake (whoever Pete is), go see a doctor (which I am not) if this is even a question.
I have, however, been guilty of partaking in hot drinks when my throat has been sore. Today, we are going to build a toddy recipe that I will drink if I am feeling under the weather. We are making a hot toddy for a cold.
As a disclaimer, if you are feeling in the dumps, more of this is NOT better. Creating a situation where you are hungover AND sick would not be fun.
Use common sense people… have a single hot toddy or maybe two to relieve your symptoms and don't mix medicines that you are not supposed to with alcohol. Maybe even skip the booze altogether, but what fun is that? We are going to add the brandy warmness to this recipe.
Ingredients Selection
I deliberately sought out ingredients that I thought would be soothing for a sore throat. When I get sick like this, you might find me gargling with salt water or popping cough drops like they are candy. So, I added cough drops.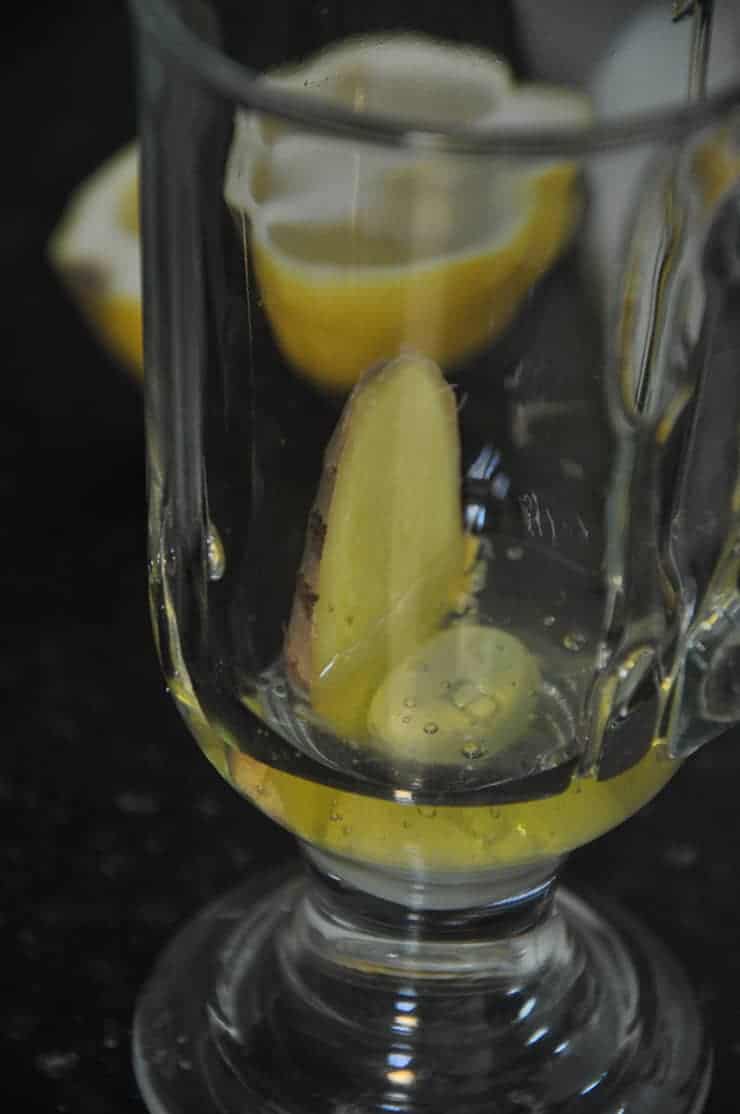 First, I just experimented with some mentholated cough drops in a glass of hot water. The cough drops, sure enough, disintegrate into the liquid. Not only does it disintegrate, the hot steam gives off a soothing menthol vapor that would be great for a sore throat.
I decided to add a bit of ginger to the mix. I like the bit of zing it brings to the drink, and it also has medicinal properties. The properties of ginger may help fight the pain of a sore throat, but possibly also assist in the fight your body is going through to lick that cold. Additionally, ginger just tastes good and goes well with honey, which is coming.
Before I think of a hot toddy for a cold, I actually think of honey and lemon. It is a sore throat soother that has been around for a very long time. Adding these ingredients seemed necessary and essential to make a cocktail that would be good for fighting a sore throat.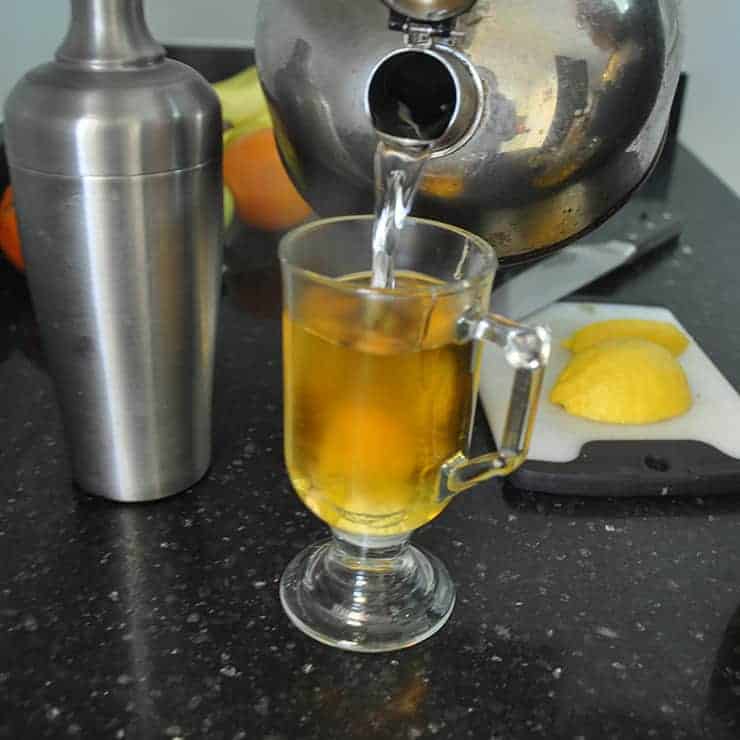 Whiskey. I am choosing to go with Fireball Whiskey. The motto is "Tastes like heaven, burns like hell." We aren't drinking this straight, so it should not burn like hell. We are adding it to a mixture of other spicy and soothing ingredients. The Fireball should add a little bit of a soothing spice, as well as add some nice cinnamon flavor, and maybe help clear out some congestion.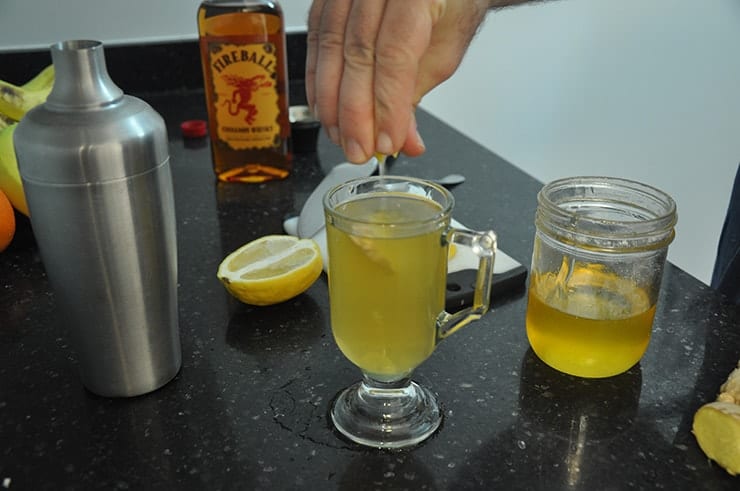 This recipe is meant to soothe a throat and clear some sinuses. Or maybe it is just meant to taste good! The combination of the Fireball, ginger, cough drops, honey and lemon should really give all sorts of comfort if a person is feeling in the dumps.
Print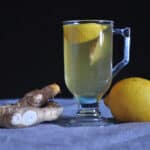 Hot Toddy For a Cold
Author:

Ben Myhre

Prep Time:

5 Minutes

Cook Time:

5 Minutes

Total Time:

10 Min

Yield:

1

Drink

1

x

Category:

Cocktails

Method:

Heating

Cuisine:

Comfort
---
Description
If you are going to drink a cocktail when you are not feeling well, this should be the one. This soothing and spiced drink has flavors that comfort sore throats.
---
8 Ounces

of water

2

Menthol Cough Drops

1

slice of fresh ginger

2 Ounces

Fireball Whiskey

1 Tablespoon

of honey

1

lemon wedge
---
Instructions
Heat water to boil in teapot or microwave
In Irish coffee mug or other appropriate mugs, add cough drops, ginger, whiskey, and honey
Once water is heated, add to mug
Stir to help dissolve cough drops, 2-3 minutes
Squeeze lemon wedge into drink
Serve
---
Keywords: hot toddy for a cold