Some people like to say that there is only one way to make an Old Fashioned. I believe this is wrong. Some even sneer at the notion of an orange and cherry in their Old Fashioned just as some old curmudgeon may yell to the local kids to "Get off my lawn!" It makes the old curmudgeon's lawn that much more tempting and fun to play on, doesn't it? Today, for our very last Old Fashioned post, we are going to go down the route of a more modern take Old Fashioned cocktail that is inspired by the AMC hit, Mad Men. Enjoy our Mad Men Old Fashioned Recipe! Go straight to recipe
Prohibition and its role in a new Old Fashioned
As we talked about in the post on the history of the Old Fashioned, prohibition changed the nature of the cocktail world. Once prohibition was repealed, there was a whole bunch of tradition and history that was damaged. Additionally, there was also a new opportunity for new traditions and history be made.
During prohibition and after, we started seeing oranges and cherries be added to the Old Fashioned cocktail. We saw the ritual of muddling right in the glass disappear. We saw the Old Fashioned turn into the kind of cocktail that both Don Draper from Mad Men and mee maw might have drunk. Sure, it might resemble a bit of a fruit salad, but fruit salads are sometimes yummy, right?
Somewhere in the past decade or so, there has been a resurgence of a more traditional Old Fashioned, and that is great. It celebrates old-timey things and looks closely at the history of the cocktail. I love it. What I don't like is that some dismiss the orange/cherry version of an Old Fashioned as **not** being an old fashioned. Just because the definition of something might change over time does not mean there is less value to either definition. Very reputable organizations have included the orange/cherry variation of the Old Fashioned as being the standard version. It is ok to celebrate the fruity version of the Old Fashioned!

Mad Men Old Fashioned Recipe
With that, let's get to it with the Mad Men version of the cocktail.
Print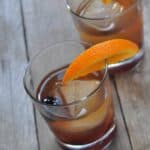 Mad Men Old Fashioned Recipe
Author:

Prep Time:

2 Minutes

Cook Time:

3 Minutes

Total Time:

5 Minutes

Yield:

1 Cocktail

Category:

Mixed Drink

Method:

Stir

Cuisine:

Cocktails
---
Description
An Old Fashioned recipe that stays true to Don Draper and the Mad Men Television series.
---
Ingredients
2 oz Bourbon
1 Sugar Cube
3 Dashes Bitters
1 Orange Round (+ one wedge or round for garnish)
1 Luxardo Maraschino Cherry (+ one cherry for garnish)
Splash Water
1 Large Ice Cube
---
Instructions
Place sugar cube in lowball or Old Fashioned glass
Add three dashes of bitter
Add Maraschino Cherry
Add Orange
Add Splash of Water
Muddle
Remove orange rind
Add Ice
Add Whiskey
Stir
Add Orange and Cherry Garnish
Serve
Keywords: Mad Men Old Fashioned