This post may contain affiliate links. As an Amazon Associate I earn from qualifying purchases. Please read our disclosure policy.
A Grilled Mexican Corn Recipe for your next cookout! It tastes luxurious and is a great complement to any grilled meal. Heck, it can be served by itself.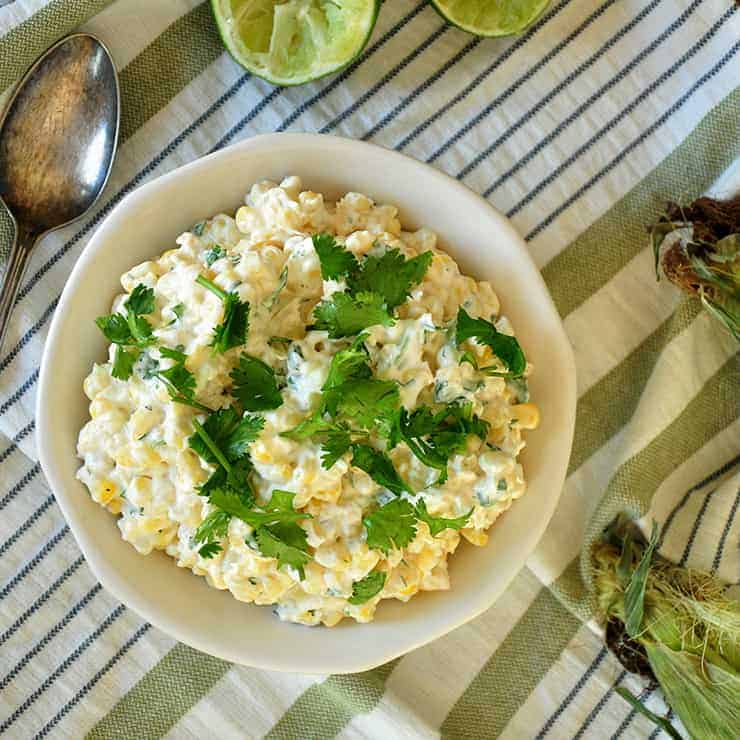 This Grilled Mexican Corn Recipe is a divine side dish to go with your Summertime meals. It can be served hot or room temp and is easy to make. If you are looking for a fun Mexican themed side dish for your dinner and want to try something new, give this recipe a try.
Grilling Corn With Husk On
My preferred way to grill corn is with the husk on. By soaking our corn husks before they are grilled, we allow them to almost be cooked from the water soaked up in the husk. It still allows you to get that great grilled flavor. While many Mexican corn recipes are served right on the cob, it is just too messy for this bearded guy, so I am de-cobbing it and putting the delicious flavors in a bowl.
No Charred Corn
Honestly, I am not a fan of charred corn and so many Mexican Corn recipes like putting the corn right on the grates. I just prefer to have those nice and full golden kernels.
Smoking the Corn
The corn takes about twenty minutes on the grill when you cook it in this manner. While it isn't a significant amount of time on the grill, it is enough to get some smoke into the husks. If you are using charcoal, you are already covered, but for those of us using gas grills, we can get some of that outdoor flavor by using a smoker box. It makes your grill smell fantastic and a bit of that smoke flavor into your cobs.
The Corn is HOT!
The big drawback I find of cooking your corn with the husk on is that it is hot! That is, after the corn is cooked, you still need to dehusk it, cut it, and get it into the dish. So, just be careful when you are working with the hot corn. I try and get mine husked right away and cut the corn kernels right off. It is important to get the hot kernels into the dish to help melt the cream cheese, but you don't want to burn yourself either.
On occasion, you can find me using an oven mitt when handling these grilled corns.
Cream Cheese and Crema Mexicana
I use two dairy products in this recipe. Cream Cheese and Crema Mexicana mix together really well to make a super creamy and rich experience with this corn. If you haven't worked with Crema Mexicana before, it is almost like heavy whipping cream. Then, we add in some of the cream cheese to help give it more of a dairy body.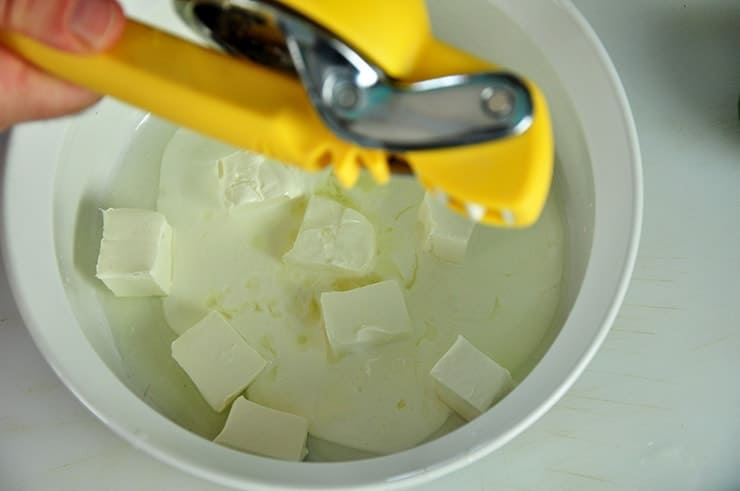 Cilantro
Cilantro can divide households. I understand. I love the stuff and Ashley is wrong. If you don't like it, just leave it out, but you will miss out on some of the great flavors.
Can I make this Without A Grill
Yes. It is Summertime right now and when I make corn, I grill it. For this recipe, you can really use any kind of cooked corn. I choose to use grilled corn because it is just that time of year and we are in the middle of our Grilling series. I do think that grilling corn gives it a special flavor and if done right, it is one of the truly unique things about American grilling.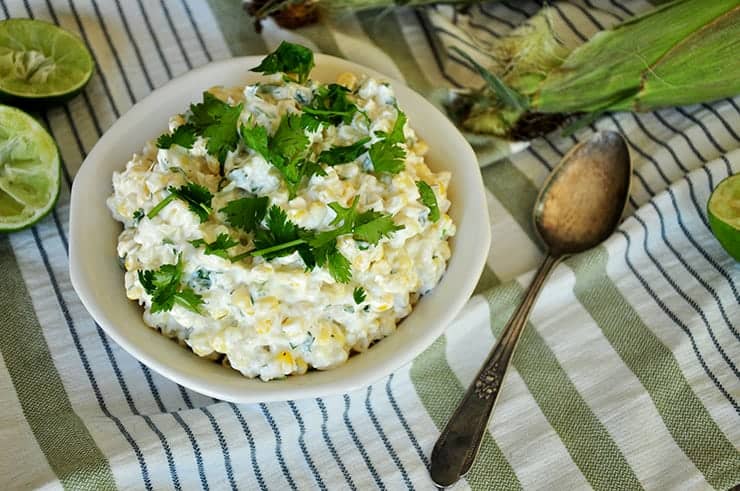 This really is a great corn recipe and if you want to add something a little special as a side dish, give this Grilled Mexican Corn recipe a try! If you like what we are doing here, please make sure to share this on Pinterest and sign up to get email updates from us.
Products Used In This Recipe
Print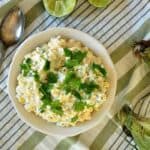 A Delicious Grilled Mexican Corn Recipe
Author:

Ben

Prep Time:

20 minutes

Cook Time:

25 minutes

Total Time:

45 minutes

Yield:

4

servings

1

x

Category:

Side Dish

Method:

Grilling

Cuisine:

Mexican
---
Description
This Grilled Mexican Corn Recipe is delicious and tasty. Get that tasty Mexican flavor as an easy to eat side dish.
---
4

ears of corn, husk on

4 Ounces

cream cheese, room temp and diced into small chunks

1/2 cup

Crema Mexicana

1/2 teaspoon

pepper

1/2 teaspoon

salt

1/4 teaspoon

cayennes
Juice from a lime

1/2 cup

chopped cilantro (plus more for garnish, if desired)
---
Instructions
Soak Corn for 20 minutes in cold water
While Corn is soaking, add all other ingredients to a bowl and mix
Preheat grill to 450
Put corn on grill for 20 minutes, rotating every five
Remove from grill, dehusk, and remove kernels from cob
While kernels are still hot, mix into bowl with cheeses to melt the cream cheese. If cream cheese did not melt, feel free to put in microwave for small chunks of time and then mix again.
Top with additional Cilantro (optional)
Serve
---