This post may contain affiliate links. As an Amazon Associate I earn from qualifying purchases. Please read our disclosure policy.
The Appletini is a modern classic cocktail! It is sweet enough to hit that sweet tooth and a touch of tart apple flavor.
This recipe walks you through, step-by-step, the making of this Easy Appletini Cocktail Recipe. Give this wonderful and easy cocktail a try today!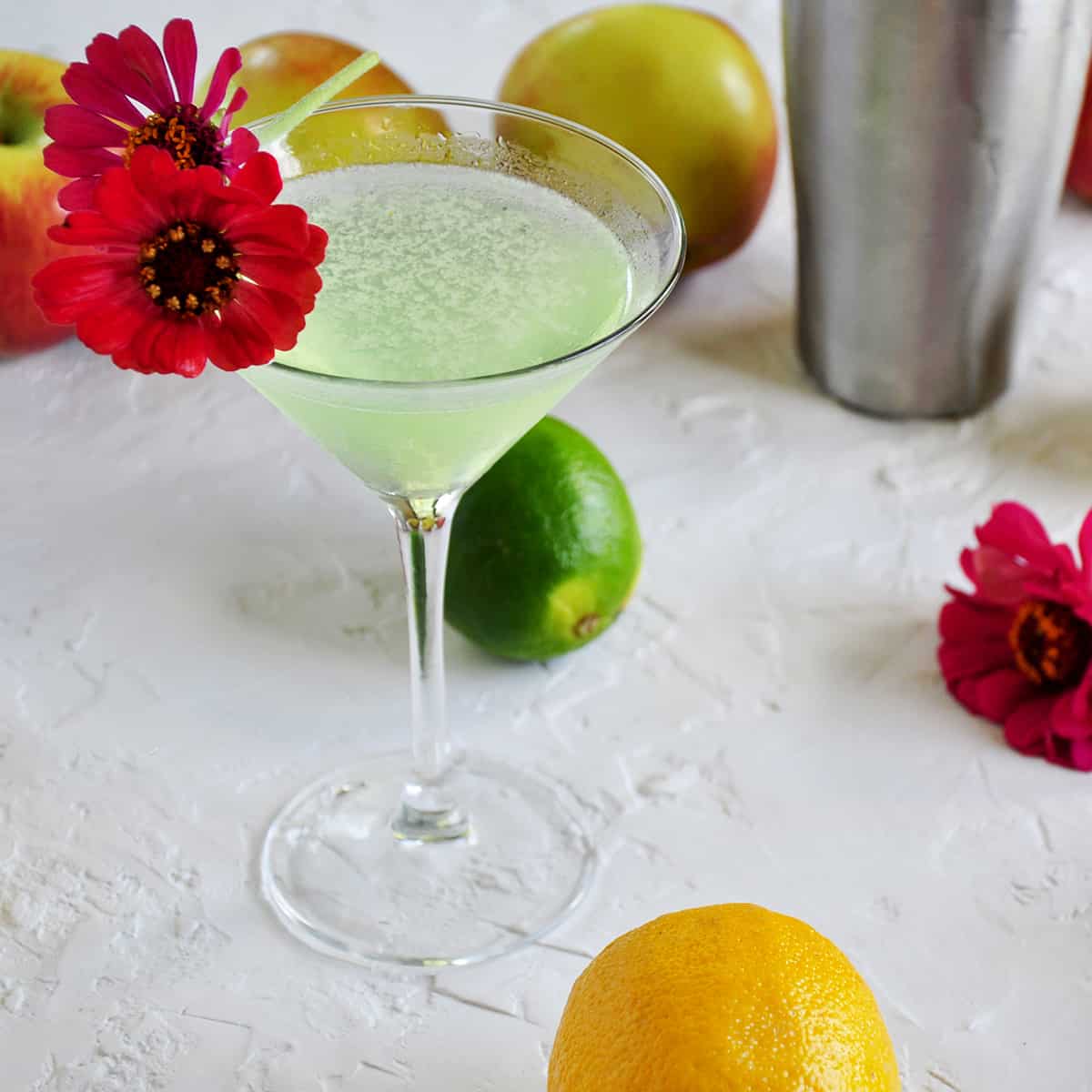 🍸 What makes this recipe special?
If you like sour apple drinks, you should at least give this one a try. In years past, I have heard all sorts of nonsense about specific drinks not being 'manly' enough or whatever. As if any drink isn't manly or not manly, right? It is a tasty drink.
Sure, this drink is on the sweet side; sometimes, that is exactly what I want. Don't let the sweet flavors fool you. This Appletini cocktail can pack a punch!
One or two of these cocktails are just perfect. Perfect for a 4th of July sipper or an excellent green drink for St. Patrick's day. No matter what, if you like it, drink it!
I enjoyed making and drinking this cocktail. You should give this special cocktail a try, too.
This cocktail contains our homemade Sweet and Sour mix, but you can use store-bought. Check out some other delicious drinks with this Aperol Americano cocktail, a classic White Russian cocktail, or this tasty RumchataTini. No matter what, make sure to treat yourself!
🍏 Ingredients
This cocktail recipe is so simple and only has three simple ingredients. Here is what you will need:
Vodka
Sour Apple Pucker
Sweet and Sour Mix
See the recipe card for quantities.
Do I need To make homemade sweet and sour
No, you don't. You can pick up a bottle of premixed sweet and sour. I do, however, recommend giving my recipe a whirl. It is so easy to make and is twenty times better than a store-bought sweet and sour mix.
Vodka
Use what you have! This is a pretty sweet cocktail, and while the Vodka brand can make a difference, it generally is meant to have no flavor. For this kind of basic Vodka, I have no problem with Smirnoff.
Sour Apple Pucker
This great sour apple liqueur has a flavor similar to a granny smith apple, but other apple liqueurs could work. Use what you have and like.
🍲 Instructions
Pour all of the ingredients into a shaker with some ice. Shake, shake, and shake. Then, strain into a chilled martini glass.
There is not much to this recipe!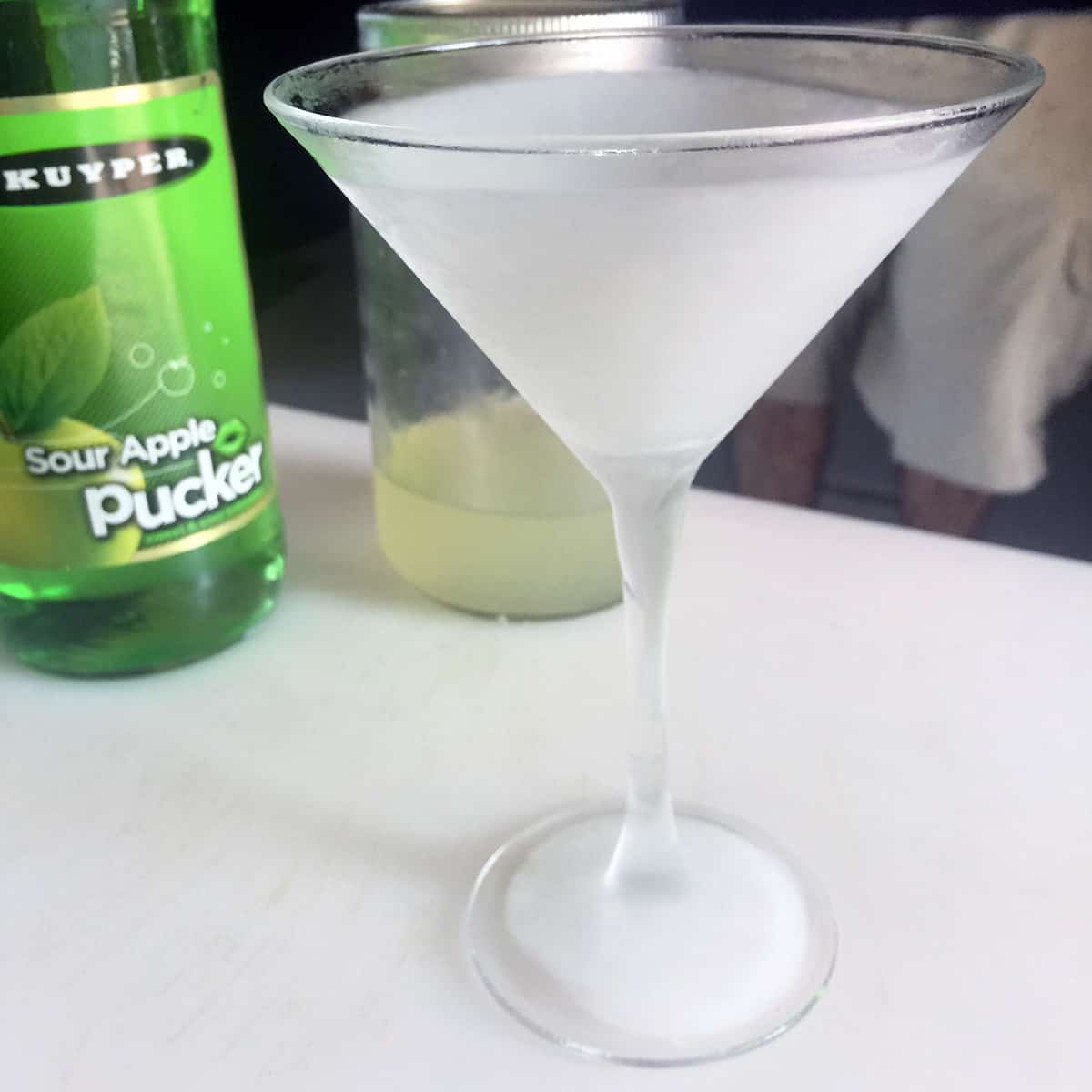 🤷 Substitutions and variations
There are a few ways that this can be changed up.
Vodka – Use what you have, but you could try many different kinds of vodka. Maybe a flavored vodka that complements apple flavor.
Glass – I serve this in a martini glass, but it could also be served in a rocks glass with ice cubes.
Apple Flavoring – I use Apple Pucker, but any apple-style liqueur, like Sour Apple Schnapps, would work for this martini.
Apple Cider – Some folks might like a little extra apple flavor by adding some apple juice or apple cider to the mix. Maybe ½ Ounce.
📦 Storage
This cocktail is not meant to be stored, but you could premix the ingredients for multiple servings into a large container. When ready to serve, add to your shaker at that time.
🎓 Appletini recipe history tidbit
Many times, cocktail history is obscured in myth and marketing. Still, the Appletini history seems to have a pretty straightforward and easy origin story. The story goes that it was a drink named initially Adam's Apple Martini that was invented by a guy who, shockingly, is named Adam Karsten.
He was a bartender at Lola's in West Hollywood and the year was 1996. It must have been a hit and the name transformed to Appletini. Now, others may lay claim to this origin story, but this was the only one I found.
❓ FAQ
What is an Appletini Cocktail?
An Appletini Cocktail is a mixed drink typically consisting of vodka, apple liqueur, and sweet and sour. It is a popular cocktail that is often served in bars and restaurants.
What does an Appletini Cocktail taste like?
An Appletini Cocktail typically has a sweet and tart taste, with a strong apple flavor.
How strong is an Appletini Cocktail?
The strength of an Appletini Cocktail can vary depending on the recipe used and the amount of alcohol added. However, most Appletinis are relatively strong and can contain around 20-30% alcohol by volume.
📝 Tips and tricks
Chill your martini glass in the freezer for the best results.
🛠 Products used in this recipe
😋 Did you make this recipe?
That is awesome, and thank you so much for giving this Appletini recipe a try. If you could leave a rating in the comment area below, it would be greatly appreciated. This lets me know how I am doing and also helps others decide if they want to make this recipe. Most of all, thanks for visiting Ramshackle Pantry.
Print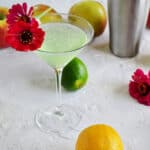 Easy Appletini Cocktail Recipe
Author:

Ben Myhre

Prep Time:

2 minutes

Cook Time:

3 minutes

Total Time:

5 Minutes

Yield:

1

Cocktail

1

x

Category:

Cocktails

Method:

Shake

Cuisine:

American
---
Description
The classic Appletini cocktail! Yes, it is a new classic, but certainly is a memorable one that has quickly joined the ranks of the tastiest cocktails there are. Pucker up and drink an Appletini!
---
1 ½ Ounce

Vodka

1 ½ Ounce

Apple Pucker

½ Ounce

Sweet and Sour Mix
---
Instructions
Fill Shaker with Ice
Add all ingredients to shaker
Vigorously shake for 15-30 seconds
Strain into frozen martini glass
DRINK!
---