This post may contain affiliate links. As an Amazon Associate I earn from qualifying purchases. Please read our disclosure policy.
This Bacon Salt recipe might be a novelty, but it is a dang tasty bacon trick. If you want to make something interesting and special, give this bacon salt recipe a try.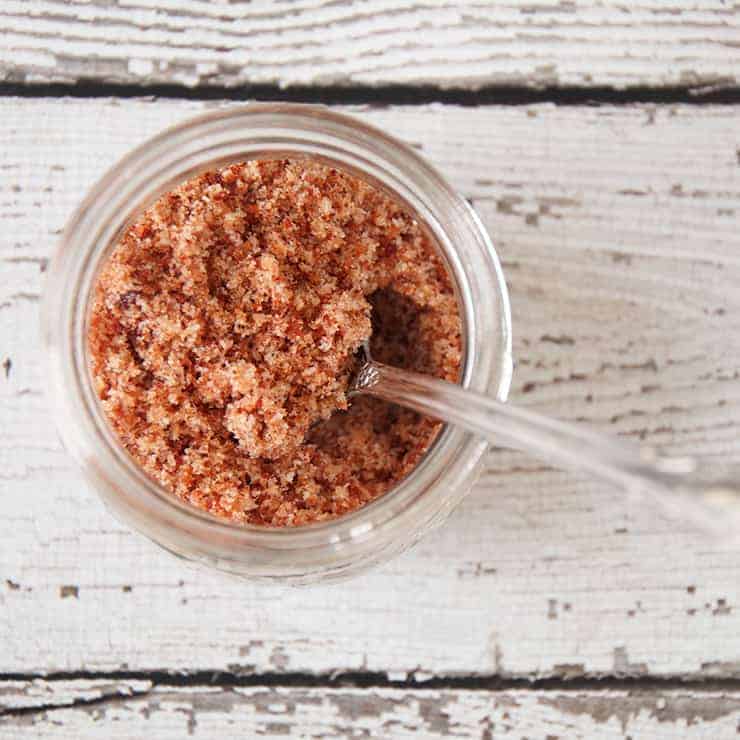 For those of you that have been following me for a little while, you may know that I wrote a book called Fifty Shades of Bacon. Let's just say that I have a bit of a love affair with bacon. Today, in preparation for an upcoming recipe, I thought we would spend some time making bacon salt. This is a simple and unique recipe can be used anywhere where both bacon and salt fits in. In fact, we are in the middle of a Bloody Mary series, so I bet you can guess how we might use it. Stick with me as we make our homemade Bacon Salt!
This is not a complicated recipe. The real summary of it is that we are going to combine bacon and salt to make a tasty bacon salt combination. There are a few things to think about this when making a recipe, so I will cover these few details and then we can get down to the brass tax of making the salt.
Cooking the Bacon
Alright, I am going to presume that you can make bacon and you can cook this however you like. Personally, I think baking bacon on a cookie sheet is a great way to get crispy bacon. An oven is great, as the heat is generally pretty uniform and you can spread your bacon out across the cookie sheet so that it lies flat.
When I make mine, I preheat the oven to 400, adding the bacon to the cookie sheet so that the slices lay flat. Usually, I need two sheets to get a whole package done in one sitting. Once preheated, add the bacon for 17 minutes. Take out and place the bacon on a plate that has been lined with paper towels so the oil drips off. From here, you can use the bacon for anything, but today we are going to experiment with our bacon salt.
How Much Salt to Use?
I have experimented with a few different recipes, but the ratio I am going to provide today seems to be what I liked best. For every 2 tablespoons of salt, I add three strips of crispy bacon. You can always add more or less to your tastes.
Make Sure To Clean Your Equipment
In our instructions, we use our spice grinder (really, just a coffee grinder) to fully combine the bacon and salt. One thing you are going to want to be sure of is that once you do this, no matter how you blend your bacon salt, to clean your equipment really well afterward. We are dealing with pork products here and if you use your coffee grinder for spices and coffee, I would hate for you to get sick because you didn't clean your grinder before you made coffee.
Keep it sanitary, folks.
What Can I Use Bacon Salt For?
First, it is kind of a fun gift. You can put some in little half pints and give them away. Or you can, obviously, use it. We are going to be using it in an upcoming Bloody Mary recipe (stay tuned), but really there are so many places this could be added. You could add it to eggs, as though you were cooking breakfast. You could salt your french fries with this bacon salt for an interesting combination. Some people even put salt on ice cream and this bacon salt could make for a really interesting ice cream treat.
How Long Will The Bacon Salt Last?
You are going to be storing this in an airtight container and in the refrigerator. The USDA guidelines on bacon bits made with fresh bacon can be stored in the refrigerator for up to 6 weeks, but I would eat it up within a month.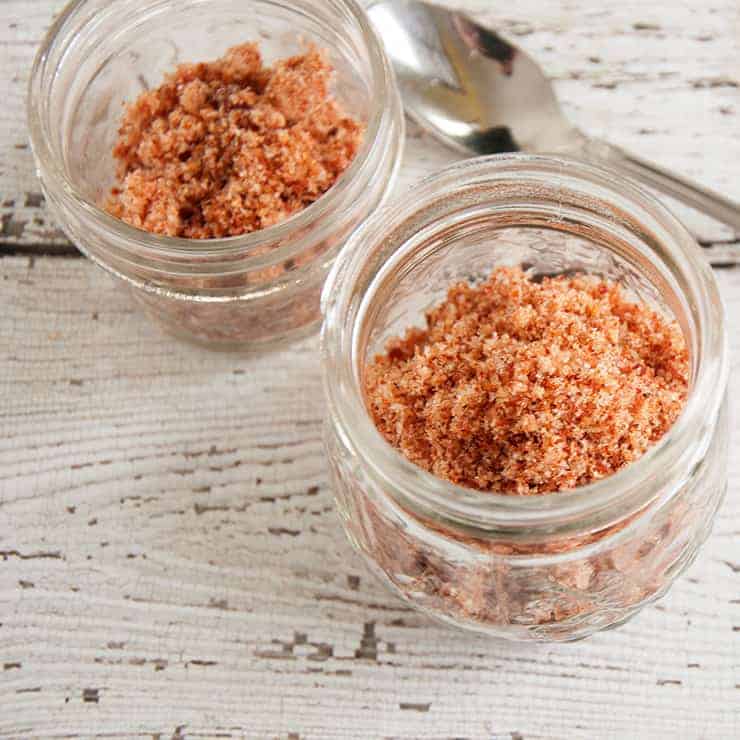 Enjoy this tasty bacon salt and if you like what we are doing here, please make sure to subscribe to our email, follow us on Instagram and Pinterest!
Products I Used In This Recipe
Print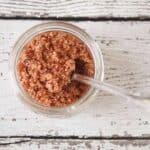 Bacon Salt Recipe
Author:

Ben Myhre

Prep Time:

20 Minutes

Cook Time:

5 Minutes

Total Time:

25 Minutes

Yield:

12

servings

1

x

Category:

Condiment

Method:

Stirring

Cuisine:

American
---
Description
Spice up your salt with some BACON! This is an easy way to make an interesting and unique condiment that is perfect for a gift or for a bacon focused dish.
---
2 tablespoons

salt

3

Slices Cooked Crispy Bacon
---
Instructions
If you just cooked your bacon, allow cooling for at least 5 minutes.
Chop Cooked bacon bits
Add Bacon bits and salt to a spice grinder
Pulse 8-10 times until a fine consistency
Place in airtight container and store in the refrigerator for up to 1 month
Notes
If you need more, double or triple the recipe and it should work almost exactly the same.