Exploring all things Mojito! An important part of a mojito is the rum. Today, we talk about the best rum for Mojitos and also share a minty, tasty Mojito recipe.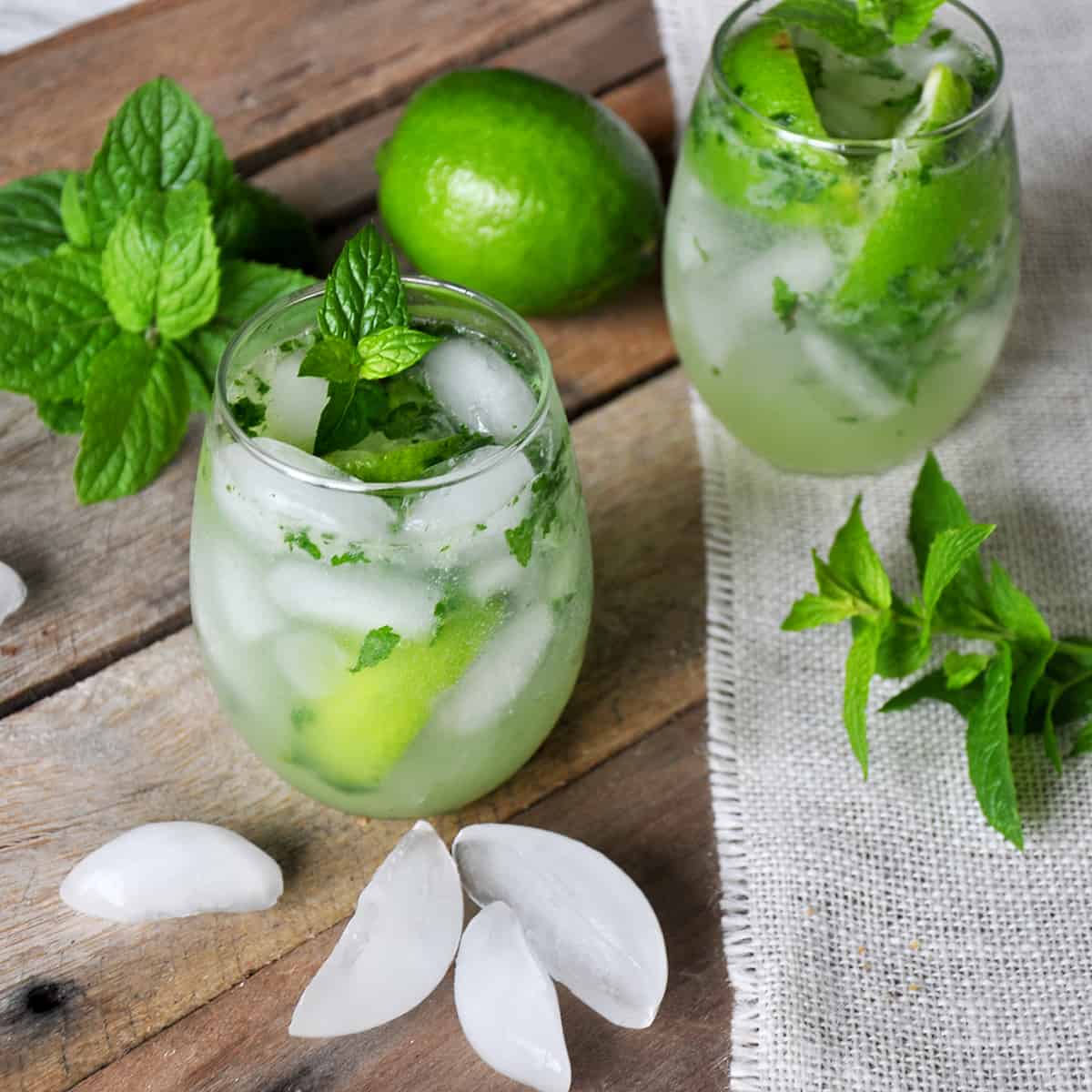 🌿 What makes this recipe special?
Have you ever been served a Mojito that knocked your socks off? You know the kind of drink… where you wonder how the hell they made something so good. What special ingredients make their cocktail so much better than what you make at home?
Rum is an essential ingredient of a Mojito and we are going to explore what makes the best rum for Mojitos. We will talk about what rum is, the different grades of rum, and finally make a selection on what I will use for my best Mojito recipe.
One thing that is important to consider when looking for the best rum for Mojitos is what the cocktail really is. A Mojito is flavor punch of freshness. A Mojito is the tastes of Summer.
The rum is very important, but the lime, mint, and sweetness really are the superstars of this cocktail. Rum adds to the sweetness, but this is one cocktail where I think the booze takes a passenger's seat to all the other flavors.
Jump to:
🍾 What is rum?
Before we spill the beans on what is the best rum for Mojitos, let's take a moment to understand what rum is. While different countries have different specifications, the US law recognizes rum as :
"Rum" is an alcoholic distillate from the fermented juice of sugar cane, sugar cane syrup, sugar cane molasses, or other sugar cane by-products, produced at less than 190° proof in such manner that the distillate possesses the taste, aroma, and characteristics generally attributed to rum, and bottled at not less than 80° proof; and also includes mixtures solely of such distillates.
So, like every other alcohol, there is a sugar involved in the fermentation process. For Bourbon, it is corn or rye. For beer and scotch, it is malted barley. In rum, it is straight up sugar. That sweetness translates heavily into the alcohol and is why it is so popular for tropical drinks like the Daiquiri, Pina Colada, and the famous Mojito.
🍹 Different styles of rum
Going back to ye ol' law books, the US only distinguishes one special kind of rum and that is Cachaça. This rum has two special characteristics according to the regulation. First, it must be produced from sugarcane juice. Most other rums are produced from molasses, a sugar cane by-product. The other is that it has a geographic designation of Brazil. In fact, Cachaça is the most popular distilled alcoholic beverage in Brazil! I have not tried this, but now it is on my list.
There are also different grades of rum that are not necessarily bound by law in the US. Some of them are as follows:
White rum
As a spoiler, this is the kind of rum I recommend for a traditional Mojito and is generally considered the best rum for this type of cocktail. Aging in white rum is minimal. This is young rum that has minimal taste, other than the sweetness that comes with rum, and is not colored. The lack of taste helps the other ingredients make the Mojito the superstar it is.
Gold rum
Gold rum has been aged in barrels for a bit. It is called gold because of the coloring that the barrels impart on the libation. It generally has more flavor and more depth than a white rum.
Dark rum
You can see where this is going, right? Aged longer in barrels. The color and flavor has even more depth. Perhaps coloring has been added, but this is the kind of rum that maybe was more meant for sipping alone. This is also the kind of rum that is used in cooking.
Post Edit: I had an avid Rum connoisseur reach out to me to about the topic of color in rum. He pointed out that color is really a bad measure of age, even though much of the information out there indicates that color is the measure. I mean, color can be added OR filtered out. This makes sense and after some research, I agree. Without any distillery shenanigans, the color measurement remains, BUT maybe a more accurate measure of age is weight... light and heavy. Where the age can be determined by the flavor profile and mouthfeel of the spirit. So, St. Lucia TOZ White Gold rum is white in appearance, but has been aged longer than many darker flavored rums.
Navy strength
In a previous post we talked about Navy strength gin. Rum shares the same history.
Back in olden days, the British Royal Navy would test the alcohol levels of a spirit by mixing it with a certain amount of gunpowder. It was only deemed appropriate enough for purchase if the concoction lit on fire when ignited. While a fairly unscientific method, the number that made this happen was 57% alcohol. So, if it were 57% or stronger, it was Navy strength.
Other rums
There are other styles of rums such as overproofed rum and spiced rum. I think the names are fairly self explanatory and these rums are not appropriate for a traditional Mojito. There are also styles of rum that other countries recognize. Perhaps some interesting variations on a Mojito could be made from these rums, but not my best rum for Mojitos.
❓ FAQ
What is rum made from?
Rum is made from sugarcane juice or molasses, which is fermented and then distilled.
What are the different types of rum?
There are several types of rum, including light rum, dark rum, and spiced rum. Light rum is clear and has a milder flavor, while dark rum is aged longer and has a stronger, more complex flavor. Spiced rum is made with the addition of spices and flavorings.
How is rum typically consumed?
Rum is commonly consumed in cocktails such as the mojito, daiquiri, and piña colada, but can also be consumed neat or on the rocks.
What is the alcohol content of rum?
The alcohol content of rum can vary, but it is typically around 40% alcohol by volume (ABV).
Can rum be aged?
Yes, rum can be aged in oak barrels, which can give it a smooth and complex flavor.
🤷 So, what is the best rum for Mojitos?
This is one cocktail where I am not going to get snobby about my liquor. Rum is important in this cocktail, but I don't think it is the star. A nice, reasonably priced, white rum is my pick as the best rum for Mojitos. The brand that sticks out to me is Bacardi Superior. It is available everywhere and is reasonably priced.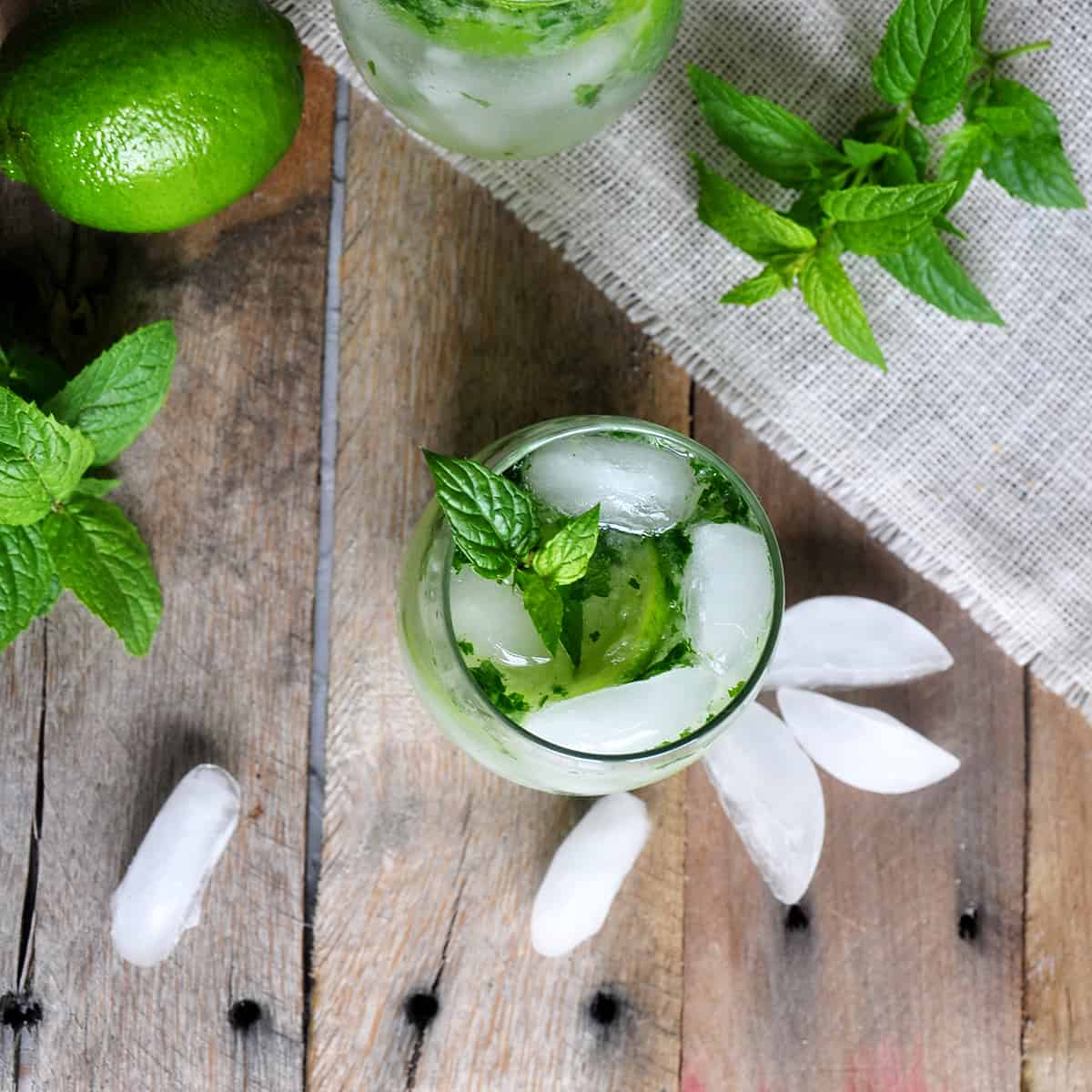 I think it is fantastic if you support your local rum maker or are really into specialty rum, so you are a bit more picky. For my take on the best rum in a Mojito, I will stick with what I already have in the cupboard…. Bacardi.
😋 Did you make this recipe?
That is awesome, and thank you so much for giving this Mojito recipe a try. If you could leave a rating in the comment area below, it would be greatly appreciated. This lets me know how I am doing and also helps others decide if they want to make this recipe. Most of all, thanks for visiting Ramshackle Pantry.
Print
📖 Recipe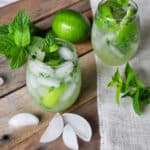 The best rum for mojitos
Author:

Ben Myhre

Prep Time:

2 minutes

Cook Time:

3 minutes

Total Time:

5 minutes

Yield:

1

cocktail

1

x

Category:

Cocktails

Method:

Shaker

Cuisine:

Tropical
---
Description
Want to know the best rum for mojitos? Don't stress, just use what you got or some Bacardi. This is a simple, elegant, and tasty classic Mojito.
---
½

Lime

2 Tablespoons

fine sugar

12

Mint leaves +

1

sprig for garnish

2 Ounces

Bacardi Rum
Ice (I used 8 large cubes)
Club Soda
---
Instructions
Cut lime into 4 sections.
Add fine sugar, 12 mint leaves, and limes into a shaker
Muddle!
Add rum and ice.
Vigorously shake all ingredients for 15 seconds.
Pour entire content of shaker into a highball glass.
---
Keywords: best rum for mojitos