This post may contain affiliate links. As an Amazon Associate I earn from qualifying purchases. Please read our disclosure policy.
The flavors of fresh blueberries, the creaminess of homemade custard, and the crumbly sweetness of a rich shortbread combine to make this wonderful Blueberry Tart. This is an exquisite dessert recipe that is both delicate and bold. The flavors, colors, and textures are all special with this one and if you are looking for a special dessert, give this Blueberry Tart recipe a try.
What Makes This Blueberry Tart Special
This dessert is full of fruity flavor and creamy comfort. The crust is a delicious crumbled shortbread. The best thing about this dessert is that it tastes great.
The Blueberry Tart has three main components. The dessert consists of a blueberry filling, a custard layer, and a shortbread crust. These three components work so well together, which is what makes this a great dessert.
Blueberry Tart Summary
As mentioned, this dessert has three components, and each is prepared separately. The blueberry filling, the custard, and the crust are prepared separately. Then, they are combined separately at the end just before baking.
Blueberry Filling
The blueberry filling is as simple as combining the blueberry filling ingredients and turning the burner on medium. Once it starts to heat, everything will form into a liquid.
Once the blueberries start to heat, use a fork to mash the blueberries a bit. They should naturally break as it heats, but the goal is to just break them up a bit. The flavors and colors will combine.
Custard Filling
The Custard filling is a fairly traditional custard. Just combine the ingredients and mix them well. When the pie bakes, this will solidify into something that is wonderful.
Shortbread Crust
Mix the shortbread crust ingredients together using a stand mixer and the paddle attachment. Mix on low. As you add the butter, it should start to incorporate into the flour and sugar mixture.
The paddle will do the rest. At the end, you should have a crumble, but take care not to overmix.
Putting it All Together
Pat the shortbread into the tart pan. Once you have this placed firmly in the pan, fill it with the blueberries. Finally, pour the custard over the top. Put the tart in the oven at 350° Farheneight for 45 minutes.
Once done and the custard has set, remove from the oven and allow the tart to cool for at least three hours. At that point, put the blueberry tart in the refrigerator until you want to eat.
About This Shortbread Crust
This is a fairly classic shortbread recipe. It has a ratio of 1:2:3, or one-part sugar, two-part butter, and three parts flour. I do add a tad of salt to the mix, as well, but the crust recipe is pretty normal.
Add the flour, sugar, and salt to your mixing bowl. With the paddle attachment or mixer, slowly mix. Add the softened butter one chunk at a time. I say hunk, but it is probably about two tablespoons. The amount perhaps isn't quite as important, but I don't want you adding all the butter at once.
Don't Overmix The Crust
One risk with shortbread is overmixing, and I have done this before. What you want in a good crust is something that appears like a consistent crumble.
If you overmix it, the dough will appear more like a dense paste. Check out the process pictures to get a good idea of how you want this to appear.
Use Parchment Paper To Prevent Sticking
One of the biggest obstacles I had with tarts was sticking. I had a few blunders with sticking. Don't get me wrong, everything still tastes good, but scoops of the blueberry tart aren't as good as slices of blueberry tart.
My tart pan is metal and not a non-stick one. To help prevent sticking, I used parchment paper. Simply cut a circle in the shape of your removable bottom, and there you have it. There still is a bit of delicate maneuvering that is needed to remove it from the thin, but the paper helped with the process.
I did not have as many problems with the tart sticking to the side, but I also did not force the process. The removable bottom is not something I forced out but rather something I teased.
Buy The Right Tart Pan To Prevent Sticking
While I do not have one, you might be better served by purchasing a non-stick tart pan. While the parchment paper works fine, I would imagine a non-stick tart pan would be much better than what I have.
Form the Crust Firmly In The Tart
I think one of the important things about this recipe is forming the crust correctly. To do this, loosely spread about a cup of the crumbled dough. Then, using your hand, press it down, so there are no empty spots.
After that, I spread some all the way around the edges loosely. Using your fingers, press the crust into the sides. If there are any areas where it looks like the crust is thin, just fill them in and press it in with your fingers.
There could be some of the shortbread crust leftover when you are done; that is ok. Just let it go or eat it.
Even Out the Top Of The Crust
When you press the crust into the sides, some may creep up over the top edges of the tart pan. Just take a butter knife and level off the crust. If you need to add a little back in, that is fine. If the top of the crust is level, it just gives a slightly more refined or tight look.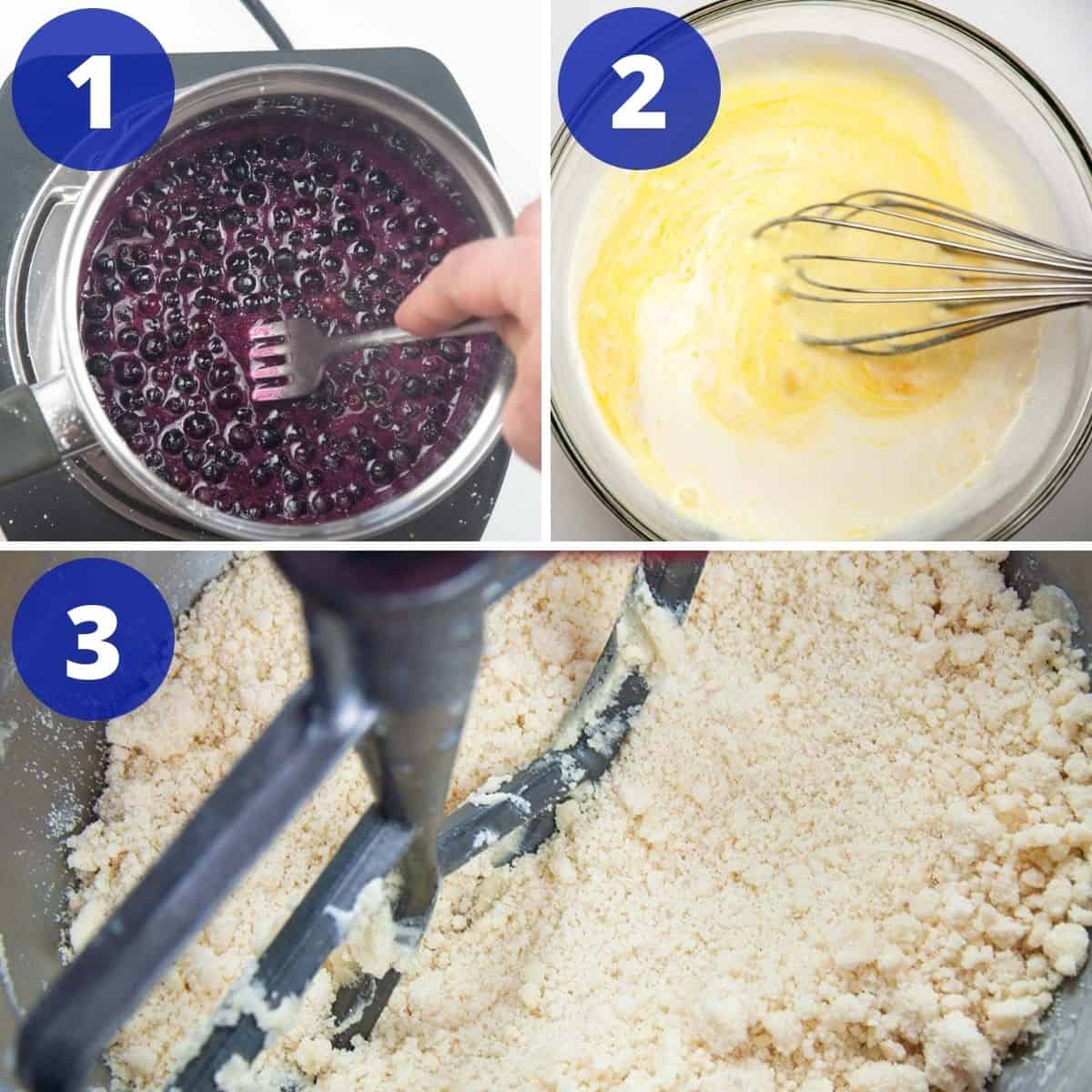 About the Blueberry Filling
The filling is a basic sauce that is thickened with cornstarch. I experimented with different amounts of cornstarch, but this amount creates a thick sauce that holds solid once cooled.
Lesser amounts of cornstarch make a mess when you slice the tart, and you don't need too much. Other than the cornstarch, there is just a bit of lemon juice, sugar, and blueberries.
Can You Use Other Fruit?
I think any berry would be a good substitute for this recipe, but I have not experimented with anything else. Specifically, I think raspberries would be great in this recipe.
So, yes, I think other fruit would work, and I feel raspberries would be a great 1:1 substitution. Other fruits will work, as well. It, however, might require some minor adjustments. If you feel comfortable experimenting, I would say go ahead!
About the Custard Filling
The custard filling is as simple as mixing all of the liquids together. In the oven, it will solidify. As you pour the custard on top of the blueberries, the filling and the custard might mix a bit together, and that is fine.
Removing the Pie From the Tart Pan
For me, this was the trickiest part of the recipe. First, either use a non-stick tart pan or use a piece of parchment paper on the bottom. This helps prevent sticking to the bottom.
Even with a bottom, sticking can happen. Take care when removing the tart. It is fragile and don't force the tart out in one fell swoop.
Take your time and handle it delicately. Once the tart is out of the pan and cooled in the fridge, it will be pretty sturdy.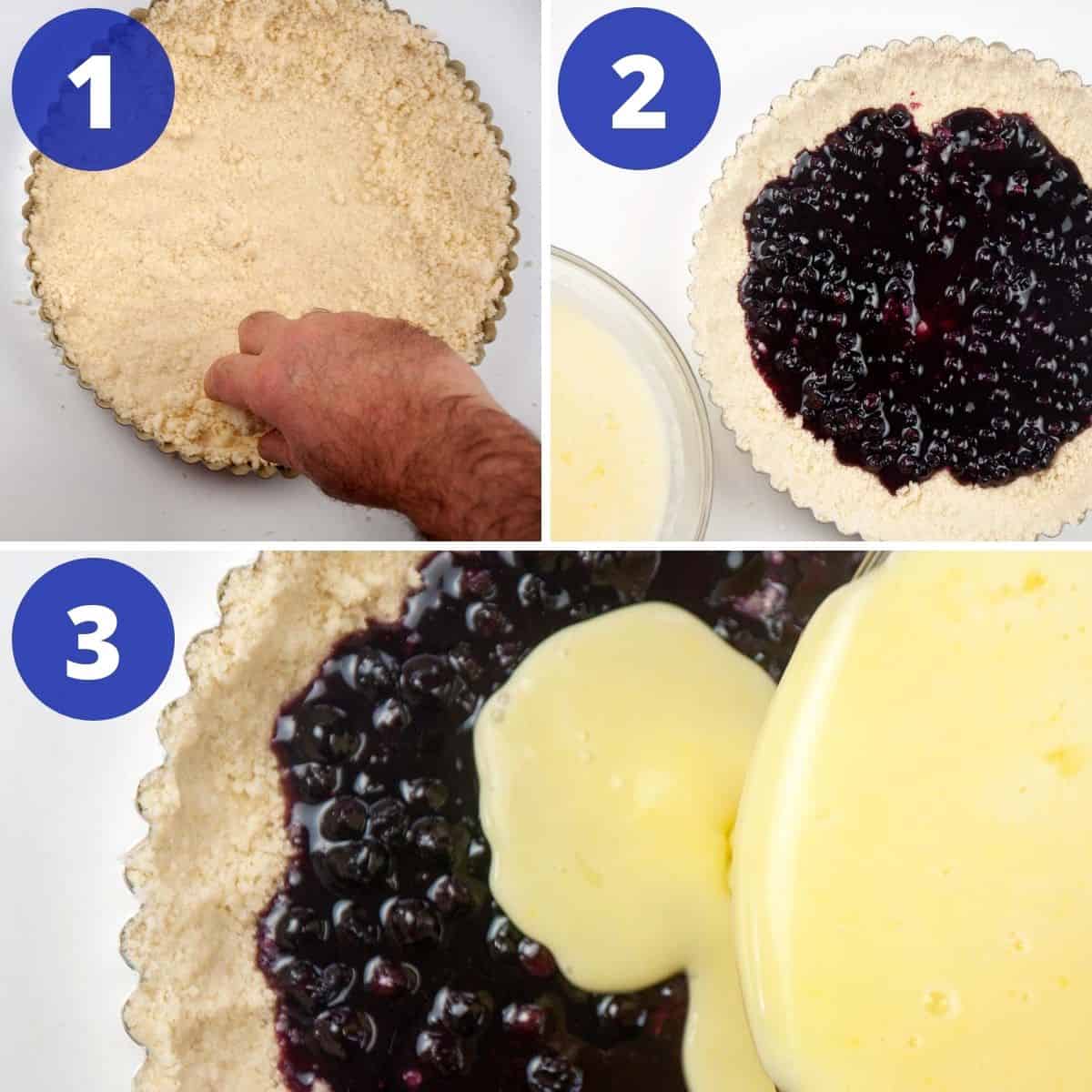 Shortbread History and Tart History
The shortbread crust is so tasty, and shortbread has a long history. According to Wikipedia, it went as far back as the 12th century and originated in Scotland. Shortbread was considered a luxury and reserved for special occasions, which made sense.
Sugar, particularly white granular sugars, was definitely something that was not common for much of our culinary history. Something that was so rich with sugar and butter would have definitely been a treat.
Even if the origin of shortbread is Scottish, tarts may have French origins. According to this article about tarts, the tart was first baked by two sister who worked at a hotel and then made popular by other places.
In the times I have been to France, there have been all sorts of fruit tarts sold at pastry shops. Seeing the rows of tarts is a distinct (and wonderful) memory I have of France, so this makes sense to me.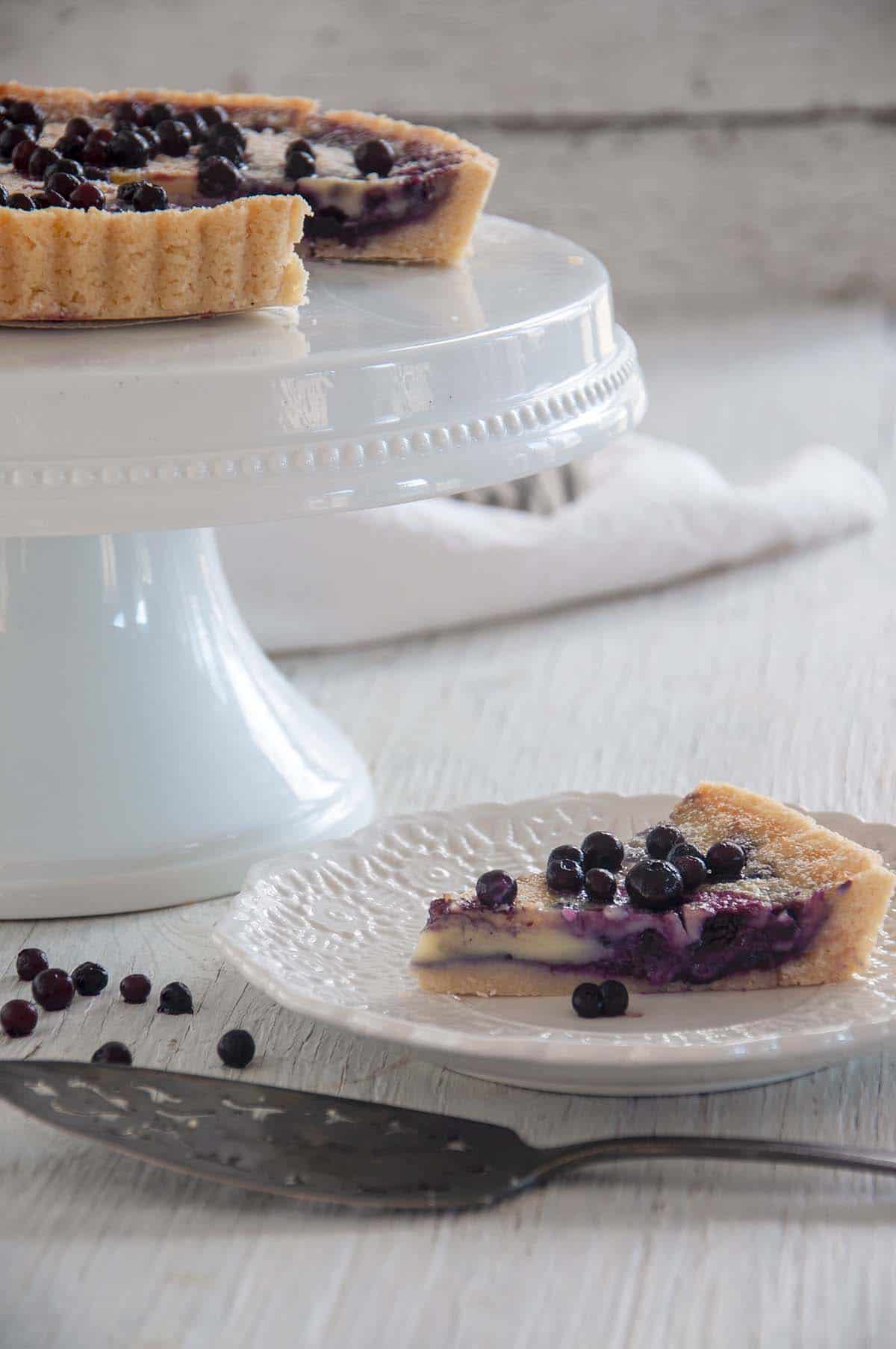 Blueberry Tart Tips
Use a non-stick tart pan or line the bottom with parchment paper.
You could substitute most other berries if you wanted different flavors.
Take care when removing the tart from the pan, and make sure to allow it to cool a bit.
Powdered sugar and fresh fruit are great toppings for this tart.
Store in the refrigerator.
Products Used In This Recipe
Did You Make This Recipe?
Thank you so much for giving it a try! I loved this recipe, and I hope you like it as much as we do. If you did try it and liked it, you can do me a big favor and leave a rating down below. Doing this will help others determine if they want to make it and give me some feedback on the recipe. Most of all, thank you for visiting Ramshackle Pantry!
Print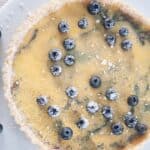 Blueberry Tart
Author:

Ben

Prep Time:

30

Cook Time:

45

Total Time:

1 hour 15 minutes

Yield:

8

Servings

1

x

Category:

Dessert

Method:

Bake

Cuisine:

French
---
Description
If you are looking for a creamy, sweet, crumbly baked dessert, this Blueberry Tart is for you. The ingredients are all very simple and the flavor is so special. Give this baked treat a try today.
---
For Blueberry Filling:
1 cup

blueberries

½ cup

sugar

½ teaspoon

lemon juice

2 tablespoons

corn starch
For Custard:
1 cup

heavy cream

2

eggs

1 teaspoon

vanilla

1 cup

sugar
For Crust:
1 ½ cups

all purpose flour

¾ cups

softened butter

6 tablespoons

sugar (

¼ cup

of sugar +

2 tablespoons

)

½ teaspoon

salt
---
Instructions
Add all filling ingredients to pan and turn on to medium heat
Once heated, mix with fork and loosly mash up full blueberries
Once bubbling, it should start to thicken. At that point remove from heat
While blueberries are heating and cooling, make custard and crust
To make custard, mix all custard ingredients well.
In stand mixer with mixing paddle, add flour and 6 tablespoons sugar
Turn mixer on low and add softened butter about 2 tablespoons at a time
Once all butter is added, allow to mix until crust ingredients look like a fairly uniform crumble. Use rubber spat to loosen any stuck butter
Preheat oven to 350° Fahrenheit
Cut parchment paper to fit bottom of tart pan (if you don't have a non-stick pan)
Loosely add layer of crumble to bottom of tart pan and then press down
Loosely add crumble around edges and then pat tight.
Add additional crumble to edges to make uniform and to bottom. Press down to tighten crust
Use knife or flat surface to remove excess crust on edge
There may be some crumble leftover, that is ok.
Add blueberries to bottom
Add custard
Carefully place tart in middle rack and bake for 45 minutes
Remove and allow to cool for 3 hours.
At this point, you can remove from tart pan. The crust is fragile so take care. If your crust breaks, it is ok… it will still taste awesome.
Either eat or store in fridge.
Notes
Use a non-stick tart pan or line the bottom with parchment paper.
You could substitute most other berries if you wanted different flavors.
Take care when removing the tart from the pan, and make sure to allow it to cool a bit.
Powdered sugar and fresh fruit are great toppings for this tart.
Store in the refrigerator.
---
Nutrition
Serving Size:

1/8 of tart

Calories:

527 calories

Sugar:

49 g

Sodium:

311 mg

Fat:

31 g

Saturated Fat:

18 g

Unsaturated Fat:

13 g

Carbohydrates:

63 g

Fiber:

1 g

Protein:

3 g

Cholesterol:

132 mg