Crab Fried Rice is a classic dish with a Thai twist. Rice is already a great food, but when you arrange it the right way, it can be divine. This Asian classic combines rice, crab, Thai chilis, fish sauce, soy sauce, and a few other ingredients to make something spectacular. Give this tasty Crab Fried Rice recipe a try today.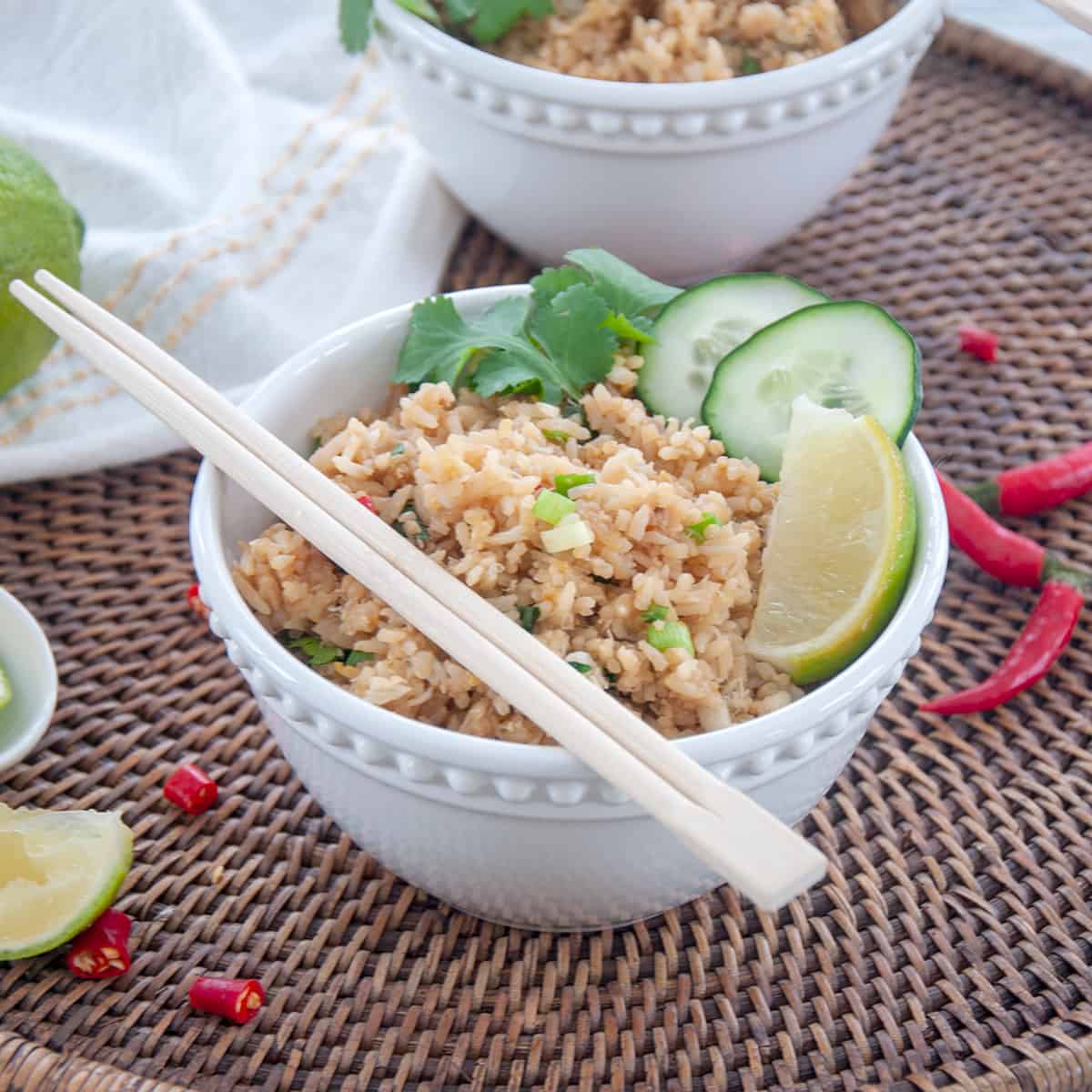 Crab Fried Rice Summary
The name pretty much sums up the dish. We are going to fry some rice and then add crab to it. There are a few other ingredients and flavors that get added along the way, but from start to end this takes under 5 minutes to cook. This recipe is done lickety split, so get your plates ready!
Be Prepared
One thing that can make this a fun recipe to cook is being prepared. Because the dish is done so quickly, it is important to measure out your ingredients before hand. The last thing you want to do is be in the middle of frying in your super-hot wok and realize that you need to chop something. So, while this is an easy dish, I think one of the keys to making this fun to cook and a great recipe is preparation.
What makes this a Thai dish?
Most of us have had fried rice before, but how many of you have had Crab Fried Rice, which is distinctly a Thai variation? What separates this dish from a standard fried rice is the rice being used (Jasmine vs white), fish sauce, lime, and Thai chilis. Obviously, the crab makes a difference, as well.
Prik Nam Pla
The traditional condiment Prik Nam Pla makes this dish distinctly Thai, as well. Prik Nam Pla is a side sauce that consists of fish sauce, Thai chilis, garlic, and lime juice. While we do not include a recipe to add this as a side, we are including all of the elements needed to give the same flavors instead of making Prik Nam Pla a side.
Know your wok
You know your wok better than I do, so make sure to adjust your cooking accordingly. I know that my wok can sometimes stick, so it is very important for me to vigorously stir my ingredients. Take my recipe and use it, but make sure to make any adjustments you need to make it work for your wok.
What Kind of Rice To Use
I recommend using Jasmine rice for this dish. It is an element that makes this distinctly a Thai dish and is the most common rice for it. That said, use what you have. Most any rice will work for this dish and if you don't have Jasmine rice, whatever you have leftover or in your pantry will work fine.
Leftover rice vs New rice
I find that the best rice is from leftovers. If, however, you are making rice specifically for this dish, I would recommend cooking it the day before and just put it in the fridge overnight. You can, however, just make the rice and use it. In a pinch, there is no need to wait.
If you are trying to cook your rice for a recipe today, just cook your rice and spread it out on a baking pan to cool for a bit. No matter what rice you use or when you make your rice, you can make a great Crab Fried Rice.
Break Rice Up
An important part of making great fried rice, no matter the flavor, is getting the right texture of rice for the job. The prefect rice is broken up into individual pieces where large clumps don't stick together. Break your rice up! It is ok to get in there with your clean hands and handle your rice.
If you made it the night before, it is probably going to be chilled and a bit clumpy. Get it broken up. If you just made it, make sure to evenly spread it out on a baking pan and allow it to cool down before you break it up to use.
Frying Rice In Two Batches
The thought behind this is that cooking the rice in two batches allows the oil to heat up enough to get a nice even fry on all of the rice. Wok cooking is intended to be done at extremely high temperatures and many of our woks and stovetops just don't get the right. I picked this tip up from Serious Eats.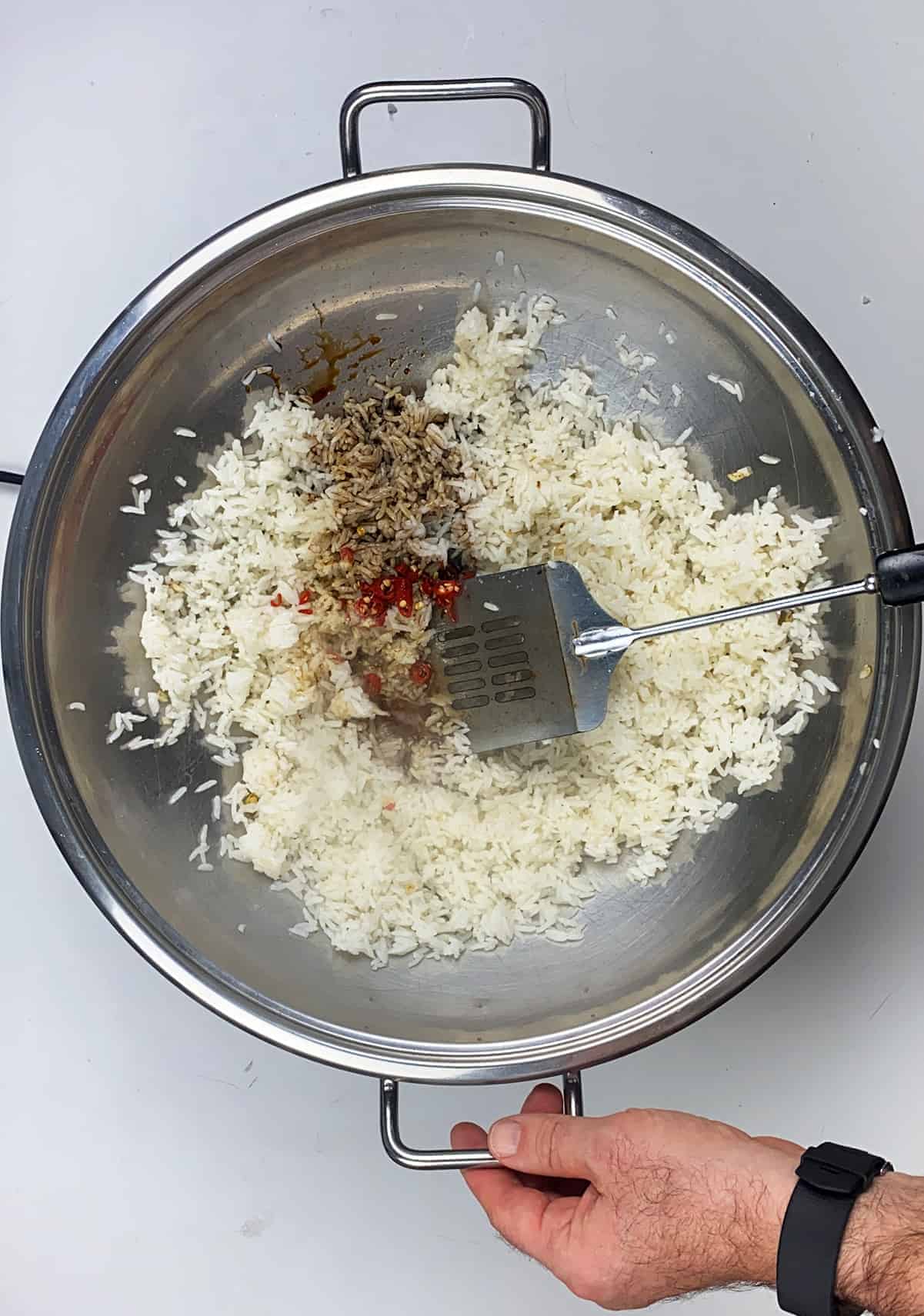 The Crab You Use Matters
Like anything recipe related, the ingredients you use can make a difference in your end product. If you have a local seafood market, consider making a trip down there to purchase your crab meat. If you have to, purchase the best quality packaged crab meat, I used hand-picked lump crab meat from a pouch.
Don't Burn The Garlic
Garlic is the first ingredient we add to our wok, but there is a danger in this. It can burn very fast. For that reason, I only give it a brief moment to cook in the oil alone before I add rice to the mix. Literally, I add the garlic and then immediately grab ½ of my premeasured rice and put it in the wok.
Adding the garlic at the beginning serves a good purpose. It helps flavor the oil and flavors the entire dish. An alternative is to add the garlic later on, but I prefer the flavor when I add it right away.
Add the Thai Chili later
Another ingredient that a person could add right away is the Thai Chili, but I learned my lesson pretty quickly. Adding diced Thai Chili to hot oil created an immediate pepper bomb! It ended up tasting great, but boy my eyes were watering and I was uncomfortably coughing.
For that reason, I choose to add my peppers later in the cooking process when there are several other ingredients in the dish. It is better on my eyes and the dish gets a smack of Thai chili flavor. Of course, if you like spicier food, use more chili!
Scrambling Eggs
Most of us already know how to scramble eggs, but I did want to touch on this. I choose to add my eggs unscrambled and then scramble them right in the wok. You can whisk them before if that is what you want to do, but I just add two whole eggs and cook them right up in the dish.
When scrambling your eggs, I just push my rice to the side. Add a bit of oil to the hot part of the wok and allow to heat for a moment. Once heated, add your eggs and get to scrambling.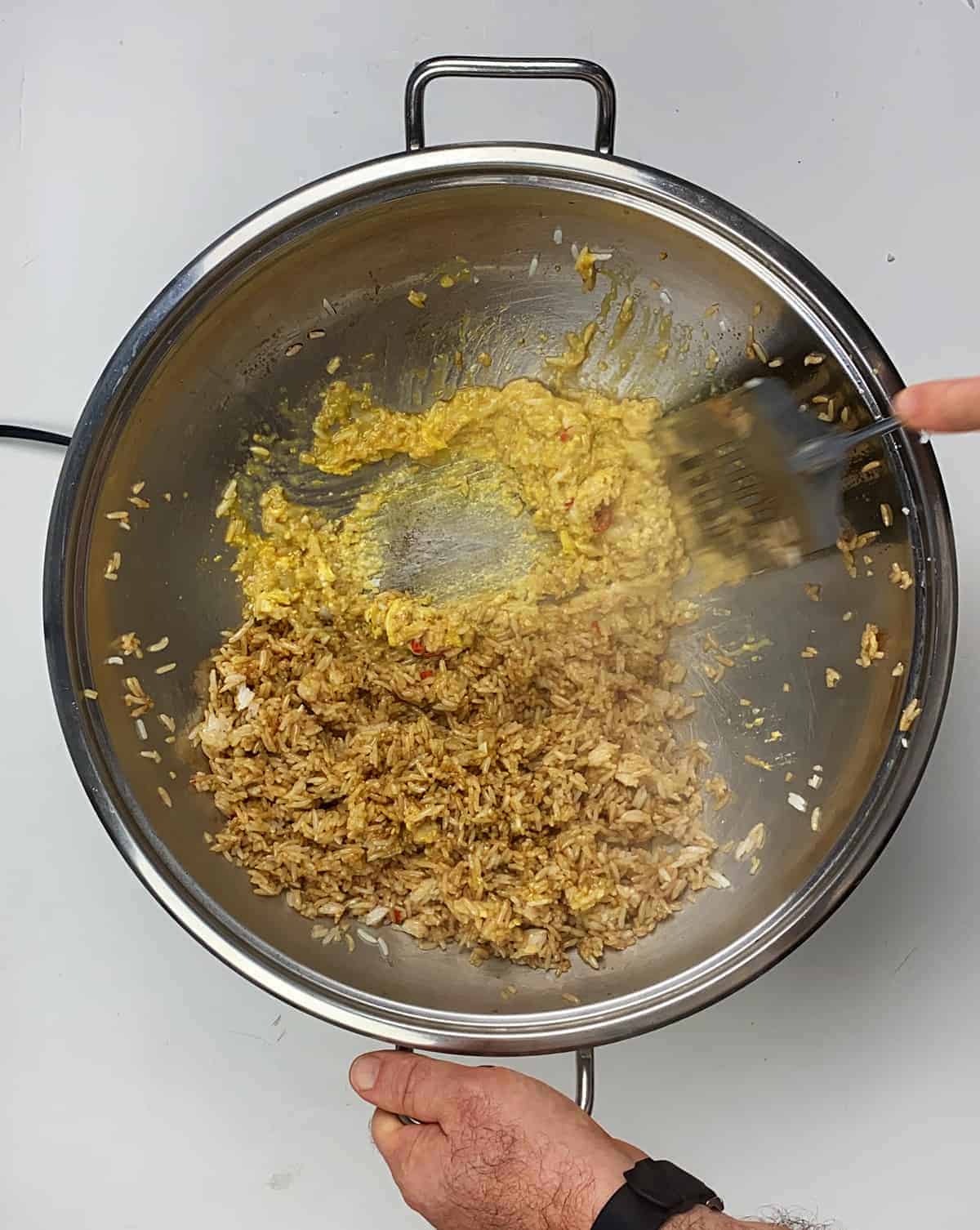 MSG Optional
I use and enjoy MSG. There is a debunked myth that MSG is bad for you, but this Mayo Clinic article about MSG says it is "generally recognized as safe." Still, some have a sensitivity to the product, but it does not prevent me from using. It adds a depth and flavor to many dishes. It is nummy.
If you don't know where to find it, you might not need to look any further than the spice aisle at your grocery store or you can find MSG on Amazon (Affiliate link). The product I use goes by Accent, but is MSG.
Serving Sizes
For this dish, I say it is 4 servings and that is if it is as a side. If this is the main component of your meal or if you don't have other things to go along with your meal, I would consider this two servings. Or, at least, that is what fills me up if there is nothing else served along with it.
I break this up into four servings, as ¼ cup of uncooked rice is one serving and we call for 3 cups of cooked rice. Once cooked, that should be about ¾ of a cup of cooked rice. Add in the other ingredients and we end up with about a cup of cooked Crab Fried Rice per serving. When determining what is right for your family, that is the math you can use.
Is Crab Fried Rice Healthy?
I think there is a notion that fried rice is bad for you, but I would push back on that. Like anything, if you eat this in moderation, it is 100% fine for your health.
What part of Crab Fried Rice is unhealthy? The white rice? I suppose you could make an argument that white rice is carb-heavy, but I am not sure I would consider rice bad for you. A person could switch out our white rice for brown rice to get some more nutrients out of the dish.
We do use two tablespoons of peanut oil in this dish and one tablespoon of sesame oil. While peanut oil does have some fat and is high in calories, we are not really using that much and there are arguably some great health benefits to peanut oil. Sesame oil has similar properties and adds flavor. Overall, there is .75 Tablespoons of oil per serving, which is not really that much.
Is the crab unhealthy? No. Crab is nutritious and a great source of protein.
This dish does have sodium in it. Both the soy sauce and fish sauce add to sodium levels. If sodium is a concern for you, consider using a low sodium soy sauce.
Overall, I do not think this is a particularly bad dish for your health. The sodium content is high, but most of the components are fine. I think this is a great dish that can be a part of a balanced diet.
How long does this fried rice last?
Because this dish contains seafood, I would recommend using it up within 2-3 days once it is cooked. I don't think, however, it will last that long. It is that good.
History of Crab Fried Rice
This is a rice dish and rice has been cultivated in Asia for over 10,000 years.
Fried rice is made in a wok. It is believed that Woks have an origin in the Chinese Han dynasty about 2000 years ago. Fried rice is believed to have an origin in the Sui dynasty about 1400 years ago.
This all implies an Chinese origin, but these dishes can migrate or sometimes begin to sprout up in tandem. Since Crab Fried Rice is a Thai dish, it would not surprise me that the tastes and norms of Thai flavors and ingredients also begin to express themselves in dishes that become popular.
Chili peppers are not native to Thailand or Asia, but have Mexican and South American roots. Chili peppers were not brought to Asia until the 15th century via the silk road. Jasmine rice was not a strain of rice that was invented by humans until the 1940s and did not become a popular rice until the 1950s.
The dish we make today is a culmination of the world sharing all that it has.
Products Used in this recipe
Crab Fried Rice Tips
Separate rice before you start cooking.
Measure and prepare your ingredients before you start cooking.
Only fry garlic for a second, otherwise it might burn
Add more or less Thai peppers to taste
Use metal spatula and make sure to stir well to prevent burning/sticking.
I add 1 hour of prep time for cooking rice, but if it is leftover rice, that hour is not needed.
Did You Make This Dish?
Awesome! I am so glad you gave my Crab Fried Rice recipe a try? If you liked it, it would be so helpful if you let me know in the comments section below how it went for you and if you gave it a rating. Of course, I would love for you to share this on Pinterest and Facebook, as well. This isn't our first time using a wok and you can find some Chow Mein recipes we made here. If you help share this recipe, it can help spread a little culinary love. Most of all, I appreciate you putting your trust in my recipe and spending some time on Ramshackle Pantry!
Print
📖 Recipe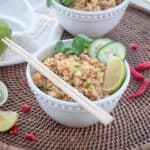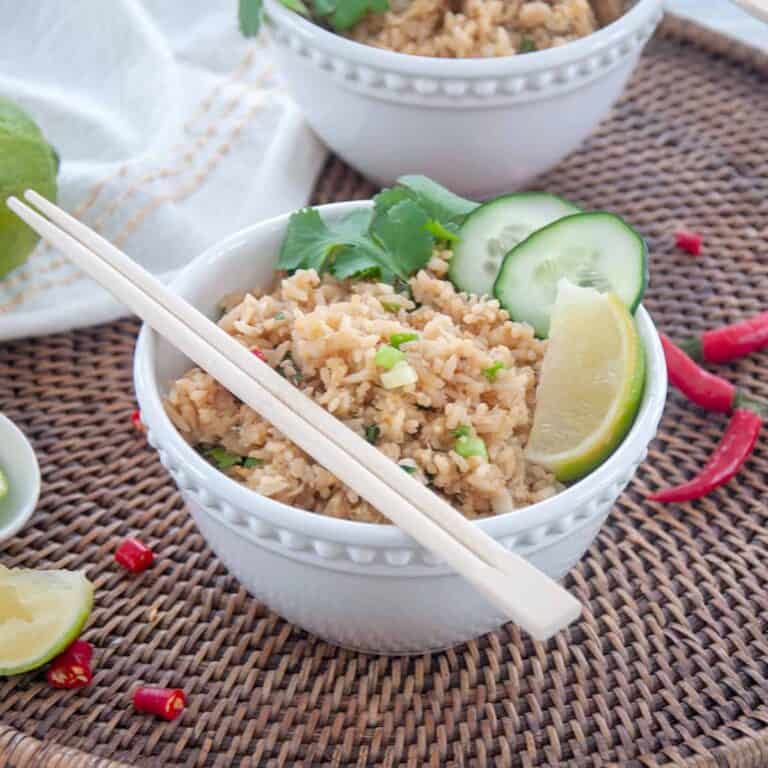 Crab Fried Rice
Author:

Ben Myhre

Prep Time:

1 hour 30 minutes

Cook Time:

10 minutes

Total Time:

1 hour 10 minutes

Yield:

4

Servings

1

x

Category:

Dinner

Method:

Stir Fry

Cuisine:

Thai
---
Description
Crab Fried rice is a delicious, classic Thai dish. While crab is the star of this recipe, it is enhanced by lovely flavors like Thai chili, fish sauce, soy sauce, lime, scallions, and cilantro. If you love fried rice and Thai food, this recipe is a keeper.
---
2 Tablespoons

peanut oil

3

garlic cloves, minced (about

20g

)

3 cups

cooked White rice or Jasmine rice (

550g

), broken up into individual pieces and chilled

2

thai chilis, minced (about

5g

)

1 Tablespoons

sesame oil

¼ cup

of soy sauce

¼ teaspoons

msg (optional)

¼ teaspoons

white pepper

½ tablespoons

fish sauce

2

eggs

2

scallions, chopped

6 ounces

cooked crab meat

¼ cup

cilantro, chopped plus more for garnice
Cucumber, thinly sliced for garnish (optional)

1

lime, cut into sections for garnish
---
Instructions
Add 1 tablespoon of peanut oil to wok and heat until just smoking
Add garlic for just a brief second
Follow up by adding ½ of the rice and stir vigorously
Cook for 20 seconds
Remove rice and garlic.
Add ½ tablespoon of oil and allow to heat
Add the second half of rice and cook for 20 seconds, stirring vigorously
Return first half of rice and stir vigorously
While stirring, add Thai chilis, white pepper, msg, fish sauce, sesame oil, soy sauce, and cook for another 15 or so seconds.
Move rice to the side of the wok and add ½ tablespoon of oil. Allow to heat
Add eggs and use a spatula to scramble eggs.
Once scrambled, mix with the rest of the rice and continue stirring
Add crab meat and cook until crab meat is warm
Add cilantro and scallions and stir for about 30 seconds
Remove from heat and dish up
Garnish with lime, cucumber, and cilantro.
Notes
Separate rice before you start cooking.
Measure and prepare your ingredients before you start cooking.
Only fry garlic for a second, otherwise it might burn
Add more or less Thai peppers to taste
Use metal spatula and make sure to stir well to prevent burning/sticking.
I add 1 hour of prep time for cooking rice, but if it is leftover rice, that hour is not needed. This really is a quick dish and rice cooking is the part that takes the most time.
---
Nutrition
Serving Size:

1 Cup

Calories:

348 Calories

Sugar:

2 g

Sodium:

1121 mg

Fat:

12 g

Saturated Fat:

2 g

Unsaturated Fat:

10 g

Carbohydrates:

51 g

Fiber:

1 g

Protein:

9 g

Cholesterol:

51 g
Keywords: Crab Fried Rice