This Creamy Lemon Butter Sauce is delectable, delicious, and perfect over a nice dish of farfalle pasta. If you want to combine the cheesy flavors of a great Italian sauce with a tad of lemon zing, this recipe is for you. It is an easy meal that tastes like it took a long time to prepare.
Creamy Lemon Butter Sauce Over Farfalle Pasta Basics
Today's recipe has a simple and tasty white sauce served over your favorite noodle to make a great cheese-filled final dish. It literally is as simple as preparing the sauce while the noodles cook and making sure to follow a few simple instructions to ensure the meal is as good as it can be. Butter, cream, garlic, and cheese make this a sure-fire hit, but there is one nuance to the recipe that you need to make sure to take care of. The lemon instructions are easy, but you should be aware of what is going on.
Doesn't Lemon Curdle Cream?
Yes, it does! Specifically, it can, but doesn't have to. Are we going to make our cream curdle? Oh, heck no. There are two tricks to this. First, while lemon juice can make cream curdle if not handled appropriately, the zest does not. We start off with garlic, butter and lemon zest in the pan and can safely add cream to the pan just because the zest will not curdle the cream. We do also include the juice, but I only add that after the pasta is drained and we toss it directly into the pasta before we mix in the creamy lemon butter sauce.
You could add the lemon juice directly to the sauce at the very end of the cooking process at low heat and I have had success with this. To ensure we don't curdle anything, I just add it at the very end to the noodles right before we add the cream sauce and right before we serve it. This gives the noodles a light lemon coating before we add the cream sauce.
Choose Organic Lemons
Whenever I use zest, I try to use organic fruit. Because the skin of a non-organic lemon is probably treated more aggressively and has preservatives sprayed on it, I tend to use organic whenever I have something that calls for zest. Since we are adding zest very early on in the Creamy Lemon Butter Sauce cooking instructions, I would recommend forking out a few extra cents for the chemical limiting organic lemons.
No matter what, make sure to wash them lemons!
Farfalle Pasta
So, farfalle is the fancy name for what I grew up knowing as bow tie pasta. It is a simple and great pasta for this recipe. The creamy lemon butter sauce coats the little bow ties really well and works great.
Can I Use Other Pasta?
Sure. Why not? I used farfalle, as I think it is an appropriate noodle for this dish, but really any pasta that works well with a skillet dish should be good. I would stay away from long noodles like spaghetti or linguini noodles. Rotini or rigatoni noodles would also work great in this recipe.
Selecting the Parmesan Cheese For This Recipe
I am not gonna lie, I have a thing of the grated green parmesan cheese around my house. I use it, but I am not going to use it for this. It doesn't go on special recipes and this Creamy Lemon Butter Sauce is definitely special enough to splurge. I recommend getting to your store and buying a wedge of parmesan cheese and grating it yourself for this recipe. You are special enough to buy the wedge! Also, I like to use block cheese anyways. As we previously looked at with macaroni and cheese, the pre-shredded cheese just has more chemicals and 'stuff' on it.
Creamy Lemon Butter Sauce Process
Just a picture of many of the ingredients on a cutting board. We have our lemon zest, lemon juice, and parmesan cheese ready to go. This is a pretty quick recipe, so it is good to have all the ingredients ready.
This is the butter, garlic, lemon zest, and fresh cracked pepper simmering in a saucepan before I add the heavy whipping cream to the mix.
When pouring the cream into the butter mixture, gently mix with a spoon. Continue mixing. Over medium-low heat, there is a risk of scorching the cream, which is undesirable. Once at a simmer, you are ready to add and slowly mix in the cheese.
Creamy Lemon Butter Sauce Tips Summary
Make sure to add the lemon juice to the pasta after drained, but before the cream is added and tossed.
Use Organic Lemons.
Use real parmesan cheese for the best results in this creamy lemon butter sauce recipe.
I use farfalle pasta (otherwise known as bow-tie noodles), but any pasta that is appropriate for a skillet dish would be good.
Products I Used In This Recipe
Did You Make This Creamy Lemon Butter Sauce Over Farfalle Pasta?
If you liked this recipe, you could do me a real solid by taking some time to let me know how it went in the comment section below and by sharing this recipe on Pinterest. I always appreciate hearing from you. If you want to see more from me, make sure to subscribe to get updates via email.
Print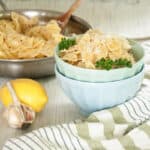 Creamy Lemon Butter Sauce Over Farfalle Pasta
---
Author:

Ben Myhre

Prep Time:

5 Minutes

Cook Time:

25 Minutes

Total Time:

30 Minutes

Yield:

4

Servings

1

x
Description
A lemon pasta recipe that comforts the soul and fills a plate with comfort goodness. This Creamy Lemon Butter Sauce over Farfalle pasta is so simple, but feels so big. It is easy to make and even easier to eat.
---
1

Pound farfalle pasta

4

garlic cloves

4 Tablespoons

butter
Pinch of salt
Pepper to taste

1 Cup

Heavy Whipping Cream

1 cup

grated parmsan cheese + extra for garnish
Zest from

one

lemon
Juice from

one

lemon
Parsley (optional)
---
Instructions
Melt butter in sauce pan on medium low and add garlic
Start water for pasta and cook per the pasta instructions.
While pasta is cooking, continue on. Once garlic is soft, add lemon zest, pepper, and salt to saucepan
Simmer for 5 minutes
Add cream and bring to simmer. Let cook for about 5 minutes.Make sure to stir, as you don't want the cream to scorch.
Slowly add parmesan cheese to cream mixture, stir to melt
Continue to stir and put on low until pasta is done
Drain pasta
First toss in lemon juice and then add cream sauce
Serve and garnish with grated parmesan cheese and parsley.
Category:

Pasta

Method:

Skillet

Cuisine:

Italian
Nutrition
Serving Size:

¼ dish

Calories:

826 Calories

Sugar:

6 g

Sodium:

767 mg

Fat:

43 g

Saturated Fat:

25 g

Unsaturated Fat:

14 g

Carbohydrates:

94 g

Fiber:

5 g

Protein:

23 g

Cholesterol:

134 mg
Keywords: Lemon Butter Sauce