A Classic hot dog is right. The Classic Detroit Coney Dog with Homemade Coney Sauce is so dang tasty and a flavor to chase. Get this excellent recipe here.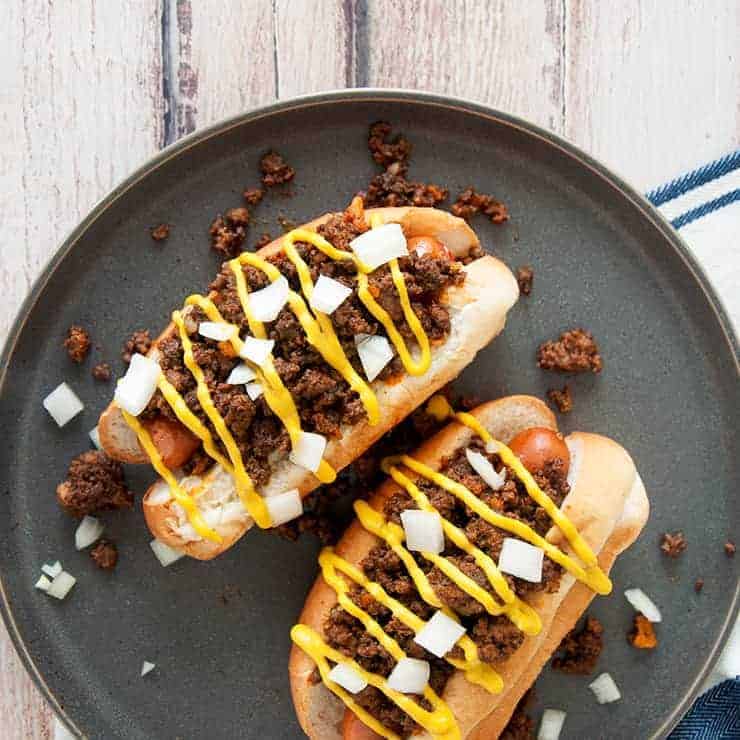 We are in the thick of our Detroit Style Pizza series and I wanted to take a post and detour to another famous Detroit food… the hotdog. The Detroit Coney Island Dog, or Detroit Coney Dog, is famous in Michigan and in the world of hot dogs. If you haven't heard of it, fear not. Today we are going to share it all with you. This hotdog and the coney sauce something of legend and lore, but today we are going to demystify it a bit for you and also try out a Homemade Coney Sauce recipe to share with you.
Detroit Dog Basics
A hot dog is a hot dog, right? Think again. The Detroit Coney Dog is a hotdog served in a steamed bun. It is topped with a beanless chili called coney sauce and then topped off with mustard and diced onions.
The beanless chili really is something special with interesting ingredients. Before you get to the recipe, I want you to keep an open mind. I was skeptical at first, but really it was a game changer. Keep an open mind… and heart.
It is preferential that the hot dog in this recipe is of Michigan origin (Koegels is a popular one and so is Dearborn), but not everybody has easy access to them. You can, however, order Koegels online.
I have to give some credit on this recipe, as I looked to the experts on this. I used the Coney Sauce from this recipe, as I really appreciate the depth they went into and their commitment to regional hot dogs!
Origin of the Detroit Coney Dog
According to the Detroit Historical Society, there are hotdogs that go as far back as the early 1900s. They point to American Coney Island as being opened by a Greek Immigrant named Gust Keros in 1917. In fact, most attribute the development of the Coney Dog to Greek and Macedonian Immigrants.
The story goes that immigrants were coming in through Ellis Island and stopping in Coney Island, where many hotdogs were served. Even Nathan's Famous has roots in that area. At the time, the new word "hot dog" (Weiner in a bun) was not allowed to be on restaurant signage, as it implied there might be dog in the meat, which there was not. So, when people began to eat this product, it became more known as a "Coney Island".
Immigrants began to spread out and start their own businesses and adopted the word 'Coney Island' which eventually morphed into Coney Island Hotdog and to the final destination of Detroit Coney Dog.
If I were to dig deeper, I bet I can find many claims to the first Coney Island Hotdog, but since we are mostly focusing on Pizza in this series, I am not going to go very far down this rabbit hole. I have found that when it comes to food origins, particularly when there is advertising at stake, there are people who fiercely debate and argue about history.
It is worth noting that Detroit does not lay claim to the only regional hot dog in Michigan. There are other styles of regional hotdogs, such as Flint-style and Jackson-style. I tell you what, I would eat them all
The Topping has WHAT in it?
This recipe calls for ground heart and beef suet. Suet is a hard fat found around the loins and kidneys. Heart is what we all have.
I stated earlier, keep an open mind. If you are not used to eating this, still give it a try. This topping really is great! Still, if you just can't do it… substitute the good stuff for just more ground chuck.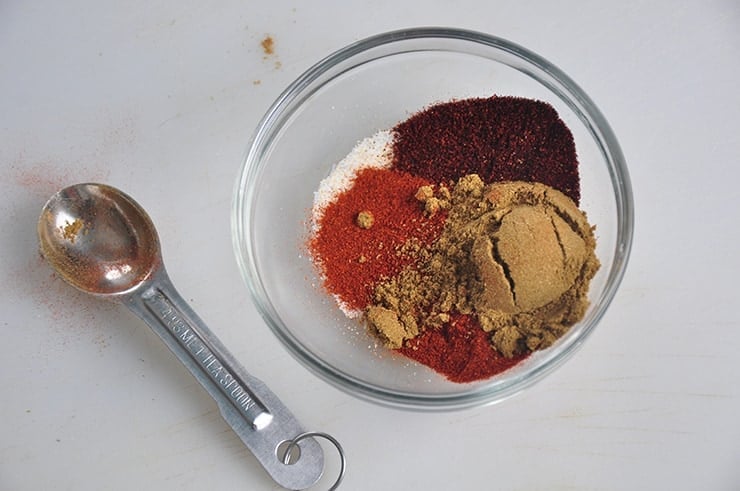 Choose a Good Hotdog
This is a Detroit dog, so if you are able to find a Michigan made a hot dog, I think you should use that. If not, I would just use the guide to buying hotdogs that I already wrote. I stuck with my Ambassador Original Weiners with natural casings. They have a great snap and the smokiness in the pork really help give a distinct flavor even though the hot dog is swimming in Coney Sauce, mustard, and chili.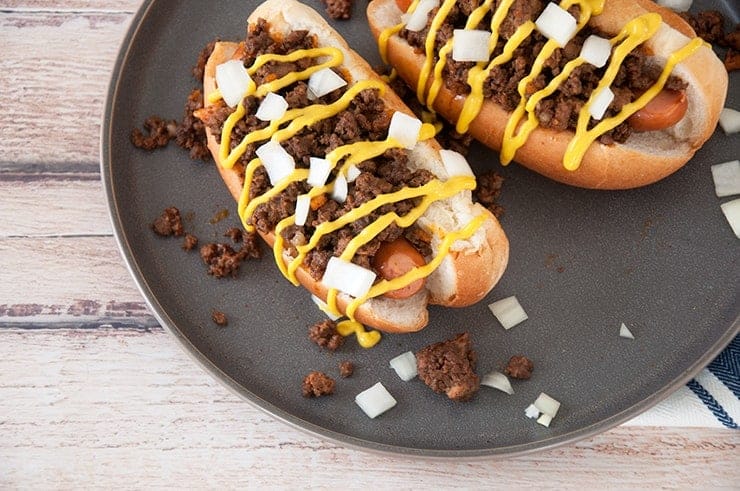 Did you make this recipe?
I had a really fun time exploring the Detroit Coney Dog and specifically working on my homemade Coney Sauce. Cooking this sauce opened my eyes a bit on what can taste really great and where good flavors come from.
Print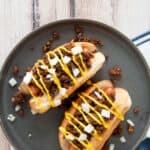 Detroit Coney Dog with Homemade Coney Sauce
Author:

Ben Myhre

Prep Time:

5 minutes

Cook Time:

45 minutes

Total Time:

50 minutes

Yield:

8

hot dogs

1

x

Category:

Comfort

Method:

Grilling

Cuisine:

Detroit
---
Description
The Detroit Coney Dog is historic, classic, and smacks you with awesome flavor. A great hot dog with a beanless chili and topped with onions and mustard. Enough to make my mouth water!
---
For Sauce:
1

pound ground beef heart

½

pound ground chuck

¼ cup

beef suet

¼ cup

water (plus more)

2 teaspoons

garlic salt

2 teaspoons

chili powder

2 teaspoons

cumin powder

2 teaspoons

paprika

6

Crackers

½

onion, diced
yellow mustard
For Dogs:
8

Hot Dogs, Choose quality dogs with natural casings

8

Hot Dog Buns, Steamed if you can
---
Instructions
Add suet, beef, and heart to skillet and brown
Once browned, add water, garlic salt, chili powder, cumin, and paprika
Allow to simmer for 30 minutes. Add water when needed to keep from going dry
While simmering, crush crackers to a fairly fine consistency with a rolling pin or in a food processor.
Grill hot dogs or pan fry with just a little water at the bottom
Once done simmering, mix cracker in coney sauce
Put hot dog in bun, top with Coney Sauce, mustard, and onions
---
Notes
Source for Coney Sauce: MI Cuisine
calories are my best estimate and will vary by hotdog and buns used.
---
Nutrition
Serving Size:

1 hot dog

Calories:

527 caloreis

Sugar:

3 g

Sodium:

1169 mg

Fat:

32 g

Saturated Fat:

13 g

Unsaturated Fat:

19 g

Carbohydrates:

27 g

Protein:

29 g

Cholesterol:

168 mg
Keywords: Coney Sauce, Detroit Coney Dog,