An easy and cheesy breakfast that uses your fresh zucchini for a special meal. Zucchini Frittata is a classic that brings your garden bounty, CSA, or fresh veggies to your breakfast or brunch table.
Heck, it is even great as a 'breakfast for dinner' meal. Give this tasty one-pan recipe a try.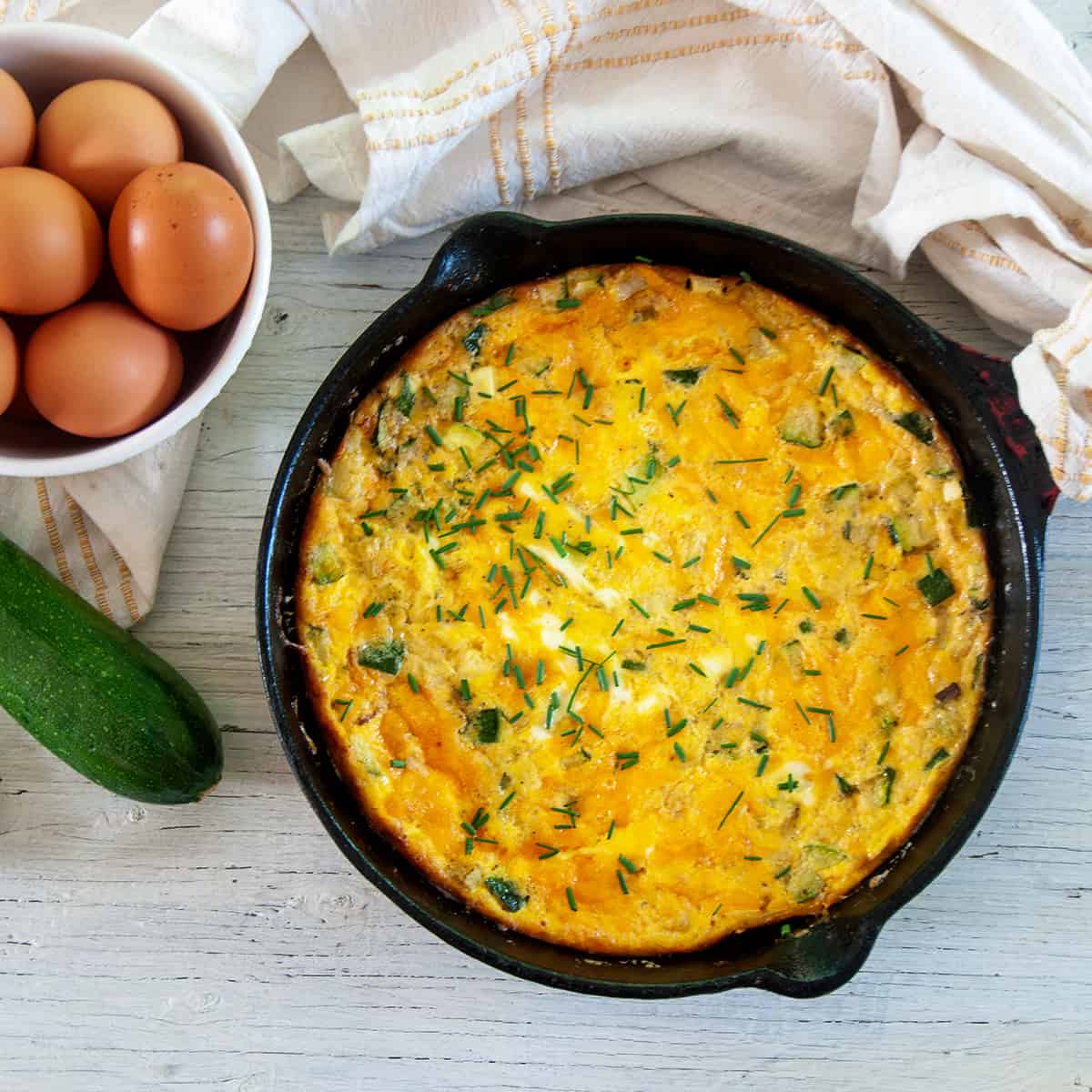 🍳 What makes this recipe special?
The star of the show is fresh zucchini! This wonderful vegetable not only adds a splash of vibrant green to the dish but also brings a gentle, earthy taste. Combined with the rich and creamy texture of eggs and milk, it makes every bite both hearty and refreshing.
The choice of cheddar cheese works perfectly here. While some frittatas might omit cheese, it adds depth and... you know... cheese. The cheddar envelops the zucchini, offering a delightful contrast of creamy richness to the dish's freshness.
Lastly, the thyme. Whether you're using dried or fresh, this herb adds an aromatic twist. It's like a gentle whisper of the garden in the background, rounding the dish to perfection. So remember this frittata next time you're in the mood for something deliciously different. It's truly something special!
Also, check out this wonderful Zucchini Casserole Recipe or maybe consider going all out with this tasty Corned Beef Hash recipe. Scroll down to find the recipe or more in-depth tips to making this recipe. No matter what you make for breakfast or brunch, make sure to treat yourself!
Jump to:
🥒 Ingredients
Zucchini is clearly a main ingredient, but more goes into this recipe than that. Here is what you will need:
Olive oil
Zucchini
Onions
Garlic
Salt & Pepper
Thyme
Whole milk
Eggs
Cheddar cheese
See the recipe card for quantities.
🍲 Instructions
Recipes don't get much easier than this. First, fry some chopped zucchini, onions, and garlic in an oven-safe pan over medium-high heat. Then, add salt, pepper, and thyme. I use my 10 ¼-inch cast iron pan, but any oven-safe pan that is big enough should work.
While this is heating, make sure an oven rack is up one from the center. The goal isn't to have it directly under the top burner but off-center to the higher rack.
My oven has five shelves, and I like to cook this second from the top. If it is the center, it will work fine— Preheat the oven to 350° Fahrenheit.
In a separate bowl, mix eggs, whole milk, and shredded cheese in a large bowl. Add this mixture to the same pan where the zucchini is cooking once the vegetables are glassy.
On the stovetop, cook the mixture just until the edges of the egg can separate from the pan. Mix the center using a spatula to ensure that the eggs don't burn directly over the burner.
The eggs will start to form and solidify. The edges will start to become more easily separatable from the edge of the pan. About five minutes, there is a bit of nuance to this.
To determine when the frittata is ready for the oven, I use a metal spatula and slide it around the edges of the pan. At some point, it feels like the egg starts to easily separate from the edge of the pan and seem more solid. That is when it is ready.
At the same time, I make sure to use my spatula to mix the center of the pan and make sure the egg does not burn and stick to the center of the pan. The oil we previously added to the cast iron should also help with this.
When this happens, remove the pan from the burner and place it in the oven for 25 minutes.
After baking, remove from oven, cool for five minutes, cut, and serve.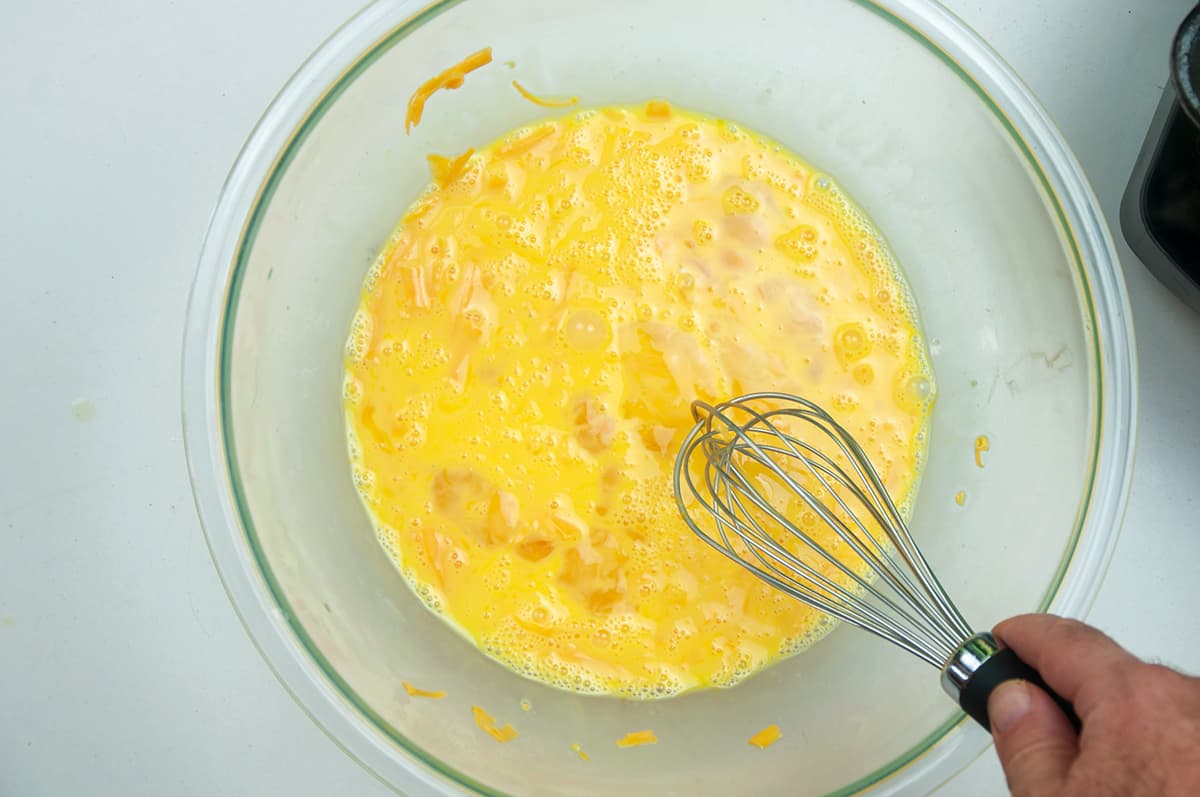 🤷 Substitutions and variations
The thing about a frittata is that it can have so many variations. A frittata's ingredients can be whatever you have in your fridge or need to use up.
I choose to focus on zucchini, as we are getting it out of our garden, and I always look for great ways to use it. Zucchini bread is great, and I love grilling fresh zucchini, but a frittata is perfect for this kind of vegetable. You can also use other veggies.
Vegetable Substitutes or Additions
You can really use whatever vegetables that are appropriate for sauteing. You could use some spinach, more onion, mushrooms, or anything that can be sauteed. I design this recipe specifically for zucchini, but there are many options for vegetables to use.
Cheese Substitutes
I use trusty cheddar cheese, but any shreddable cheese will work. The cheese is another area where so many options are available. Cheddar is a great cheese, but pepper jack, Monterrey, swiss, or any other cheese that can shred.
Herb Substitutes
I am focusing on thyme in this recipe, but you could really use rosemary, thyme, oregano, or sage. I love thyme and think it is great for a dish like this. It doesn't have quite as strong of a flavor as rosemary, and it is a bit more distinct than oregano. Use what you like.
Oil Substitutes
I use olive oil in this recipe, but I have also used coconut oil, which I think is a great substitute. Coconut oil adds a fruity sweet flavor to the dish. You can use any appropriate oil for cooking, but I would stick to the better ones like olive oil, coconut oil, or avocado oil.
Condiments That Work
I think my favorite condiment for most egg dishes is hot sauce! Many things, however, can work for this recipe. I could see salsa, avocado, sour cream, ketchup, more cheese, or some herbs would work. This dish is similar to an omelet, so most things that work for an omelet would also work here.
📦 Storage
Storing your Fresh Zucchini Frittata is a breeze. Once it cools down, you can slide it into an airtight container. If you're planning to eat it within the week, the fridge is perfect, and it'll stay fresh for up to 4 days.
But if you want to save it for later, the freezer is your friend. Wrap the frittata (or individual slices) in plastic wrap or aluminum foil, and then place it in a freezer-safe bag or container. It'll stay good for up to 2 months!
When you're ready to eat, thaw it in the fridge overnight, then reheat in the microwave or oven until it's warmed throughout. Enjoy your meal anytime, fresh or frozen and reheated!
🎓 History tidbit
While the word "Frittata" originates in Italy, I have a tough time ascribing the dish's origin to Italy. Just because of how easy a frittata can be, I imagine its origin is relatively close to after the pan's invention.
I looked a bit into this dish's history, and, as expected, the historical account is long. I found books going back to the 1500s. A famous Italian chef, Bartolomeo Scappi, was a cook for popes put out an early cookbook in 1570 that contained recipes for frittatas.
❓ FAQ
What is a frittata?
A frittata is a type of Italian egg dish. Think of it like a big omelette or a crustless quiche! You mix eggs with some veggies, meats, or cheeses, and then cook it slowly, often finishing it off in the oven.
Can I use other veggies besides zucchini in a frittata?
Absolutely! Frittatas are super versatile. You can toss in bell peppers, mushrooms, spinach, broccoli, or almost any other vegetable you love. Just make sure to cook or sauté them first so they're soft.
Do I have to use a cast iron pan for a frittata?
Nope! While a cast iron pan is great for moving from the stovetop to the oven, any oven-safe skillet will do. Just make sure the handle and other parts can handle the oven's heat.
Why is my frittata sometimes watery?
This can happen if your veggies release a lot of moisture. To prevent this, you can sauté your veggies a bit longer on the stovetop before adding the eggs. This helps remove extra moisture.
Can I use different cheeses in a frittata?
For sure! While cheddar is awesome, feel free to experiment with feta, mozzarella, parmesan, or any other favorite cheese. Each one brings its own unique taste to the dish.
📝 Tips and tricks
Check out the rest of the post, but there are many opportunities for substitutions in this recipe
To determine when to place in the oven, use the spatula to determine when the edge of eggs is easily separated from the edges of the pan.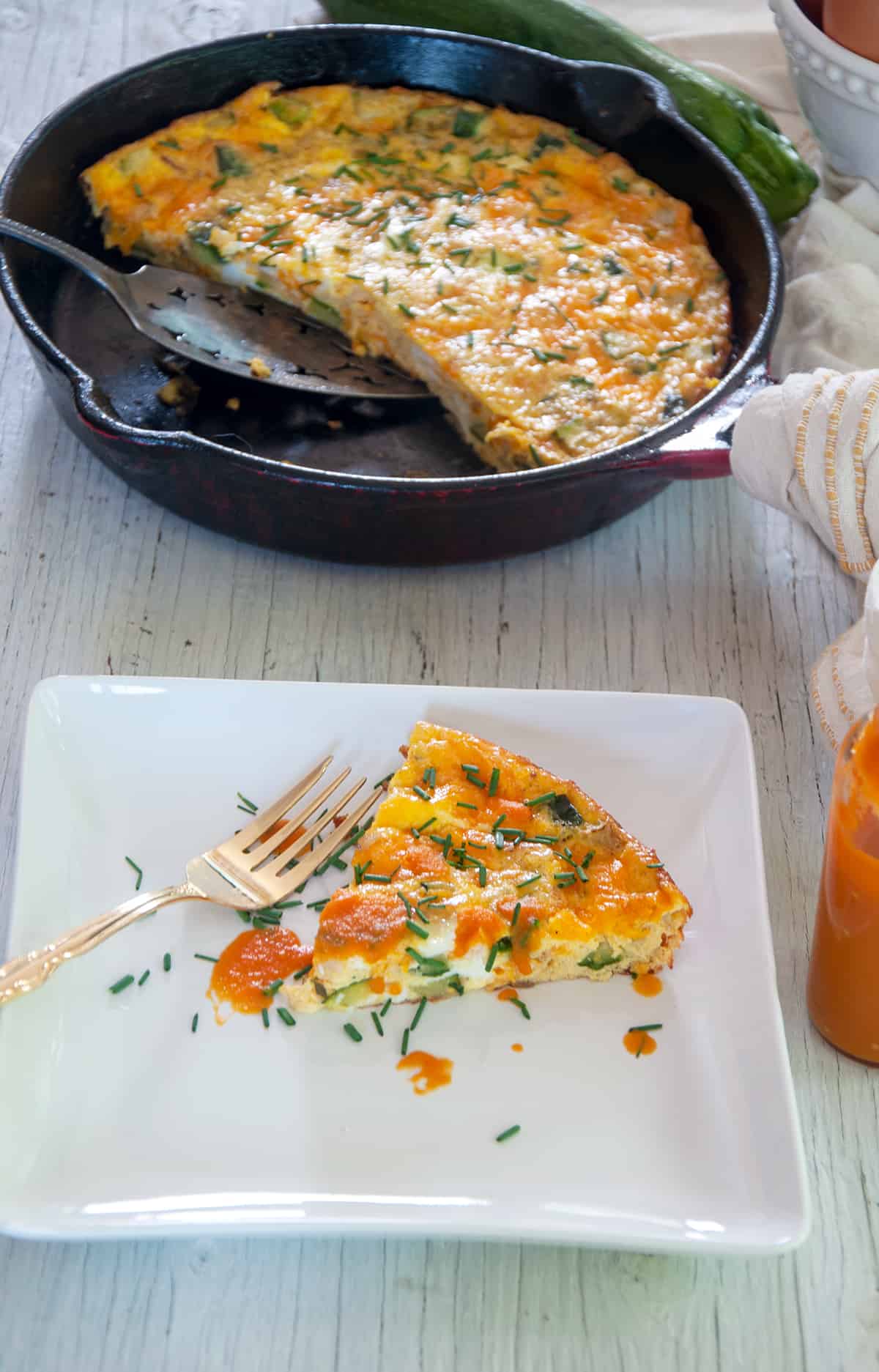 🛠 Products used in this recipe
😋 Did you make this recipe?
That is awesome, and thank you so much for giving this Fresh Zucchini Frittata recipe a try. If you could leave a rating in the comment area below, it would be greatly appreciated. This lets me know how I am doing and also helps others decide if they want to make this recipe. Most of all, thanks for visiting Ramshackle Pantry.
Print
📖 Recipe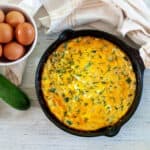 Zucchini Frittata Recipe
Author:

Ben

Prep Time:

15 minutes

Cook Time:

30 minutes

Total Time:

45 minutes

Yield:

6

Servings

1

x

Category:

Breakfast

Method:

Baking

Cuisine:

Italian
---
Description
A Zucchini Frittata is a great breakfast, brunch, or dinner and this recipe is about as easy as it gets. In just about 45 minutes, you can have this tasty Italian dish on your plate.
---
3 tablespoons

olive oil

2

cups

chopped zucchini (about 1 medium to medium large zucchini or about 9 ounces)

½

cup

chopped onions (2 ounces)

2

garlic cloves minced

½ teaspoon

salt

½ teaspoon

pepper

1 teaspoon

thyme dried or

1 tablespoon

fresh

½

cup

whole milk

8

eggs

4

ounces

cheddar cheese, shredded
---
Instructions
Preheat oven to 350° Fahrenheit
Add olive oil to cast iron pan and heat to medium to medium high
Add zucchini, onion, and garlic. mix
Add salt, pepper, and thyme
Cook until zucchini is glassy
While zucchini is cooking mix together milk and eggs. Use a hand whisk, but don't over whisk. Enough so that everything is combined.
Mix in cheese
Once zucchini is glassy, add egg mixture to pan.
Cook until edges start to separate from the skillet. I stir in the middle a bit to help make sure it doesn't burn. When done, eggs will start to look like they have some doneness, but still be mostly uncooked.
Add to oven and cook at 350° Fahrenheit for 25 minutes on middle-upper oven rack
Remove and allow to cool for five minutes.
Notes
Check out the rest of the post, but there are many opportunities for substitutions in this recipe
To determine when to place in the oven, use the spatula to determine when the edge of eggs is easily separated from the edges of the pan.
---
Nutrition
Serving Size:

⅙ pan

Calories:

263

Sugar:

2 g

Sodium:

466 mg

Fat:

21 g

Saturated Fat:

7 g

Unsaturated Fat:

14 g

Carbohydrates:

6 g

Fiber:

1 g

Protein:

14 g

Cholesterol:

6 g
Keywords: Zucchini Frittata