Corned Beef Hash is a classic American breakfast, and that is what we are cooking up today. This delicious recipe is easy and tastes great.
Crispy potatoes, corned beef, onions, and just a bit of time. Oh, and I like to use bacon grease, but I do give some alternatives that will also be wonderful! Give my Corned Beef Hash recipe a try today.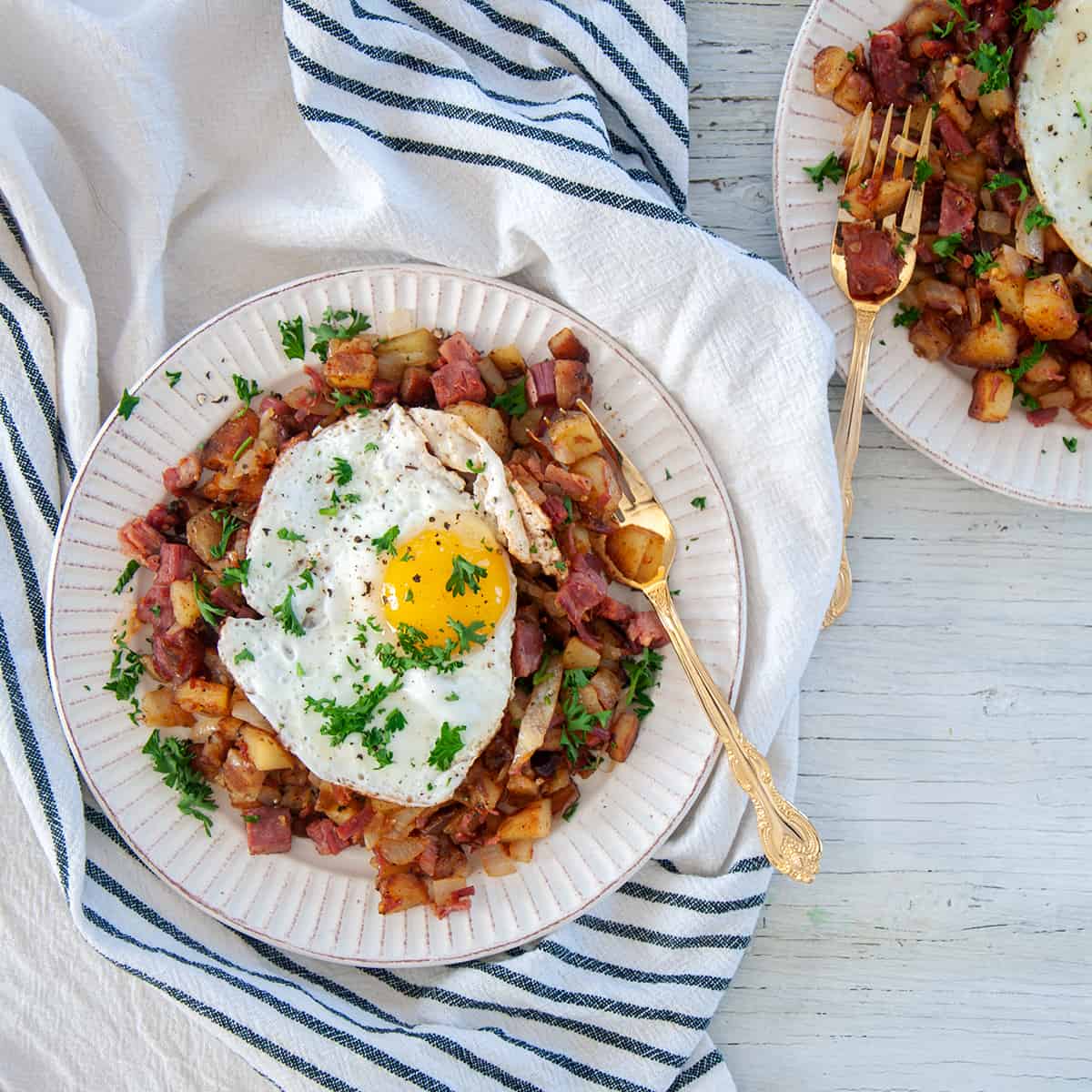 🍳 What makes this recipe special?
Do you have some leftover corned beef from St. Patrick's day or maybe you tried my Sous Vide Corned Beef recipe? Corned beef hash is a great way to use up the leftovers or if you just want a spectacular breakfast.
This recipe walks you through making a delicious corned beef hash recipe and adds a special treat. We make it using bacon fat, bringing a wonderful, rich, smokey flavor to the mix.
Some of my other breakfast recipes, like the Dutch Baby Pancake Recipe and Swedish Pancakes recipe. No matter what you make for breakfast, make sure to treat yourself!
Jump to:
🥩 Ingredients
Here is what you will need to make this great corned beef hash recipe
Yukon potatoes
White vinegar
Salt & pepper
bacon fat, lard, or butter
Onion
Corned beef
Paprika
Cayenne powder
Parsley, for garnish.
See the recipe card for quantities.
Bacon grease and substitutes
An indulgent recipe calls for indulgent ingredients; today we are using bacon fat. When I cook my bacon, I store the grease and use it for some things when I want them to have some extra flavor.
This dish already has a great flavor, but the bacon adds something special. It might not be the best part of the breakfast, but it really adds flavor. If you don't have bacon grease, use butter.
Or you could use oil or lard. Any good fat will do. I think bacon is the best answer, but use what you have.
What kind of potatoes to use?
Look, you can probably use whatever potato you have. I have made hash with russet, red potatoes, and Yukon golds. I feel like you get a great combination of crispiness and flavor with Yukon gold, which is what I call for in this recipe.
🍲 Instructions
I have a few tricks to make perfect corned beef hash. Before putting potatoes in the skillet for frying, boil them just a bit in water and vinegar.
This helps with crispiness. Then, fry the corned beef for a few minutes to get the flavor in the pan, but then remove it and set aside.
Then comes some bacon grease and potatoes. Cook that for 20 minutes or until the potatoes are crispy and a nice golden brown. What next? More bacon grease and onions.
As a final step, add back in the cooked corned beef and cook everything for a bit. Add some salt, pepper, paprika, and a dash of cayenne pepper if you like heat.
I like my corned beef hash with a slightly runny egg (sunny side up for me) , so I cook those at the same time in a different pan. Some people cook their eggs right in the same skillet. I choose not to, as I think my eggs are more likely to break and I like them over-easy or sunny side up.
Garnish everything with parsley to finish the hash breakfast! Serve it up. This takes about 45 minutes to make and is worth every minute.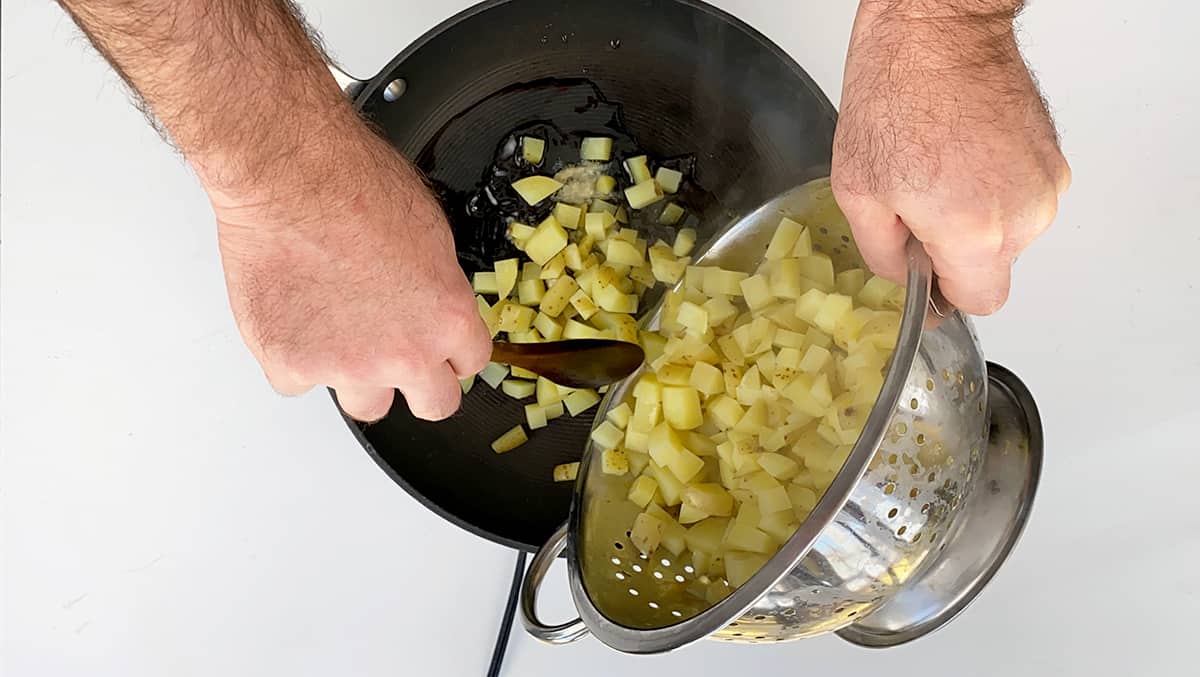 Parboil potatoes with vinegar
All parboiling is simply boiling a product until it is partially done. Boil the potatoes for about 10 minutes to cook them partially. Also, vinegar helps crisp the potato up.
Have you ever fried potatoes on your stovetop and had them fall apart? Almost like the potatoes lose their shape and perhaps are a bit mushy?
Vinegar helps the potatoes keep their shape and will result in a better, crispier hash. A quart of water gets a tablespoon of vinegar.
Parboiling the potatoes really helps make a better end product, but this step could be skipped in a pinch. If you need to skip it, feel free.
We are also adding salt to our water for flavor.
Don't rush cooking the potatoes
I know you might want to hurry up and get this breakfast done, but time is very important to a good hash breakfast. We mostly cooked the potatoes during the parboil, but in the skillet is where we crisp everything up.
Getting your potatoes nice and crispy takes about twenty minutes over medium-high. Let your bacon grease liquify and then add your potatoes. Stir occasionally and make sure nothing ends up burnt. If things are getting a bit too dark, turn your heat down.
🤷 Substitutions and variations
There are a few ways that this can be changed up.
Type of potato - I use Yukon Gold potatoes, but other potatoes can work.
Bacon Fat - Use butter, lard, or oil. Bacon fat is really, really good, though.
Egg - Add an egg for the best outcome!
📦 Storage
To store leftover corned beef hash, allow it to cool to room temperature before placing it in an airtight container or freezer bag. Store the container or bag in the refrigerator and consume the corned beef hash within 3-4 days.
If you want to store corned beef hash for a longer period, it can be frozen for up to 2-3 months. To freeze, place the cooled corned beef hash in an airtight container or freezer bag, label it with the date, and place it in the freezer.
When you are ready to use the frozen corned beef hash, thaw it in the refrigerator overnight and reheat it in a skillet or in the oven. It's important to note that freezing and reheating corned beef hash can cause the texture to change slightly, but it should still be safe to consume.
🎓 Corned beef history tidbit
Hash doesn't need corned beef to be hash and is a dish that has a long history. The word originates from the French word hacher, which means" to chop." There is record of Hash going all the way back to the 14th century.
And it makes sense, right? Hash is just a bunch of leftovers that are chopped up, headed, and combined. Hash is just a great meal and really is not limited to breakfast. However, we have associated the word with breakfast over time.
Migration to America
The meal made its way to America and became a popular dish. By the 1860s, cheap restaurants were referred to as Hash Houses or a Hashery. Corned Beef seemed like a natural combination. It doesn't just need to be an Irish recipe, does it? It is meant for the world!
As Irish migrated to America, the taste for corned beef increased, and the combination of the two fit really well. Corned beef was often served with potatoes and cabbage. A natural leftover dish would be a corned beef hash.
Canned corned beef became even more popular during and following world war II, as rationing limited the availability of fresh meat. Today, I just see it as a delicious breakfast, particularly when you are dealing with corned beef that I just made the day before.
❓ FAQ
What is corned beef hash?
Corned beef hash is a dish that typically consists of chopped corned beef, diced potatoes, and onions that are cooked together in a skillet until crispy and browned.
How is corned beef hash traditionally served?
Corned beef hash is often served as a breakfast or brunch dish, sometimes topped with a fried egg. It can also be served as a side dish or as a main course for lunch or dinner.
Can corned beef hash be made ahead of time and reheated?
Yes, corned beef hash can be made ahead of time and reheated in a skillet or in the oven.
📝 Tips and tricks
Use Yukon potatoes for the best results, but you can use whatever you have really
Vinegar in the water for parboiling potatoes creates a crispier potato
Take your time with the potatoes!
I use Bacon Fat, but butter, lard, or oil should work fine.
If you like a little zing, use cayenne pepper to spice it up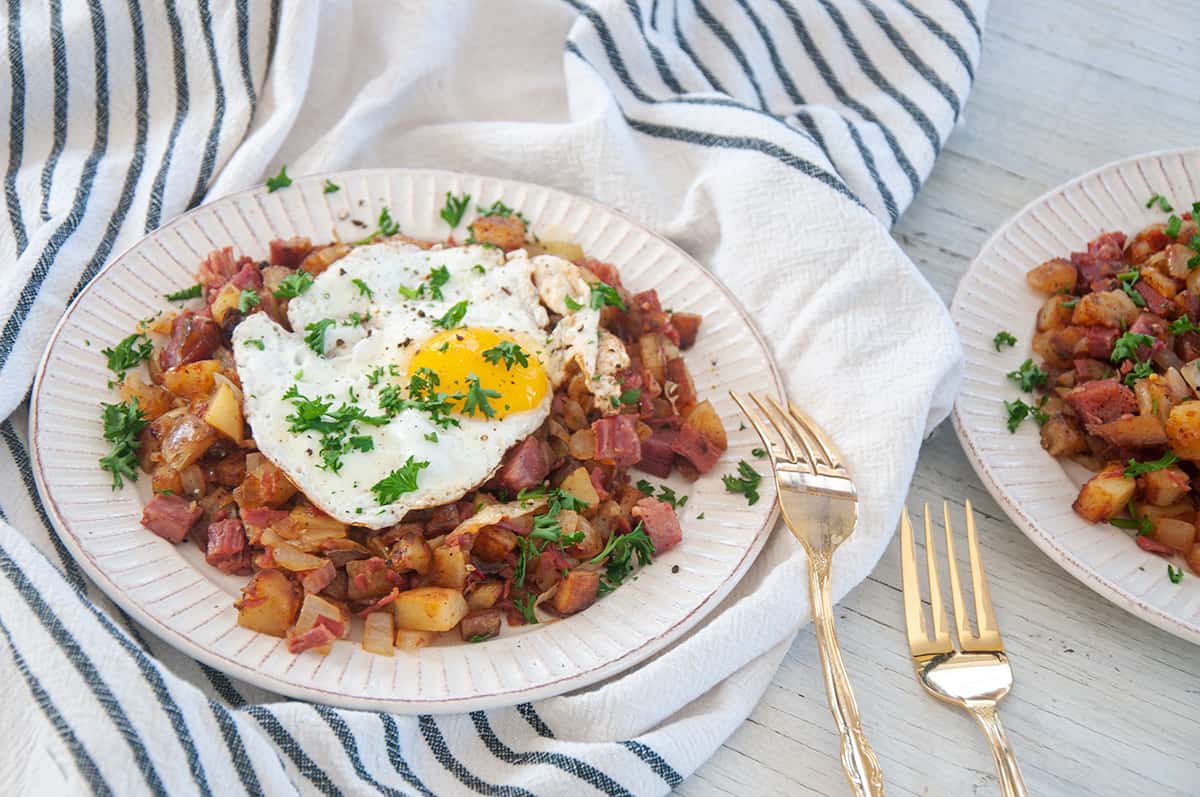 😋 Did you make this recipe?
That is awesome, and thank you so much for giving this Corned Beef Hash recipe a try. It is greatly appreciated if you leave a rating in the comment area below. This lets me know how I am doing and also helps others decide if they want to make this recipe. Most of all, thanks for visiting Ramshackle Pantry.
Print
📖 Recipe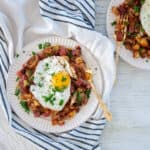 Corned Beef Hash Recipe
Author:

Ben Myhre

Prep Time:

10 minutes

Cook Time:

40 minutes

Total Time:

50 minutes

Yield:

4

Servings

1

x

Category:

Breakfast

Method:

Frying

Cuisine:

American
---
Description
Corned Beef Hash is a classic breakfast dish and a perfect way to start your day. Whether you are using leftover corned beef or bought some just for this, you won't be disappointed with this great recipe.
---
1 ½

pounds

Yukon potatoes, chopped fairly small

2 tablespoons

white vinegar (for boiling potatoes)

2 tablespoons

Salt (for boiling potatoes)

4 tablespoons

bacon fat (optionally substitute

4 tablespoons

butter or lard)

1

medium onion, diced

½

pound

corned beef, chopped

½ teaspoon

paprika
salt, to taste
pepper, to taste
Dash of cayenne powder (optional)
Parsley, for garnish.
---
Instructions
Parboil potatoes with vinegar and salt until slightly tender, approximately 10 minutes.
In skillet, heat corned beef until fat renders and somewhat crispy
Remove corned beef.
Add 3 Tablespoons of the bacon fat and heat on medium to medium high.
Add potatoes
Cook for 20 minutes on medium high, continuing to stir occasionally, until potatoes are crispy to your taste.
Add last Tablespoon of bacon fat and onions.
Cook until onions are clear and maybe have a tad of crispness to them
Re-add corned beef
Add paprika, salt, pepper, and cayenne(optional) to taste
Heat until everything is hot and crispy
Garnish and serve
Notes
Use Yukon potatoes for the best results, but you can use whatever you have really
Vinegar in the water for parboiling potatoes creates a crispier potato
Take your time with the potatoes!
I use Bacon Fat, but butter, lard, or oil should work fine.
If you like a little zing, use cayenne pepper to spice it up
Nutrition
Serving Size:

¼ of skillet

Calories:

460

Sugar:

3 g

Sodium:

4681 mg

Fat:

28 g

Saturated Fat:

10 g

Unsaturated Fat:

18 g

Carbohydrates:

34 g

Fiber:

3 g

Protein:

19 g

Cholesterol:

67 mg
Keywords: Corned Beef Hash