This post may contain affiliate links. As an Amazon Associate I earn from qualifying purchases. Please read our disclosure policy.
This Fried Chow Mein Noodles recipe is such a fun way to make your own version of this modern American comfort snack. You can eat it on its own or use make a great Asian dish.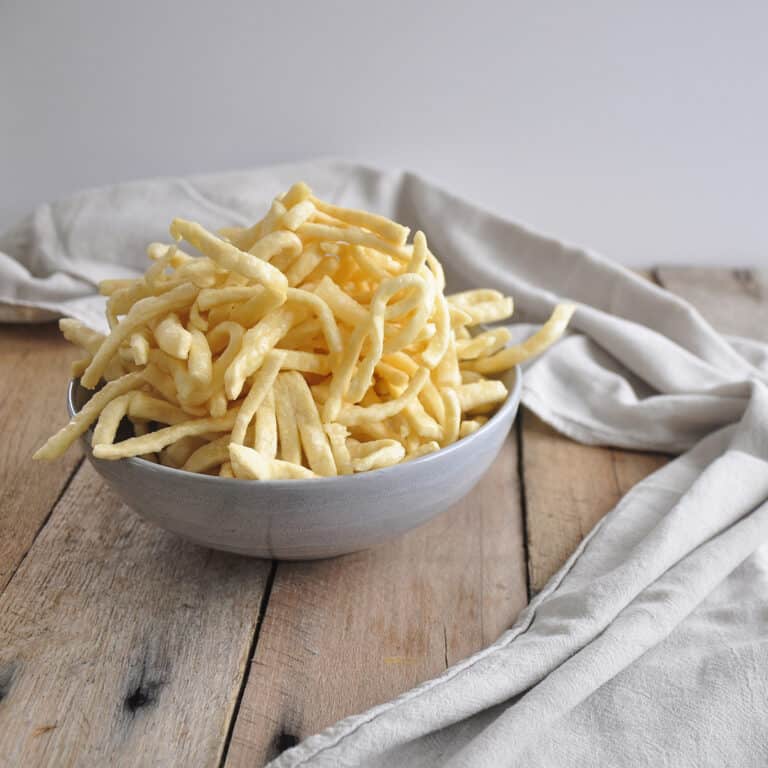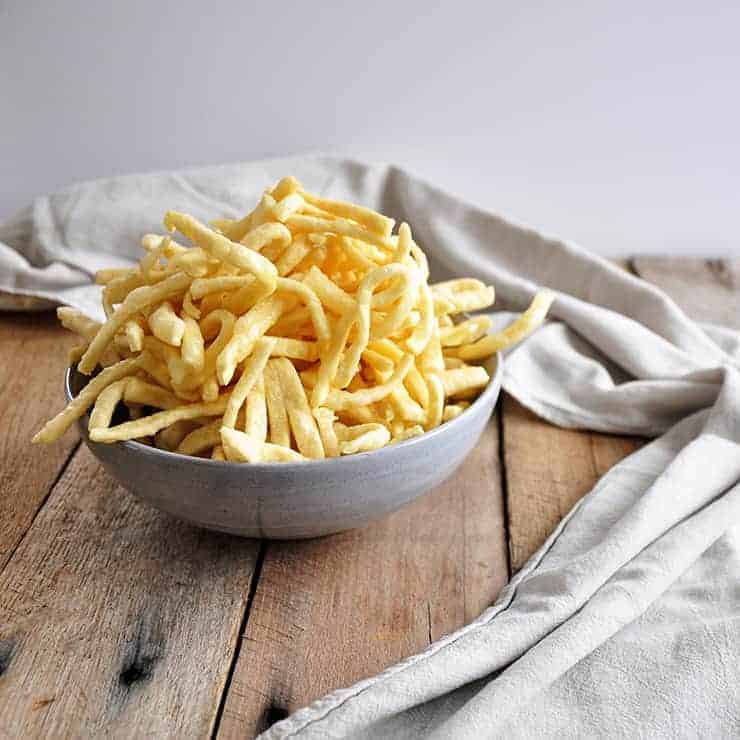 We have been covering Chow Mein for the past little while and I have learned quite a bit. First, Chow Mein literally translates to fried noodles and we made some stir-fried chow mein noodles in a previous post.
Second, fried noodles does not mean the same thing to everybody and this post is to talk about the OTHER chow mein noodles. This post is to talk about and make the chow mein noodles you might find in the dry goods Asian aisle at your grocery store. Today we are going to make DIY Chow Mein Noodles.
Not All Noodles Are The Same
Just to recap what we have already learned. Lo Mein is stirred noodles. The sauce is really the most important part of this dish and the noodles are not fried. Chow Mein are fried noodles, but this can really come in two different variations.
First, these noodles can be boiled like Lo Mein noodles but then stir-fried into a dish. The noodles will be crispy, but still maintain some of the characteristics of a traditional noodle.
Second, some chow mein noodles are deep fried. They are like the La Choy version that come in the bag and you can snack on right out of the container. That is what we are going to make today. These are crispy all day.
These noodles will either act like a topping on top of a stir-fry or will be a nest or bed for the stir-fry to rest on. These noodles are cooked entirely separate from from the rest of the dish.
I Made a Decision With These Fried Chow Mein Noodles
Originally, these fried chow mein noodles were going to be added to the same post as my stir-fried version. Really, the bulk of the process for making them are not really that different. I decided, last minute, to pull them out into their own recipe.
I decided that the instructions were different enough that it might become confusing to leave it in the other recipe. Additionally, since these are deep fat fried, the nutritional information is going to be different.
A Note On Nutrition
We are making these fried chow mein noodles from scratch and deep fat frying them. I have no way to tell how much of the oil gets into the actual noodle, so I am going to be using my best guess on the amount of oil that adds to the dish.
Dangers of Deep Fat Frying
Alright, people, DON'T HURT YOURSELF! Some of you might have a nice fry daddy or something to help you be a little safer, but if you are like me, you are just using the pots in your house.
Here are some safety tips and make sure to use pots that give you plenty of room. The last thing I need is someone leaving a comment on this about how they burnt their face off. Don't be that person and be safe.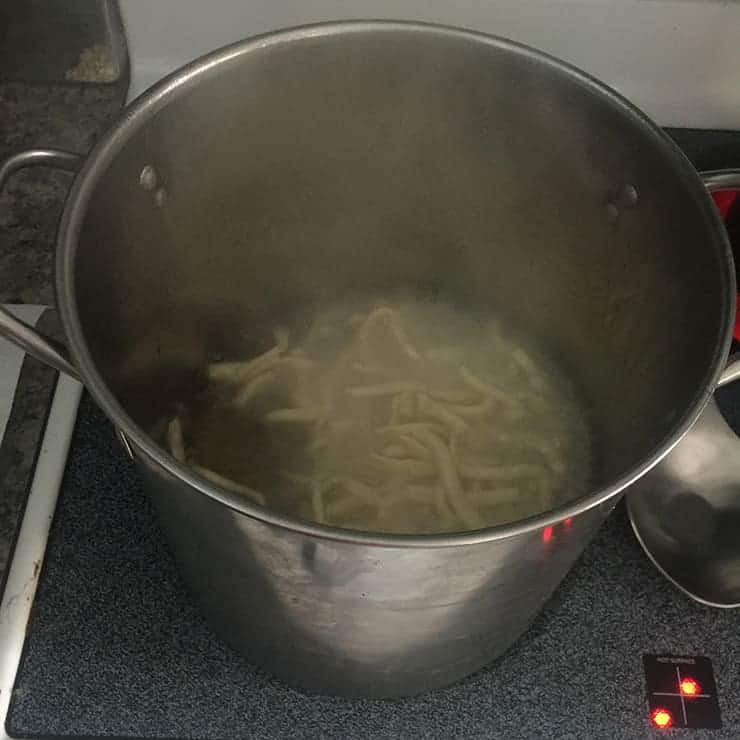 Much Is The Same As Our Stir-Fried Noodle Post
Please, do not hesitate to refer back to our main Chow Mein Noodle recipe post and get information from there. The main difference between this noodle and the other is after the noodles have been rolled out. Both end up getting boiled, but these noodles end up in the fryer.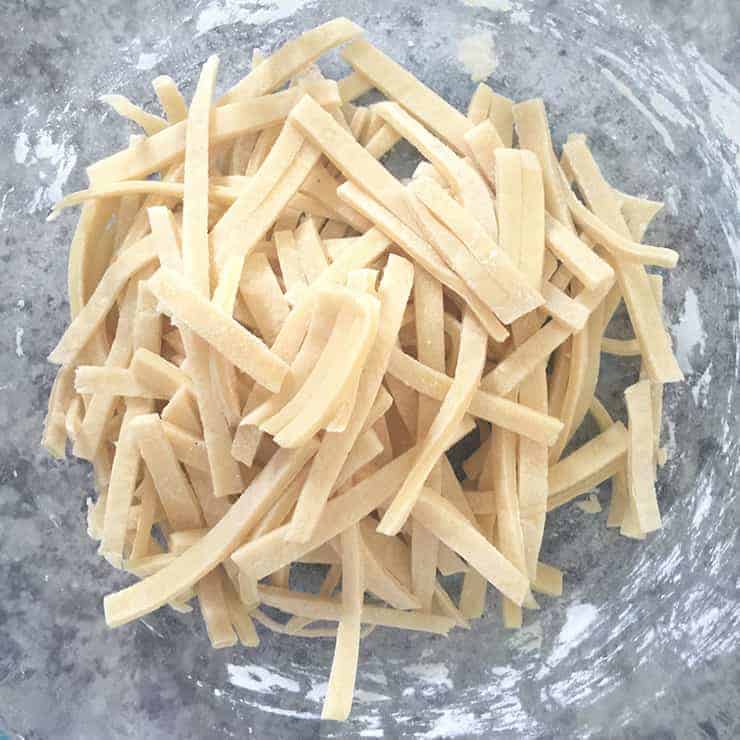 Products Used For This Recipe
Did you make this recipe?
Awesome! Thanks for giving it a try. It would be greatly appreciated if you let me know how it went in the comments in the area below and leave a rating. Most of all, thanks for visiting Ramshackle Pantry and I hope to see you again.
Print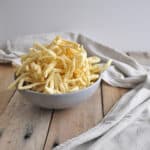 Fried Chow Mein Noodles
Author:

Ben Myhre

Prep Time:

1 Hour 15 Minutes

Cook Time:

15 Minutes

Total Time:

1 Hour 30 Minutes

Yield:

4

servings

1

x

Category:

Stir-Fry

Method:

Fry

Cuisine:

Asian
---
Description
These Fried Chow Mein Noodles are the DIY version of the dried noodles you might get from the store or your takeout. You know the ones… the ones that come in a can or bag and that you can snack on right there.
---
156 grams

Bread Flour

1/4 teaspoon

of salt

1

egg
water
Oil For Frying
---
Instructions
In large bowl, mix flour and salt
In separate bowl, add egg and water to make a total weight of 78g
Beat the eggs and water
Slowly mix egg/water mixture into flour
Once mixed, knead for 5 minutes (do not add water) in the bowl
Leave bowl, loosely covered and let sit for 30 Minutes
Knead for additional minute and should be a smooth ball at this point
Sprinkle flour onto rolling mat and use rolling pin to roll out dough to 1mm to 2 mm thick. BE PATIENT
Cut thinly with knife. In the video, she folds the dough, but I just roll it and cut the individual noodles.
Cut noodles into 2 to 3-inch pieces
Once all noodles are cut, they are ready for a boil
Add to boiling water for 2-3 minutes and then strain.
Heat oil for deep fat frying
Once heated to 350° Fahrenheit, add noodles and allow to fry for about 2 minutes or until they are golden brown
Remove from fryer and allow to dry and grease to drain on a plate covered in paper towels
---
Notes
Calories are estimated to account for differences in oil absorbption from noodles
Keywords: fried chow mein noodles