Learn how to make the best chicken kabobs you can on your grill! This Best Grilled Chicken Shish Kabob recipe is easy and walks you through making some delicious grilled chicken!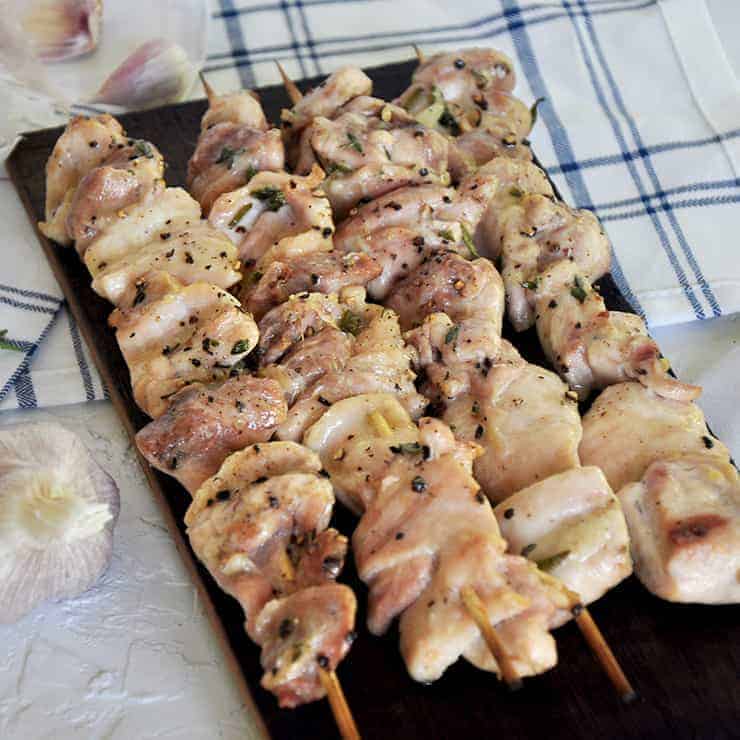 Meat on a stick is a beautiful thing, so that is what we are going to cook today. Specifically, we are going to take some time in our grilling series to grill up some Chicken Shish Kabobs.
Shish Kabobs are really an international dish and almost everybody knows what they are. Many even try to cook them but find they cannot make kabobs as juicy and tender as what they remember. With some simple tips, you too can cook a super tasty and moist Chicken Shish Kabob.
The Tricks For A Great Chicken Shish Kabob Recipe
Cooking chicken shish kabobs have challenges. It is easy to overcook them and come out with something that is more along the lines of chicken jerky, but we can avoid that. There is no single magic bullet, but a combination of tricks all come together to make some Shish Kabob magic. They are:
Choose the right cut of meat
Marinade
Soak your wood skewers
Don't overcrowd your skewer
Indirect Heat
Use The Right Cut Of Meat
Like so many chicken recipes, I say leave the breasts in the freezer. Chicken thighs, all the way. The thigh meat is nice and tender. This cut of the chicken is perfect for grilling and is difficult to dry out, whereas breasts can become so easy to dry out. Yes, we will be measuring the temp very consistently, but let's give ourselves a head start by picking a great cut of chicken.
Additionally, they already sell skinless and boneless thighs that eliminates any need to clean a thigh, unless you prefer to.
Marinade
There are many different marinades that can make a skewer great. I choose a simple one that contains olive oil, garlic, rosemary and thyme. There really is not much to it. I do use salt and pepper before I place the meat on the grill, but a person could salt and pepper at this point, as well.
Soak Your Wood Skewers
This is very much a logistics thing. It is no fun to have a burned skewer that is falling apart when you try to handle them. Soaking your skewers in water for a bit before grilling can help eliminate this.
Don't Overcrowd Your Skewer
When I was experimenting with this recipe, I found myself trying to fit two thighs on a single skewer. That was a mistake. Yes, they would eventually hit the 160 degrees in the middle, but by that point, the outside was overcooked.
So, I started only allowing myself to put about 1 thigh per 10-inch skewer. This provided plenty of room for the chicken and also helped everything cook more evenly.
Indirect Heat
This is one of the most important tips I can give. The problem with cooking chicken shish kabobs directly over a flame is that you will have an overdone outside by the time you get the internal temps to 165. Preheated one side of my grill to 400 and left the other side on the lowest setting possible.
Give these little fellas time on your grill. It may take up to 30 minutes, but you will be rewarded by using indirect heat.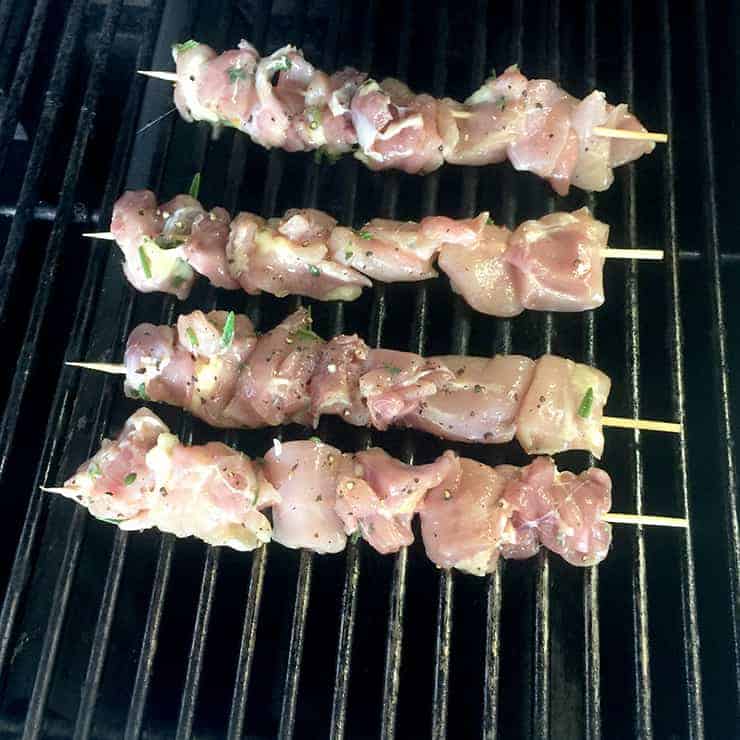 USE A THERMOMETER
If you don't have a grill or meat thermometer, get one. Pulling these guys off when they hit 165 is critical to making the most tender meat that you can. No matter what the time says in the recipe, there are variables that can impact cooking temps. Make sure the thickest part of your chicken shish kabob hits 165 Fahrenheit. At that temp, pull it off.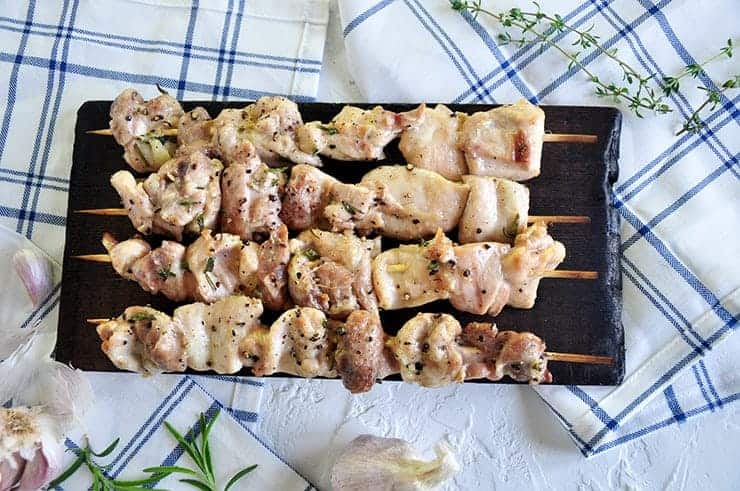 Products I Used In This Recipe
Did You Make This Recipe?
Really, that is all there is to it. You too can have super tender and tasty Chicken Shish Kabob that come right of your grill. If you like what we are doing here, please sign up to get updates via email and follow me on Instagram.
Print
📖 Recipe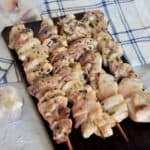 The Best Grilled Chicken Shish Kabab
Author:

Ben Myhre

Prep Time:

4 Hours 10 minutes

Cook Time:

30 Minutes

Total Time:

4 Hours 40 Minutes

Yield:

4

Kabobs

1

x

Category:

Dinner

Method:

Grilling

Cuisine:

Greek
---
Description
This Grilled Chicken Shish Kabob recipe is tasty and moist. Do yourself a favor and learn how to cook these little bad boys the right way!
---
4

skewers

4

deboned and deskinned chicken thighs, cut into

2

-inch chunks

¼ cup

olive oil

2

minced garlic cloves

1 Tablespoon

fresh thyme

1 Tablespoon

fresh rosemary
Salt and fresh ground pepper, to taste
---
Instructions
Debone, deskin, and cut chicken thighs as indicated in the ingredients list
Mix oil, garlic, thyme, and rosemary to dish and cover.
Place in fridge for at least 4 hours and up to 24 hours
1 hour before grilling, place skewers in water IF they are wood.
After the wood has been soaked, skewer thighs (one thigh per 10-inch skewer)
Preheat grill to approximately 400° Fahrenheit degrees, but ensure there are two zones. A hot zone and an indirect heat zone.
Generously Salt and Pepper Skewers
Place skewers in indirect heat zone and cook for 10 minutes. Close the lid on that grill.
Flip and cook for 10 more minutes. Close the lid, but be conscious of that 165 temperature and check often.
Check the internal temperature. If not at 165° Fahrenheit, flip again and cook for 5 more minutes
Repeat the previous step until internal temperature reaches 165 Fahrenheit.
Remove from heat and let rest for 5 minutes
Serve
---
Keywords: Grilled Chicken Shish Kabobs