Salisbury Steak is most known as a frozen TV dinner, but I have a secret that will stop you from ever buying them. Homemade Salisbury Steak with Mushroom Gravy is an easy, delicious, quick homemade dinner!
This homemade recipe actually takes LESS TIME than making the frozen dinner counterpart and tastes a thousand times better. Get ready for a family-pleasing, hearty, classic comfort food dinner.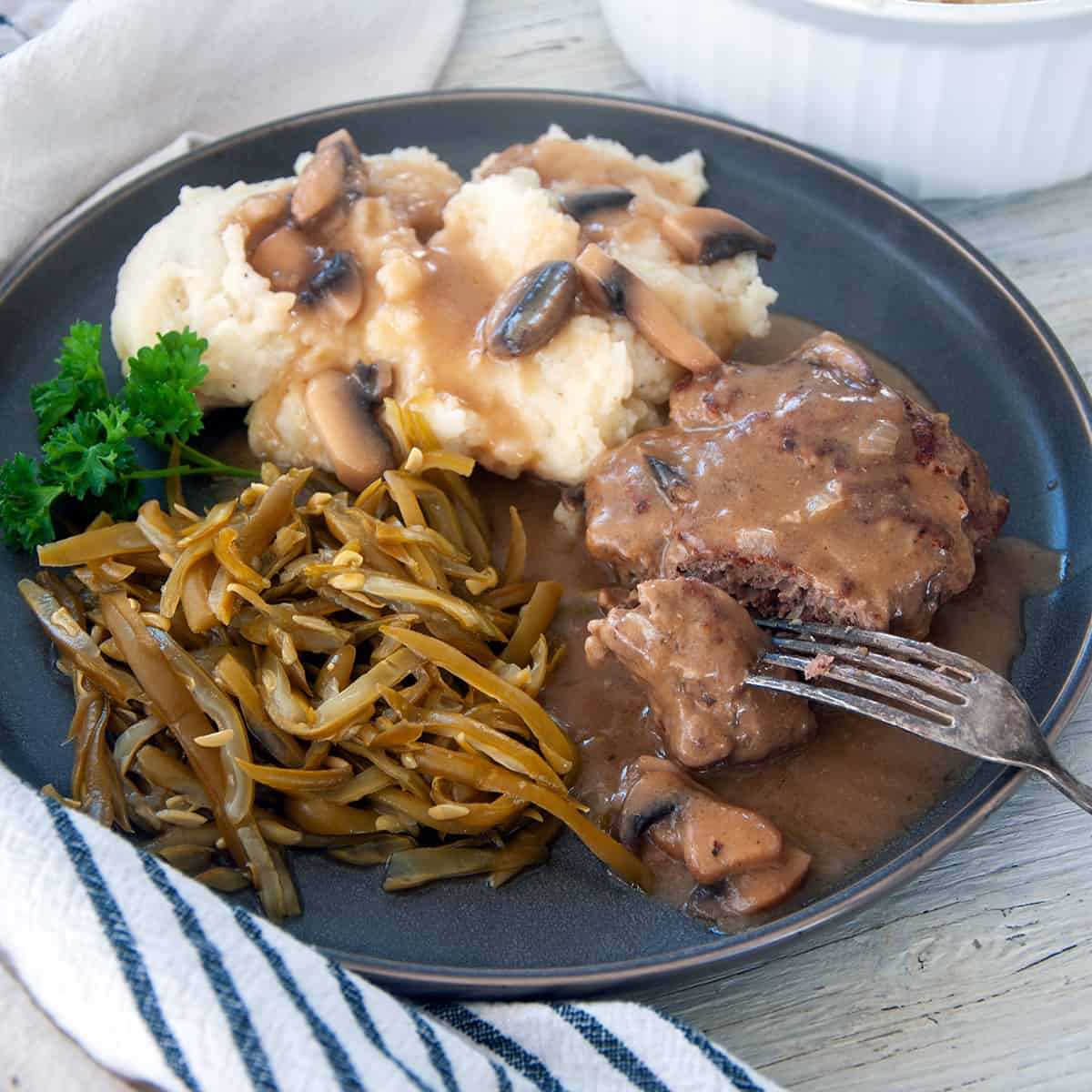 🥘 What makes this recipe special?
This Homemade Salisbury Steak is a special recipe because it tastes great, is a great weeknight dinner, and it brings something unique to your dinner table. I want to help break the notion that homemade meals are quicker than frozen packaging, as this just isn't always the case.
This recipe is done in just 40 minutes, but the frozen TV dinners take nearly an hour! If you time this right, you can also make a full batch of homemade mashed potatoes to accompany this recipe.
With just a few extra dishes and less time, you can have a meal that is 100 times better than the frozen version. If you like meatloaf, this is similar to a meatloaf recipe, but is a tad quicker and contains a few different ingredients.
Of course, if you like meatloaf, you should also check out this Spicy Italian Meatloaf recipe. Another great hearty and fast recipe I endorse is this Easy Pork Schnitzel. No matter what you make, make sure to treat yourself!
🍖 Ingredients
You will find many similarities with meatloaf ingredients in this one, with beef being the star. Here is what you will need: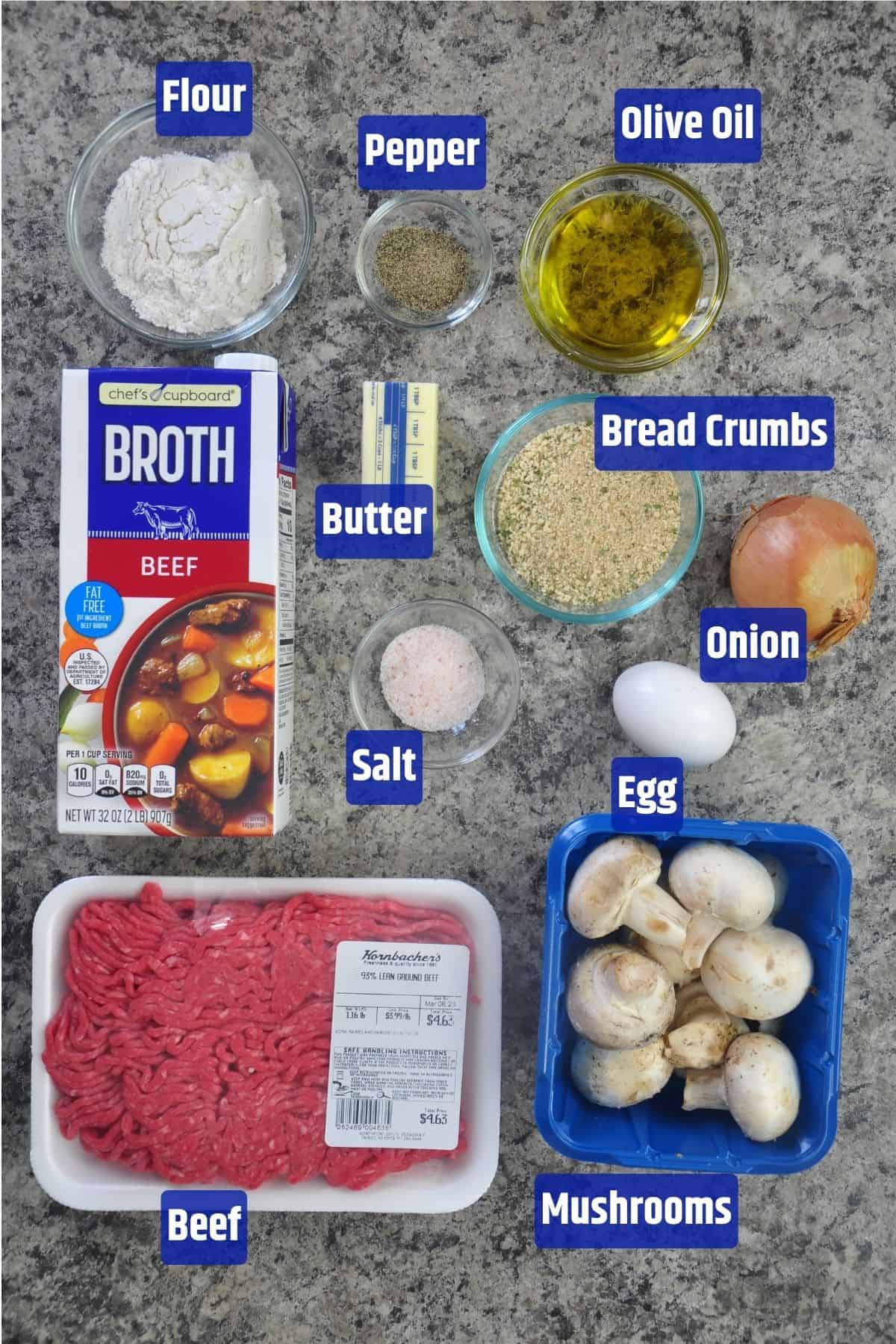 Lean ground beef
Bread crumbs
Salt and Pepper
Onion
egg
Olive oil
Mushrooms
Flour
Butter
Beef broth
See the recipe card for quantities.
Bread Crumbs
Any breadcrumb you like will do, and you could even make your own homemade breadcrumbs! That said, I tend to drift toward Progresso Italian Breadcrumbs when I purchase breadcrumbs.
They have a lot of flavor, are available almost everywhere, and are reasonably priced. Use what you have, but don't be afraid to use what you have.
🍲 Instructions
The instructions are fairly easy here. First, mix the raw beef, bread crumbs, salt, pepper, onion, and egg together.
Once mixed, patty the meat mixture into four servings. Heat up a sauté pan or large skillet with some olive oil.
Cook the patties on each side for a few minutes to get a bit of a sear on them. Remove and set aside.
Add butter to the pan and use your spatula to help get all the little burger bits up. Once the butter is melted, add the chopped mushrooms.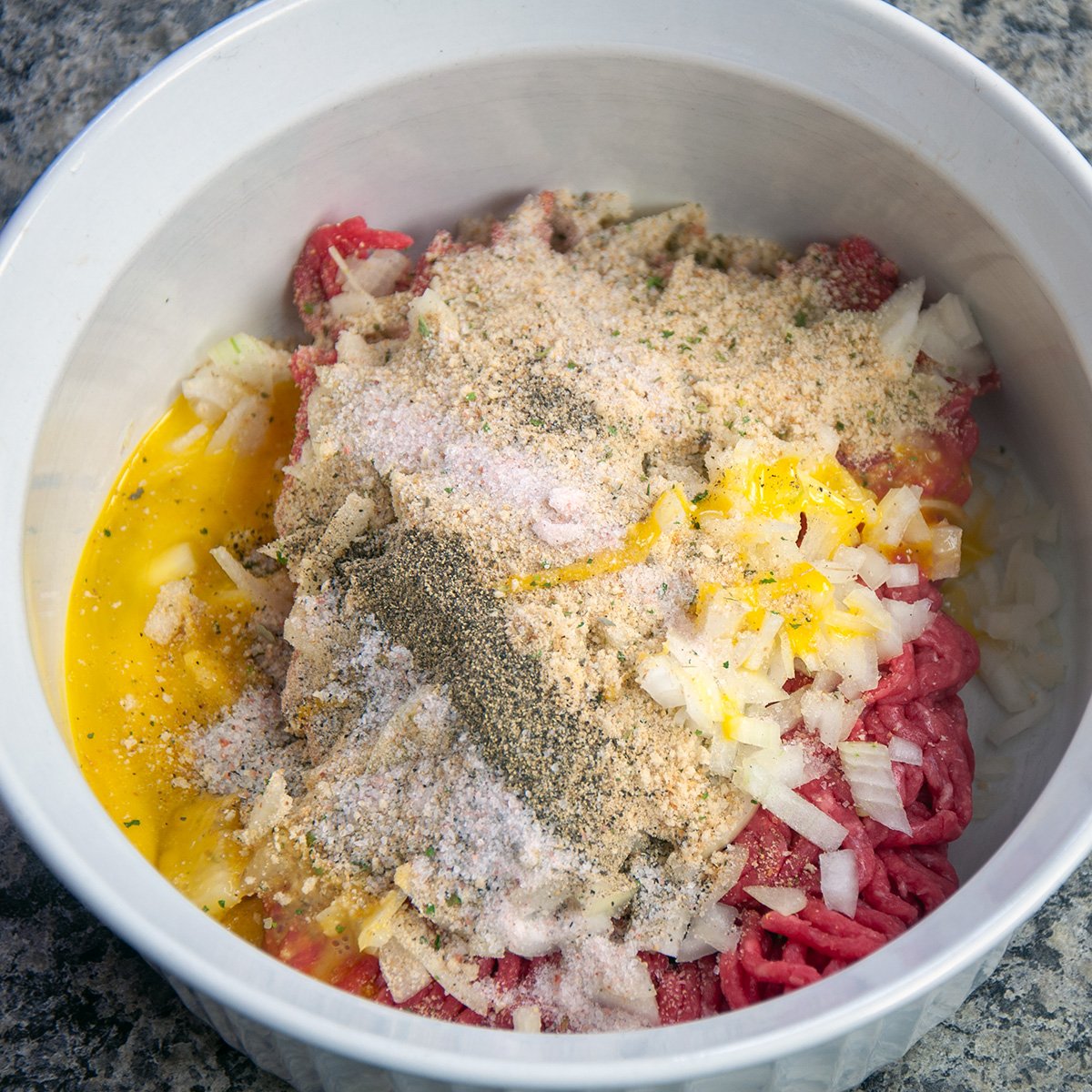 Cook the mushrooms until sautéed, and then add the all-purpose flour. Mix this around until it becomes a paste-like substance.
Slowly add in the beef broth. Don't hurry this process. I add a bit and then stir it well. Then repeat.
This helps prevent lumps and makes a nice, smooth gravy. Once the beef broth is mixed in, bring to a simmer, re-add the patties, and cook for about twenty minutes or until the center of the patties reach 160° Fahrenheit. Flip the patty about halfway through.
At the end of of this, you should have four homemade Salisbury steaks and some gravy. Ready to be served with mashed potatoes, rice, egg noodles, or whatever your heart desires.
🤷 Substitutions and variations
There are a few ways that this can be changed up.
Bread Crumbs - I use Progresso Italian breadcrumbs, but use what you have.
Mushrooms - Don't like mushrooms? Don't add mushrooms.
Side Dishes - This is great, but I recommend mashed potatoes and green beans.
Worcestershire sauce - Add a dash or two of Worcestershire sauce for a bit more flavor.
📦 Storage
These can be kept in an airtight container for 3-4 days in the refrigerator. To store, bring the Salisbury steaks and mushroom gravy to room temperature.
Place in dish with a cover and store in the fridge until you are ready to eat. This can also be frozen for up to three months.
🎓 History Tidbit
Salisbury steak originates from an American physician named Dr. James Henry Salisbury, who lived in the 1800s and was a civil war doctor. He was a proponent of eating a lot of meat in the diet and was an early proponent of what we now call a low-carb diet.
Dr. Salisbury thought this steak should be eaten three times a day. He also thought vegetables were bad for the diet. He might have been a bit 'out there', but Salisbury steak tastes good!
❓ FAQ
Is Salisbury Steak healthy?
In moderation, Salisbury steak can be considered healthy. There is lean beef in it, which is better than fattier beef. There is also some butter and oil, but if used in moderation, it can be healthy in a well-balanced diet.
What to serve with Salisbury Steak?
Mashed potatoes and green beans are perfect accompaniments to Salisbury steak. Many starches, like rice or egg noodles, work great for this. Also, corn is a great vegetable for this dish.
What is the difference between a Salisbury Steak and a hamburger steak?
A Salisbury steak contains several ingredients that make it more like a meatloaf, such as eggs, breadcrumbs, and diced onions. Hamburger steaks usually have fewer ingredients and rarely breadcrumbs.
📝 Tips and tricks
Serve with mashed potatoes, rice, or egg noodles.
A vegetable side like green beans or corn are perfeft for this.
Use a thermometer to ensure your homemade Salisbury steaks reach a safe 160° temperature.
🛠 Products used in this recipe
😋 Did you make this recipe?
That is awesome, and thank you so much for giving this Homemade Salisbury Steak with Mushroom Gravy recipe a try. If you could leave a rating in the comment area below, it would be greatly appreciated. This lets me know how I am doing and also helps others decide if they want to make this recipe. Most of all, thanks for visiting Ramshackle Pantry.
Print
📖 Recipe
Homemade Salisbury Steak With Mushroom Gravy
Author:

Ben

Prep Time:

10 minutes

Cook Time:

30 minutes

Total Time:

40 minutes

Yield:

4

Servings

1

x

Category:

Dinner

Method:

Stovetop

Cuisine:

American
---
Description
This is an easy Salisbury steak recipe with mushroom gravy that is great for the whole family. A comfort food classic that ends up being quicker to make than the popular frozen food counterpart and SO much better.
---
1

pound lean ground beef

⅓ cup

dry bread crumbs

½ teaspoon

pepper (plus any more to taste)

1 teaspoon

salt (plus any more to taste)

½ cup

chopped onion (about

one

small onion)

1

egg, beaten

4 tablespoon

olive oil

4 ounces

button mushrooms, chopped

¼ cup

of flour

4 tablespoons

of butter

24 ounces

beef broth (or beef stock)
Parsley for garnish (optional)
---
Instructions
Mix all of the meat ingredients (onion, egg, breadcrumbs pepper, salt)
Separate into 4 patties and set aside

Heat oil in large sauce or saute pan over medium heat

Cook patties on each side for 2-3 minutes and remove. do not allow to burn

Add butter to melt and get all the bits up

Once melted, add mushrooms

Cook until mushrooms are sautéed.

Add flour and stir in.

Slowly add beef broth

Bring to a simmer and until thickened

Turn to medium low and add patties back in

cook for 20 minutes or until the patties hit an internal temperature hits 160° Fahrenheit

Garnish and Serve!
Notes
Serve with mashed potatoes, rice, or egg noodles.
A vegetable side like green beans or corn are perfeft for this.
Use a thermometer to ensure your Salisbury steaks reach a safe 160° temperature.
Keywords: Salisbury Steak