This post may contain affiliate links. As an Amazon Associate I earn from qualifying purchases. Please read our disclosure policy.
This Easy Pork Schnitzel recipe is easy to make, quick, and best of all it is delicious. It is a traditional German recipe that deserves its place as a famous dish. It is reachable by any home cook and cooks in just a few minutes.
The flavor tastes like grandma spent hours over the stovetop to get it just right. It is a great weeknight meal if you are looking for something to get the job done, but it still has a great homemade touch that makes it just as lovely for guests. Try this Pork Schnitzel recipe today!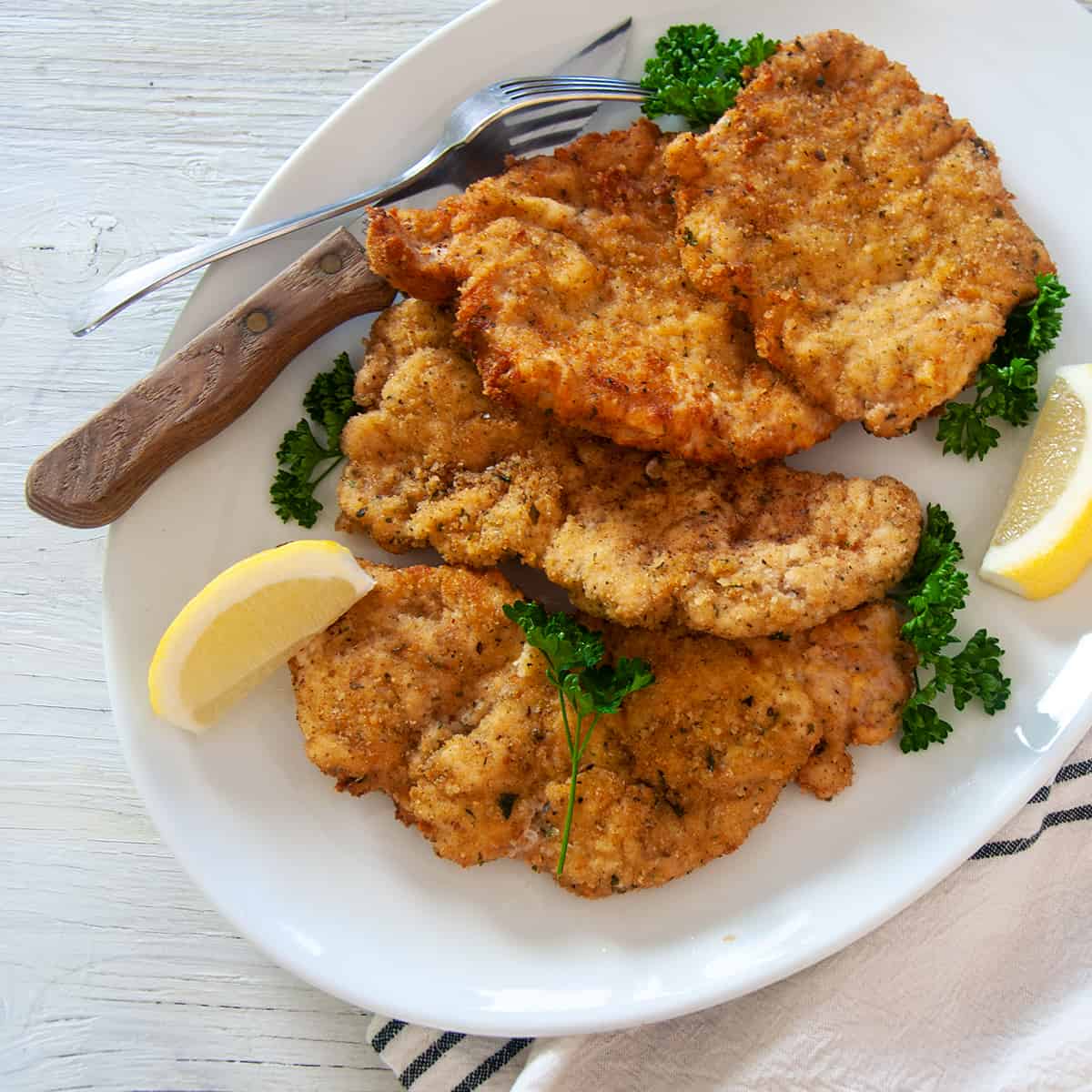 🇩🇪 What makes this recipe special?
Schnitzel isn't a dish, but a cooking technique where a meat tenderizer is used to flatten a piece of meat, then coated with breadcrumbs and fried. Often, this could include cuts of meat that are a bit more on the tough side, and tenderizing it helps submit it into something easier on the teeth. Once tenderized, it is covered in breadcrumbs and then fried to perfection.
There are different kinds of schnitzel, but we are making a schnitzel today using pork chops. Many people might associate schnitzel with the traditional Wiener Schnitzel.
Remember, however, that schnitzel is a cooking technique. The Wiener in Wiener Schnitzel identifies that the schnitzel was made with veal rather than pork. Literally, Wiener translates to 'Of Vienna', so it is a traditional Viennese recipe.
Our recipe using pork and not veal is more reachable to your average home cook, affordable, and it tastes great. Once you have this technique down, you might consider trying it with other cuts of meat and you can confidently know you are making a schnitzel of some sort.
Consider making German Spaetzle, German Potato Salad, or some cheesy mashed potatoes as a side dish. No matter what you make, make sure to treat yourself!
🍖 Ingredients
Pork chops are the star of this recipe, but it takes a bit more to make this what it is. Here are the ingredients you will need:
Boneless pork chop cutlets
Whole milk
All-purpose flour
Eggs
Bread crumbs
Oil for frying
See the recipe card for quantities.
Type Of Bread Crumbs to Use
Use what you like! I have a great homemade bread crumb recipe that can be used, but sometimes I even like simplicity and buy our breadcrumbs. For this recipe, I used Progresso Italian Breadcrumbs, as I usually have that in our cupboard. We have used it in other recipes like my Spicy Italian Meatloaf Recipe.
🍲 Instructions
One of the critical steps in making schnitzel is producing a thin cutlet of meat, and fat stands in the way. So, even though we are already using boneless pork chops, we need to make our ability to pound the meat as seamless as possible.
So, trim the fat. If you leave the fat on the cut, it will be liable to cause a mess. The pork chop will be more difficult to pound out and more apt to fall apart around the fat.
Our goal is to get it thin. About a quarter-inch thin.
Use a Meat Tenderizer
You know the hammer-looking thing in your drawer of random kitchen stuff that is usually stuffed somewhere in the back? It probably gets caught when you open and close the drawer and makes you wonder why you have so much stuff stuffed in there?
Well, today, you put it to use. Usually, this tenderizer has a side with spikes and a flat side. Use the flat side. If you don't have a meat tenderizer, now is as good as any time to pick one up! [Affilliate Link] You, too, can experience the joy of having a meat hammer catch on your kitchen drawer.
Place plastic wrap on each side of the pork chop before you start pounding. This helps reduce the mess but also helps keep the meat together when you are pounding. If you directly pound the meat without plastic wrap, there is just more of a chance that the meat will fall apart once you get on the thin side of things.
This really is not that long of a process and does not require the patience of a middle-school band teacher, but don't rush this. It takes a little time to flatten the pork chop, and if you start whacking the meat in a frenzy of chaos, the end product might reflect that. Just slow your roll and beat your chop at an appropriate pace.
Dipping And Breading Your Schnitzel
You pounded out your pork and now we need to bread it. This is a simple four-step process. First, dip it in milk. Then, dip it in flour. Then, dip it in an egg wash. Finally, add it to your breadcrumbs. While it is four steps, it is easy! Each step helps ensure that the final product is as good as possible, so don't skip any.
The only substitute I could really endorse is that you could get away with dipping the pork initially in water instead of milk. Still, I would only do that in a pinch.
Set Up a Breading Station
Do yourself a favor and set up a breading station. Four containers with each of the breading ingredients. This will make the process super easy and help ensure you have some beautifully breaded schnitzels. We performed similarly, but slightly different, operations when we made our Baked Shrimp Po' Boy recipe and our Beer Battered Fish Tacos recipe.
Frying Instructions
When you fry the schnitzel, you want it to be able to swim in the oil. You do not need to use a deep fryer, but use frying safety guidelines to ensure you can make this tasty meal safely.
I use my cast iron dish to fry my schnitzel, but I use my smaller one. Because these cook so quickly and they need a bit of time to drain, I feel good about cooking them one at a time, which is good for my smaller cast iron pan.
I have a few tips to help make this as easy as possible. Make sure your oil is hot enough. I temp mine at 350° Fahrenheit before adding the pork and allow a little time between each cut for the oil to heat back up.
Also, have oil-safe tongs and a spatula nearby to help you navigate any issues you may encounter. I only need these to be cooking to a temperature of 145 Fahrenheit, so a quick 45-second fry on both sides is all I need. The tongs should allow you to flip them, but it can be nice to have a good spatula available just in case you need a bit more control over the cut.
As I said, you need to get to 145° Fahrenheit. While the 1 minute and thirty seconds of frying should get you there, I always recommend having a meat thermometer [AFFILIATE LINK] on hand to temp your meat. I want you to be safe and making sure your food is at the appropriate temperature is easy enough.
❓What To Serve With Schnitzel
With the schnitzel itself, we are just going with a traditional combination of parsley and lemon. That is all one really needs, but you might also try a great condensed mushroom soup recipe that can substitute for gravy or perhaps some fried onions.
Other than what is served directly on top of the cut, consider some potatoes, bread, or something that goes well with fried food. I have eaten this with baked potatoes, and I think this is a great pairing. Mashed potatoes would also go excellent, particularly if you are making gravy to go along with this.
🤷 Substitutions and variations
There are definitely a few ways to change this up.
Breadcrumbs – I used Progresso Italian Breadcrumbs with this recipe. That said, use what you have!
Gravy or sauce – The recipe calls for just a sprinkle of lemon. That said, a gravy, such as this mushroom soup https://ramshacklepantry.com/homemade-condensed-cream-of-mushroom-soup-recipe/, would work great for a dish like this.
Oil – I like to use sunflower oil if I can, but canola or vegetable oil works well for deep frying.
📦 Storage
These can last in the refrigerator for a few days but are best served right after frying.
🎓 History tidbit
The origin story of schnitzel goes back to the 800s AD and Kaiser Basilleios I, or Basil I, who I believe to be the same person. Born a peasant, he grew to the emperor of the region. As emperor, allegedly, he liked to have his meat flaked with real gold.
Quite the big spender, huh? Well, as an emulation of this opulence, people started using breadcrumbs to help achieve that gold look. And Schnitzel was born! It tastes good, right? So the recipe preserved.
Many people are familiar with the word Wiener Schnitzel, which is NOT what we are making here today, but worth mentioning. Literally, this translates to Viennese Schnitzel or a schnitzel made in the style that people from Vienna do, or with veal.
There are Wiener Schnitzel recipes that were printed in the mid-1800s, but that is about as far back as well documented history goes with this dish. We, however, are using pork chops and not veal and what we are making is just a normal German schnitzel.
The story of schnitzel does not end in Europe though, as many Germans emigrated to America in the 1800s and 1900s. In the American south, you start to see beef recipes that closely resemble schnitzel appear. Chicken Fried Steak or Country Fried Steak may very well have its origin in schnitzel and the German immigrants that settled in the south!
❓ FAQ
What is Schnitzel?
Schnitzel is a cooking technique where a meat tenderizer is used to flatten a piece of meat, then coated with breadcrumbs and fried.
How long does it take to cook pork schnitzel?
It takes about 1 minute and 30 seconds to cook a pounded-out schnitzel and reach a safe temperature of 145° Farenheight.
What is the internal temperature of pork schnitzel?
The safe internal temperature for pork chops are 145° Farenheight.
What cut of meat is used for pork schnitzel?
A pork chop cutlet trimmed of fat and pounded flat works great!
📝 Tips and tricks
The best way to pound cutlets is with flat side of the meat tenderizer and cover the meat with plastic wrap.
Use an appropriate dish for frying and always make sure to be safe while frying.
Turn using fry-safe tongs
Use a thermometer to make sure pork reaches a safe internal temperature of 145° Fahrenheit
Draining cooked cutlets is essential.
Gravy or sauce, such as this condensed mushroom soup would be great for this.
🛠 Products used in this recipe
😋 Did you make this recipe?
That is awesome, and thank you so much for giving this Easy Pork Shnitzel recipe a try. If you could leave a rating in the comment area below, it would be greatly appreciated. This lets me know how I am doing and also helps others decide if they want to make this recipe. Most of all, thanks for visiting Ramshackle Pantry.
Print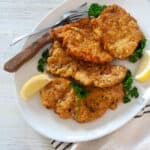 Easy Pork Schnitzel Recipe
Author:

Ben Myhre

Prep Time:

10 minutes

Cook Time:

20 minutes

Total Time:

30 minutes

Yield:

4

Servings

1

x

Category:

Dinner

Method:

Frying

Cuisine:

German
---
Description
You don't have to have German heritage to celebrate awesome German recipes and this Easy Pork Schnitzel recipe is a great way to do just that! It is simple, affordable, easy, and fast. This pork schnitzel is great for a weeknight meal or for something to serve to special guests. Give this classic German recipe a try!
---
4

4oz chop cutlets trimmed of fat

½ cup

whole milk

¼ cups

all-purpose flour

2

eggs, beaten

1 ½ cup

bread crumbs
Oil for frying
---
Instructions
Pound each of the trimmed cutlets to about 1/4 inch. It is best to plastic wrap on each side and hammer with the flat side of a meat tenderizer
One at a time, dunk in milk so entire cut is covered
Coat in flour
Dunk in egg so entire surface is covered
Cover cutlet in bread crumbs and set aside
Repeat until all four cutlets are covered
Fill sturdy, skillet with oil and heat to 350° Fahrenheit
Cook each cutlet 45 seconds on each side until done. Minimum internal temp of 145° Fahrenheit
Set aside on paper-towel lined plate to drain
Serve with parsley and lemon
Notes
The best way to pound cutlets is with flat side of meat tenderizer and cover meat with plastic wrap.
Use an appropriate dish for frying and always make sure to be safe while frying.
Turn using fry safe tongs
As with all of my fry recipes, I do the best I can to account for the oil in the nutritional information, but I cannot determine this exactly.
Use a thermometer to make sure pork reaches safe internal temperature of 145° Fahrenheit
Draining cooked cutlets is important.
A gravy or sauce, such as this condensed mushroom soup would be great for this.
Nutrition
Serving Size:

1 cutlet

Calories:

812 kcal

Sugar:

1 g

Sodium:

512 mg

Fat:

58 g

Saturated Fat:

11 g

Unsaturated Fat:

47 g

Carbohydrates:

31 g

Fiber:

0 g

Protein:

47 g

Cholesterol:

93 mg