This post may contain affiliate links. As an Amazon Associate I earn from qualifying purchases. Please read our disclosure policy.
The Monkey Gland Cocktail recipe has a super interesting history, but the best part is that it tastes great! Get your cocktail shaker out and get ready with some absinthe, gin, fresh orange juice, and grenadine.
This is a surprising cocktail that tastes great! Be ready to be surprised and try this wonderful cocktail today. Give this Monkey Gland recipe a try!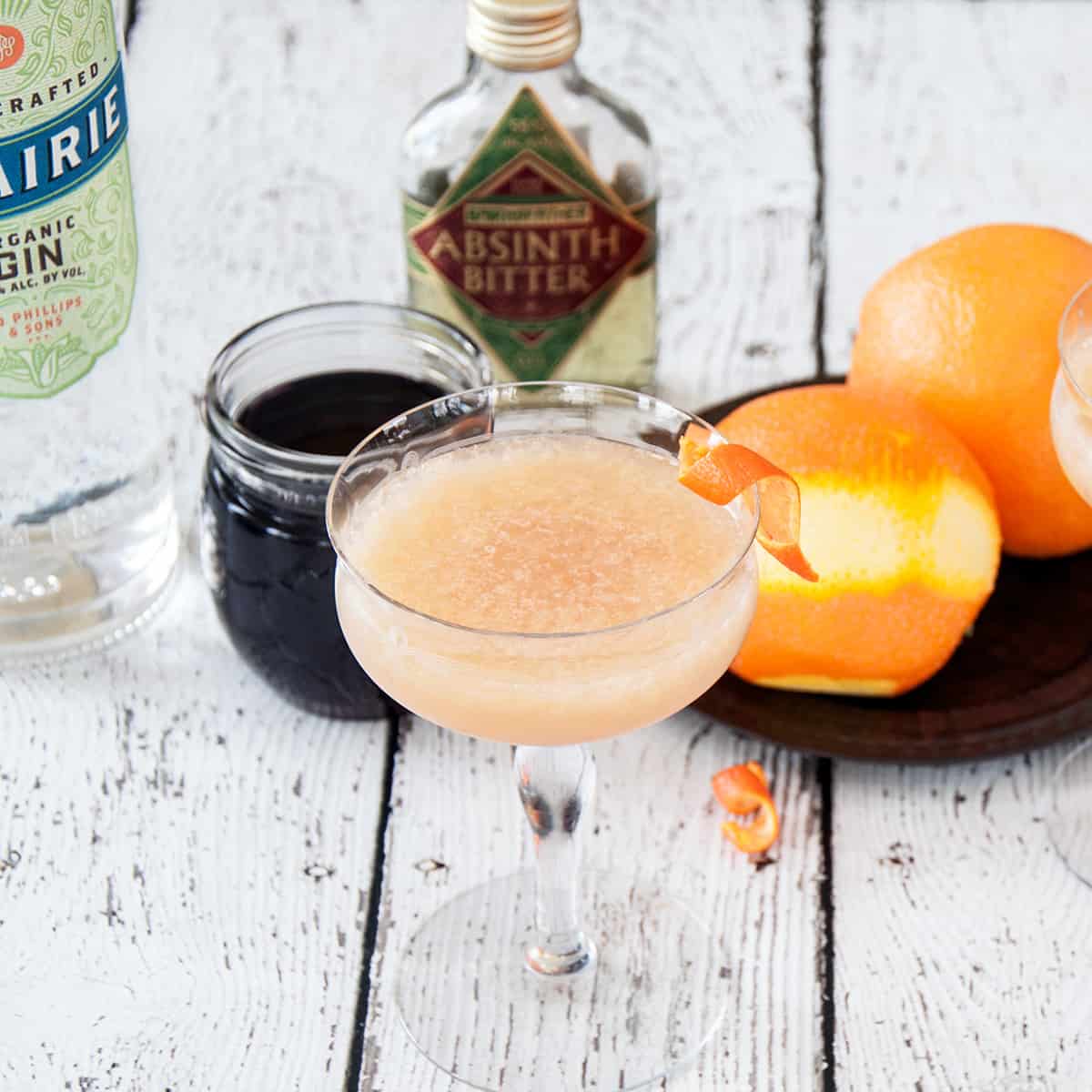 🐒 What makes this recipe special?
At one point, we shared a homemade grenadine recipe, and I thought it would be fun to share a classic cocktail with grenadine. Why not a tasty cocktail with an odd history and a weird name?
Add in absinthe and orange flavors and we have a great cocktail. Today we are drinking the tasty Monkey Gland Cocktail.
Despite its odd name, absolutely zero glands are used in making this cocktail, and, most importantly, it tastes phenomenal. It is a fun drink, and today we will share the classic recipe and a bit of Monkey Gland cocktail history.
You might want to check out other historical and tasty cocktail recipes: the Penicillin cocktail, Gold Rush cocktail, or the Aperol Americano cocktail. No matter what you drink, make sure to treat yourself!
🍸 Ingredients
This is an easy recipe.
Gin
Fresh Orange Juice
Absinthe
Orange peel
Ice for shaker
See the recipe card for quantities.
🍲 Instructions
Equal parts Gin and Orange Juice are added to a cocktail shaker. Then add a bit of grenadine and Absinth.
Shake it up in a shaker and strain it into a cocktail glass. Garnish with an orange peel and drink.
🤷 Substitutions and variations
The ingredients are the ingredients, but there are a few ways to make this your own.
Gin – Use whatever gin you have, but if you change this up to your favorite gin, you can really change up the flavors.
Orange Juice – I recommend homemade OJ, but use what you have.
📦 Storage
This cocktail is not meant to be stored. Serve and drink this right away.
🎓 History Tidbit
The history of this cocktail contains a few elements we have visited before. First, the drink has gin, and we have looked pretty closely at the history of gin.
Also, the history of the Monkey Gland Cocktails shares a bit of history with the Bloody Mary. One of the main original recipe stories of the Bloody Mary history has its origins at Harry's New York Bar that is still open and is in Paris, France.
The Monkey Gland and The Bloody Mary were likely invented (or have origins in) Harry's New York Bar. In early printings of Harry's ABCs of Mixing Cocktails, he claims to have invented it earlier in the mid 20th century.
Monkey Gland And Dr. Serge Voronoff
Harry's cocktail was inspired by the work of Serge Voronoff who became famous for grafting monkey testicles on human beings. Yes, you read that right. The thought was that humans would gain some of the virility of the apes or monkeys, and it was a great way to increase vigor in older men.
Everything from sexual stamina, and increased energy, to longevity, was attributed to this testicular procedure. Suppose you are interested in getting nerdy about 1920 literature on primate testicle grafting. In that case, you can even read the entire 1920 book here. Soon enough, this practice moved to obscurity, but not before Harry MacElhone, owner of Harry's New York Bar invented the Monkey Gland and immortalized Dr. Voronoff's work.
I suppose the name was a bit tongue-in-cheek, but this was also a time when alcohol was considered more medicinal than it is today. Both gin and absinthe have historical roots as being medicinal in nature. Oh, and it was when they thought it was a good idea to graft monkey testicles onto human beings… so there is that.
❓ FAQ
What is the Monkey Gland Cocktail?
The Monkey Gland Cocktail is a classic gin-based cocktail with gin, orange juice, grenadine syrup, and a dash of absinthe.
Why is it called the Monkey Gland Cocktail?
The cocktail's name is inspired by the surgical technique of grafting monkey testicle tissue onto human testicles, which was a controversial procedure at the time the cocktail was created. However, there is no actual monkey gland in the cocktail itself.
What does the Monkey Gland Cocktail taste like?
The Monkey Gland Cocktail is a sweet and citrusy cocktail with a hint of anise from the absinthe or pastis. It has a complex flavor profile that is both refreshing and complex.
📝 Tips and tricks
Use high-quality ingredients for the best results. The Monkey Gland Cocktail is a simple cocktail with only a few ingredients, so it's important to use the best quality ingredients you can find. Use fresh-squeezed orange juice, real grenadine syrup, and a good-quality gin for the best results.
To get the perfect balance of flavors in the Monkey Gland Cocktail, it's important to shake the cocktail vigorously with ice for at least 10-15 seconds. This will help to fully mix the ingredients and create a frothy texture.
The Monkey Gland Cocktail is a versatile cocktail that can be customized to suit your taste. Try experimenting with different types of gins and absinthes to find the perfect combination of flavors for you.
Use a chilled cocktail glass for the best results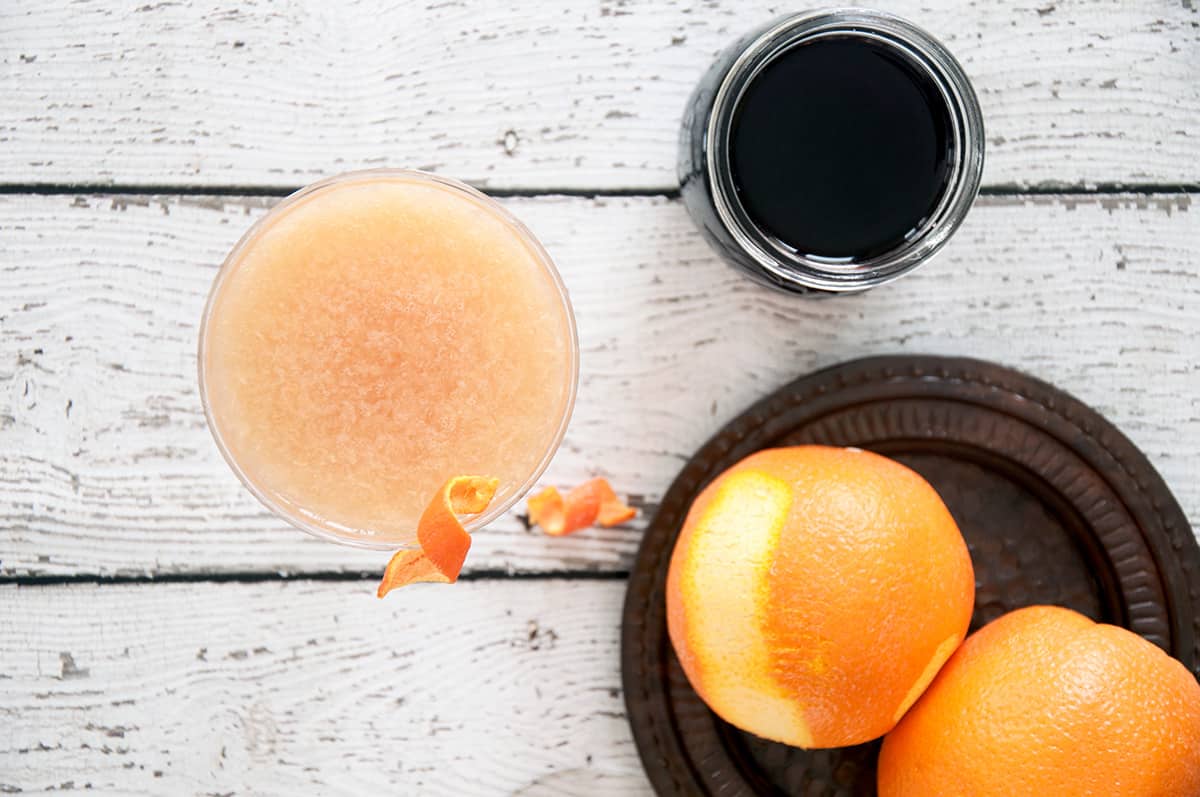 🛠 Products used in this recipe
😋 Did you make this recipe?
That is awesome, and thank you so much for giving this Monkey Gland recipe a try. If you could leave a rating in the comment area below, it would be greatly appreciated. This lets me know how I am doing and also helps others decide if they want to make this recipe. Most of all, thanks for visiting Ramshackle Pantry.
Print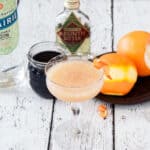 Monkey Gland Cocktail Recipe
Author:

Ben Myhre

Prep Time:

1 minute

Cook Time:

1 minute

Total Time:

2 minutes

Yield:

1

cocktail

1

x

Category:

Cocktail

Method:

Shaker

Cuisine:

American
---
Description
The Monkey Gland is probably the only classic cocktail who was inspired by grafting monkey testicles on humans. If there others, please let me know. I really want to know. Just how big of a niche is this?
---
Ice for shaker

1 1/2

ounces

Gin

1 1/2

ounces

Orange Juice

1 teaspoon

Absinthe (just a splash of Absinthe)

1 teaspoon

grenadine
Orange peel, for garnish
---
Instructions
Add ice to shaker
Add all ingredients to shaker
Shake vigorously for 15 seconds
Strain into a coup or cocktail glass
Garnish and serve
---
Notes
Use high-quality ingredients for the best results. The Monkey Gland Cocktail is a simple cocktail with only a few ingredients, so it's important to use the best quality ingredients you can find. Use fresh-squeezed orange juice, real grenadine syrup, and a good-quality gin for the best results.
To get the perfect balance of flavors in the Monkey Gland Cocktail, it's important to shake the cocktail vigorously with ice for at least 10-15 seconds. This will help to fully mix the ingredients and create a frothy texture.
The Monkey Gland Cocktail is a versatile cocktail that can be customized to suit your taste. Try experimenting with different types of gins and absinthes to find the perfect combination of flavors for you.
Use a chilled cocktail glass for the best results