The Salty Dog Cocktail is a classic drink, but you can make it even more special by infusing rosemary into the mix. This is still a delicious drink, but that has that beautiful herbaceous rosemary flavor that I love.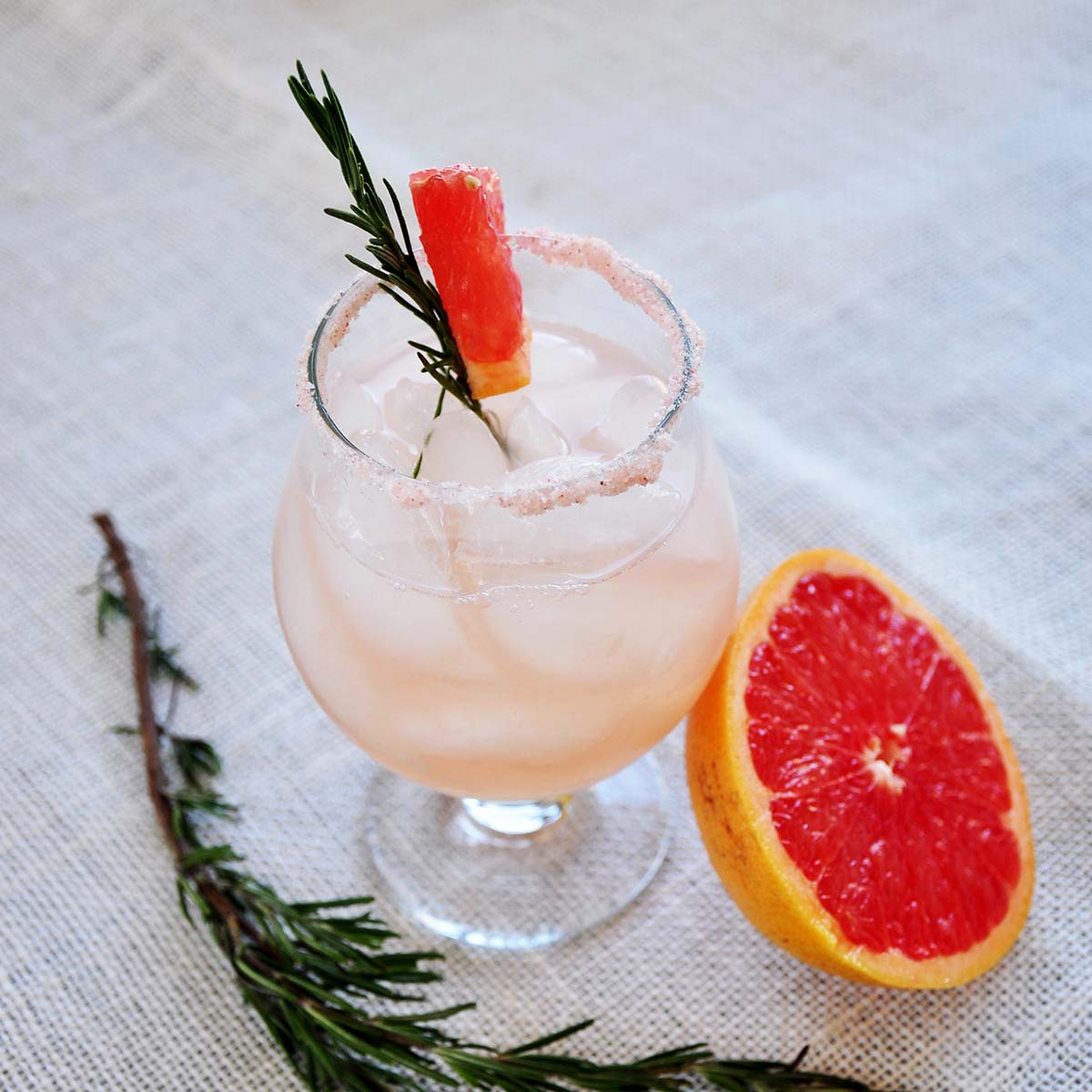 I feel like the taste of grapefruit is colorful, vibrant, but a fruit that might not be for everybody. It is the cilantro of the fruit world... either you love it or hate it. While we are divided in our household on cilantro (Ashley hates it and I am right), we both agree on grapefruit. We are deep into our greyhound series and today we are going to write about its kissing cousin, the Salty Dog Cocktail. A normal Salty Dog is not on the menu today, however. We are going to make a rosemary infused Salty Dog Cocktail.
Traditional Salty Dog Cocktail
We just made a traditional Greyhound cocktail and it only seems right that we give a bit of attention to the Salty Dog. The Salty Dog, after all, is only a Greyhound, but with salt on the rim. So, if you are interested in a traditional Salty Dog, just go to this recipe and rim the glass with salt. We, however, are going to mix it up with a bit of rosemary syrup.
Vodka In Our Salty Dog
I used gin in our traditional Greyhound cocktail, as that is historically accurate. Today, however, vodka is more commonly used in the greyhound. I feel that it is acceptable to use either in a cocktail and today I am going to switch over to vodka. Instead of highlighting the juniper and botanicals that go into gin, I want the real stars in this cocktail to be the grapefruit, rosemary, and salt.
Salt On The Rim
Use what you got. I keep Himalayan sea salt on hand, so that it what I am going to use. I think there are some opportunities here to help your drink tell a story or do something interesting. You could use normal table salt, but you could also use black lava salt from Hawaii or any interesting salt. The salt can help you bring some pop or tell a story with this cocktail to make it your own.
Rosemary Syrup
This rosemary syrup is simple and can a whole bunch of flavor to any cocktail. We are going to include a recipe for this, but if you have ever made your own simple syrup, you know the dealio. Basically, this rosemary syrup is simple syrup that was heated with rosemary and strained. This really can be applied to any number of herbs or items. The recipe in this post will make more than you need, so feel free to experiment with other cocktails and try replacing it in other things that need simple syrup. You can keep most 1:1 simple syrups in the fridge for one month.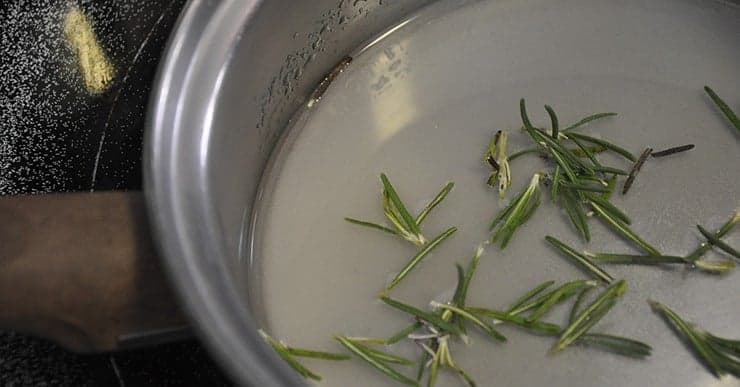 Grapefruits In This Drink
While we tried to use the sweetest grapefruit possible in our traditional Greyhound, it just isn't as important in this drink. With the addition of simple syrup, we are going to get plenty of sugars to counterbalance any bitter or sour flavor that the Grapefruit brings.
Products Used for this Recipe
Did You Make This Recipe?
Thank you so much for giving this Rosemary Infused Salty Dog Cocktail a try! I hope you like it as much as I do. If you could let me know how it went in the comments section below, it would be greatly appreciated. It will help others decide to make this and it helps Ramshackle Pantry out. Most of all, thanks for giving us a visit!
Print
📖 Recipe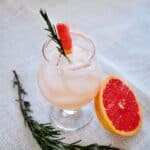 Rosemary Infused Salty Dog Cocktail
Author:

Ben

Prep Time:

1 Minute

Cook Time:

4 Minutes

Total Time:

5 Minutes

Yield:

1

Drink

1

x

Category:

Cocktails

Cuisine:

American
---
Description
This Rosemary Infused Salty Dog Cocktail is a variation of the Greyhound and Salty Dog Recipe. It is sweet and has a nice hint of that rosemary flavoring.
---
2 Tablespoons

of salt
Ice

2 Ounces

Vodka

1 Ounce

Rosemary Infused Simple Syrup (See notes)

4 Ounces

Grapefruit Juice
Sprig of rosemary, Garnish
---
Instructions
Put salt on flat plate or other dish so you can rim.
Moisten rim of highball glass and lightly place on plate to rim the edge of the glass
Add ice to glass, careful not to disturb salt
Add vodka
Add Rosemary Infused Simple Syrup
Add grapefruit juice
Using a stirring spoon, mix for 30 seconds
Serve
To Make Rosemary Syrup
Add all ½ cup sugar, ½ cup water, and 2 Tablespoons to sauce pan and slowly heat to be warm, but not boil.
Once all sugar is incorporated into water, remove from heat
Strain the liquid to remove rosemary
Place in container and keep in fridge for up to one month
---