A Classic Greyhound Cocktail is smooth, sleek, and graceful just like the dog breed. Learn how to make a Greyhound Cocktail the right way and learn why it uses gin instead of vodka.
We are knees deep in our Greyhound cocktail series and today we are going to make the best Greyhound we can. Oh, it is as simple as just looking it up on the internet, you say? Well, if you found me it is. At Ramshackle Pantry we looked closely at the drink to find the best group of ingredients to use. We have looked at the history of the drink, we have looked at the elements of the drink, and now I am going to provide the best cocktail recipe I can.
Grapefruit in Our Greyhound Cocktail
There are all different kinds of grapefruit, but it seems that in my part of the world, I can only find two varieties. This was really actually very disappointing to me. I thought I would be able to find a bit more variety from the stores I checked, but nope. I went to two different grocery stores and I also went to our local natural foods co-op. The co-op had the smallest selection of grapefruits which really surprised me. Grapefruit season is from November to May, so there should be grapefruits galore!
Grapefruit and San Diego
We just returned from a trip to San Diego not too long ago. We had the chance to go to the farmer's market in Little Italy, which I would highly recommend if you get there on a Sunday. In the market, there was at least one booth that sold and sampled grapefruits of many different varieties. There were a few that were really sweet. Perhaps I should have brought some home with me instead of relying on diverse options in Fargo.
Additionally, I found places that would deliver grapefruits. I would not count this out, as we live in a world where stuff can show up on your doorstep just a few days later! I, however, decided to just venture out to my local grocers and see what they had available. Two options were there.
Fortunately, I think both the varieties of grapefruit I found were on the sweeter side, which is what I wanted.
Greyhound Cocktail and Gin
As we talked about in our elements post, I decided that I was going to use gin instead of vodka in my Greyhound cocktail. While vodka is widely used, gin is probably a more historically accurate version of the spirit used in a Greyhound. Additionally, I think vodka can be used to hide the taste of the alcohol, but I want to celebrate it!
Ransom Old Tom Gin for Greyhound Cocktail
I have tried this gin before and liked it. As we covered in a gin article we wrote several months ago, Old Tom gin is sweeter in comparison to Dry Gin. It was a popular spirit at the end of the 19th century and probably had a place on bars up until prohibition. The sweeter aspect of this libation is what interests me in it for the Greyhound cocktail. I chose Old Tom Gin.
Our Greyhound Cocktail Recipe
While some recipes call for adding sugar, the use of our ingredients can help keep it pure and exactly about the ingredients in a Greyhound. Ice, grapefruit juice, and gin should be the only things in this cocktail. Using a sweet grapefruit and Old Tom gin helps us do that without making drinkers wince from the grapefruit's bitterness. No sugar needed.
Next is our recipe for the perfect Greyhound cocktail! If you like what we are doing, please follow me on Instagram, Pinterest, and sign up to receive my posts via email.
Products Used for this Recipe
Print
📖 Recipe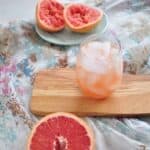 Greyhound Cocktail - How To Make A Greyhound
Author:

Ben

Prep Time:

1 Minute

Cook Time:

4 Minutes

Total Time:

5 Minutes

Yield:

1

Drink

1

x

Category:

Drinks

Cuisine:

American
---
Description
This is a classic Greyhound cocktail that uses gin and grapefruit. It tastes wonderful and is a great grapefruit drink.
---
Ice

2 Ounces

Old Tom Gin

4 Ounces

Fresh Grapefruit Juice (Approximately

one

medium grapefruit)
---
Instructions
Fill highball glass with ice
Add Gin
Add Grapefruit Juice
Stir with mixing spoon for 30 seconds
---
Keywords: grapefruit cocktail