This post may contain affiliate links. As an Amazon Associate I earn from qualifying purchases. Please read our disclosure policy.
Do you get nerdy about food? Well, this From Scratch Tater Tot Recipe will help you with this endeavor. Make the tots as a side dish or maybe even make them for a tater tot hotdish! So nummy and fun.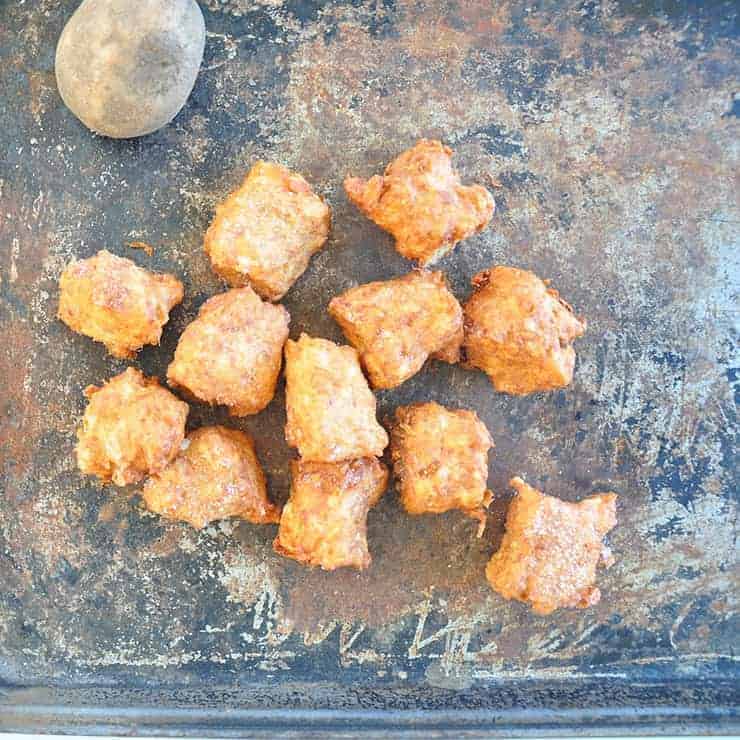 Now is when we start to get into the thick of our hot dish series and diving deep into hotdish madness. While the traditional hotdish really is a recipe made for ease and generally has components from a can, we are going to try and compose a hotdish from scratch. Doing it this way may defeat the purpose of an easy hotdish, but that is ok. Despite the bad rap it may get, I do think there is a meal of beauty deep down in there. One component of making our own tater tot hotdish from scratch are the tots. So, let's make our own tater tot recipe.
Getting Started With Tater Tots
First, I have to get this out of the way because whenever I think of tater tots, I think of Napoleon Dynamite.
What is a tater tot?
Tater tots are shredded potatoes that are then formed into cylinders and deep fat fried. "Tater Tots®" is actually a registered trademark of the tot creator, Ore-Ida.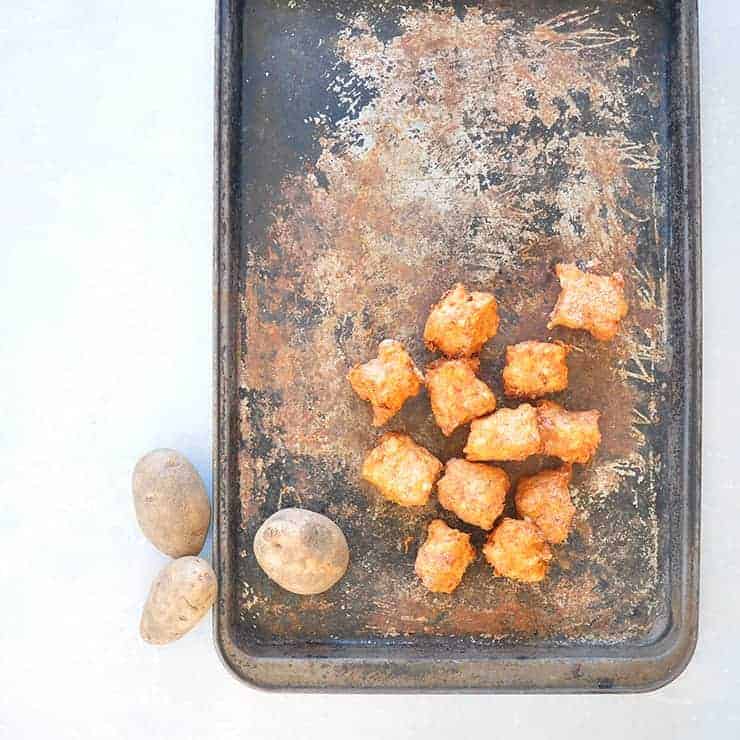 Why Is It Relevant to Hotdish?
Tater Tot hotdish, duh. If you have been following my series, you know that I most associate hotdish with the tater tot hotdish recipe. This may not have been the original recipe, but part of what it evolved to become. Tater tots helped to remove a tedious task and made the dish even easier to just dump and bake. While I will cover other recipes, I am going to spend a majority of my series trying to recreate the comfort food perfection of tater tot hotdish. Why not spend some time focusing in on making my own tater tots?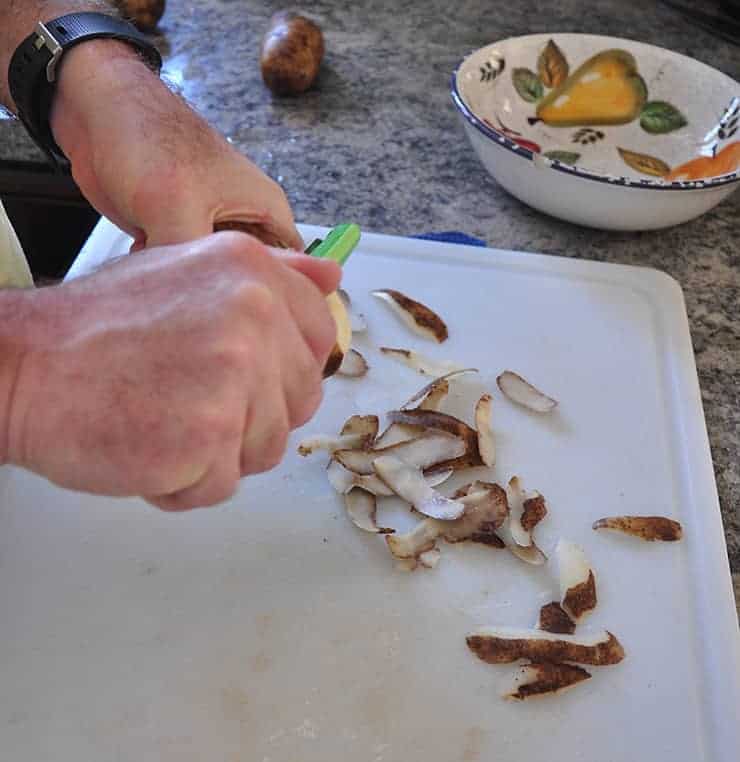 Some disasters along the way of my tater tot hotdish
So, part of the process of recipe development is to experiment and it is no different for my tater tot recipe. Sometimes, part of the territory is failing. In fact, failures can be some of the best learning experiences there are. I feel like messing up can somehow improve me.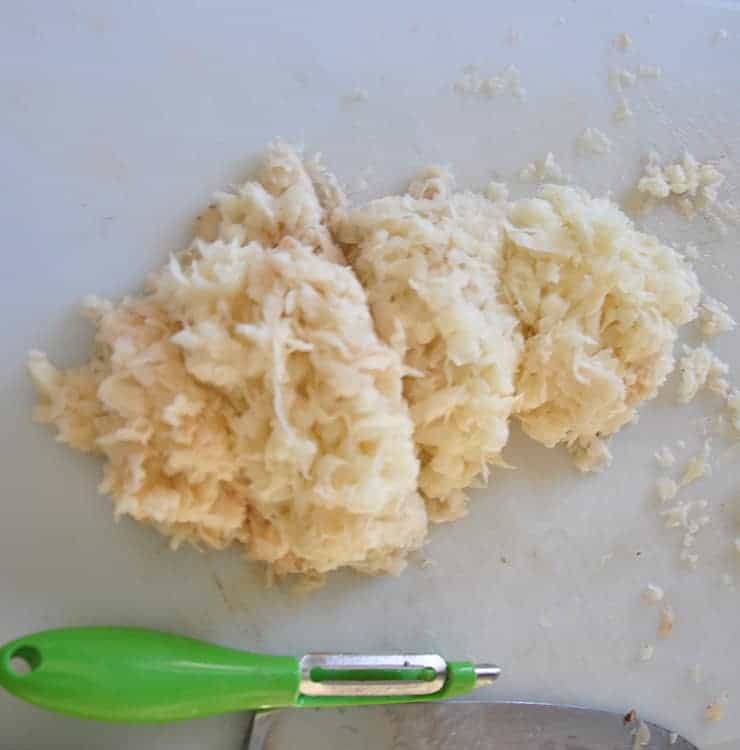 The tater tot recipe was surprisingly difficult for me. First, I generally don't deep fat fry things. So, I was a cook for a few years and had my time at the fry station, but it just isn't the same thing. While this was not an outrageous obstacle, I had to figure out my frying process for making this tater tot hotdish. I do not keep too many gadgets around the house, so I do not keep a Fry Daddy or home fry utility. I ended up using a metal pot with vegetable oil I already had in my pantry. Instead of a frying spatula for moving things around and taking the tots out of my oil, I used a large slotted metal spoon that I have for cheese making. It worked great.
Peel the potatoes
On my second run, I decided to leave the skin on my potatoes. I generally am a fan of leaving the skin on them, as it adds nutrients and it is completely edible. In this case, however, I choose to peel my potatoes. Leaving the skin on resulted in tater tots that looked really ugly. Sure, they tasted good, but the end product was ugly and it was enough of a deterrence to decide to remove them in the future.
Just Fry The Raw Potatoes for my Tater Tot Recipe
Originally, I figured that tater tots were twice or even thrice cooked. I thought that crisp outer shell and the nice and soft insides indicated the tots were handled a bit differently. Cooking them twice did not work as planned. Also, on that run, I did not use something to bind the potatoes together and that was just a big mistake. Sometimes simpler is better. In my tater tot recipe, there is no foolery with cooking them twice. Shred and go.
The final tater tot product
My end tater tot product ended up being a tasty golden brown and something I really enjoyed eating. If you enjoyed these tater tots or this post, please share it to Pinterest or subscribe to receive new posts by email.
Print
From Scratch Tater Tot Recipe
Author:

Ben

Prep Time:

20 Minutes

Cook Time:

5 Minutes

Total Time:

30 Minutes

Yield:

2

Servings

1

x

Category:

Side Dish

Method:

Fry

Cuisine:

American
---
Description
Why buy frozen when you can make your own tater tots at home? This recipe is easy and makes some dang good tots!
---
4

medium russet potatoes

1

egg

¼ cup

of flour

½ Tablespoon

of salt

1 teaspoon

garlic powder

½ teaspoon

cayenne powder
Salt to top and to taste
---
Instructions
Peel potatoes
Finely Shred Potatoes (See Notes)
Place in strainer and squeeze potatoes to get as much water out as possible ( I squeezed and let sit in strainer for one half-hour, but not necessary.. just make sure as much water is removed as possible)
Get your fryer going or add oil to pot appropriate for frying and fill to no more than half full of oil.
Heat oil to 375° Fahrenheit
While fryer is heating, In mixing bowl add egg and beat
Add flour to bowl and mix with egg
Add potatoes to bowl, salt, cayenne
Mix
Form potatoes to 2 inch long cylinders – they should be approximately tater tot shapes. Balls are fine, as well.
Once heated, do the following in batches appropriate to the size of your fryer:
Add the tots and cook approximately 5 minutes until outside is golden brown
Remove from oil using appropriate basket
Place on plate that has some paper towels to allow oil to drain off and cool
Immediately sprinkle with salt
After cooled enough to handle, eat.
---
Keywords: Tater Tot Recipe