One of the original bar foods are pickled eggs and this Carolina Reaper Spicy Pickled Eggs recipe is bound to bring that heat and some great flavors. Add some pretzels, ranch, and a beer for the full delicious effect.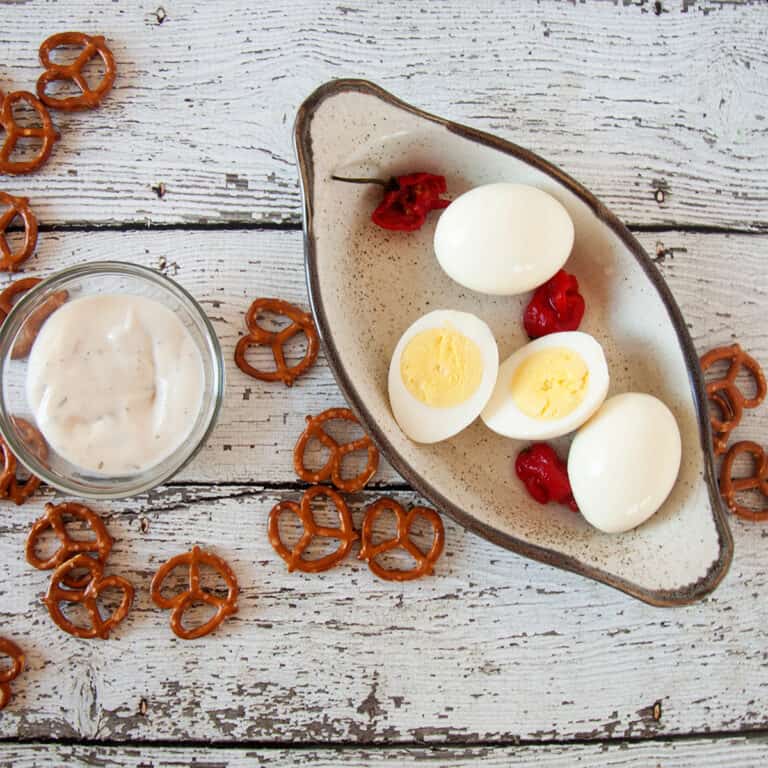 I love pickled eggs. When I belly up to a bar and see a sign for pickled eggs, it always tickles my fancy. The sign is never a company manufactured one, but a handwritten one. I just imagine there is just some guy named Helmer or something similar behind those eggs.
Helmer has a weird passion for making pickled eggs and fills that jar. Well, today we are going to try and be a bit like Helmer, but we are going to kick it up with some real heat. We are going to use the world's hottest pepper to make some Carolina Reaper Spicy Pickled Eggs.
My Experience With Pickled Eggs
There was a bar in my town that made the best pickled eggs. Jim Lauerman's was a beer bar and it was almost a right of passage to go there and order up pickled eggs, pretzels, and a side of ranch.
I think that is what originally sparked my love of pickled eggs. In the early 2000s when I worked fulltime as a bartender, it was not uncommon to find a big jar of pickled eggs in our fridge.
Pickled Eggs and Bloody Mary
So, we are in the midst of a Bloody Mary Series and this classic cocktail is known for some outrageous and savory garnishes. It is also a brunch cocktail.
I think that eggs pair fairly nicely as a brunch garnish for the Bloody Mary. And I happen to love pickled eggs. Spicy pickled eggs, to be exact. So, I wanted to share how you can a bit of a zing to your bloody mary.
Hottest Pepper In the World - Carolina Reaper
One of the first things I made with the Carolina Reapers we grew in our garden was spicy pickled eggs. While this pickled egg may quench the thirst of any of you pepper heads out there, I want the rest of you to know that that the heat that is brought in this pickled egg is completely bearable.
If, however, you decide you want to live dangerously, you could try adding a few dashes of my Carolina Reaper Hot Sauce recipe to these pickled eggs.I have really enjoyed adding this pepper to my pickled eggs. If you don't have access to any Carolina Reaper peppers, you can always use jalapenos or habanero peppers for this spicy pickled eggs recipe.
The Search For Heat
One of my early experiments with the Carolina reaper pickled egg was to try see just how hot I could get it. I blended the pepper into the vinegar. Yes, it worked and was much spicier. While the pickled eggs did take on much more of the heat from the peppers, the pickled egg liquid looked absolutely disgusting.
I decided I did not want to do that anymore. This recipe has enough heat, but it keeps it manageable for my delicate Norwegian palette.
SAFETY FIRST - USE GLOVES
While these eggs are not insanely hot, the peppers are. Use caution when handling them and use gloves. These are literally the world's spiciest peppers and the last thing you want to do is get them on a sensitive part of your, or your loved ones, bodies. HOT HOT HOT!
And for goodness' sake, only eat them out of the pickled jar if you are ready for some hella heat. THE WORLDS HOTTEST PEPPER. Be prepared and be safe with these spicy pickled eggs and the pepper inside the jars.
SAFETY FIRST - REFRIDGERATE
DO NOT store these eggs outside the refrigerator. They and the liquid must be refrigerated at all times. If someone tells you otherwise… hogwash. Refrigerate pickled eggs.
Customizing Your Pickling Ingredients
On the first try, you might decide that the pickling ingredients in the mix just doesn't cut it for you. I have also experimented with this. The store-bought pickling ingredients are good and tasty, but you will come to find the flavors you like.
The fortunate part of the store-bought pickling ingredients is that they are clearly listed! So, if you decide cinnamon or cloves isn't appropriate for your pickled eggs, you can make your own mix and leave them out.
I use McCormick Pickling Seasoning, which is a great mix, but I definitely enjoy making my own, as well.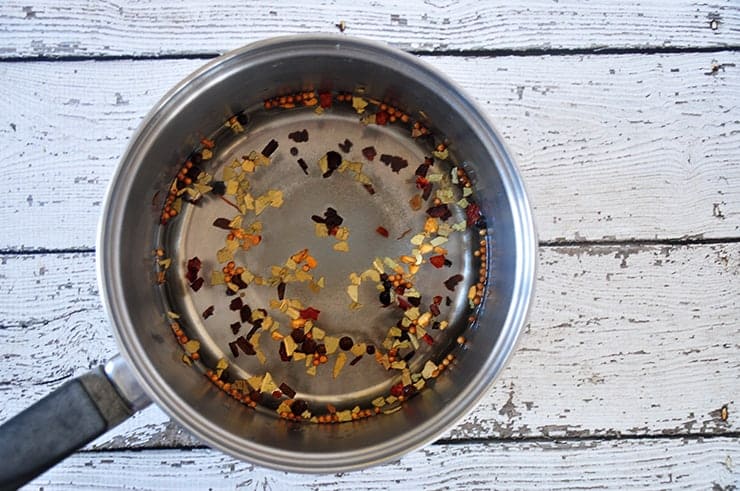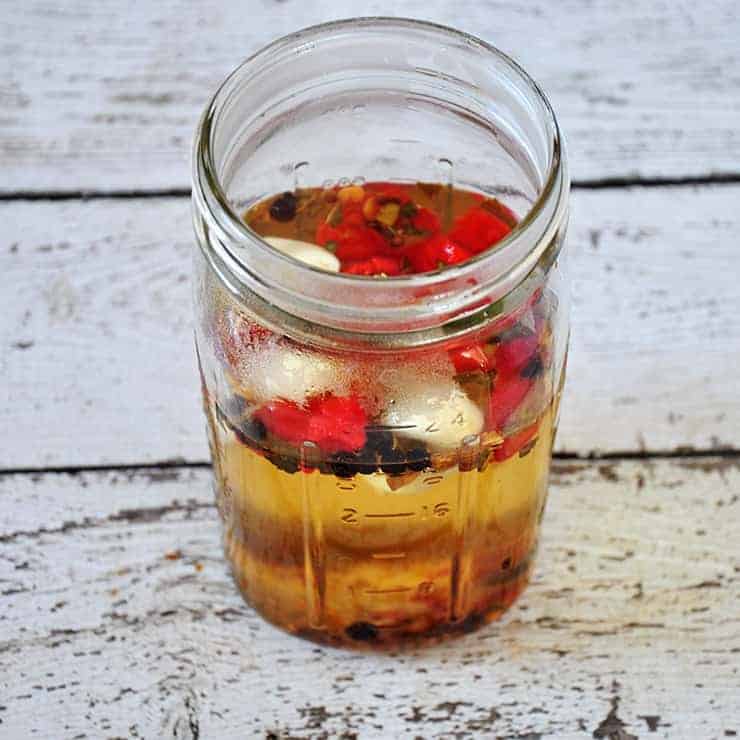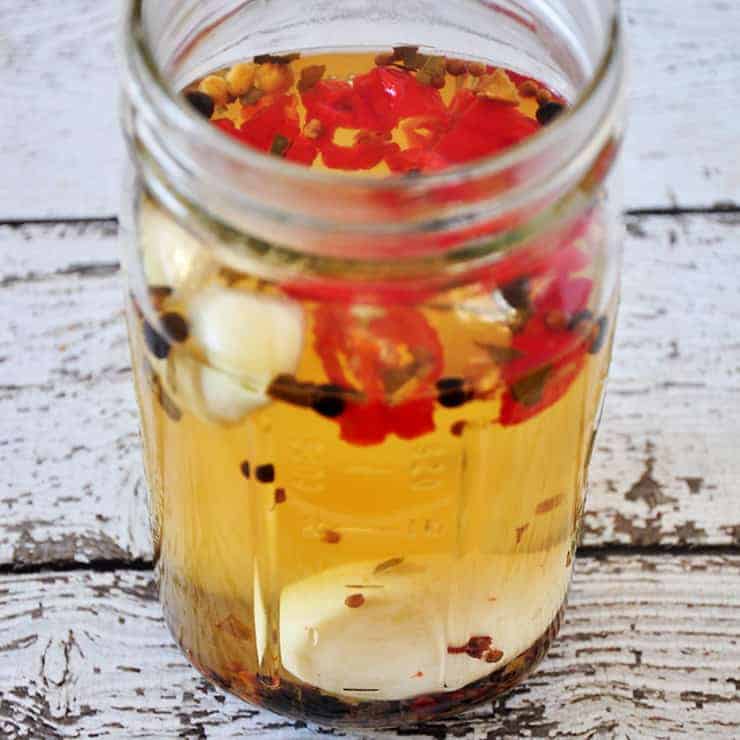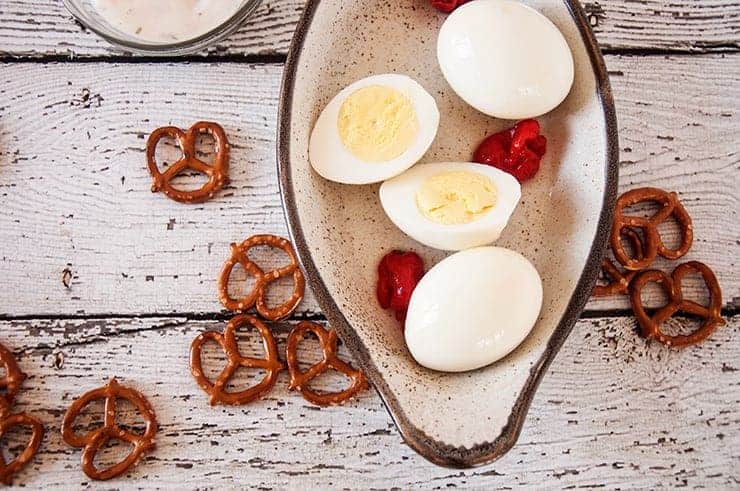 Really, these Carolina Reaper Spicy Pickled Eggs are a fun and tasty thing that we have kept around the house for months now. So tasty and we love playing with the peppers. If you like what we are doing here, please remember to follow me on Instagram, Pinterest, and sign up to get updates via email.
Products I Use In This Recipe
Print
📖 Recipe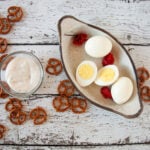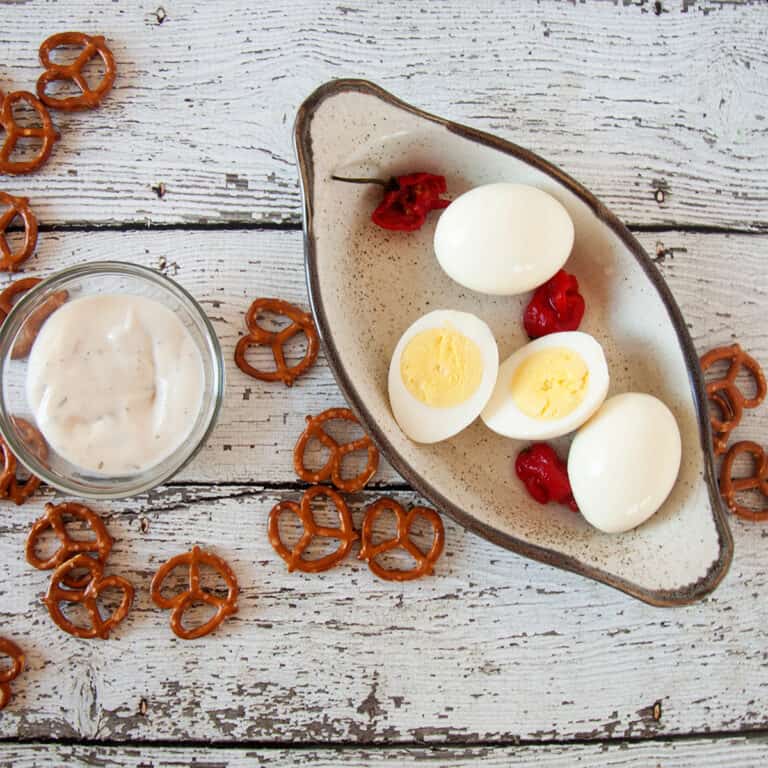 Carolina Reaper Spicy Pickled Egg Recipe
Author:

Ben Myhre

Prep Time:

25 minutes

Cook Time:

5 minutes

Total Time:

30 minutes

Yield:

6

eggs

1

x

Category:

Snacks

Method:

Pickling

Cuisine:

Bar Food
---
Description
Pickled eggs are one of the ultimate Bar Foods. They are compact, tasty, and filling. This Carolina Reaper Spicy Pickled Eggs recipe is one that is going to knock your socks off with flavor.
---
2 ½ cups

white vinegar

2 tablespoons

pickling spices

2 teaspoon

salt

3

garlic cloves, whole

¼

raw onion, sliced (optional)

3

-

5

loosely chopped Carolina Reaper peppers (or whatever pepper you want)

6

hardboiled and peeled eggs
---
Instructions
Heat vinegar, spices, and salt to boiling.
Allow to simmer for 5 minutes
Remove from heat and allow to cool for 15 minutes
Add Garlic cloves, onion, and Carolina Reapers to sanitized mason jar
Pour liquid into jar.
Add eggs
Put lid on and place in fridge.
Allow to sit for 1-2 weeks before eating and eat within 3-4 months.
You can add eggs as needed, but I would replace every 3-4 months
---
Keywords: Spicy Pickled Eggs