Is it meatless Monday, looking to count calories, or just want some super flavorful tacos? Try these BBQ Jackfruit Tacos and don't forget to make this mad-delicious mango salsa!
🌮 What makes this recipe special?
I had a lot of fun making this BBQ Jackfruit Tacos with Mango Salsa recipe as part of our Taco series. It is great when I can experiment with new ingredients and since I have a vegetarian in the house, this was doubly fun.
Both the mango salsa and the jackfruit go very well with the BBQ flavors. Whether you are vegetarian, trying to knock off some calories from your dinner, or just want to try cooking something different, these jackfruit tacos might be for you!
If you are looking for a vegetarian side to go with our vegetarian recipes, consider this my Mediterranean Watermelon Feta Salad recipe or maybe these tasty Grilled Jo Jos.
Jump to:
🌶️ Ingredients
The most interesting ingredients in this dish are jackfruit, mango, and BBQ sauce. They all work so well together.
What is jackfruit?
Jackfruit is from the jack tree and is related to the fig and mulberry tree.
Young jackfruit has a neutral flavor and has a texture that is surprisingly close to pulled pork when prepared correctly. Also, it is very healthy.
The salsa is sweet, citrusy, and spicy. A ton of light flavors complement the jackfruit. Sweet BBQ Sauce works great to bring everything together.
Here is a full list of ingredients in this recipe:
For Salsa:
mango
avocado
onion
jalapeno
salt
lime juice
cilantro
For Taco Meat:
olive oil
jackfruit
sweet BBQ sauce
flour tortillas
🍲 Instructions
Not only is this a healthy recipe, but it is also very simple to make. With just a few minutes, you can pull this recipe together.
For the salsa, it is just a matter of mixing the ingredients together and putting it in the fridge until you want to use it.
I am including the specific canned jackfruit product I used in this recipe. I had tried a few other pre-prepared jackfruit products and they were fine, but if you can find or order canned jackfruit (AFFILIATE), it is really easy to work with.
While I have seen fresh jackfruit in the store, I decided to leave that for a different day. Also, I know it isn't available all over and for everybody, but you can generally find something close to the product we used in your local store or health store.
I think it is worth mentioning the texture of the raw product prior to being cooked. The texture is as though it is a steamed artichoke crossed with pulled pork. As wierd as it seems, that is the first thing that came to mind.
As I cooked the jackfruit, I used my metal spatula to cut into and shred the jackfruit. It may be worthwhile to chop the product before you cook, but I don't think it is necessary. Just take a bit in your fingers to feel the texture and I am guessing you will get a sense of how it might fall apart when cooking.
This fruit does not need to be cooked very long. Really, all we want to do is heat it up, pull the fruit apart enough so that it has the feel of pulled pork, and then add our bbq.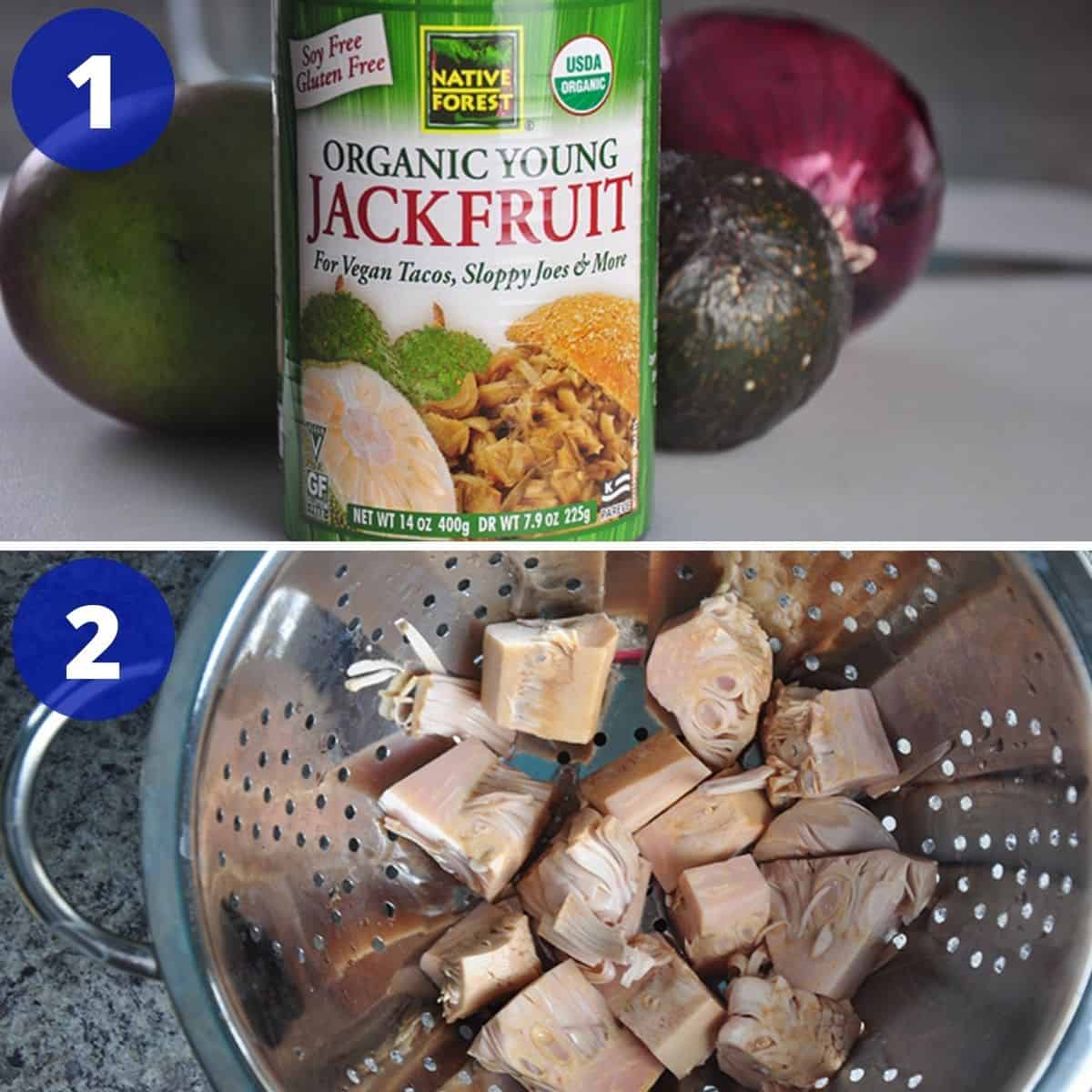 🤷 Substitutions and variations
There are some easy things you can do to change up this jackfruit tacos with mango salsa recipe.
Cilantro - Not everybody likes it! I get it. If you don't like the cilantro, use what you like.
Tortilla - I use flour tacos for this, but you can really substitute any kind of tortilla you want.
Meatatarian - This is meant to be a vegetarian recipe, but it would also be good for letover pulled pork.
BBQ Sauce - Really, use the BBQ sauce you have! I like a good homemade Sweet BBQ Sauce recipe, but Famous Dave's Sweet and Sassy version is good, too.
📦 Storage
This jackfruit tacos recipe really isn't meant to be stored. The salsa could last for up to a day in the refrigerator. Avocado does not generally last well, but there is also citrus in the salsa, so it would last.
The canned jackfruit and BBQ would really last several days if you store it in a sealed container in your fridge, but I would suggest not storing it on the tacos.
❓ FAQ
What is jackfruit?
The jackfruit is from the jack tree and is related to the fig and mulberry tree.
Is jackfruit good for weightloss?
Jackfruit is pretty low in calories, so as long as you are eating a well-balanced diet, this should be a great way to feel full and lessen those calories.
📝 Tips and tricks
Here is a video that shows how to cut mangos.
Avocados are preserved with acids like limes or lemons.
🛠 Products I used in this recipe
😋 Did you make this recipe?
Thanks so much for giving this jackfruit tacos recipe a try and I hope you loved it as much as I do! If you made this recipe, it would be great if you could leave a rating in the comments section below. This helps me know how I am doing and also helps others decide if it is the recipe for them. Most of all, thanks for visiting Ramshackle Pantry.
Print
📖 Recipe
BBQ Jackfruit Tacos with Mango Salsa
Author:

Ben Myhre

Prep Time:

10 minutes

Cook Time:

10 minutes

Total Time:

20 minutes

Yield:

6

tacos

1

x

Category:

Vegetarian

Method:

Pan

Cuisine:

Mexican
---
Description
Some delicious BBQ Jackfruit Tacos with Mango Salsa to health up your dinner and to keep great flavors on the menu!
---
For Salsa:
1

mango, cleaned and diced

1

avocado, diced

¼ cup

diced onion, diced

1 tablespoon

diced jalapeno

¼ teaspoon

salt
Juice from

one

lime

¼ Cup

chopped cilantro
For Taco Meat:
1 Tablespoon

olive oil

1

can young jackfruit

½ cup

sweet BBQ sauce

4

flour tortillas
---
Instructions
For Salsa:
Add all salsa ingredients to bowl and mix.
Put in refrigerator until tacos are ready.
For Jackfruit Tacos:
Add oil to medium-sized pan and place on medium-high heat
Open jackfruit can, strain, and rinse
Chop jackfruit (optional)
Once the pan is heated add jackfruit and use a spatula to separate jackfruit until it becomes stringy like pulled pork
Once everything is thoroughly heated, add BBQ sauce and mix
Remove from heat
Add to tortillas and top with salsa
---
Notes
Here is a video that shows how to cut mangos.
Avocados are preserved with acids like lime or lemon.
Keywords: jackfruit tacos