This Mint Watermelon Feta Salad brings juicy, sweet watermelon and a cast of improbable characters. Feta cheese, mint, red onion, lime, and balsamic vinegar all are very different in flavor and texture but combine perfectly to make something special.
It is simple to make and can be put together very quickly. A perfect side salad or light lunch fare, our Mint Watermelon Feta Salad should be on your picnic table this Summer or for your Summer flavors.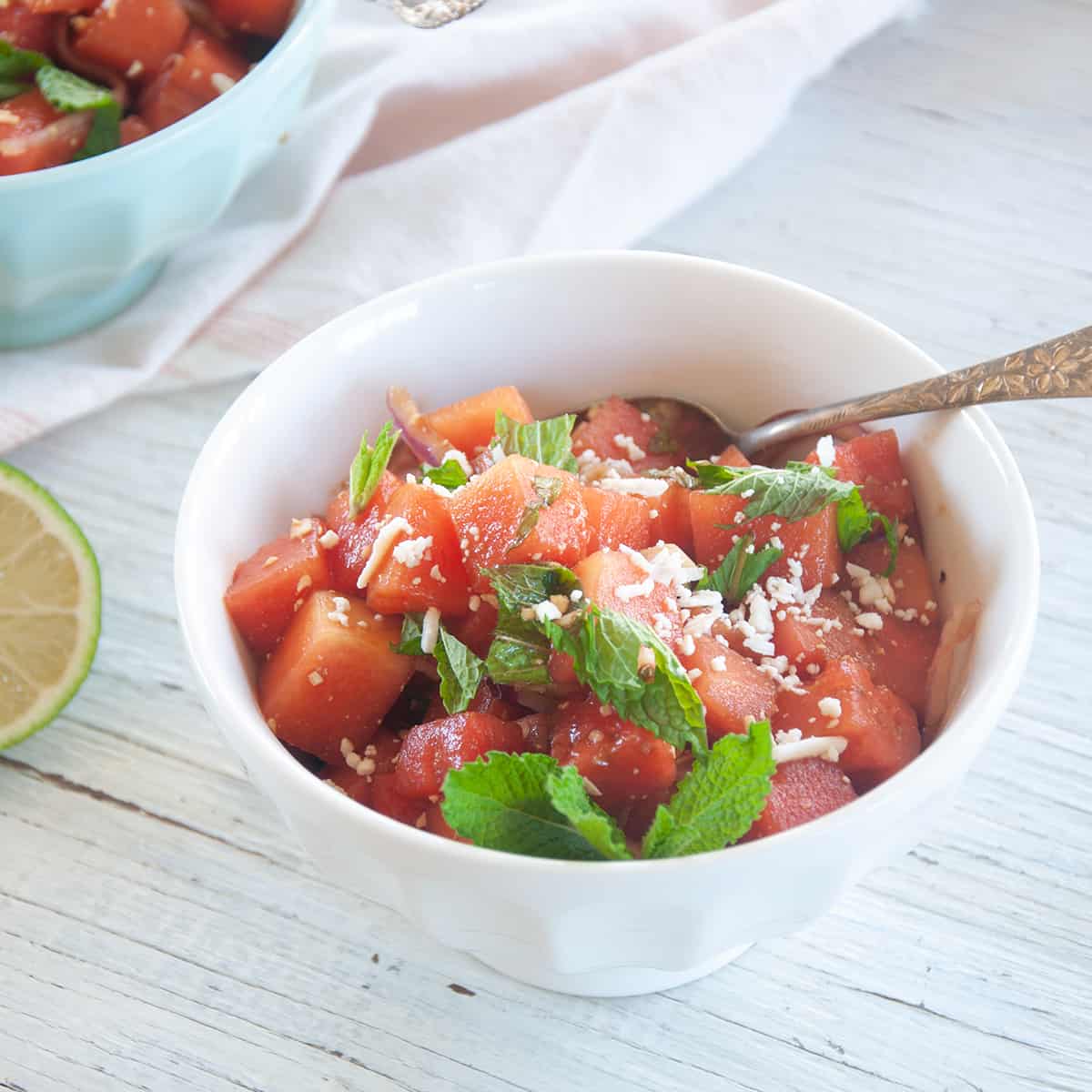 🍉 What makes this recipe special?
This salad is bright, flavorful, and a perfect summertime salad. It is excellent for an outside dinner or when you are cooking the main dish on the grill. This doesn't require much time to put together and would be great to toss together before you start grilling.
It can also be a great light lunch. It is low on calories but still has a bit of protein. It can make for a well-rounded light lunch with a bunch of fruit and some veggies. I suggest adding something else to the meal, but it might be enough to tide you over until supper.
Some specific ideas that might go well with this salad are our grilled salmon recipes, our grilled chicken shish kabobs recipe, or these delicious grilled chicken legs with mint yogurt sauce. This is a Mediterranean dish, and it might be an excellent opportunity to make it a full Mediterranean meal.
Jump to:
🧀 Ingredients
Watermelon is the star of this show, but many ingredients help pull this all together.
Cubed Watermelon
Red onion
Crumbled feta
Mint
Salt
Balsamic vinegar
Lime
See the recipe card for quantities.
Mission Fig Balsamic Vinegar
The balsamic vinegar you use is essential. We keep some random balsamic vinegar around the house and first used that when experimenting with this recipe. It was ok. I decided to level up my balsamic vinegar game and invest in some nice stuff. It was a game-changer for this recipe.
I ordered this Chef Jean Pierre's Black Mission Fig Balsamic Vinegar (Affiliate Link), which is so good. It has the tang of vinegar we are looking for, but it also has a great sweetness and thicker consistency that works great for this recipe.
Outside of this recipe, I have even started adding a little dollop of this to plain vanilla ice cream. The balsamic vinegar is excellent for this recipe and great to just have around the house. Use what you like or have if you aren't using this vinegar.
Crumbled Feta Cheese
Use what you can find, but if you can purchase a block of feta cheese and then crumble it yourself, that is the preference. Much like pre-shredded cheese, there is likely stuff on it (probably potato starch mixture) to help preserve the pre-crumbled cheese.
How to Choose a Watermelon
There are few steps you can take to help make sure you are getting a really good watermelon. The better the watermelon, the better this recipe is.
Look for a darker field spot
The field spot is the white or lighter spot on a watermelon. This is where the watermelon sat on the ground, while the other side was soaking up the sun. The darker the field spot, the longer the melon was sitting on the vine and out in the field, sweetening up.
So, when looking at the various watermelons in a pile, look for darker yellow spots vs. white spots or melons with no spots. A darker spot will help you find a ripe, sweet melon.
Pick a Comparatively Heavy Watermelon
Compare watermelons in the group you are shopping from. If you can find comparable watermelons, but one is heavier, choose that one. More water in the heavier one increases the chance of getting a ripe, sweet, and juicy watermelon.
Look for a Dark Green Watermelon
Outside the field spot, look for a dark green watermelon. If it is lighter in color, it may not have ripened well. So, in addition to a dark yellow field spot, hopefully, the top side of the watermelon has a great deep, dark green color.
Look at the Stem
If there is a stem on the watermelon, move on. This means that the melon had a difficult time being plucked from the vine, and it wasn't quite ripe. Watermelon with a vine has a high likelihood of not being ripe and of lesser quality.
Additionally, look for a little bit of an indent where the stem would have been. This may indicate that the melon was released naturally from the vine and picked at peak ripeness. It might just be the perfect melon, presuming you want to eat it soon.
🍲 Instructions
This recipe is fairly straightforward. Simply mix all the ingredients! The only nuance I would give is that the ingredients are a bit delicate, so toss this Summer salad with care.
🤷 Substitutions and variations
There are a few simple ways you can change this up a bit to either use what you have or make this recipe a bit more your own.
Yellow Watermelon - We use a normal watermelon, but yellow watermelon would also work well for this recipe.
Onion - Red onion is a perfect pair for this watermelon recipe, but feel free to use what you have.
Balsamic Vinegar - I have given my recommendation on the vinegar I recommend, but feel free to use the balsamic you have.
📦 Storage
While I kept this watermelon feta salad in the refrigerator for a few days and it was fine, I recommend eating it up. It keeps, but it is best if eaten right away. To answer the question, it can be kept in the fridge for a while, but it does not keep very well. Definitely do not freeze this!
❓ FAQ
Can you make watermelon feta salad ahead of time?
Yes, but this recipe really is best served straight away.
Is watermelon feta salad healthy?
Like any food, moderation is key. That said, the ingredients in this recipe are healthy and a good part of a balanced diet.
What is a substitute for feta in watermelon salad?
While feta works well, crumbled blue cheese or goat cheese would work well in this recipe.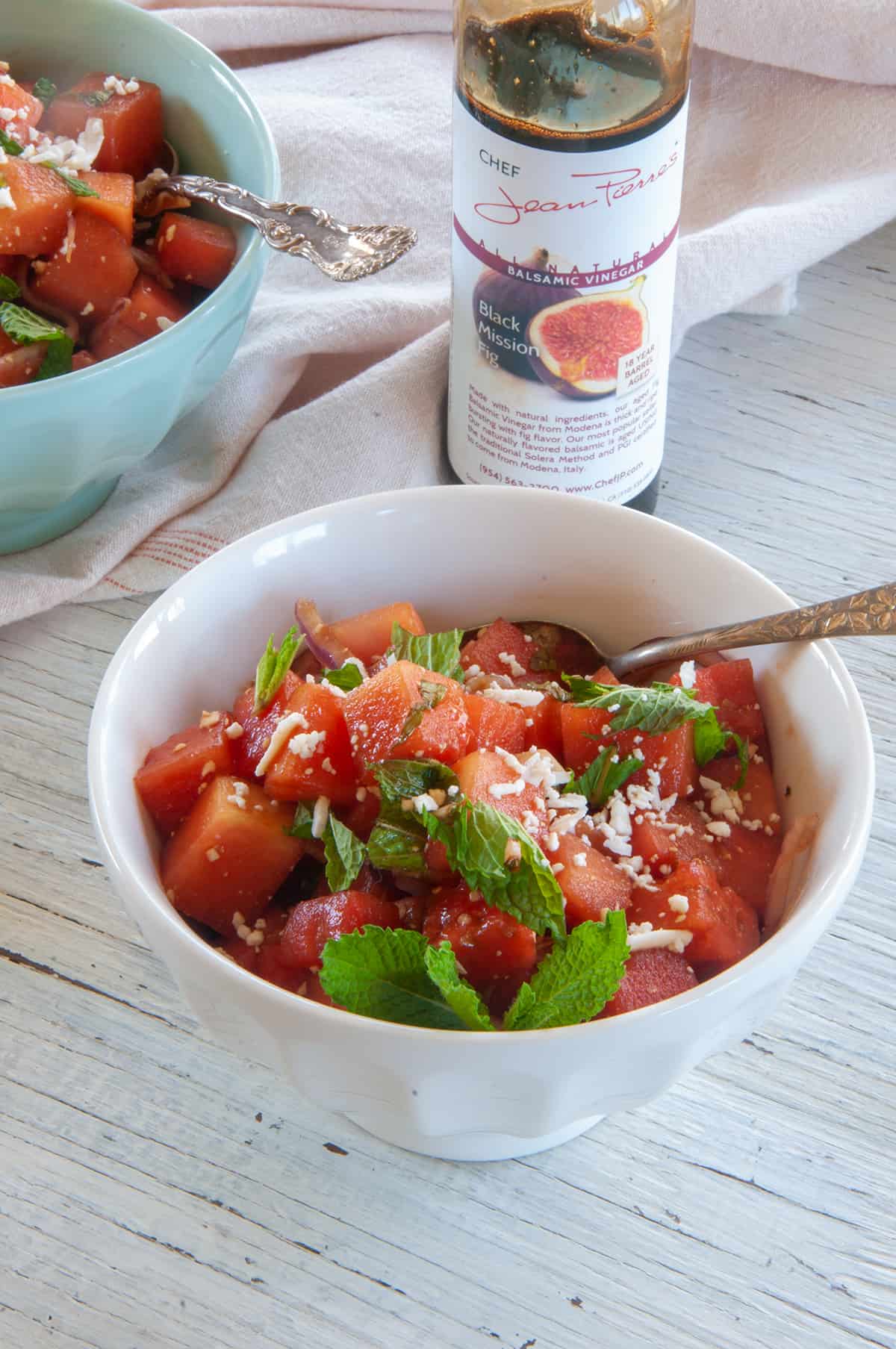 📝 Tips and tricks
Find a nice ripe watermelon using the tips in this recipe post.
Pick up some nice, sweet Mission Fig balsamic vinegar.
Use fresh ingredients.
This recipe can be kept in the refrigerator for a while, but is best served right away.
🛠 Products used in this recipe
😋 Did you make this recipe?
That is awesome, and thank you so much for giving this Watermelon Feta Salad recipe a try. If you could leave a rating in the comment area below, it would be greatly appreciated. This lets me know how I am doing and also helps others decide if they want to make this recipe. Most of all, thanks for visiting Ramshackle Pantry.
Print
📖 Recipe
Mediterranean Watermelon Feta Salad
Author:

Ben Myhre

Prep Time:

10 minutes

Cook Time:

5 minutes

Total Time:

15 minutes

Yield:

4

servings

1

x

Category:

Salad

Method:

Toss

Cuisine:

Mediterranean
---
Description
Our Mediterranean Watermelon Feta Salad is a Summer fruit salad with a delicious combination of flavors, textures, and colors. A perfect side salad or light meal that hits so many taste buds. Give the recipe a try.
---
Cubed Watermelon

6 cups

, smaller cubes

½

medium red onion, thinly sliced and loosely chopped (about

200g

)

½ cup

crumbled feta (plus more for garnish)

¼ cup

Chopped mint (plus more for garnish)

½ Teaspoon

salt

2 Tablespoons

balsamic vinegar (plus more for topping, if desired - see notes)

1 Tablespoon

lime juice (about

½

lime)
---
Instructions
In large bowl, gently stir all ingredients except balsamic vinegar, lime juice, and garnishes
Add balsamic vinegar and lime juice.
Gently toss together
Garnish with mint, feta, and any additional balsamic vinegar you want.
Notes
Find a nice ripe watermelon using the tips in this recipe post.
Pick up some nice, sweet Mission Fig balsamic vinegar.
Use fresh ingredients.
This recipe can be kept in the refrigerator for a while, but is best served right away.
Nutrition
Serving Size:

¼ Total

Calories:

168 Calories

Sugar:

20 g

Sodium:

302 mg

Fat:

6 g

Saturated Fat:

1 g

Unsaturated Fat:

5 g

Carbohydrates:

27 g

Fiber:

2 g

Protein:

5 g

Cholesterol:

5 mg
Keywords: Watermelon Feta Salad