These seasoned grilled potatoes are in regular rotation in our household during the Summer grilling season! Grilled Jo Jos are an excellent way to serve potatoes in a slightly different way and to bring some great flavors to your backyard bash or just a weeknight grilled dinner.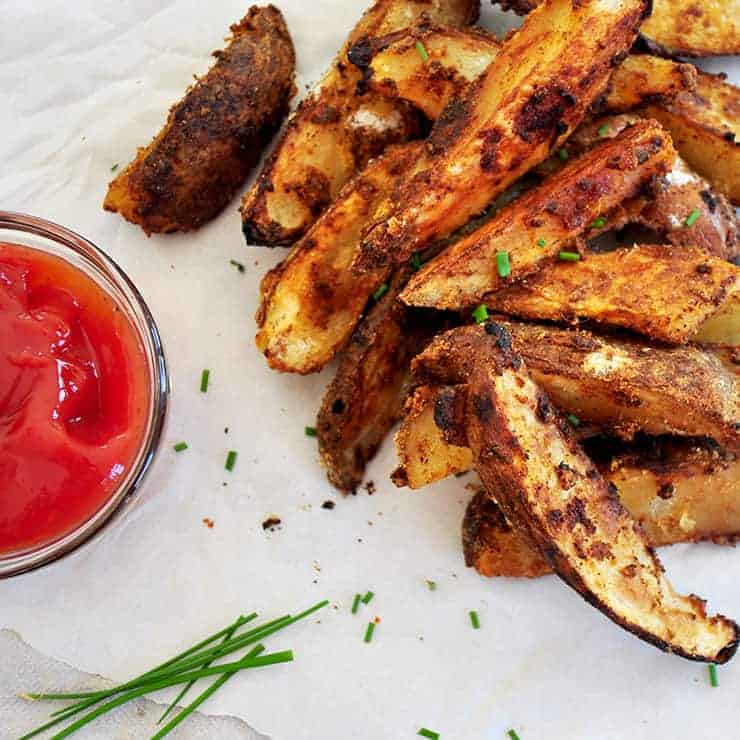 What Are Jo Jos?
If you don't know what jo jos are, you are in for a potato treat. Jo jos are flavored potato wedges that have been spiced, cooked to have a slightly crispy crust, and a tender inside. If you are familiar with jo jos, you know just how delicious these potato treats can be!
They are cooked potato wedges. That, really, is the sum of it. They are larger than french fries but are not a baked potato. Generally, they coated with flavorings or even breaded. I am sure some of the places I order them deep fry them, but I think of them more as a baked dish.
When someone says they want to know what a jo jo is, tell them "baked, lightly coated, and seasoned potato wedges." Either way, I hope you give this grilled jo jo recipe a try. They are a perfect side dish for hamburgers or really any grilling meal.
Jo Jos Give Me The Nostalgia Feels
We have a local pizza place called Duane's House of Pizza. It is a cornerstone of local pizza and Fargo-Moorhead restaurant history. It opened up in 1959 and remains open today. They serve a killer thin crust pizza, but they also sell chicken and jo jo potatoes.
My family would order Duane's Pizza often enough and it was always a treat. While the pizza was certainly my favorite, they would always get some jo jos. I have fond memories of sitting around with my cousins, aunt, and uncle eating this food…. Communing over the almighty jo jo.
What Kind of Potato to Use?
I think almost any kind of potato will work for this, as long as they are big enough to be cut into wedges and not way too big. Depending on the size, you might have to adjust cooking size, but just stick with a medium potato and you are going to be fine! In our house, I tend to either buy red or russet potatoes for general-purpose recipes like this one.
Initial Boil
For these potatoes, I like to give them the first cook in a pot of boiling water. The goal is not to cook the jo jos to completion, but to give them just a bit of a head start and add some moisture. At most, I boil the wedges for five minutes, but I will take a fork to test the potatoes.
I add vinegar to the water and this helps maintain the crispiness. Much like when our homemade corned beef hash recipe, it helps keep the potato firm.
When I can somewhat easily penetrate the potato with a fork, but not too easy, I remove them. They should still be firm. We do NOT want them cooked all the way through and they should remain firm.
Jo Jo Seasoning
Don't like any of the seasonings from my recipe? Remove it. Do you really like other seasonings that you think would taste good? Add it. I would recommend using this recipe the first time, but then tweaking it a bit to make it your own.
Additionally, I use a bowl to mix all of my ingredients, but it is a viable option to put all the stuff into a large freezer bag and shake it all up. It actually works a little better to do it that way, but I try not to produce extra waste and giving up my shake for this bake is one way I am doing that.
Grilling These Potatoes
This dish is in regular rotation at our house, but we only grill them in the warmer months. Since we have such a long Winter in North Dakota, it is always nice to be able to fire up that grill and cook outside. I can cook them alongside my burgers or steak, which makes this grilled jo jos recipe a Summertime treat.
If I am cooking other food, I do need a bit of extra time at the beginning, as these take a while. However, they are also a little bit forgiving in terms of time at the end. If you have a non-direct cooking area (you should), cook them in that zone. This recipe can be translated to the oven fairly easily, but today we are only going to be talking about the grill.
A Note About Grilling Zones and Doneness
You are going to want to test these jo jos for doneness by using a fork and putting it through a jo jo. these should be a little crispy on the outside, but nice and tender in the middle. Depending on your specific grill and your indirect heat zone, you may need slightly different cooking times. Just take your time, test these taters, and get them done right.
Extra Crispy Jo Jos
This recipe creates jo jos that have a little bit of crispiness. If you like your potatoes to be extra-crispy, consider cooking them a bit longer. 5-10 extra minutes can help crisp these up a bit more. Additionally, you can put the grilling basket over direct heat rather than indirect heat during that time.
Grilling Basket And Jo Jos
We have a Weber Vegetable Basket (Affiliate Link) that we use for cooking this, but it could be done other ways. One method I have used before is to spray some tinfoil with Pam or other vegetable oil and then wrap the potatoes.
The vegetable basket is nice, however, for this purpose. You may be asking what you are supposed to do with your vegetables. Just toss them in the garbage and then you will have plenty of room for your jo jos. I KID, I KID. Grilled veggies can be awesome.
You could also cook these directly on the grill, but make sure that your grates are well oiled. This is not the preferred method, but give it a try if you don't have a grilling basket.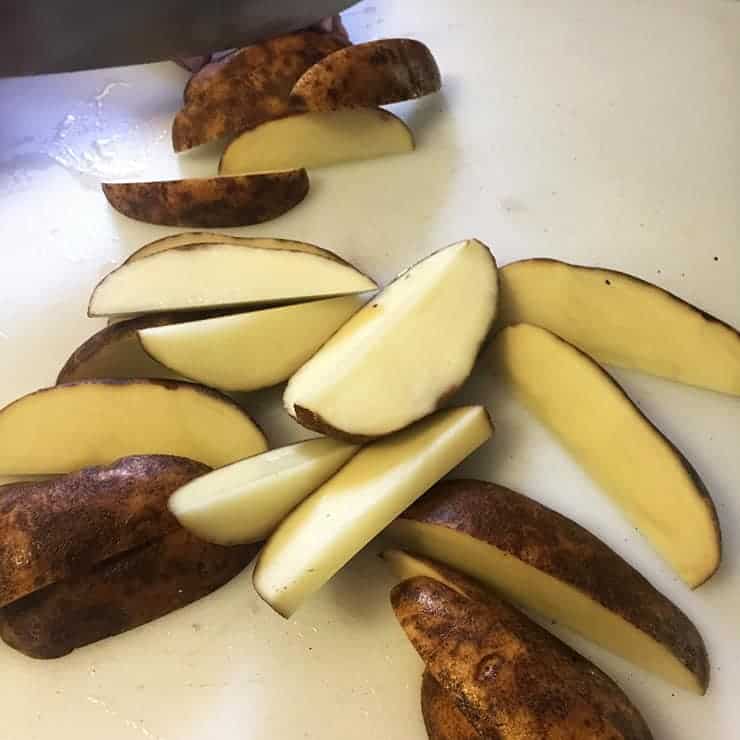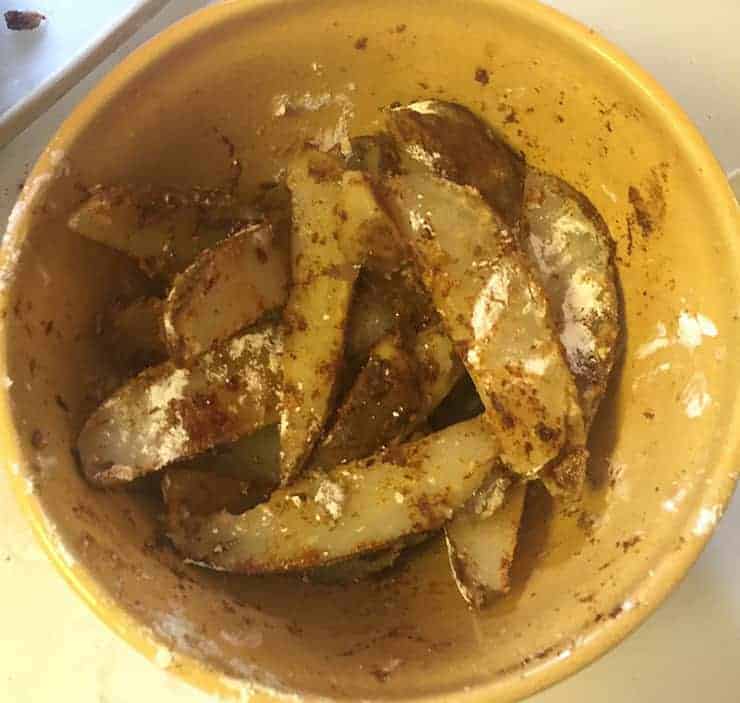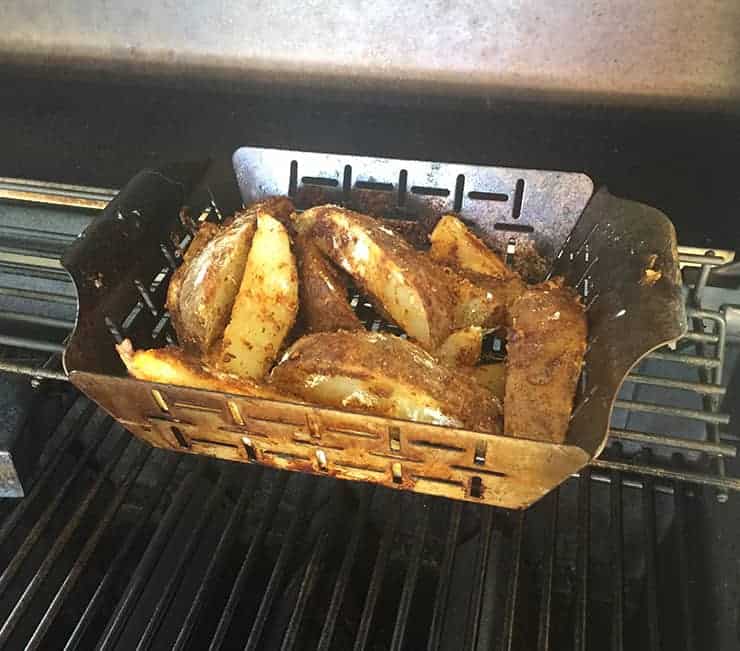 Grilled Jo Jos Tricks
If you use large potatoes, more time will be needed to cook.
For crispier potatoes, put over direct heat (in the hot zone) for the last 5 to 10 minutes.
The vinegar helps the potato stay firm and improves the ability to crisp up.
You guys and gals... do you like what I am doing here? Subscribe to get updates via email and follow me on Instagram!
Products I Used For This Recipe
Print
📖 Recipe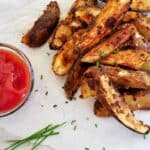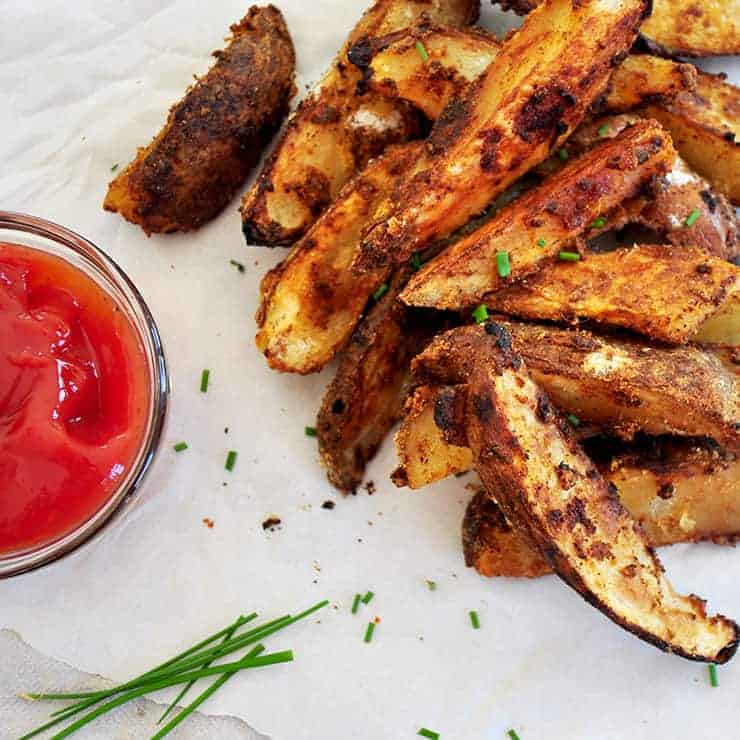 Grilled Jo Jos - The Potato You Didn't Know You Needed
Author:

Ben Myhre

Prep Time:

10 minutes

Cook Time:

30 Minutes

Total Time:

40 Minutes

Yield:

2

servings

1

x

Category:

Side Dish

Method:

Grilling

Cuisine:

American
---
Description
Jo Jos are a potato treat and these grilled jo jos should be on your menu. These are great tasting potatoes with a light breading that makes them taste like a million bucks.
---
2

medium potatoes, cut each into

6

wedges

1 Tablespoon

white vinegar

2 Tablespoons

corn starch

1 Tablespoon

chili powder

1 Tablespoon

paprika

1 teaspoon

salt, plus more to taste

½ teaspoon

pepper

½ teaspoon

cumin

¼ cup

olive oil
---
Instructions
Bring pot of water to boil

While water is heating, cut each potato into 6 wedges

Add vinegar to water

Add potatoes to water, allow water to return to boil, and allow to simmer for approximately 5 minutes. Test with fork at 3 minutes. Should still be firm and we do not want the potatoes to be soft. Remove before they get soft.

Add corn starch, chili powder, paprika, salt, pepper, cumin, and olive oil to larger bowl and mix well.

Preheat Grill to 500° Fahrenheit.

Add potatoes to the container with coating ingredients and gently mix until coated.

Place in lightly oiled vegetable basket and cook over indirect heat

Check for doneness at 25 minutes and occasionally turn or mix jo jos in basket to help ensure even cooking.

Optionally, place over direct heat for additional 5-10 minutes

SERVE
Notes
If you use large potatoes, more time will be needed to cook.
For crispier potatoes, put over direct heat (in the hot zone) for the last 5 to 10 minutes.
The vinegar helps the potato stay firm and improves the ability to crisp up.