There is so much going on with these mouthwatering Beer Battered Fish Tacos! The zesty Sriracha Baja Sauce that goes with it is so tasty you are going to be jumping for joy.
Tacos are great and fried fish is great, so lets combine the two with this Beer Battered Fish Tacos with Homemade Sriracha Baja Sauce recipe. The fish tacos are excellent and the baja sauce is the best.
🍺 What makes this recipe special?
I am in love with this fish taco recipe. This Beer Battered Fish Taco recipe is on point, but that is not it. The slaw and sriracha Baja sauce makes this one of the best fish tacos I have ever had.
Also, it is so fast simple to put together. I am really happy to have this Beer Battered Fish Tacos with Homemade Sriracha Baja Sauce recipe as part of our taco series. I hope you love it as much as I do!
If you like seafood, you should also check out this Baked Walleye with White Wine Sauce recipe and this Grilled Bacon Wrapped Shrimp recipe.
Jump to:
🌮 Ingredients
Since there are a few elements to this dish, there are also quite a few ingredients, although most are common ingredients found in many refrigerators, pantries, or grocery stores. We have to account for the fish, the slaw, and the Sriracha Baja sauce.
As I stated, I used walleye for these beer-battered fish tacos, but you can really use any lean whitefish. The walleye is a nice flakey fish when cooked and consequently, is a bit fragile once breaded and fried. It really adds to the flavor.
Here is a list of the ingredients we use for this:
shredded cabbage
red onion
olive oil
cider vinegar
salt
pepper
greek yogurt
mayo
sriracha
onion powder
garlic powder
chili powder
Oil for frying
fish fillets
all-purpose flour
garlic powder
paprika
egg
coors light or other beer
4 flour tortillas
See the recipe card for quantities.
🍲 Instructions
Heat your fry oil to 375° Fahrenheit and you should be able to cook until golden brown. This should be within 5 minutes. With my thin fillets, it really just took a minute to cook and then a few minutes of draining on a paper towel.
No matter the fish you use (I use walleye), make sure to cook it completely. You should be able to tell if they are done if when you put a fork in it if it flakes away and falls apart easily.
My fillets were mostly from smaller 12-14 inch walleye and each fillet worked well as one taco filling. I had bigger fillets ( I PROMISE), but those were the ones I was working with today. These thin fillets cooked very fast, but if you have thicker fillets, they may take a bit longer.
The cabbage slaw is so tasty and really adds a zing to our fish tacos. I used pre-shredded red cabbage and just added the extra ingredients. This recipe literally took a minute to put together and put in the fridge before I continued working on the rest of the recipe. Just mix the slaw ingredients together.
I do really like a good hot sauce and so I include this tasty Sriracha Baja Sauce. The creamy and spicy sauce matches up perfectly with the zingy slaw and the crispy fried fish. Mist mix the sauce ingredients together.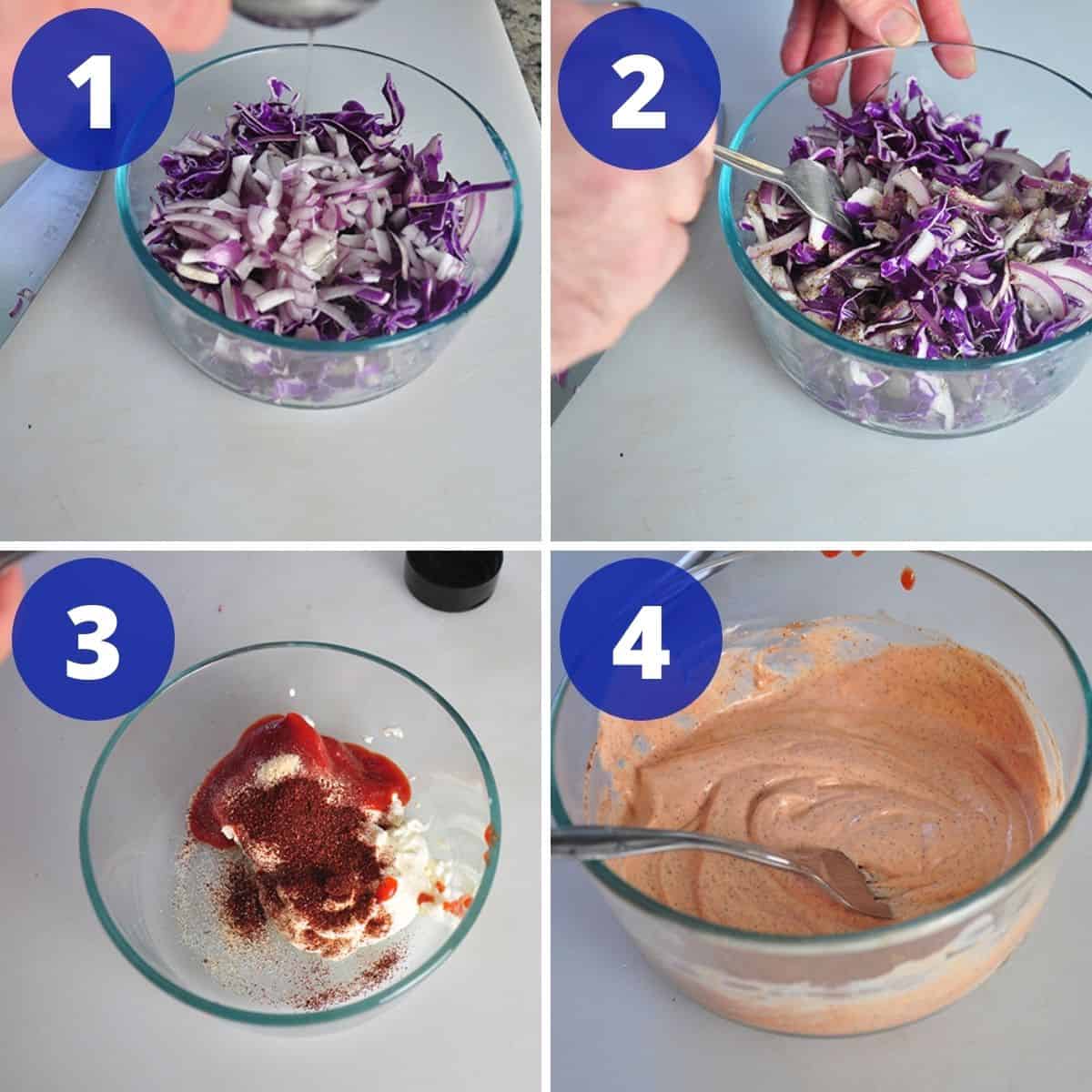 I am using a slightly modified version of Genius Kitchen's recipe for normal beer battered fish. I thought we needed a bit more salt and I halved the recipe for the amount of fish we have. Really, the credit for the beer batter needs to go to Genius Kitchen.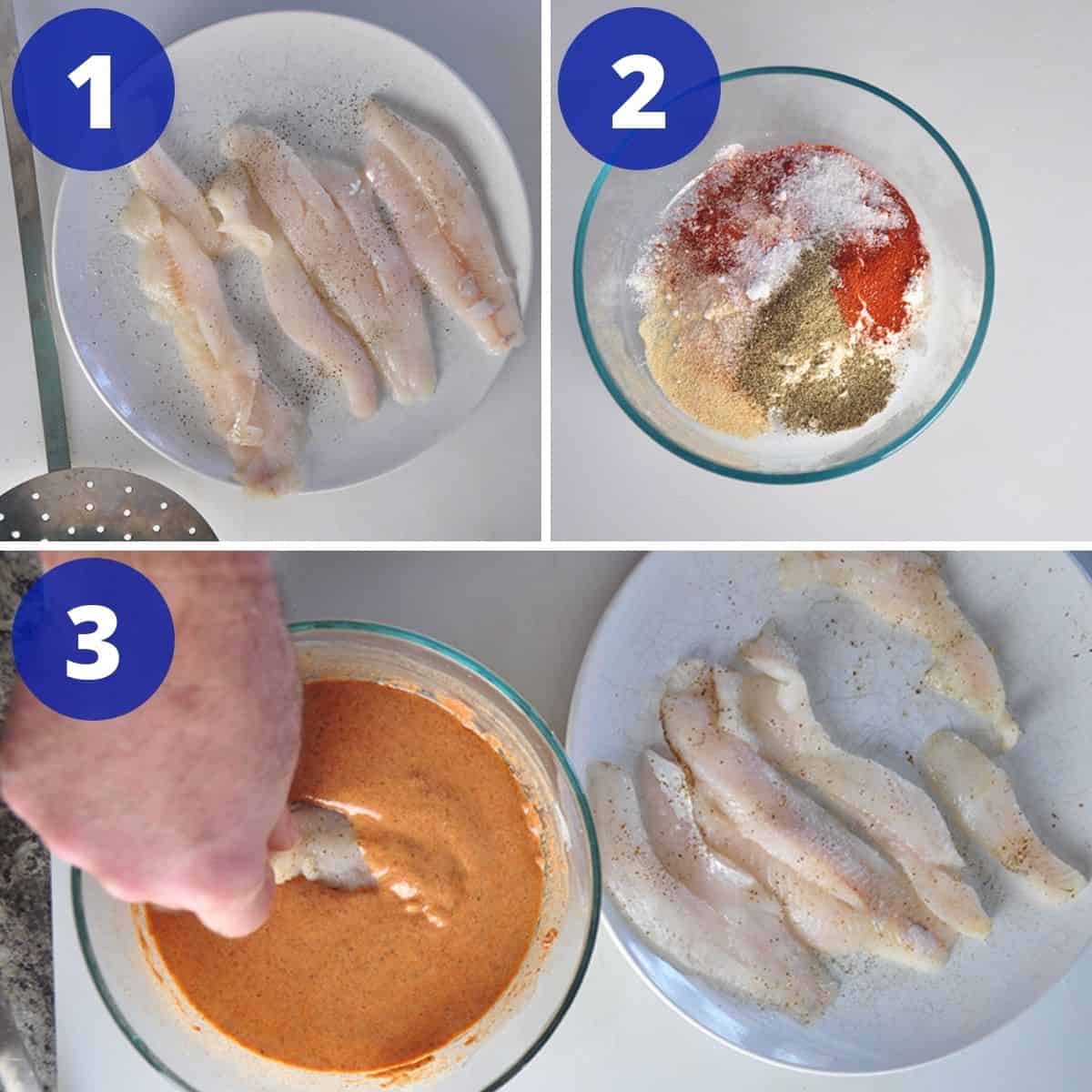 🤷 Substitutions and Variations
There are a few ways you can change this up, make substitutions, or fit certain diets.
Fish - I use walleye, but you could really use any white fish that is thinly filleted.
Tortilla - You could really use any kind of tortilla. I think flour tortillas work great for this, but corn could be great. If you can make fresh tortillas, even better.
Vegetarian - You could use extra firm tofu instead of fish if you wanted to make this vegetarian.
Beer - I call for Coors light, but really any light beer would work good for this batter.
Spicy - Try a different hot sauce or maybe add an additional ¼ teaspoon of ground cayenne pepper
📦 Storage
The sauce will store well. Just keep it in a covered container and store it in the refrigerator for up to week or the dates from the individual
The cabbage slaw also will store well. Same deal with that. Just keep it covered in the fridge and it should keep for a few days.
The fried fish will not keep well.
🎓 History tidbit
Since cows and pigs are not native to North America, they are just not the origin of the tacos. Fish were more common with tacos in it's history than beef.
Flour tortillas are really a newer invention, as well. Before the 1500s, it was limited what they put in tacos. According to this website, Aztecs (early Mexicans) primarily ate corn and beans, but occasionally would eat meats like fish, rabbit, dog, turkey, and iguana.
❓ FAQ
Why is beer used for batter?
It adds oxygen to the batter and also helps crisp the batter. Also, flavor.
What is the best beer for beer batter?
I use a light beer, as it is easy and most people like it. You really can change this up if you want to try different flavors with your taco. Malty English beers would be great for a drink like this. I would not choose IPA as my first pick, but could be interesting.
What is Baja Sauce?
The recipe is usually a creamy combination of mayo or dairy and a variety of seasonings.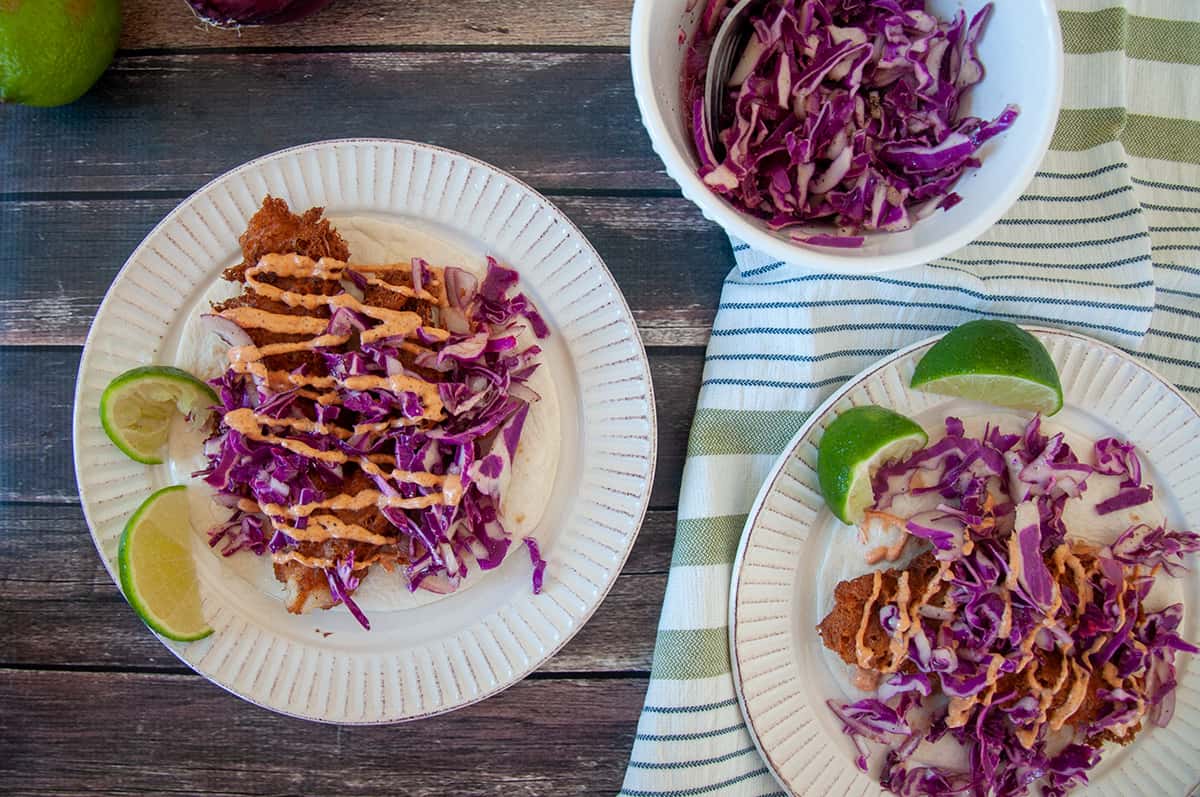 🛠 Products used in this recipe
😋 Did you make this recipe?
Thank you so much for giving it a try! Leave a comment below and let me know how it went. If you leave a rating, it helps other people decide if they want to make it and it always helps me know how I am doing. I always appreciate to hear from you and if you want to get updates from me, make sure to subscribe to my newsletter.
Print
📖 Recipe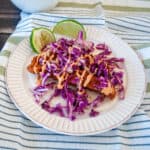 Beer Battered Fish Tacos with Homemade Sriracha Baja Sauce
Author:

Ben Myhre

Prep Time:

15 minutes

Cook Time:

15 minutes

Total Time:

30 minutes

Yield:

4

tacos

1

x

Category:

Fish

Method:

Fry

Cuisine:

Mexican
---
Description
These Beer Battered Fish Tacos with Homemade Sriracha Baja Sauce are decadent and delicious. These are my favorite fish tacos and all of the sauces work so perfectly with them!
---
For Slaw:
2

cups

shredded cabbage

¼

cup

diced red onion

1 tablespoon

olive oil

2 tablespoon

cider vinegar

½ teaspoon

salt

½ teaspoon

pepper
For Sriracha Baja Sauce:
¼

cup

plain greek yogurt

¼

cup

mayo

2 tablespoons

sriracha

¼ teaspoon

pepper

¼ teaspoon

salt

¼ teaspoon

onion powder

¼ teaspoon

garlic powder

½ teaspoon

chili powder
Fish and Batter:
Enough oil to fully submerge fish with batter on it.

4

fish fillets (about

8 ounces

) of walleye or other white fish. NOT FROZEN and fresh

salt and pepper

½

cup all-purpose flour

1

tablespoons garlic powder

1 tablespoon

paprika

2 teaspoons

salt

1

teaspoons pepper

1

egg

1

can of coors light or other beer

4

flour tortillas
---
Instructions
Fish and Batter:
Add oil to large pot and fill with oil with enough to submerge fillets.
Add all dry ingredients and egg to a large bowl
Slowly add beer to bowl and mix while adding until the batter has a heavy gravy consistency. You will not need entire can, but maybe a ½ cup to a cup.
Heat oil to 375° degrees Fahrenheit.
Pat fish dry with paper towels and sprinkle with salt and pepper
Submerge fish in batter until well coated and then add to hot oil
Cook until golden brown
Remove from basket or pot and put on paper towel lined plate to drain for a few minutes
For Slaw:
Add all ingredients to bowl and toss
Put in fridge until ready to serve
For Sriracha Baja Sauce:
Add all ingredients to bowl and toss
Put in fridge until ready to serve
---
Keywords: Beer Battered Fish Tacos