There is so much flavor going on in these mouthwatering Beer Battered Fish Tacos! And the zesty Sriracha Baja Sauce that goes with it is so tasty you are going to be jumping for joy because of just how delicious it is.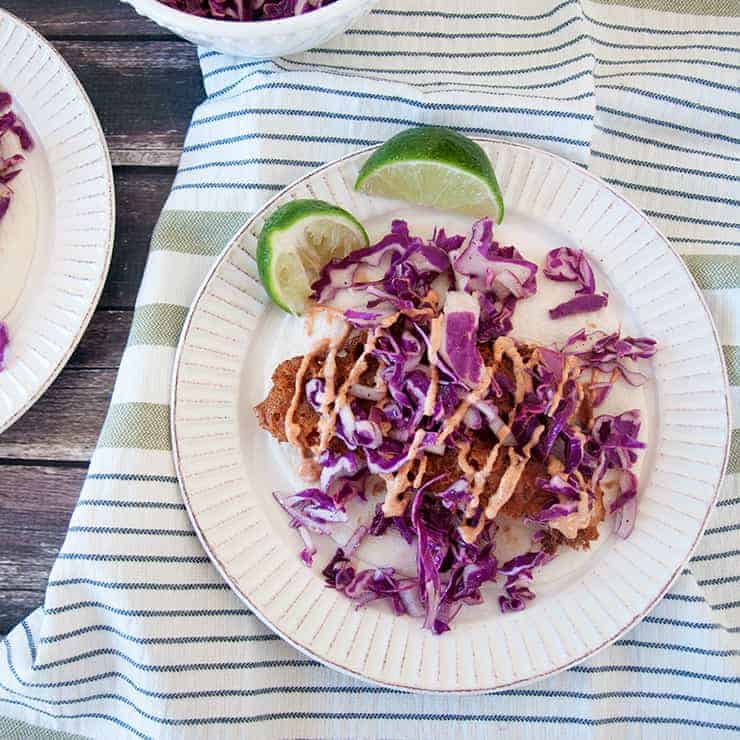 I am in love with this fish taco recipe. This Beer Battered Fish Taco recipe is on point, but that is not it. We are making a simple red cabbage slaw and sriracha Baja sauce that makes this one of the best fish tacos I have ever head. The best part is that it is all so simple to put together and you, too, can make my favorite fish taco. I am really happy to have this Beer Battered Fish Tacos with Homemade Sriracha Baja Sauce recipe as part of our taco series. I hope you love it as much as I do!
Walleye Fishing
I am not going to lie and say I am a master fisherman. Heck, I am not even an avid fisherman. I do, however, love getting out there and casting my line. I get a chance to get out and fish several times a year and I just got back from one of my annual trips.
Here in Minnesota, the king of the fish world is Walleye and that is what I caught! If you look at the post date, you might notice that it is February. That means we were ice fishing! I love ice fishing and, in fact, we sleep on the ice! For several days, me and a few buddies pack into an ice shack, hopefully, catch a bunch of walleye, and solve the world's problems with beer.
Ok, perhaps we do not solve the world's problems, but it sure feels like we are on our way after a few Coors Lights and shots of my friend's homemade apple pie. Speaking of Coors Light, I had some left over and that is what we are battering the fish with!
Fish to Use
As I stated, I used walleye for these beer battered fish tacos, but you can really use any lean whitefish. The walleye is a nice flakey fish when cooked and consequently, is a bit fragile once breaded and fried. It really adds to the flavor.
No matter the fish you use, make sure to cook it completely. If you heat your fry oil to 375, you should be able to cook until golden brown within 5 minutes. With my thin fillets, it really just took a minute to cook and then a few minutes of draining on a paper towel. You should be able to tell if they are done if when you put a fork in it if it flakes away and falls apart easily.
My fillets were mostly from smaller 12-14 inch walleye and each fillet worked well as one taco filling. I had bigger fillets ( I PROMISE), but those were the ones I was working with today. These thin fillets cooked very fast, but if you have thicker fillets, they may take a bit longer.
Cabbage Slaw
This slaw is so tasty and really adds a zing to our fish tacos. I used preshredded red cabbage and just added the extra ingredients. This recipe literally took a minute to put together and put in the fridge before I continued working on the rest of the recipe.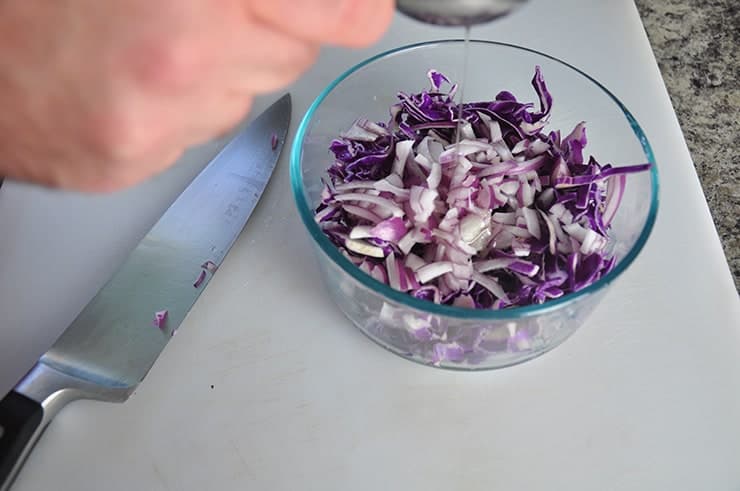 This Sriracha Baja Sauce is So Good
So much flavor in this sauce and I love my Sriracha. This creamy and spicy sauce matches up perfectly with the zingy slaw and the crispy fried fish. This portion of the recipe is the same as the slaw in that it is super easy.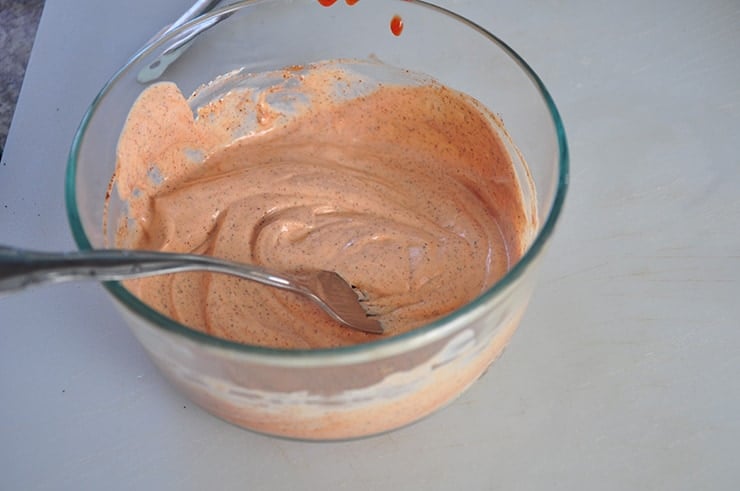 About the Beer Batter
I am using a slightly modified version of Genius Kitchen's recipe for normal beer battered fish. I thought we needed a bit more salt and I halved the recipe for the amount of the fish we have. Really, the credit for the beer batter needs to go to Genius Kitchen.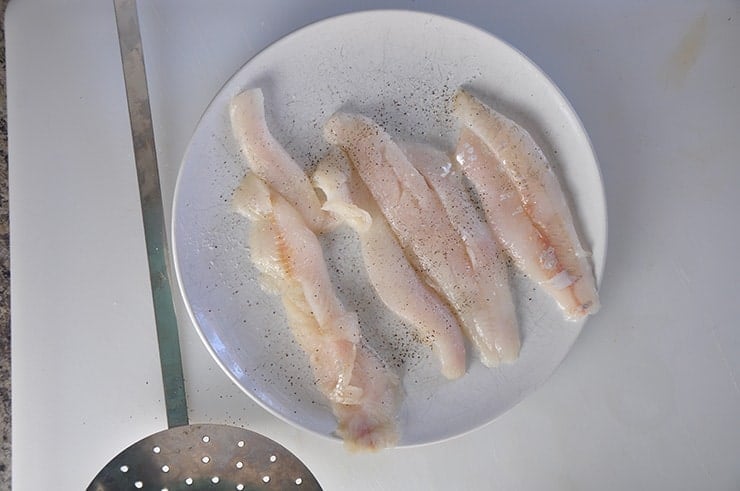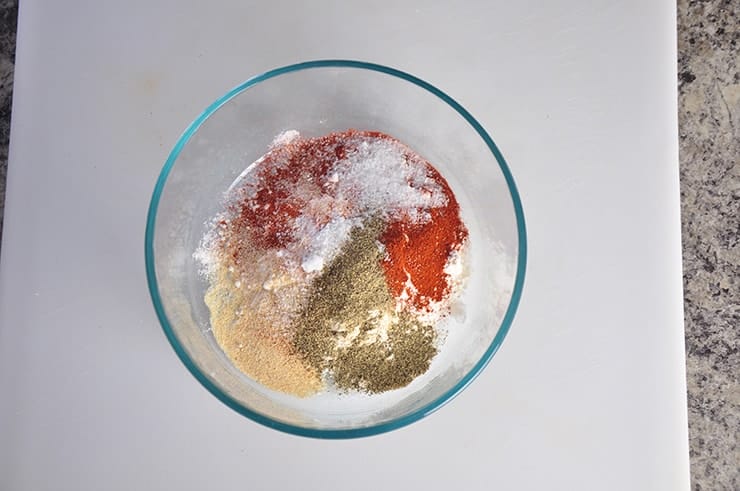 Deep Fat Frying
As always, be careful when you deep fat fry things. Hot oil isn't good to get burned with. If you have a fry daddy, I hope you already know what you are doing or have the instructions to work from. If you are like me and do not have a fry daddy, use a large pot and appropriate oil (I used canola) for frying.
I allow plenty of pot space and use a metal scoop to add and remove fish.
When Is The Fish Done?
If you are using fresh fish that is thin like mine, it will be done lickety-split. For our thin walleye fillets it took literally 1.5 minutes in the deep fryer at 375 Farenheight for my fish to finish. Once I removed from the oil, I put them on a paper towel covered plate and let them drain for about five minutes. I am sure this allowed them to cook a bit longer.
All in all, this recipe is easy to make and super tasty. Fishing is a hobby of mine, but it doesn't need to be yours to enjoy these wonderful and flavorful Beer Battered Fish Tacos with Homemade Sriracha Baja Sauce. If you like what we are doing here, follow me on Instagram, share this on Pinterest, and subscribe to get updates via email.
Products I Used In This Recipe
Did You Try This Recipe?
Let me know! Leave a comment below and let me know how it went! I always appreciate to hear from you and if you want to get updates from me, make sure to subscribe to my newsletter. Leave a comment and rating below. Share this recipe on Pinterest.
Print
Beer Battered Fish Tacos with Homemade Sriracha Baja Sauce
Author:

Ben Myhre

Prep Time:

15 minutes

Cook Time:

15 minutes

Total Time:

30 minutes

Yield:

4

tacos

1

x

Category:

Fish

Method:

Fry

Cuisine:

Mexican
---
Description
These Beer Battered Fish Tacos with Homemade Sriracha Baja Sauce are decadent and delicious. These are my favorite fish tacos and all of the sauces work so perfectly with them!
---
For Slaw:
2 cups

shredded cabbage

¼ cup

diced red onion

1 tablespoon

olive oil

2 tablespoon

cider vinegar

½ teaspoon

salt

½ teaspoon

pepper
For Sriracha Baja Sauce:
¼ cup

plain greek yogurt

¼ cup

mayo

2 tablespoons

sriracha

¼ teaspoon

pepper

¼ teaspoon

salt

¼ teaspoon

onion powder

¼ teaspoon

garlic powder

½ teaspoon

chili powder
Fish and Batter:
Enough oil to fully submerge fish with batter on it.

4

fish fillets (about

8 ounces

) of walleye or other white fish. NOT FROZEN and fresh

salt and pepper

½

cup all-purpose flour

1

 

tablespoons garlic powder

1 tablespoon

paprika

2 teaspoons

salt

1

teaspoons pepper

1

egg

1

can of coors light or other beer

4

flour tortillas
---
Instructions
For Slaw:
Add all ingredients to bowl and toss
Put in fridge until ready to serve
For Sriracha Baja Sauce:
Add all ingredients to bowl and toss
Put in fridge until ready to serve
Fish and Batter:
Add oil to large pot and fill with oil with enough to submerge fillets.
Add all dry ingredients and egg to a large bowl
Slowly add beer to bowl and mix while adding until the batter has a heavy gravy consistency. You will not need entire can, but maybe a ½ cup to a cup.
Heat oil to 375° degrees Fahrenheit.
Pat fish dry with paper towels and sprinkle with salt and pepper
Submerge fish in batter until well coated and then add to hot oil
Cook until golden brown
Remove from basket or pot and put on paper towel lined plate to drain for a few minutes
---
Keywords: Beer Battered Fish Tacos