There isn't much better than some tender, juicy, grilled chicken thighs. Our Blackberry Homemade BBQ Sauce recipe, however, really brings it to a whole other level of flavor perfection! Enjoy our Blackberry Homemade BBQ Sauce Recipe on Grilled Chicken Thighs!
Grilling season is in full force and my favorite chicken piece to put on the ol' Weber is the thigh. It is so juicy and has some really delicious meat and a bit of skin. Today, we are going to share a wonderful and easy Blackberry Homemade BBQ Sauce Recipe and serve them up on some grilled chicken thighs.
Blackberry Homemade BBQ Sauce Recipe
Barbeque sauce really can be such a simple thing to make. For some pretty low effort, a person can really turn out a beautiful and rich, thick BBQ sauce with a unique flavor. Most BBQ sauces have an element of sweet, tang, and some spices. We are going to fortify the sweet aspect of this recipe with blackberries today and it really ads a unique and subtle Summertime flavor.
Homemade BBQ Sauce Recipe Basics
A simple BBQ is really no problem. The base for many easy tomato based BBQ sauces is ketchup. Beyond that, there needs to be an element of sass, which tends to come in with some vinegar. Spices can cover a whole gamut of items, but we often see Worsteschire sauce, peppers, garlic, or onion. For easy recipes, we tend to add these in powder form. Sweet is generally brought into the mix with sugar and molasses. As we learned in a previous post on Rum history, molasses is a byproduct of sugarcane production (or sugar beets in more modern agriculture). And if a recipe calls for brown sugar, just recognize that all brown sugar is, is white sugar mixed with molasses.
For the sweet in this recipe, we are going to be fortifying it with blackberries.
Shopping for or picking Blackberries
If you have access to a blackberry bush, I am jealous! We have raspberries in our backyard, but not these delicious little buggers. You probably know when they are ripe, anyways. If they are easy to pull off the bud, and somewhat soft they are good to go. If you are purchasing them, look for containers where the fruit is a dark red and the fruit looks healthy and full. Stay away from blackberries that look dented, crushed, or moldy.
Processing Blackberries
The biggest challenge with working with these delicious little fruits is the seeds. When eating them fresh from the plant or from a package, it isn't quite as big a deal. When you start breaking the fruit down into a sauce, however, it can become unpleasant to encounter the seeds in your sauce. The solution is simple. Use a fine mesh strainer and use a wooden spoon to mash the liquid through to make a nice, clean, juice.
Now, I do think there is a case for having some seeds in your sauce, but using all 12 Ounces is going to be just too much. If you want to get a bit of a more natural flavor with seeds, take a few tablespoons and put them in your sauce.
Mixing Ingredients for This Easy BBQ Sauce
Once you have the blackberries juiced, this Homemade BBQ Sauce recipe is super easy. Just mix everything into a pan and bring to a simmer. Allow to simmer and mix for at least 15 minutes and then remove from heat. It really is that simple. I think a person could get more complex with using fresh garlic, onion, or tomatoes if they wanted. When I use BBQ sauce, I really enjoy it being a nice smooth sauce, so I go with powders on this.
Grilling Chicken Thighs
Grilling chicken thighs is also pretty easy if you go into the endeavor knowing what you are doing. To grill a great chicken thigh, you need to know that they are cooked under indirect AND direct heat for the best outcome. Additionally, we salt and pepper at the beginning, but don't add BBQ sauce to the mix until the last few minutes.
Shopping For Chicken Thighs
My biggest advice on this is to buy chicken thighs that are about the same size. This makes them more simple to cook, particularly if you are cooking more than one. Of course, I will always recommend buying fresh chicken. Some say that you will get more/better flavor if you are buying free range or organic chicken, but I think this tends to be a bit overplayed.
Buy cuts of chicken that look good, fresh, and of about the same size.
When is Grilled Chicken Done?
When the temp hits 165 Farenheight. In order to do this correctly, I highly recommend you get a good Digital Thermometer
! Getting this off the heat right away is the best way to determine when your meat is done and the best possible finished product.
Grilling Chicken Thighs
When heating up your grill, you are going to want a direct heat location and an indirect heat location. On my Weber Genesis, this means turning ⅔ of the left side burners on and designating the right side for indirect cooking. Once preheated to 450, I cook skin-side up for 10 minutes and then skin side down for ten minutes. Cooking skin up first (along with keeping a clean grill) reduces the chance of your chicken skin sticking once you put it skin down.
Then, after the 20 minutes, I brush on BBQ sauce to both sides and cook over direct heat for 3 minutes on each side. This is where I start temping my thighs. They should come in at 165 or just below that amount. If right below 165, you will want to temp during resting so that you can tell it hits that safe temperature as it continues to cook during rest. I continue flipping every 3 minutes AND temping this to know where I am at. Once I hit 165, I immediately remove and allow to rest.
Homemade BBQ Sauce Recipe and Grilling
Don't add the Homemade BBQ Sauce recipe at the beginning or don't marinate in the sauce. This BBQ recipe has sugar in it and if cooked too long, it will burn the outer layer of your chicken. That is why we only brush it on at the end. We want it to cook just enough to stick to, and caramelize, onto the chicken thigh, but not so much that it starts to burn.
Apply BBQ Sauce After Cooking
We only used a small amount of BBQ sauce during the cook. This does add some flavor, so make sure brush some on this delicious BBQ sauce at the end or serve it with these delicious thighs. Even though the sauce is easy, it really brings that Summertime BBQ grilling flavor to your picnic table.
Blackberry Homemade BBQ Sauce Recipe on Grilled Chicken Thigh Process Description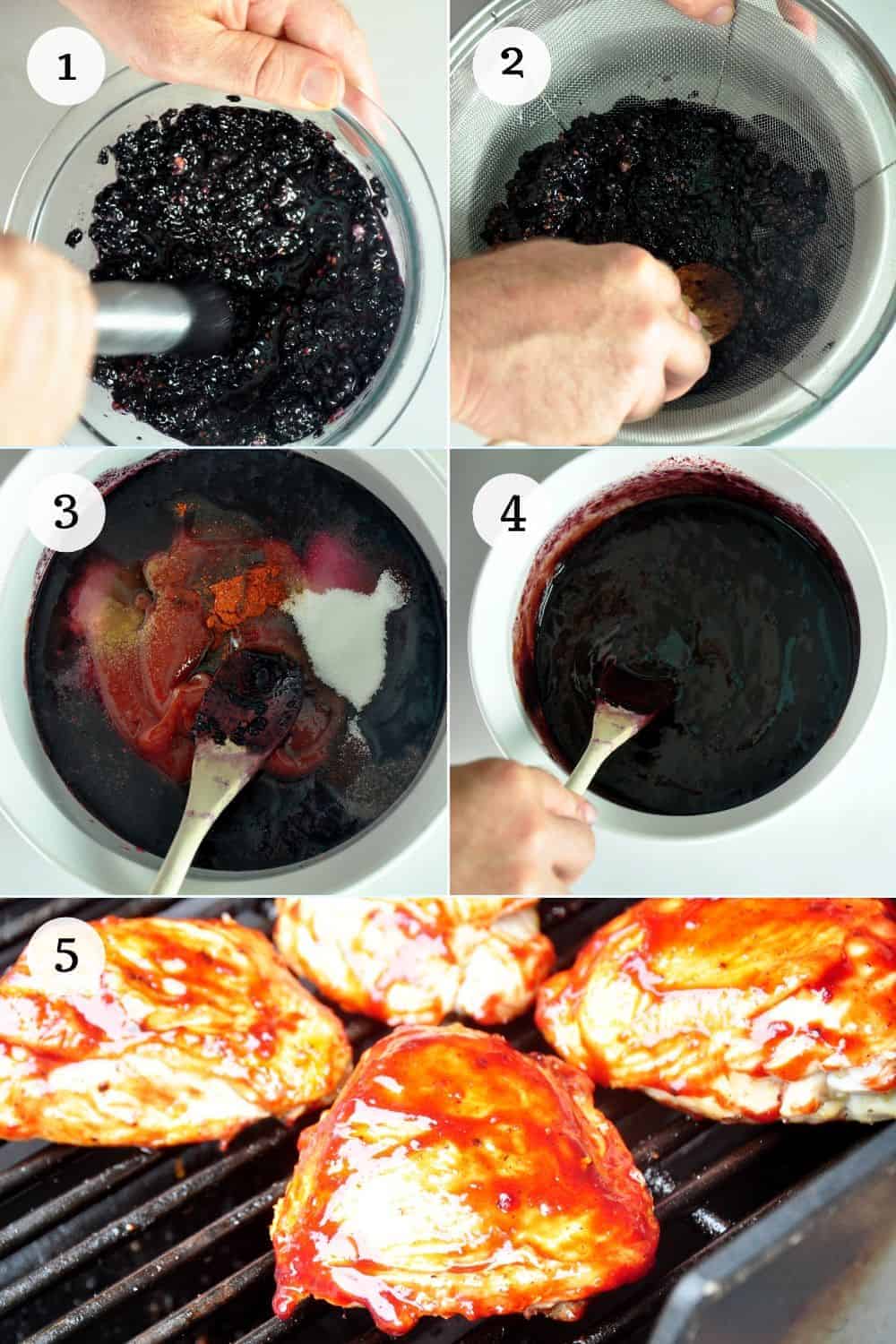 Mash Blackberries in a medium bowl
Strain through a fine mesh Strainer
Mixing all BBQ sauce ingredients into a bowl
Mixed, but uncooked bbq sauce. Still need to simmer for 15 minutes
Grilling Chicken Thighs with BBQ sauce on at the very end of the grilling process
Blackberry Homemade BBQ Sauce Recipe on Grilled Chicken Thigh Tips Summary
Buy Fresh Blackberries - Fresh, ripe blackberries should be deeply colored and plump. They should be free from signs of being crushed, dented, and there should not be any mold. When picking from a bush, they should not be bright red, but a dark full reddish color and easily pulled from the plant. Much like a raspberry.
Clean your grill - Having a clean grill can help prevent sticking and just makes it a bit nicer.
Indirect and then Direct Heat - The most of the cooking time should be spent on the indirect heat and then the last several minutes on the direct heat zone.
Use a thermometer! - Use that meat thermometer to get your temp to safe chicken temperature of 165 degrees Fahrenheit.
This Blackberry Homemade BBQ Sauce recipe is delicious and if you put it on my favorite grilled chicken piece (the thigh), you are going to be looking at Grilling heaven. Get your Weber out and get started on this beautiful dish today.
Products Used in Grilled Peaches Recipe
Did You Eat This?
If you liked this recipe, you could do me a real solid by taking some time to let me know how it went. I always appreciate to hear from you and if you want to get updates from me, make sure to subscribe to my newsletter. Leave a comment and rating below. Share this recipe on Pinterest.
Print
Blackberry Homemade BBQ Sauce Recipe on Grilled Chicken Thighs
---
Author:

Ben Myhre

Prep Time:

30 minutes

Cook Time:

45 minutes

Total Time:

1 hour 15 minutes

Yield:

4

Thights

1

x
Description
This Blackberry Homemade BBQ Sauce Recipe on Grilled Chicken Thighs are absolutely delicious and tasty. Get that grill out for some beautiful, special chicken thighs with this delicious barbeque sauce.
---
12 oz

, Blackberries

1 cup, Ketchup

0.50 teaspoon(s), Spices, onion powder

0.50 teaspoon, Garlic powder

0.50 teaspoon, Salt

0.50 teaspoon, ground, Black pepper

1 teaspoon, Spices, chili powder

2 tablespoon(s), Vinegar, cider

⅛ teaspoon, Spices, pepper, red or cayenne

1 tablespoon(s), Sauce, worcestershire

2 Tablespoon, Molasses

4

medium Chicken Thighs
Salt and Pepper To Taste
---
Instructions
Mash blackberries in a bowl with a potato masher, bartending muddler, or another item appropriate for mashing.
Place blackberry mush into a fine strainer and use a wooden spoon to help push the juice through the strainer
Once strained, add all ingredients to a pan and mix
Bring to a simmer
Simmer and mix for a minimum of 15 minutes
Remove from heat and set aside
Preheat grill to 450 degrees Fahrenheit, making sure to have a direct heat zone and indirect heat area
Place thighs (skin side up) on indirect heat for 10 minutes
flip and cook skin side down for 10 minutes
Brush both sides with BBQ and cook on each side over direct heat for 3 minutes
Use a thermometer to measure the temperature. If thickest part of meat 165, remove. If not, keep cooking and regularly check until you hit 165.
Remove and allow to rest for 3-5 minutes
Add remaining BBQ sauce as a side for each thigh
EAT
Category:

BBQ

Method:

Grilling

Cuisine:

American
Nutrition
Serving Size:

1 thigh

Calories:

271

Sugar:

9 g

Sodium:

1120 mg

Fat:

9 g

Saturated Fat:

2 g

Unsaturated Fat:

5 g

Trans Fat:

0 g

Carbohydrates:

34 g

Fiber:

5 g

Protein:

16 g

Cholesterol:

51 mg
Keywords: Homemade BBQ Sauce Recipe