It isn't hard to make badass Pork Chops and just a little time and know-how will get you to chops nirvana! This step-by-step tutorial on How To Grill Pork Chops Like a Boss is a crash course in becoming a grilling superstar.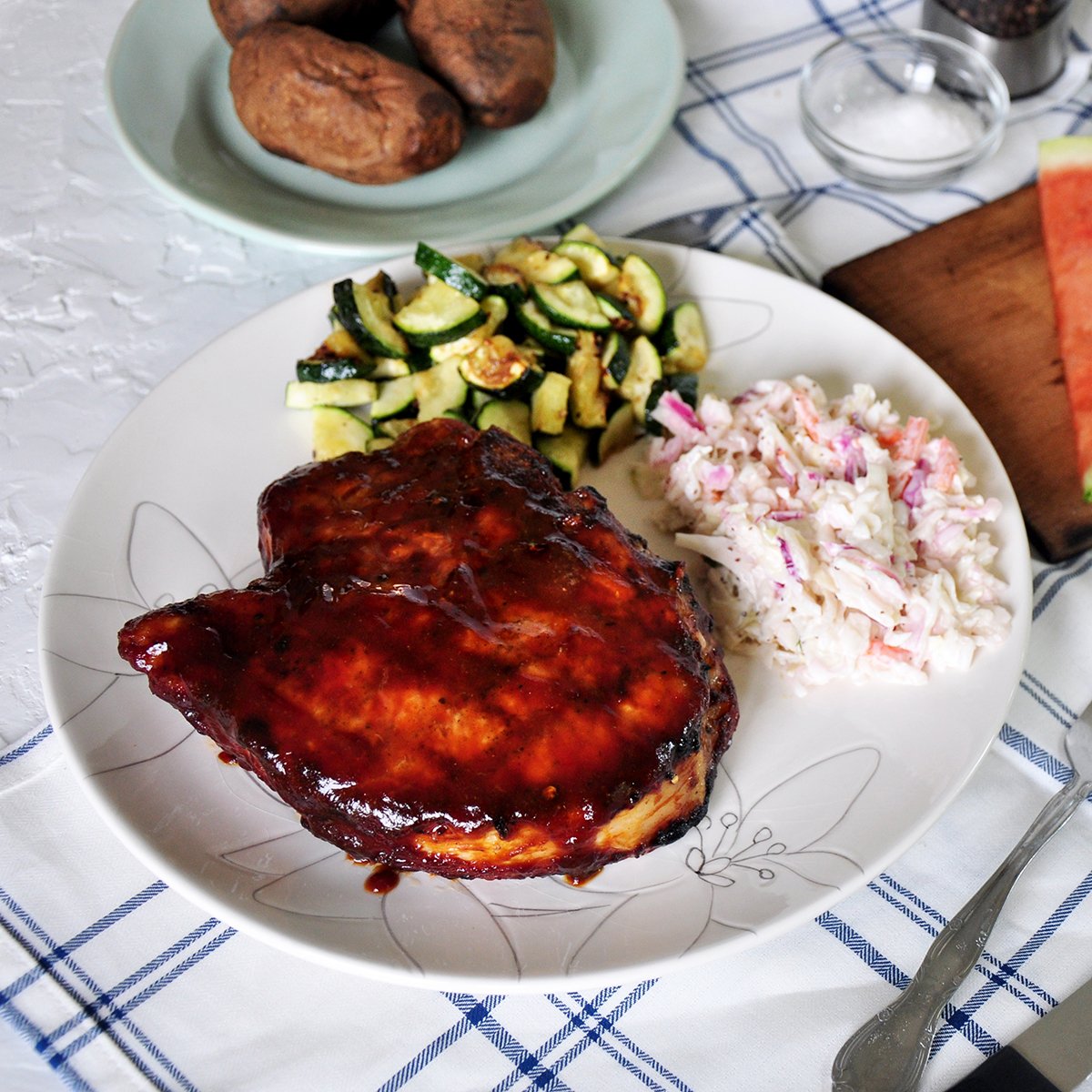 Recently, we made an awesome steak and showed How To Grill A Steak Like a Boss. I thought it would be fun in our grilling series to continue this theme and do the same for pork chops. Additionally, we are going to make our own BBQ sauce that can be used for these pork chops or any other recipe that calls for Barbecue Sauce.
Look, grilling pork chops is not rocket science, but it IS easy to mess up. With some easy steps and care, you can be the backyard hero you want to be. Today, we are going to show how to grill pork chops like a boss.
Summary Of Grilling Pork Chops
Like our steak, most of the actual work comes before the meat hits the grill. Even if you do everything right on the grill, but haven't put in some care and consideration into your pregame, you might end up with a dud. I think it is fair to break our process down into three parts
How to pick the right pork chops
How to prepare the meat before it goes on the grill
How to grill pork chops once you have them ON the grill
How to Pick The Right Pork Chops
Sorry, folks… you are probably going to have to go to your trusted local butcher instead of the grocery store for a great cut. The problem is the thickness of the pork chops available at the normal grocery store tend to be on the slender side. You will need at least 1 ½ inch chops to do the job. Often, you are only going to find thin little guys at a grocery store. That is not what we want for awesome pork chops. Like a steak, we want to sear the outside and then move it to a different zone on your grill to finish out the cooking.
For our cut, we want to look for the Loin Chop. This is basically the T-Bone of the pork world. On one side of the bone you are going to find the loin and on the other, the tenderloin. While this cut is going to have mild pork flavor, it is going to provide great tenderness and there are not many chops that will beat it.
Butcher Box
Of Course, you can also let the professionals do the shopping for you! Butcher Box can send high-quality meat to your doorstep monthly. It is a great way to get great meat and not have to think too much about searching all over for that great cut of meat.
How to prepare the meat before it goes on the grill - BRINE IT
Giving your pork chops a salty bath before being cooked will help your chops retain moisture and a more tender end product. Make sure to give your thick chops enough time in that salt jacuzzi before placing them bad boys on the grill. And when I say give them enough time, I would say anything from 1-3 hours before cooking is a good amount of time.
How to grill pork chops
Very similar to how we did our steak. Heat one side of your grill to 500° degrees Fahrenheit. The other should be indirect heat only. We are going to use the hot side to sear both sides for just a few minutes and then the other side (zone 2) to actually cook. Only on the cool side will we add our bbq sauce. 145 is the temp we are shooting for, a la the FDA. Use a thermometer! We will. Actually, take it off at 135 and let rest for 10 minutes. It should finish cooking that last 10 degrees off the grill.
WATCH THAT TEMP
Once you move your pork chops from zone one to zone two, don't be afraid to temp that little guy. After it has been on the grill long enough to flip, you have to start watching it. Pork chops are little more temperamental than a ribeye. If you overcook a steak, it still has a fighting chance of tasting good. With pork chops, your window is pretty small in the temperature department. If you don't get it off at the right time, it will very quickly dry out and turn to a stinker. You spent all this time getting your chops ready, use your thermometer. So, once it hits that 135-degree mark, take it off and let it rest for 10 minutes. Make sure it hits that 145 degrees Farenheight mark for safety. And if you don't have a meat thermometer... GET ONE.
Our BBQ Sauce
A few years ago, we bottled up a bunch of BBQ sauce and gave it as gifts for Christmas. It was called "Ben & Ashley's Baby Jesus BBQ." It was a hit and we loved it. The BBQ recipe we give here is a is a scaled down version of that recipe and really is simple to make. You can keep it in your fridge for a few months and it tastes sweet and zingy.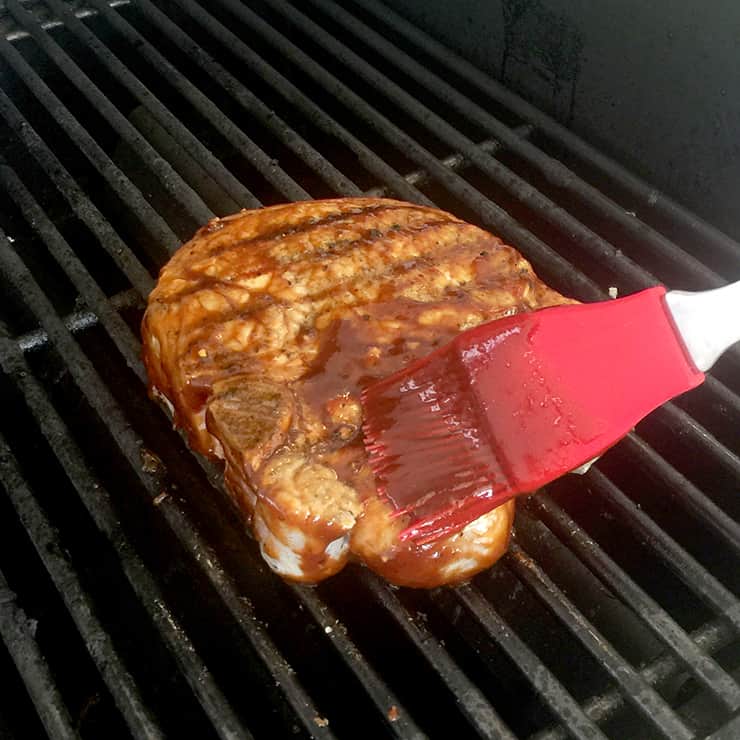 Products I Use For This Recipe
I hope you really enjoyed this recipe and learned a bit about making a better pork chop! If you like what we are doing here, please subscribe to our email list and follow us on the Instagram.
Print
📖 Recipe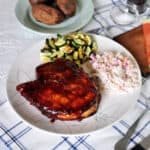 How To Grill Pork Chops Like a Boss
Author:

Ben Myhre

Prep Time:

2 Hour

Cook Time:

25 Minutes

Total Time:

2 hours 25 minutes

Yield:

2

Chops

1

x

Category:

Dinner

Method:

Grilling

Cuisine:

American
---
Description
How to Grill Pork Chops Like a Boss! If you want to up your grilling game, these step by step instructions will help you make a better pork chop.
---
2

thick Loin Pork Chops

¼ cup

salt

1 quart

water

2 tablespoons

olive oil
salt and fresh ground pepper
BBQ Sauce Recipe
1 Cup

Ketchup

⅓ Cups

molasses

⅓ Cups

brown sugar

1 Teaspoon

Onion Powder

1 Tablespoon

garlic powder

¼

cups White or Cider Vinegar

2

dashes Worcestershire sauce
---
Instructions
½ hours to 4 hours before, mix water and salt and water in a shallow dish.
Add Pork Chop Loins. Is water running over the edge? GET A BIGGER DISH!
Allow to brine for ½ hours up to 3 hours
Preheat One Side of Grill to 500° Fahrenheit and have a second zone that is indirect heat.
While Grill is preheating rub chops with olive oil and sprinkle with salt and pepper
Once heated, add chops and to the hot zone and sear each side for 2.5 minutes
Move to indirect heat, coat side with bbq, and then place face bbq side down.
Allow to cook for a 10 minutes
Generously brush some BBQ sauce on top side and flip.

Allow to cook for 10 minutes - DURING this step you should start temping your meat often. at 140°

Fahrenheit, you should remove.

Repeat steps 8 and 9 IF NECESSARY. It should really be done
Cook until internal temp of 140°, allowing for 5 minute spike to safe 145 temps.
Remove and allow to rest for 5 minutes
Serve!
To Prepare BBQ Sauce
Mix all bbq sauce ingredients into a medium saucepan
heat over medium-low for about 1 hour or until everything is well incorporated
---
Keywords: How to Grill Pork Chops