Sometimes, it is fun to fire up the grill and cook a whole chicken and why not make it right? Today, we level up your chicken grilling with this delicious Spatchcock Grilled Chicken recipe. We start with a dry brine on the chicken and finish on the grill with some delicious BBQ sauce.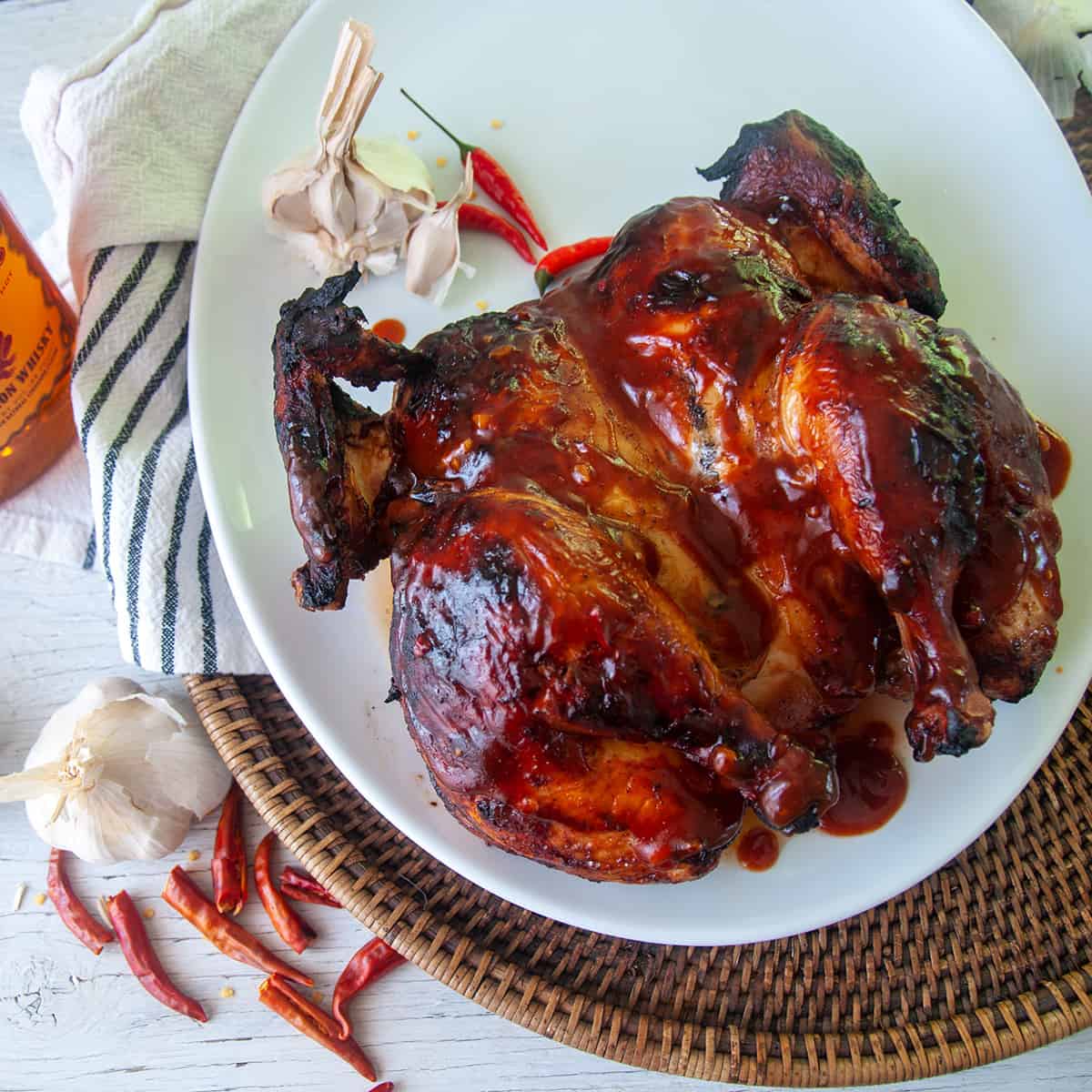 🍗 What makes this recipe special?
There is a lot of unique stuff going on in this recipe. First, we are treating our chicken to a dry brine, that will help make it a tender, moist bird. Second, we are spatchcocking the chicken, which helps the chicken cook evenly and makes for an excellent end product.
Finally, we are including a recipe for our special homemade Fireball Whiskey Spicy BBQ sauce. That's right... we are making our own BBQ sauce and incorporating some Thai chilis and a little kick.
We have made our own bbq sauce before and are no stranger to unique flavors like with our Blackberry Homemade BBQ Sauce recipe with chicken thighs and our Grilled Pork Chops reicipe.
If you are looking for some great things to cook with this, it would pair excellently with our Easy Coleslaw Recipe. Or maybe our Rancharoni Macaroni recipe and Grilled Jo Jos. Enjoy this perfect summertime grill with this spatchcock grilled chicken recipe!
Jump to:
🔥 Ingredients
It is chicken, so obviously, the star of this show is a chicken. Other than the BBQ sauce, it really is just salt and chicken. That is all you need to make a delicious dinner.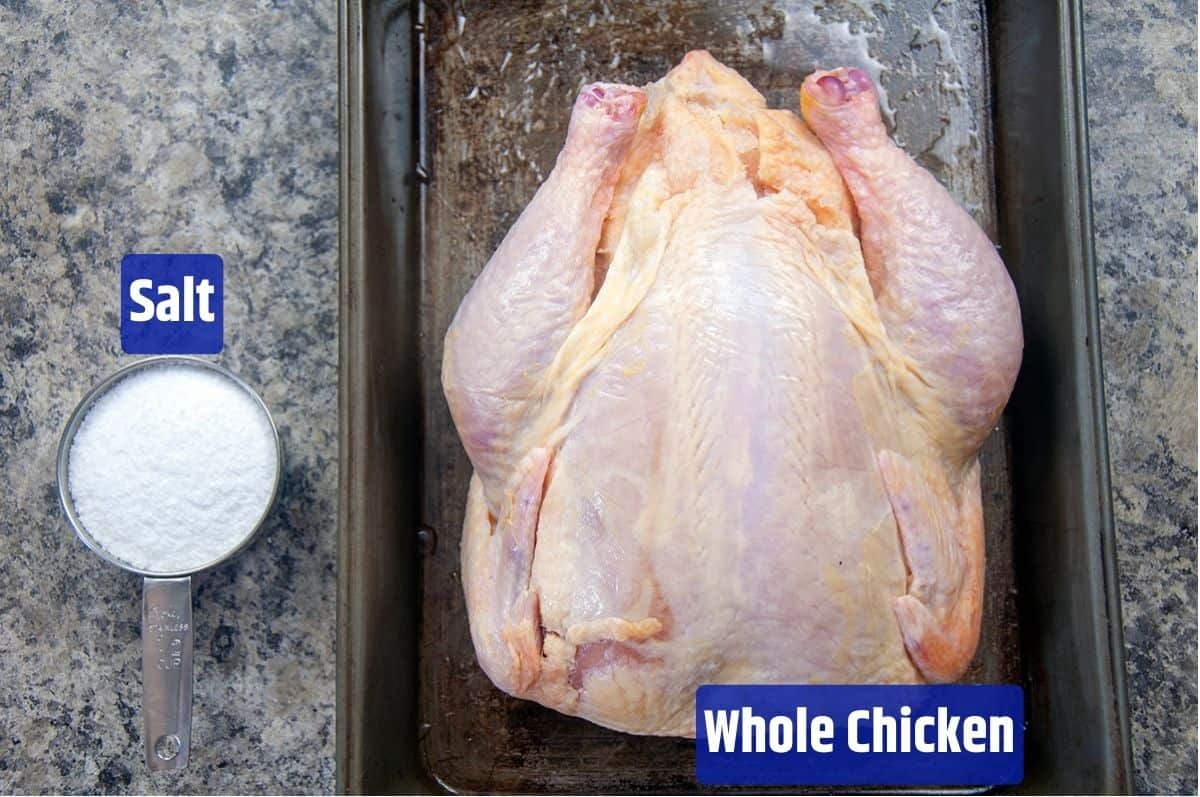 whole chicken
salt
Barbecue Sauce
The other piece of this that really can impact flavor is the BBQ sauce. While I recommend my Fireball Whisky Spicy BBQ Sauce, it really can be your favorite. We always have some Sweet Baby Ray's BBQ sauce around.
See the recipe card for ingredient quantities.
🍲 Instructions
There is quite a bit going on in this recipe if you decide to make your own BBQ sauce, but it isn't hard at all. The Fireball BBQ Sauce we recommend for this is as simple as softening some minced garlic and the Thai chilis in butter.
Then, add the rest of the ingredients and simmer for five minutes. Check out the recipe I have linked to.
The spatchcock grilled chicken preparation can really be broken into three parts. First, we are going to dry brine the chicken. This helps tenderize the meat and helps keep our chicken moist.
This is as easy as sprinkling salt over the chicken, putting it in a container and loosely covering it, then placing in the fridge for several hours, with overnight being preferential. While this does help with keeping the chicken moist, it can be done the same day or even skipped in a pinch.
Second, spatchcocking the chicken. The goal here is to flatten the chicken so that the entirety of the bird cooks evenly. When cooking a whole bird, your thighs, legs, and wings will hit 165° much sooner than your chicken breast. By flattening the bird, it will help keep this even.
Yes, the other bits will probably still hit 165° Farhenheight before the breast, but these parts can handle the higher temps a bit better than the white meat of the breast.
Spatchcocking includes cutting out the backbone. Then, using a knife to cut the middle of the breast bone so the chicken can lay flatter. Some people remove this (it is the wishbone), but I think it is fine to leave it in for the chicken.

Finally, flatten the bird and tuck the wings under. This helps the bird cook evenly and helps prevent the small wing tips from burning.
I do the same thing with my turkeys on Thanksgiving, except removing the wishbone, which is a game-changer. It reduces the amount of time in the oven dramatically. It makes for a great dinner, particularly when you dry brine the turkey.
Finally, barbequing the bird. Coat the bird in half of the bbq sauce. Place on a grill that is about 375° Fahrenheit over indirect heat.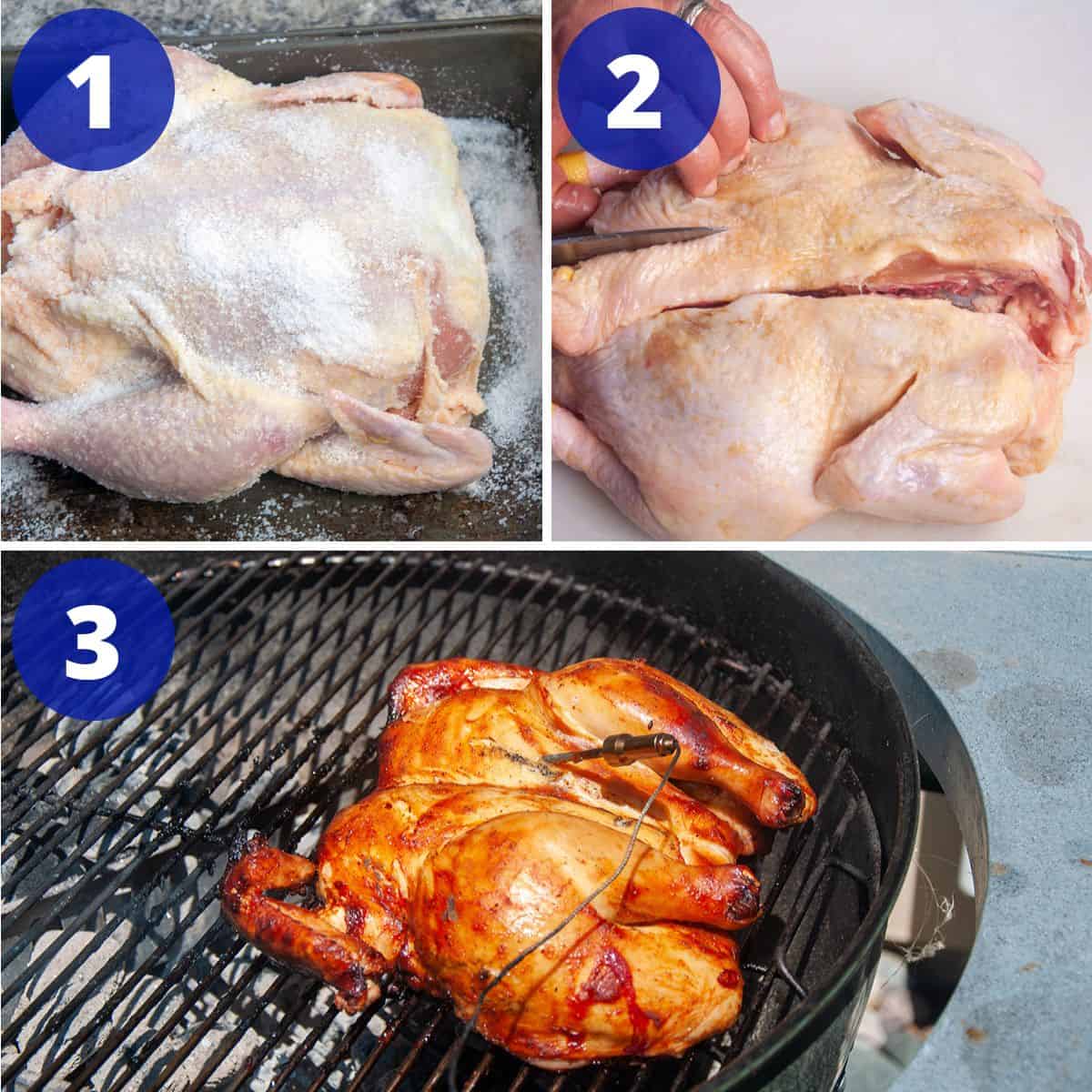 On my charcoal grill this is with the top vent about ½ open. It is a bit easier of an endeavor on a gas grill, but I really do enjoy that charcoal flavor. If you have three burners on your gas grill, turn the two outer burners on and cook in the middle.
I use a ChuGod thermometer and place the probe about ½ way through the breast with the tip in the thickest part of the chicken breast. Once it hits 165°, your chicken is safe.
Allow to rest for five minutes and then carve your roasted chicken. While this video on carving a roasted chicken is not specific to spatchcocked chicken, the basics still apply.
Serve up your delicious chicken!
🤷 Substitutions and variations
There are a few different ways you can change this up to make it your own.
BBQ Sauce - Nothing states you need to use my BBQ sauce, but I really like the Fireball Whisky Barbecue sauce. Its your dinner! Use whatever you want, but I do really like this sauce.
Gas Grill or Charcoal - I like charcoal for this recipe, as it cooks long enough to really get some of that smokey flavor into the meat.
📦 Storage
I have been able to keep this chicken for several days in the fridge. I just put on a plate and cover it with saran wrap.
🎓 History tidbit
One thing I really think is fantastic about grilling is that it was the first way that humans cooked! We cooked over a fire to make food more edible and tasty. I wrote a whole article on the history of grilling you should check out!
❓ FAQ
Is it easy to spatchcock a chicken?
Heck yes! It is as simple as cutting the backbone out, breaking the breast bone and flattening the bird.
Do you flip a spatchcock chicken on the grill?
I do not. I coat with BBQ and the indirect heat cooks the chicken. If you use a charcoal grill, you will definitely will get that wonderful smokey grill flavor.
How do you make BBQ Sauce?
The basics of an easy bbq sauce is a few cups of ketchup, vinegar, molasses, and Worcestershire sauce. Ketchup is an easy and quick base as it already has tomato and sugar right in it.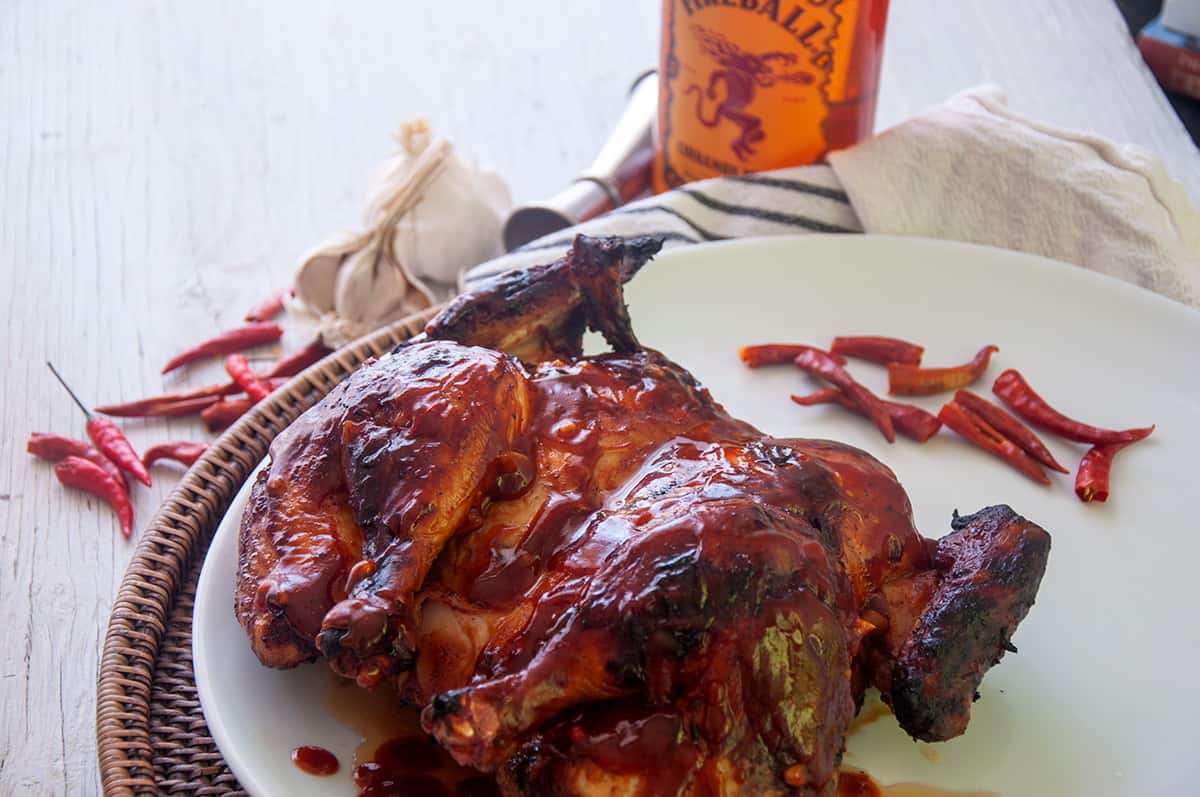 📝 Tips and tricks
While I recommend the dry brine, it is a step that could be skipped.
The sauce can be made ahead of time or on the same day that you cook the chicken.
Other chilis should be fine to use, per your liking, but make sure they are minced.
Reserve the chicken spine for Homemade Chicken Stock
Make sure to follow food safety and avoid cross-contamination.
🛠 Products used in this recipe
😋 Did you make this recipe?
Thank you so much for giving this BBQ Spatchcock Grilled Chicken recipe a try! I appreciate you allowing my recipe onto your grill and table. Could you do me a favor by leaving a review in the comments area below? This helps me know how I am doing and helps others decide if this is their recipe. Most of all, thanks for visiting Ramshackle Pantry!
Print
📖 Recipe
BBQ Spatchcock Grilled Chicken
Author:

Ben

Prep Time:

12 hours

Cook Time:

90 minutes

Total Time:

12 hours 90 minutes

Yield:

1

chicken

1

x

Category:

Dinner

Method:

Grilling

Cuisine:

American
---
Description
This BBQ Spatchcocked Grilled Chicken is tender, tasty, and a great way to put that grill to use. Perfect for a dinner or cookout, this whole chicken recipe is easy to make and is a great grilling recipe.
---
---
Instructions
The night before, generously coat your whole chicken with ¼ to ½ cup of salt, place in-tray, loosely cover, and store in the refrigerator for eight hours.
The next day, spatchcock the chicken by cutting the spine out with kitchen shears.
In the middle of the inner breast, use a sturdy knife to cut the breast bone right in the middle so that the chicken can be flattened.
Flip chicken over so breasts are up and push down legs and flatten the chicken.
Tuck wings under bird.
Coat with ½ of the Fireball Spicy BBQ sauce (or barbeque sauce of your choice)
Heat grill to 375° Fahrenheit and allow for an area of indirect heat. If charcoal (preferred) put coals on one side or use charcoal baskets on one side. If a three-burner gas grill, heat two outside grills.
Put chicken on grill over indirect heat with the breasts up and closest to the source of heat.
Cover
Use a meat thermometer and cook until the thickest breast is 165° Fahrenheit (approximately 1 hour to 1 hour and 30 minutes). Use a thermometer to make sure thigh meat and the breast meat is 165° Fahrenheit. Remove immediately. If you are daring enough, remove at 160° Fahrenheit and make sure the final temp before eating is 165° Fahrenheit
Allow chicken to rest for 5 minutes, carve, and serve with remaining BBQ Sauce.
---
Notes
Calories are estimated based on a 4 lb chicken and 2 cups of bbq sauce.
Serving size is largely determinant on the appetite of your people and size of your chicken.
While I recommend the dry brine, it is a step that could be skipped.
Reserve the chicken spine for Homemade Chicken Stock
Make sure to follow food safety and avoid cross-contamination.
Keywords: Spatchcock Grilled Chicken