Kartoffelsalat is more than just German Potato Salad; it's a loving spoonful of tradition, a side dish that's brought people together around tables for generations.
Each bite blends rich dijon notes, hints of vinegar, a whisper of onions, and a great bacon crunch. It's like sharing an age-old secret passed down from German grandmas with each hearty serving.
So, as we dive into this classic, remember: food is something we all share, and this Kartoffelsalat is a delicious, tangy slice of togetherness. Ready to embark on this flavor journey with me? Let's make memories, one potato at a time!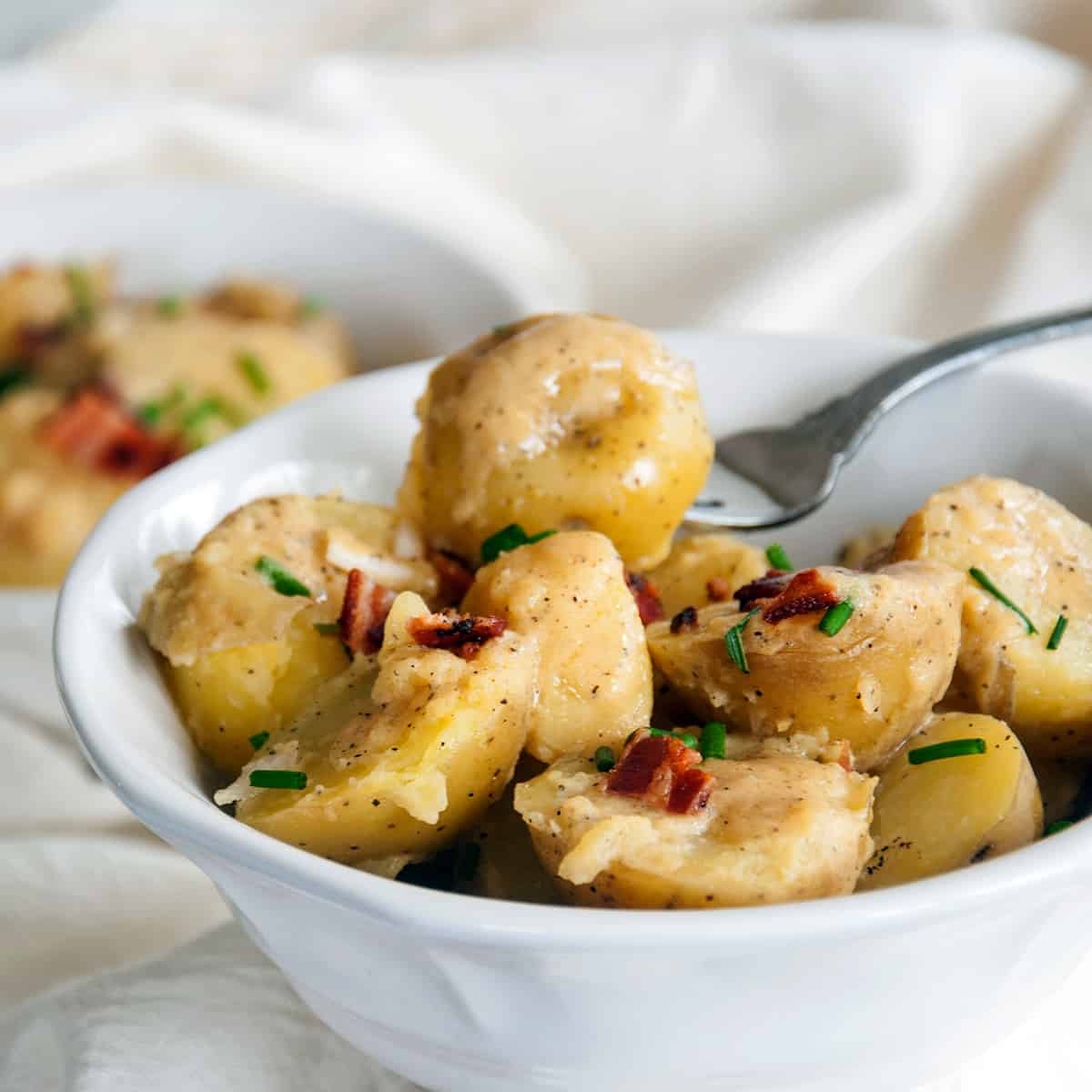 🥔 What makes this recipe special?
Every dish tells a story, and Kartoffelsalat is a melody of German heritage and shared memories. It's an age-old secret uniting generations around the dinner table.
The Dijon mustard, more than a mere ingredient, is the soulful heart of this salad, orchestrating a delightful dance of flavors. Its rich notes wrap around every potato, ensuring each bite is memorable and heartwarming.
Then there's the Yukon Gold potato, a delisious embrace to this timeless tale. It's creamy texture and subtle flavor provide the perfect stage for the tangy ensemble, making Kartoffelsalat a celebration in every spoonful.
Jump to:
🥓 Ingredients
Potatoes are the star of this recipe. Here is what you will need:
Yukon potatoes
White Sugar
Beef broth
White vinegar
Vegetable oil
Dijon mustard
Salt & Pepper
Onion
Bacon bits
Chives
See the recipe card for quantities.
🍲 Instructions
Embarking on the Kartoffelsalat journey begins with simmering those Yukon Golds to tender perfection. It's like letting them soak in a warm bath, preparing them for the flavorful adventure ahead.
Next comes the symphony of all of the wet ingredients mixed in a bowl. The melody of white vinegar, Dijon mustard, and the subtle sweetness of sugar create a backdrop that sets the stage for the potatoes.
Once the potatoes are tender to the touch, a little cooling lets them breathe before their grand entrance. Cutting them into bite-sized pieces and gently tossing them with the wet ingredients to ensure that every inch is kissed with Kartoffelsalat goodness. Now, the real magic begins. Eating!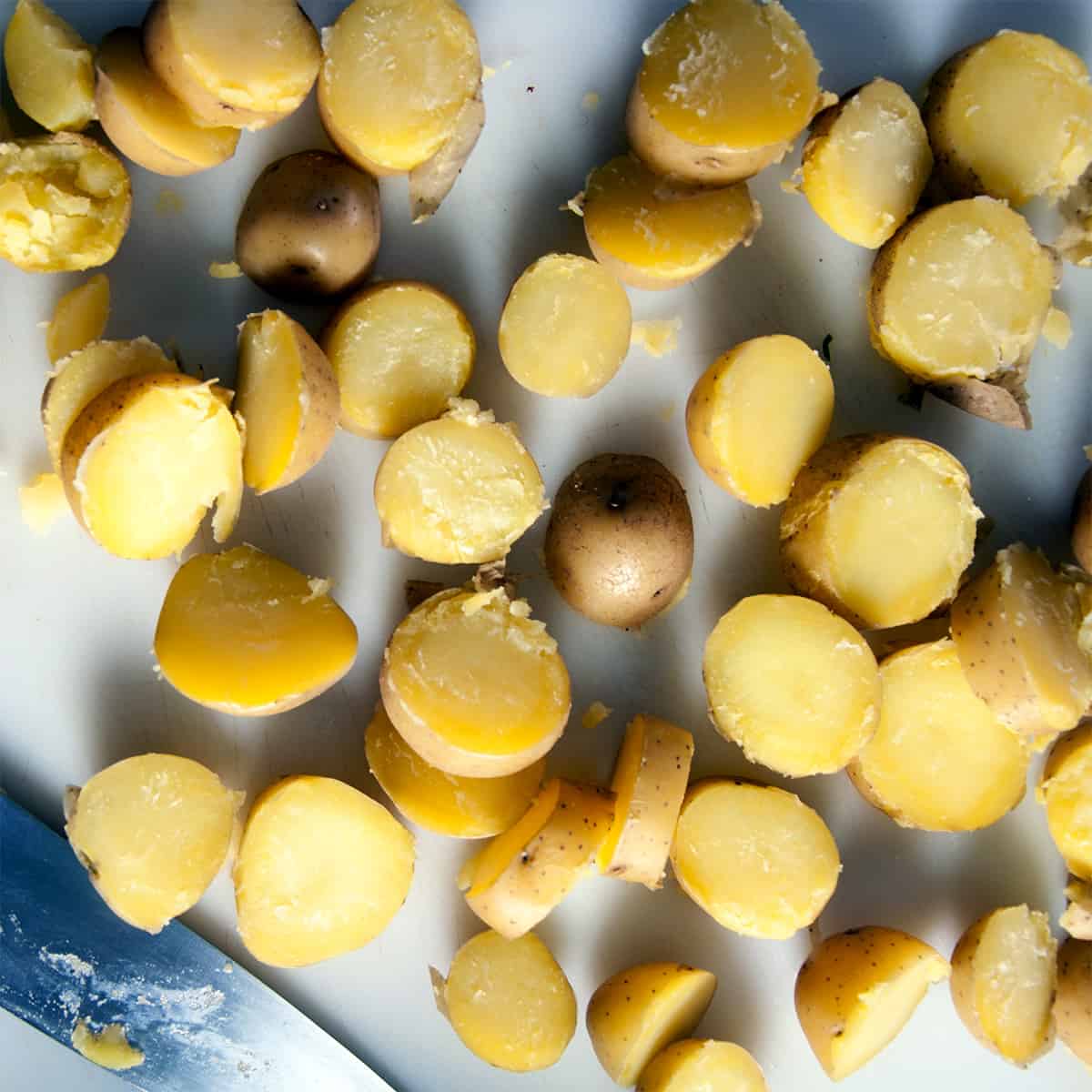 🤷 Substitutions and variations
Every great recipe has room for a little personal flair, and our Kartoffelsalat is no exception. If Yukon Golds are playing hard to get, don't fret; feel free to flirt with another potato variety that catches your eye.
For those wanting a twist on the traditional, consider swapping the white vinegar for apple cider vinegar for a fruity zing. And if bacon's not your groove, smoked tofu or tempeh bits can jazz things up, offering a vegetarian spin without missing out on that smoky allure.
Dijon mustard is our heartthrob here, but hey, life's all about choices. If you've got another mustard variant whispering sweet nothings from your pantry, let it shine. Play, experiment, and make this Kartoffelsalat dance to your culinary beat!
📦 Storage
Keeping our Kartoffelsalat fresh is like preserving a piece of culinary art. For best results, transfer it to an airtight container, ensuring every bit of its flavor is locked in and ready for round two.
If stored in the refrigerator, this salad will keep cool and remain delicious for 3-4 days. Just be sure it's fully chilled before storing, as this helps the flavors meld and deepen.
Freezing isn't recommended. Potatoes can get a tad grainy post-freeze, and we want every encounter with Kartoffelsalat to be nothing short of perfection!
🎓 History tidbit
Potatoes originated in South America and were brought to the shores of Europe in the 16th century. It wasn't until the mid-1700s that they were widely accepted as a crop. Originally, there was a lot of skepticism of the 'devil's apple', as it was a part of the nightshade family. The history of the potato is pretty interesting!

Well, because it grew below ground, pillagers were less likely to take this crop, which garnered some adoption in the area that is now Germany. Also, add in some famines, and the crop became popular in many dishes, including popular German dishes.

As German's migrated to the Americas in the 1800s and 1900s, they brought these recipes back to the states. We love our traditions and German Potato Salad, or Kartoffelsalat, persisted to the recipe that is served today.
❓ FAQ
What's the difference between German potato salad and the typical American version?
German potato salad, or Kartoffelsalat, usually doesn't feature mayo. Instead, it often has a tangier base with vinegar, mustard, and sometimes beef broth, accompanied by bacon bits and onions. The American counterpart tends to be creamier, thanks to the mayo or mustard-mayo blend.
Why Dijon mustard? Can't I use any mustard?
Dijon mustard offers a distinct and sharp flavor that beautifully contrasts with the potato's mildness. While it's a traditional choice for Kartoffelsalat, you can certainly experiment with other mustards. Just keep in mind that each variant will bring its own flavor profile, altering the salad's overall taste.
Can I add other ingredients to my Kartoffelsalat?
The beauty of this dish lies in its adaptability. While the classic recipe has its own charm, feel free to get creative. Some folks like adding hard-boiled eggs, pickles, or even a dash of fresh dill. Remember, cooking is all about personal expression!
📝 Tips and tricks
I recommend Yukon Gold Potatoes, but any potato should work.
Dijon Mustard is a flavor driving ingredient, so choose one that you really like.
Allow the potatoes to cool a bit before you cut and mix.
This dish can be served hot or cold, but I prefer cold the best. Do what you like.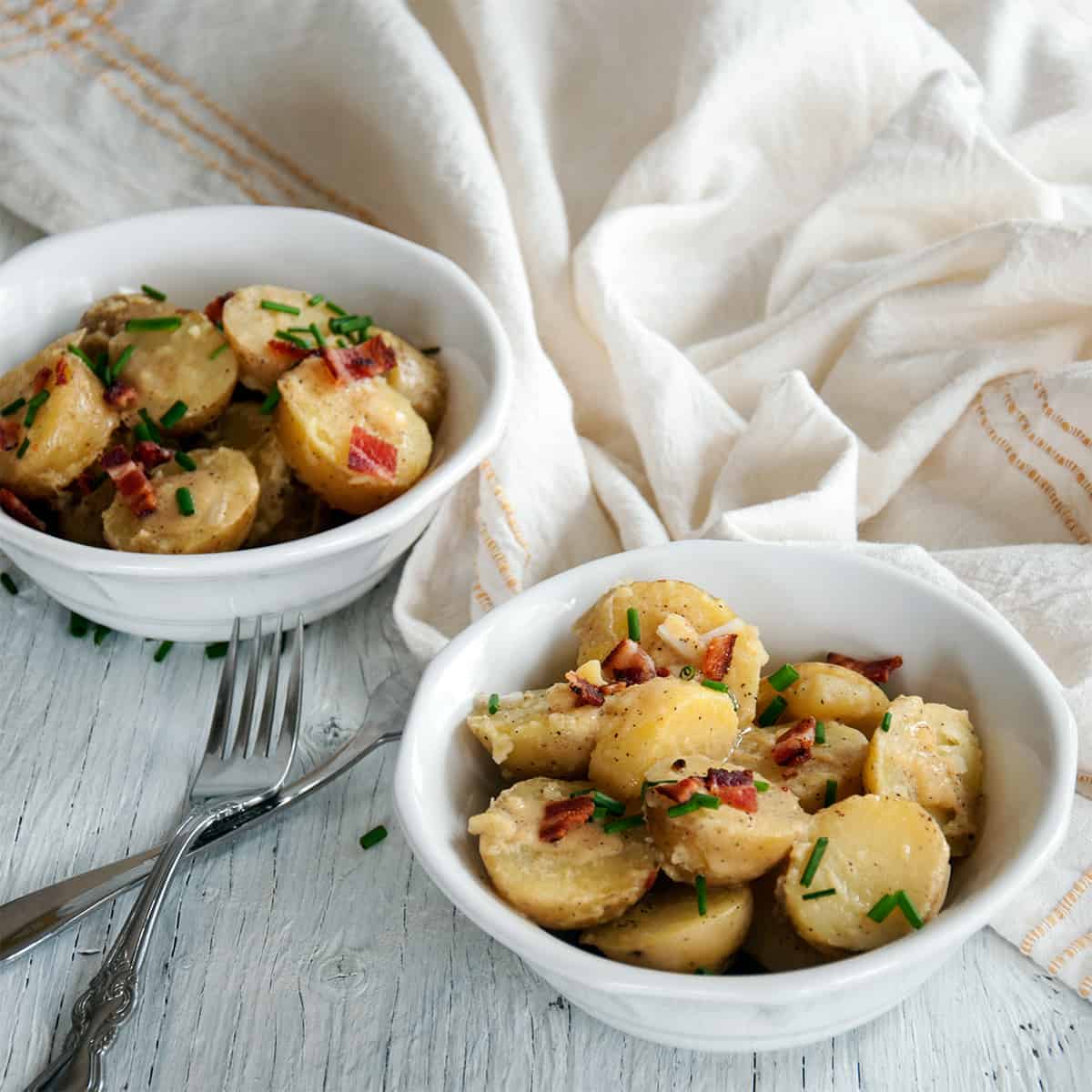 🛠 Products used in this recipe
😋 Did you make this recipe?
That is awesome, and thank you so much for giving this German Potato Salad (Kartoffelsalat) recipe a try. If you could leave a rating in the comment area below, it would be greatly appreciated. This lets me know how I am doing and also helps others decide if they want to make this recipe. Most of all, thanks for visiting Ramshackle Pantry.
Print
📖 Recipe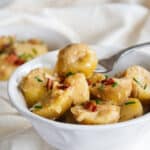 German Potato Salad - Kartoffelsalat
Author:

Ben Myhre

Prep Time:

1 hour 35 minutes

Cook Time:

25 minutes

Total Time:

2 hours

Yield:

4

servings

1

x

Category:

Side Dish

Method:

Simmer

Cuisine:

German
---
Description
An easy to make traditional German Potato Salad. This Kartoffelsalat is a dijon and vinegar side dish that is perfect for a potluck, the holidays, or some nummy at-home comfort food.
---
2

pounds

Yukon potatoes, medium rinsed off and optionally peeled

1 Tablespoon

White Sugar

¼

beef cup broth

2 Tablespoons

white vinegar

2 Tablespoons

vegetable oil

2 Tablespoons

dijon mustard

½ teaspoon

salt

½ teaspoon

pepper

¼

cup

diced white or yellow onion

4

slices of bacon cut into bacon bits

2 Tablespoons

chopped chives
---
Instructions
Simmer potatoes in salted water for 25 minutes or until tender enough to easily put fork through
Add all wet ingredients and sugar to large bowl and whisk
Add diced onions
Drain potatoes
Allow to cool for 5-10 minutes
Cut potatoes into 1-inch sections
Mix into wet ingredients
Gently Toss potatoes so well mixed into liquid
If serving cold, place in fridge, covered, and allow to cool for at least one hour, but preferably over night. If warm, continue.
When ready to serve, top with bacon and chives
---
Notes
I recommend Yukon Gold Potatoes, but any potato should work.
Dijon Mustard is a flavor driving ingredient, so choose one that you really like.
Allow the potatoes to cool a bit before you cut and mix.
This dish can be served hot or cold, but I prefer cold the best. Do what you like.
Nutrition
Serving Size:

¼ dish

Calories:

298

Sugar:

5 g

Sodium:

598 mg

Fat:

11 g

Saturated Fat:

2 g

Unsaturated Fat:

7 g

Trans Fat:

0

Carbohydrates:

44 g

Fiber:

3 g

Protein:

7 g

Cholesterol:

0 mg
Keywords: German Potato Salad