This Classic Cauliflower Au Gratin is a simple and cheesy delicious side dish. Turn a simple cauliflower into a special casserole with loads of flavor using a traditional French Mornay sauce.
Learning to make a great Au Gratin is essential for any home cook. This recipe gets you on the right track with our Classic Cauliflower Au Gratin recipe.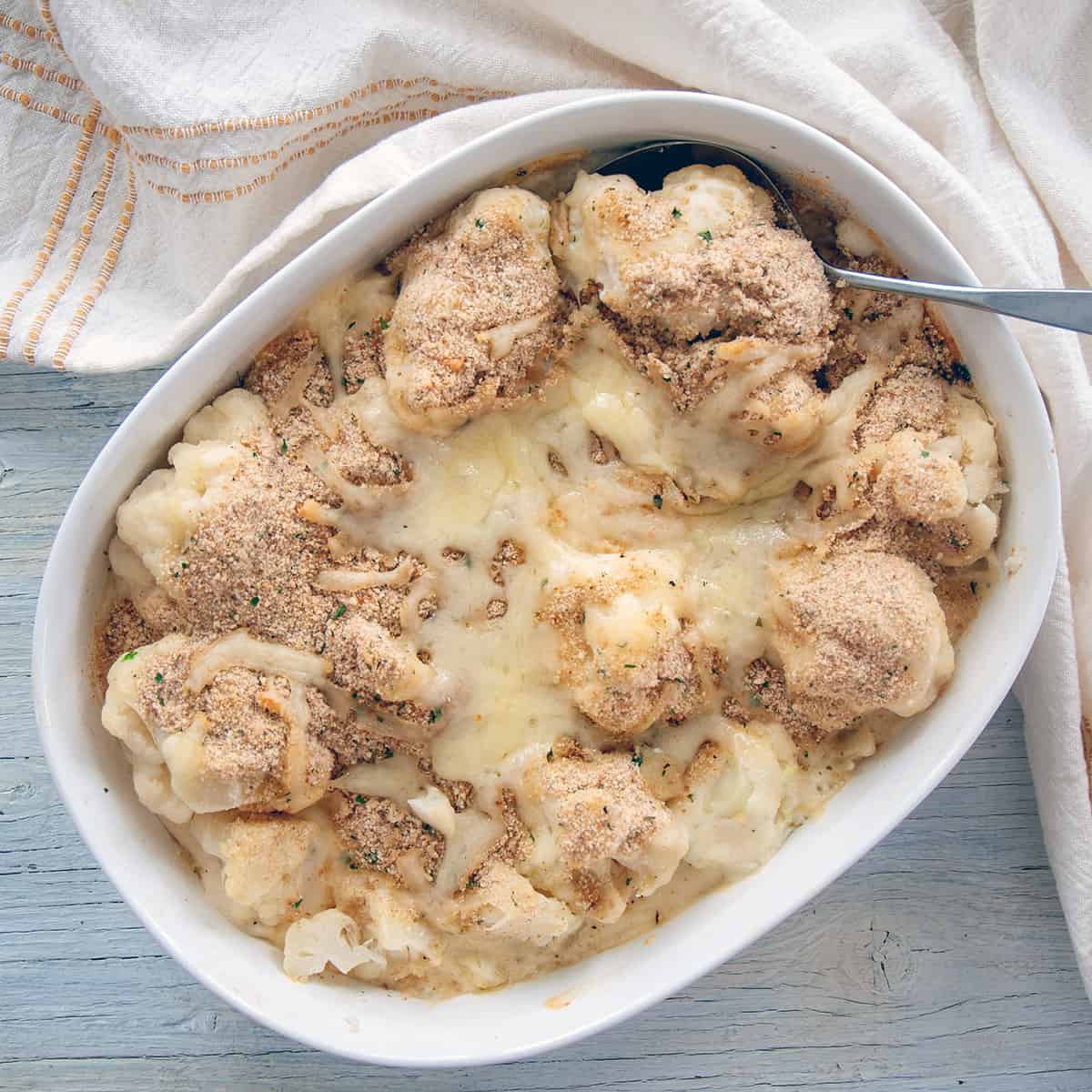 👨‍🍳 What makes this recipe special?
This really is a fancy French dish, but don't let that scare you. Despite the fanciness, it is cheesy vegetables that taste incredible. This recipe is welcome at the most ornate dinner to an average weeknight meal.
Oh, and it tastes great! Whether you are looking for a great dinner side or a side dish for your holiday meal, this will fit the bill. This recipe walks you through making a great mornay sauce and putting this tasty side dish today.
This would be a great side dish for a main dish like Sous Vide Prime Rib or this Grilled Chicken Legs with Yogurt Mint Marinade recipe. Other side dishes that would go well with this are this Crab Pasta Salad or German Potato Salad recipe. No matter what you make, make sure to treat yourself!
Jump to:
🧀 Ingredients
Cauliflower is the star of this recipe, but other ingredients are needed to pull it all together. Here is what you will need:
Cauliflower
Butter
All-purpose flour
Whole Milk
Swiss cheese
Salt & Pepper
Cayenne pepper
Italian Bread Crumbs
See the recipe card for quantities.
It Is A Casserole
This is a cauliflower casserole, and we have written about casseroles and hot dishes before. I enjoy discussing the differences between hotdish and casserole.
As a Midwesterner, hotdish is definitely part of our food culture. They share the same space as a casserole, but there can be a difference. You are going to have to read my article for more information.
🍲 Instructions
This is an easy recipe. It can really be summarized in four steps.
First, we cook the cauliflower, which is really as simple as boiling a head of cauliflower for a while. Then, we make the mornay sauce, which can be done while the cauliflower is cooking. Mornay sauce might sound fancy, but it really isn't a big deal.
Third, cut the cauliflower and assemble the ingredient. Since we have already made the Mornay sauce and cooked the cauliflower, this is just mixing our sauce with cheese and then topping it off with bread crumbs and more cheese.
Finally, bake the stuff! It is a simple dish and does not take many steps to complete.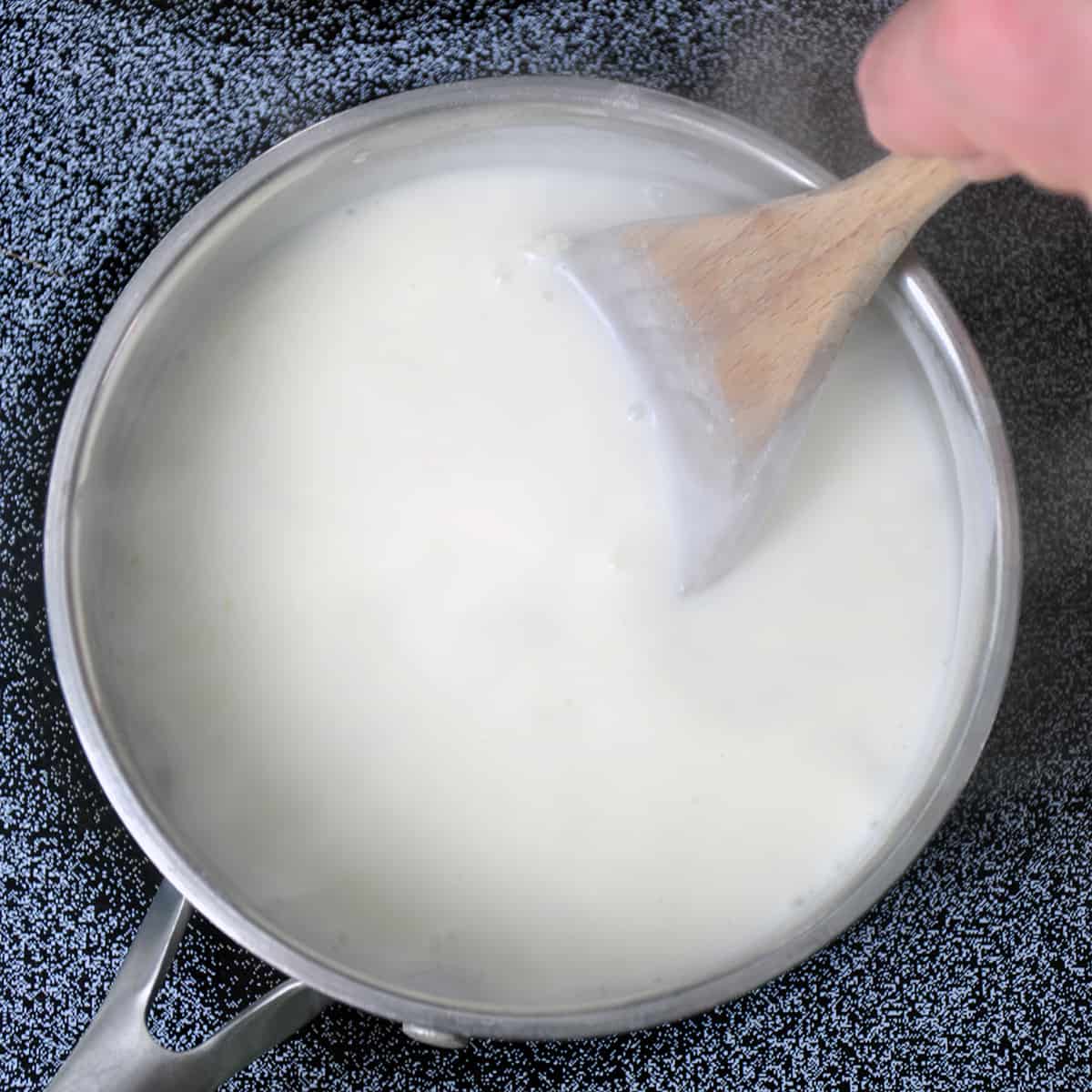 Boiling the Cauliflower
I boil the whole head of cauliflower but do prep it just a bit. I cut off all the leaves and compost them OR save them for my dog as a treat. She loves em!
Make sure that you are using a pot that is big enough to contain your whole cauliflower. Additionally, make sure you leave enough room in your pot to comfortably boil and won't overflow.
Once the water reaches a soft boil, I add the cauliflower and let it cook for about 15 minutes or until it is tender. I test its tenderness by just poking it with a fork. It is done if the fork goes through somewhat easily and with little resistance.
When the cauliflower is done, I remove it and allow it to cool until it can be handled. It will be hot, so you must let it sit for about five minutes or run it under cold water.
Mornay Sauce
Mornay Sauce is a classic French sauce. We start with a bechamel sauce, one of the five classic mother sauces.
Then, we add in Swiss Cheese. Some versions of Mornay sauce include parmesan and/or gruyere, but we are just sticking with Swiss. In addition, we add a pinch of pepper and cayenne to the mix just for a put of pop.
The thing about learning sauces like this is that they can be used for so much more than any individual dish. Even this Mornay sauce from this recipe could be translated to many other 'au gratin' recipes.
You could try broccoli or potato or really whatever enters your imagination. This really is a great homemade cheese sauce that can be used in other recipes.
You can use Swiss cheese, as we do in this recipe, and you can also experiment with other cheese. Mornay traditionally can include gruyere cheese and parmesan, but that shouldn't limit you. Sharp cheddar, pepper jack, or any meltable cheese is worth experimenting with.
Learning to create the bechamel sauce will also open up windows for you. Many cooking options open up as soon as you know how to make a bechamel sauce. Boxed dinners like Hamburger Helper or Mac n Cheese might start looking crazy because of just how easy making sauces can be.
🤷 Substitutions and variations
There are a few ways that this can be changed up.
Milk - I use whole milk, but 2%, skim, or heavy cream can also be used with varying results.
Cayenne - Try different spices or if you want this to have a bit more kick, use more cayenne!
Broccoli - add some cooked broccoli to the mix
Baked ham - some baked ham would go well with this recipe!
📦 Storage
If you have leftover cauliflower au gratin that you want to store, allow it to cool to room temperature before storing it in an airtight container. You can store it in the refrigerator for up to 3-4 days.
If you want to store it for longer, you can freeze it. First, let it cool to room temperature, then transfer it to an airtight container or freezer bag, removing as much air as possible. Label the container with the date and store it in the freezer for up to 3 months.
When you are ready to eat the stored cauliflower au gratin, you can reheat the thawed au gratin in the oven at 350° Fahrenheit for 15-20 minutes until it is heated. Alternatively, you can reheat it in the microwave but stir it occasionally to ensure even heating.
🎓 History tidbit
"Au gratin" is a French culinary term that means "with gratings" or "with crust," which refers to a dish that is topped with a crispy layer of cheese or breadcrumbs. The technique of preparing dishes, "au gratin," has been around for centuries and has its roots in French cuisine.
The earliest known reference to a dish prepared, "au gratin," is found in a French cookbook from the early 17th century. However, it wasn't until the 18th century that the term "au gratin" began to be commonly used to describe dishes topped with cheese or breadcrumbs and baked until golden brown and crispy.
In the early days, "au gratin" dishes were considered a luxury because cheese was expensive and difficult to obtain. As cheese became more widely available and affordable in the 19th century, "au gratin" dishes became more popular. They began to appear on menus in restaurants and in the homes of ordinary people.
❓ FAQ
What is cauliflower au gratin?
Cauliflower au gratin is a dish made with cauliflower that has been cooked until tender, then baked in a creamy cheese sauce and topped with breadcrumbs and more cheese.
What kind of cheese is typically used in cauliflower au gratin?
Common cheese used in cauliflower au gratin are Gruyere and Swiss Cheese, but other types of cheese such as cheddar, Parmesan cheese, or a combination of cheeses can also be used.
📝 Tips and tricks
Remove the leaves before you boil the cauliflower. Your dog might like them as a treat. 🙂
Use quality breadcrumbs for the best result
Layer your sauce in the casserole dish. Mornay sauce, the cauliflower, more mornay sauce.
Bake until heated and cheese on top looks nice and melted. About 25 minutes.
🛠 Products used in this recipe
😋 Did you make this recipe?
That is awesome, and thank you so much for giving this Cauliflower Au Gratin recipe a try. If you could leave a rating in the comment area below, it would be greatly appreciated. This lets me know how I am doing and also helps others decide if they want to make this recipe. Most of all, thanks for visiting Ramshackle Pantry.
Print
📖 Recipe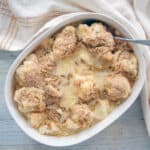 Classic Cauliflower Au Gratin Recipe
Author:

Ben Myhre

Prep Time:

10 minutes

Cook Time:

1 hour

Total Time:

1 hour 10 minutes

Yield:

4

Servings

1

x

Category:

Casserole

Method:

Baking

Cuisine:

French
---
Description
This Cauliflower Au Gratin is a classic, tasty, and simple casserole dish. It is great for any holiday or just a dinner side where you want something special.
---
1

whole cauliflower, cleaned and green leaves removed

2 tablespoon

butter

3 tablespoon

flour

2

cups

milk

3

ounces

(about 1.5 cups) Shredded Swiss cheese

½ teaspoon

salt

¼ teaspoon

pepper

¼ teaspoon

cayenne

½

cup

Italian Bread Crumbs
---
Instructions
Preheat oven to 375° Fahrenheit
Fill a large pot full of water and bring to a soft boil
Add Cauliflower and cook for 15 minutes or until tender when you put a fork in it.
Remove from hot water and as soon as cauliflower is cool enough to handle, cut florets into bite sized pieces.
In sauce pan, heat butter on medium heat until melted
Add flour to butter and mix. It will appear like a thick paste.
Slowly add milk and stir well. The goal is to integrate the butter, flour mixture with the milk. Turn heat up to medium-high.
Heat and stir until sauce thickens. Continue stirring until sauce starts to thicken.
Once thickened add half of the cheese and mix. Remove from heat and continue to mix for a minute to ensure dairy doesn't scald.
Add salt, pepper, and cayenne to sauce.
In casserole dish, add ⅓ sauce, cauliflower, and then the rest of the sauce, ensuring to cover all florets.
Spread breadcrumbs evenly over top.
Spread remaining cheese evenly over top.
Bake in oven for 40 minutes.
Remove from Oven and Serve.
---
Notes
Remove the leaves before you boil the cauliflower. Your dog might like them as a treat. 🙂
Use quality bread crumbs for the best result
Layer your sauce in the casserole dish. Mornay sauce, the cauliflower, more mornay sauce.
Bake until heated and cheese on top looks nice and melted. About 25 minutes.
Nutrition
Serving Size:

¼ of total made

Calories:

295 kcal

Sugar:

11 g

Sodium:

558 mg

Fat:

15 g

Saturated Fat:

9 g

Unsaturated Fat:

4 g

Trans Fat:

0 g

Carbohydrates:

27 g

Fiber:

5 g

Protein:

16 g

Cholesterol:

35 mg
Keywords: Cauliflower Aug Gratin