This post may contain affiliate links. As an Amazon Associate I earn from qualifying purchases. Please read our disclosure policy.
The Dark 'N Stormy might bring a happy and sunny day to you very soon. I know this delicious classic cocktail puts a smile on my face every time. This simple drink has the sweet, distinct flavor of Goslings Dark Rum and a snap of peppery ginger beer. Round out this cocktail with a splash of fresh lime juice, and you have a beautiful Dark 'N' Stormy. Despite the name, this tasty drink will have you smooth sailing with flavor.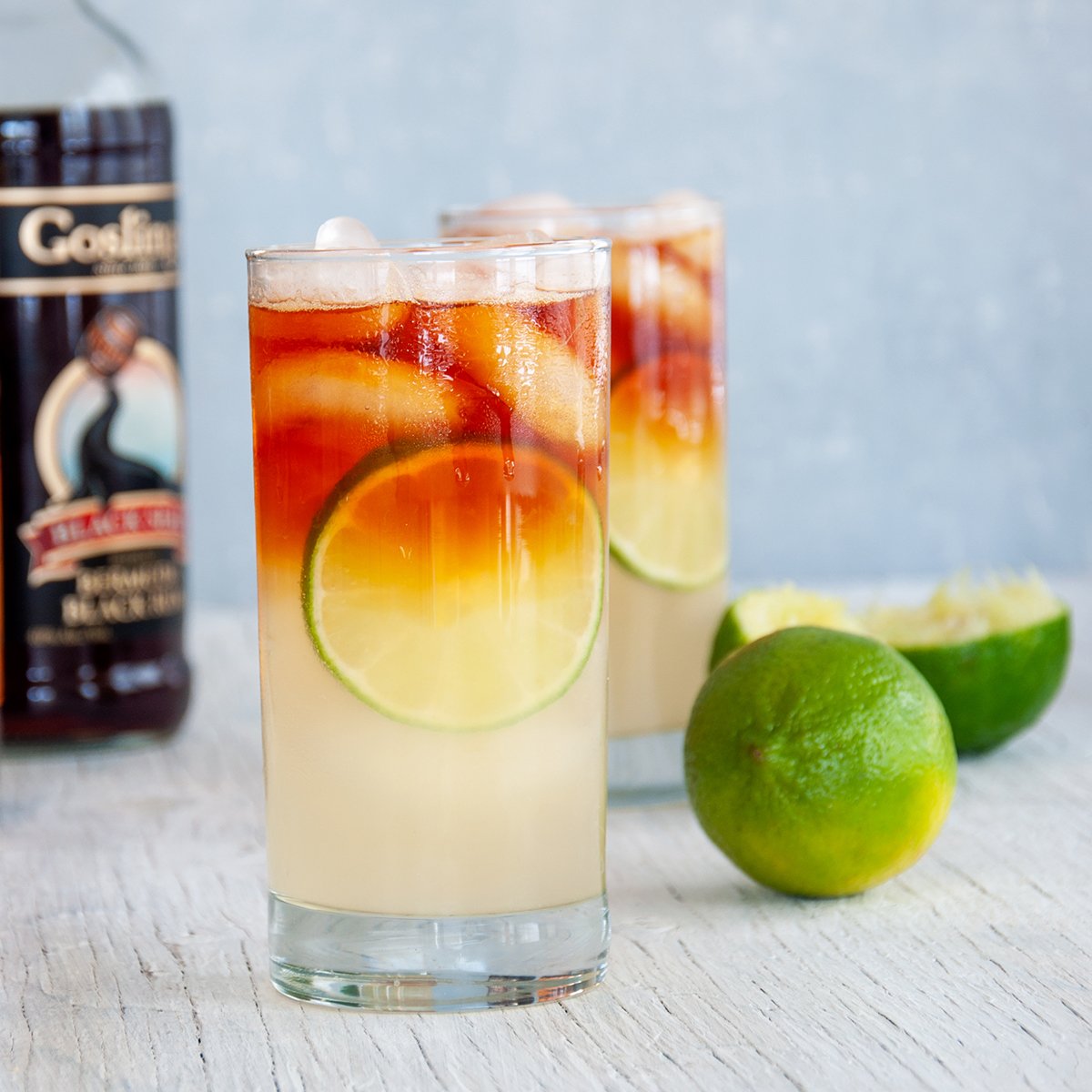 Dark 'N Stormy Cocktail Summary
A super simple cocktail that we don't even use a shaker for. We add the ingredients to an ice-filled highball glass and then mix. For this particular drink, we might even be a little lackadaisical on the mixing. If you add the rum as the last ingredient, you can get a nice little visual effect that is reminiscent of rolling clouds coming in. It gives a very Dark 'N Stormy feel. Get it?
If you layer the dark rum, you will want to serve it with a metal cocktail straw or something that can stir the drink. Otherwise, your drinker is going to be drinking all of the rum first. Not that this is a terrible thing, but most people don't like a sip of straight rum. You and I aren't like most people, are we?
Otherwise, we just use our cocktail stirring spoon and just mix it right up to even out all of the ingredients. The visual effect is very nice but can be a distraction, particularly if the drinker takes a big swig of straight rum. A bit of lime is an excellent garnish for this cocktail, as it's juice is in the drink. This three-ingredient cocktail is ready to go as simple as that!
It's Like a Moscow Mule, But Different
This drink sure is like a Moscow Mule, but it is likely that the Dark 'N Stormy predates the mule considerably. The big difference between the two drinks in the spirit that is used. A traditional Moscow Mule uses vodka and this uses rum.
Vodka was not a popular spirit in North America until after World War II. We previously wrote about the history of the Moscow Mule and that drink was really a tough sell in bars at the time. Folks, including bartenders, thought that vodka caused all sorts of problems and there was a big stigma with it.
Rum, however, is basically native to the Carribean and really a common spirit in North America throughout our history here. In our article on the Early History of Rum, it details how rum started being made in the 1600s in the Carribean and then was proliferated around the world from that point.
The Moscow Mule also is traditionally served with a copper cup, while this drink is served in a highball glass. If you read my Moscow Mule history article, you can get the full story on the copper mug, but the summary is that it just came down to who was in the room. A person who owned a copper mine was in the room when this happened.
It seemed like a reasonable marketing ploy to them, so they started serving this drink with a copper mug. We don't have that with a Dark 'N Stormy, nor was the drink conceived in such a blatant marketing ploy as the Mule. Both are great drinks and today we are focusing on the dark rum Dark 'n Stormy
The History of the Dark 'n Stormy
Goslings claims the creation of the drink and has a trademark on the name 'Dark 'n Stormy'. Often, with cocktail history, there is a big obstacle with truth on claims of creating the first drink of it's kind. While there certainly is some room for error, I think the Goslings claim seems pretty legit.
They have been distilling since 1806 and their headquarters are in Bermuda. They would have been in a location where Ginger Beer and dark rum were common. The claim from Goslings is that this cocktail was created just after WWI. This would be at a time when both Ginger Beer and Rum would have enjoyed popularity in the region.
Ginger Beer
Ginger beer has been around for a long time as well. In fact, much longer than rum. Like sugarcane, ginger was transported into the Carribean and started being grown in the region. While ginger was grown in North America and the Carribean, the majority if ginger beer still was imported from England. According to Michigan State University, this is because of the superior bottling material and processes.
The Weakening of Ginger Beer
Ginger beer used to be as strong, if not stronger than, normal beer, but government regulation changed that. In the mid-1800s, England put an export tax on beverages with more than 2% alcohol content. This curbed the export and consumption.
In the 1900s, the prohibition in the USA further impacted ginger beer sales and ginger ale became more prominent. We discussed the differences between ginger ale and ginger beer in our Moscow Mule series.
Today, most ginger beer is still weaker in alcohol content, but there is plenty of variety. For the Moscow Mule, we like Cock 'n Bull, as it was literally part of the founding. Today, Goslings create their own ginger beer, which is an excellent complement to the Goslings Black Seal Dark Rum that goes in the drink.
I am a little more open about the ginger beer I use in this cocktail. I say use what you got! If you have Goslings Ginger beer, us that. Cock 'n Bull would be a great choice for this, as well. I have been quite fond of Bundaburg's ginger beer in the past. For this drink, however, I am using Goslings Ginger Beer.
Dark 'N Stormy Cocktail Tips
Use Goslings Dark Seal Rum for an authentic (and legal) drink
Layer the rum on top of the drink to get a pretty effect that resembles a storm. If you do this, make sure to either stir it in front of your guest or provide a stick/spoon to stir your drink.
Goslings also has a ginger beer, but use whatever you have.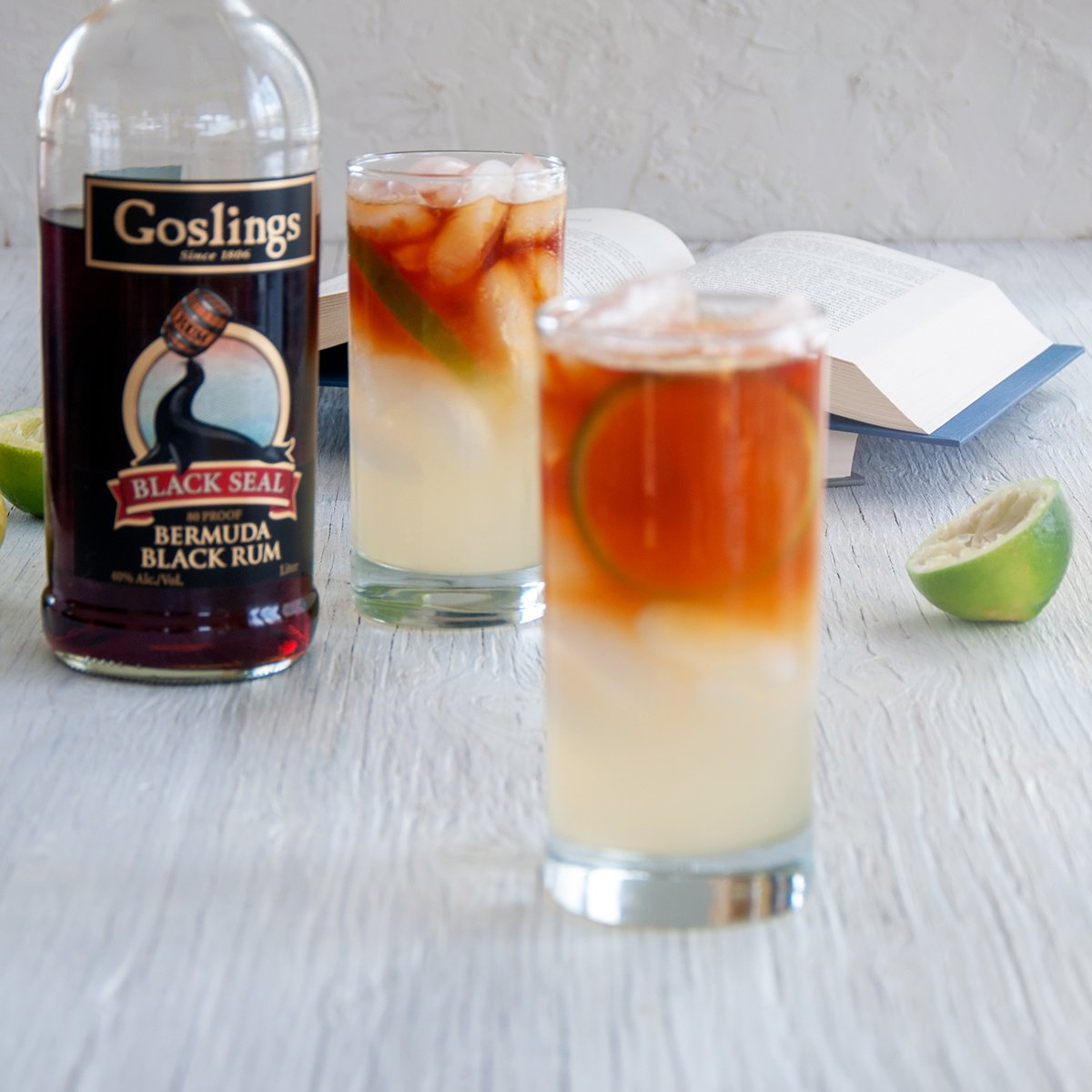 Products I Used In This Recipe
Did You Make This Recipe?
It is a keeper, isn't it? The Dark 'n Stormy is a classic cocktail that should be under the belt of every home bartender. This simple and tasty cousin of the Moscow Mule is great and I want to know what you think about it. What are your experiences? Rate this recipe and drop me a comment. If you like it, you could do me a real solid by sharing this on Facebook and Pinterest. To get email updates, make sure to sign up!
Print
Classic Dark 'N Stormy Cocktail
Author:

Ben Myhre

Prep Time:

2 minutes

Cook Time:

2 minutes

Total Time:

4 minutes

Yield:

1

cocktail

1

x

Category:

Cocktail

Method:

Stir

Cuisine:

Tropical
---
Description
This Classic Dark 'N Stormy Cocktail is like the Moscow Mule's older cousin and a delicious drink. Ginger, dark rum, and lime combine all together to make a beautiful and tasty drink.
---
1 Ounce

Lime Juice (about

1

lime)

2 Ounces

Goslings Black Seal Rum
Ginger Beer to fill (about 4 ounces)
---
Instructions
Fill highball glass with ice
Add Lime Juice and Ginger Beer, but leave about 2 ounces of space on the top
Layer Dark Rum on top
Stir or serve with straw/spoon to allow drinker to mix.
---
Notes
Use Goslings Dark Seal Rum for an authentic (and legal) drink
Layer the rum on top of the drink to get a pretty effect that resembles a storm. If you do this, make sure to either stir it in front of your guest or provide a stick/spoon to stir your drink.
Goslings also have a ginger beer, but use whatever you have.
---
Nutrition
Serving Size:

1

Calories:

147

Sugar:

10 g

Sodium:

0 mg

Fat:

0 g

Saturated Fat:

0 g

Unsaturated Fat:

0 g

Trans Fat:

0 g

Carbohydrates:

37 g

Fiber:

0 g

Protein:

0 g

Cholesterol:

0 mg
Keywords: Dark 'N Stormy Cocktial