This post may contain affiliate links. As an Amazon Associate I earn from qualifying purchases. Please read our disclosure policy.
If you are into dessert salads, Cool Whip, and a tasty holiday flavors, you should give this Frog-Eye Salad a try. While there are absolutely no frogs in this traditional Thanksgiving dessert recipe, there is a whole lot of sweet flavor. It is an easy dessert to put together and perfect for a pot luck, holiday dessert, or just a nummy treat for your family. Give our No Egg Frog-Eye Salad a try today.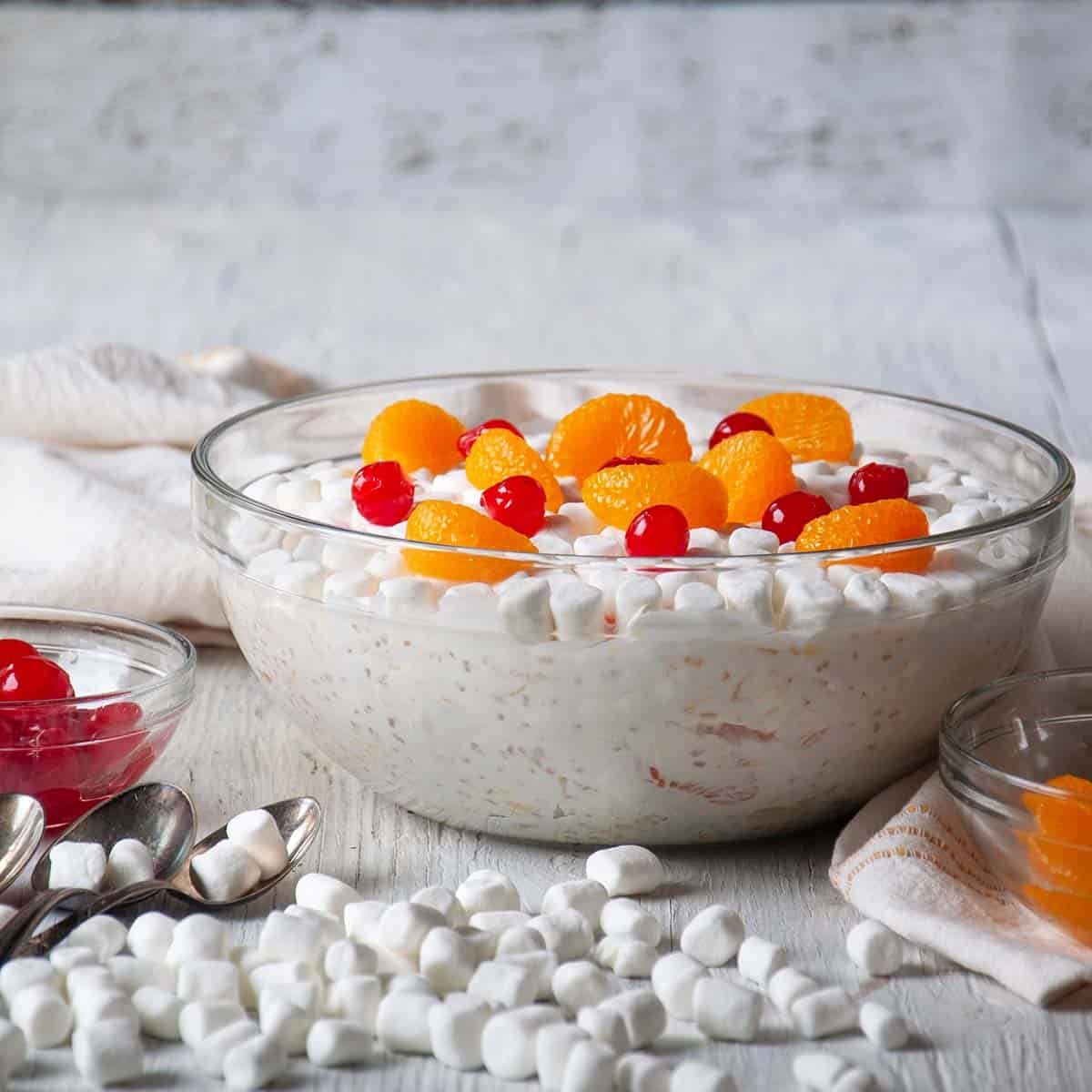 Frog-Eye Salad Summary
First, I think we first need to address the elephant (or maybe frog) in the room. There are no frog eyes in this recipe or frogs at all. The name refers to the shape of the pasta used in this recipe.
What is Acini Di Pepe and Why Is it Called Frog-Eye?
Acini Di Pepe is a type of pasta, and the name literally translates to "seeds of a pepper." There is also no pepper in this recipe, but they are tiny like seeds and might resemble the shape of frog eyes. This is called Frog-Eye salad because of the shape of the pasta.
The pasta, however, is used and really makes this a fun dessert recipe that might be considered a cousin of Glorified Rice if you have ever had that. Cooking this pasta is the only time your burner turns on for this recipe.
Once the pasta is cooked, rinsed, and cooled, it is mixed with pineapple, canned mandarin oranges, and Cool Whip. After mixing, we allow this mixture to cool in the refrigerator for a bit.
After cooled, it is as simple as topping with marshmallows and optionally any maraschino cherries or extra tangerine segments you might have. Extra fruit can be used to help it look pretty.
What Makes This Recipe Special?
This is a great recipe for any holiday. It is easy to put together and is a sweet treat. If you and your guests can appreciate a good Midwest or Mormon sweet salad, this is a good one for you.
Usually, I like making things from scratch, but I prefer to use the ingredients that it demands with a recipe like this. While I love homemade whipped cream, I use Cool Whip for this recipe.
Marshmallows are always store-bought and canned fruit is the ingredient to use in this recipe. Topping with neon red maraschino cherries adds a pop of color that makes it look spectacular. This starts to get somewhat close to our Snickers Salad recipe, but a different set of colors, textures, and flavors.
Allow Mixture to Cool Before Topping with Marshmallows
Place the dish in your fridge once you mix the pasta with the whipped cream, pineapple, and tangerine segments. I allow this to cool for at least an hour and up to overnight. This gives time for the flavors to meld together and also for everything to solidify.
Once you pull it out of the refrigerator, add marshmallows to the top and any fruit you want to make the dish look pretty. I like a few extra tangerine segments and a few maraschino cherries to top this off.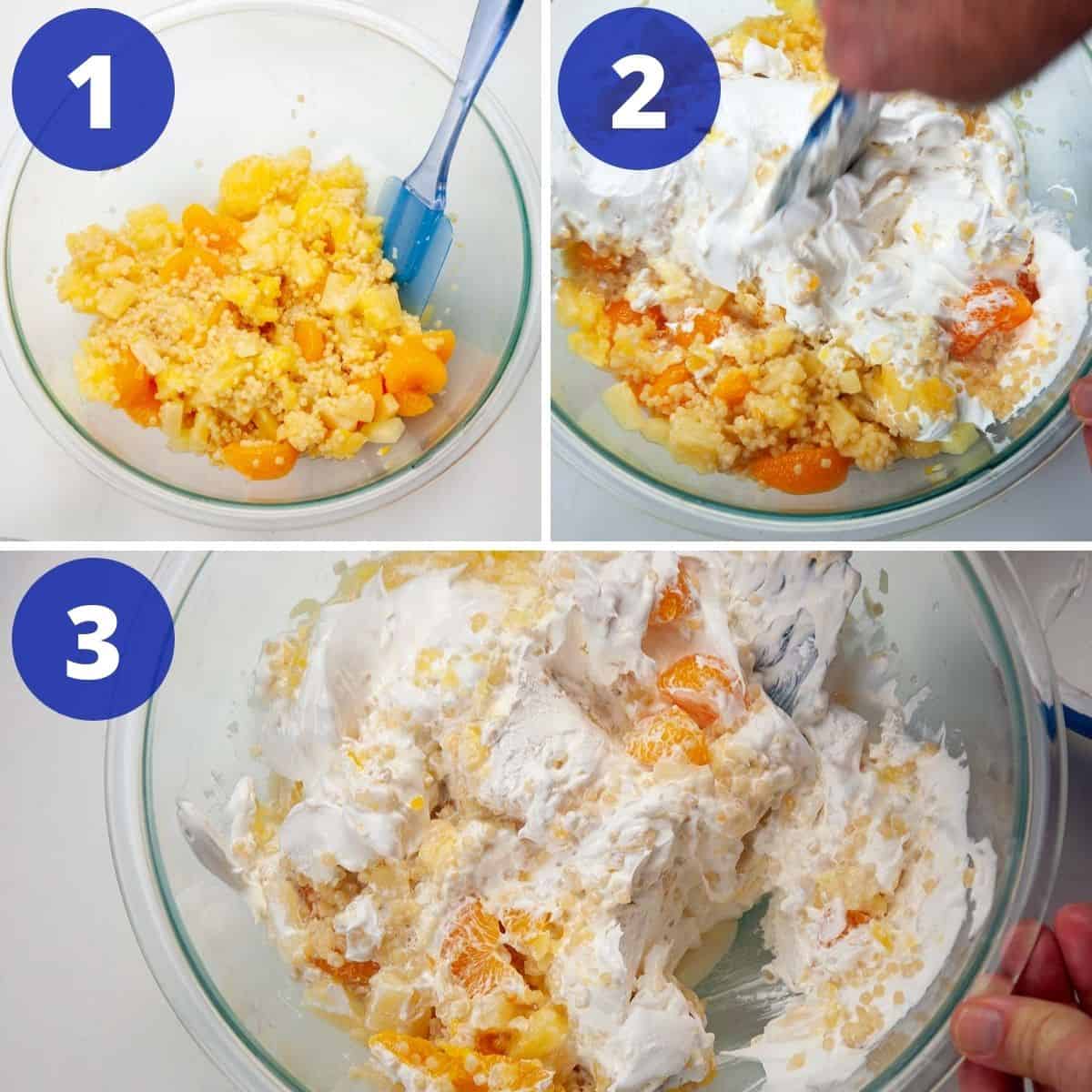 Where are the eggs?
You will often find recipes with an egg custard or even raw eggs. I am omitting eggs from this recipe.
Close to Glorified Rice
If you are from the upper midwest or are a connoisseur of dessert salads, you may recognize some of these flavors. For me, this is close to a recipe I grew up with, Glorified Rice.
As the name implies, that uses rice instead of acini di pepe and some of the same sweet ingredients. The similarities are so close that I couldn't help but note them. If you like Glorified Rice, you will likely enjoy this dish.
History Of Frog-Eye Salad
This was a tough one to nail down, but the earliest mention I found was from what appears to be a religious book dated to 1986. I found a more concrete mention from a 1992 book named Roadfood that specifically names the dish and describes it similarly to my recipe.
That it is mentioned in a religious book is not surprising for a few different reasons. The first I saw of this recipe was in a church cookbook. Second, Wikipedia describes this recipe as having origins in Mormonism circles. Mormons have a tradition of dessert salads and recipes along the lines of a Frog-Eye Salad.
I think one thing that helps narrow down the history of this recipe and many whipped cream-based salads is Cool Whip. Cool Whip was invented in 1966, and one of the big advantages of this product is that it could be frozen. No longer did folks have to make homemade whipped cream, and it was as simple as taking a package out of the freezer.
Cool Whip's popularity took hold in the US, so did a plethora of whipped cream desserts and dessert salads. I can't say that Frog-Eye salad didn't exist before Cool Whip, but there is a reasonable chance that it really started to take hold in the 70s and 80s as the use of Cool Whip became commonplace.
Frog-Eye Salad Recipe Tips
Dish is named this way because cooked Acini de Pepe resembles frog eyes
Make sure the pasta is cooled before mixing.
Store in refrigerator.
Marshmallows can be organized on top to your preference. This can look very pretty if some time is spent topping in a nice fashion.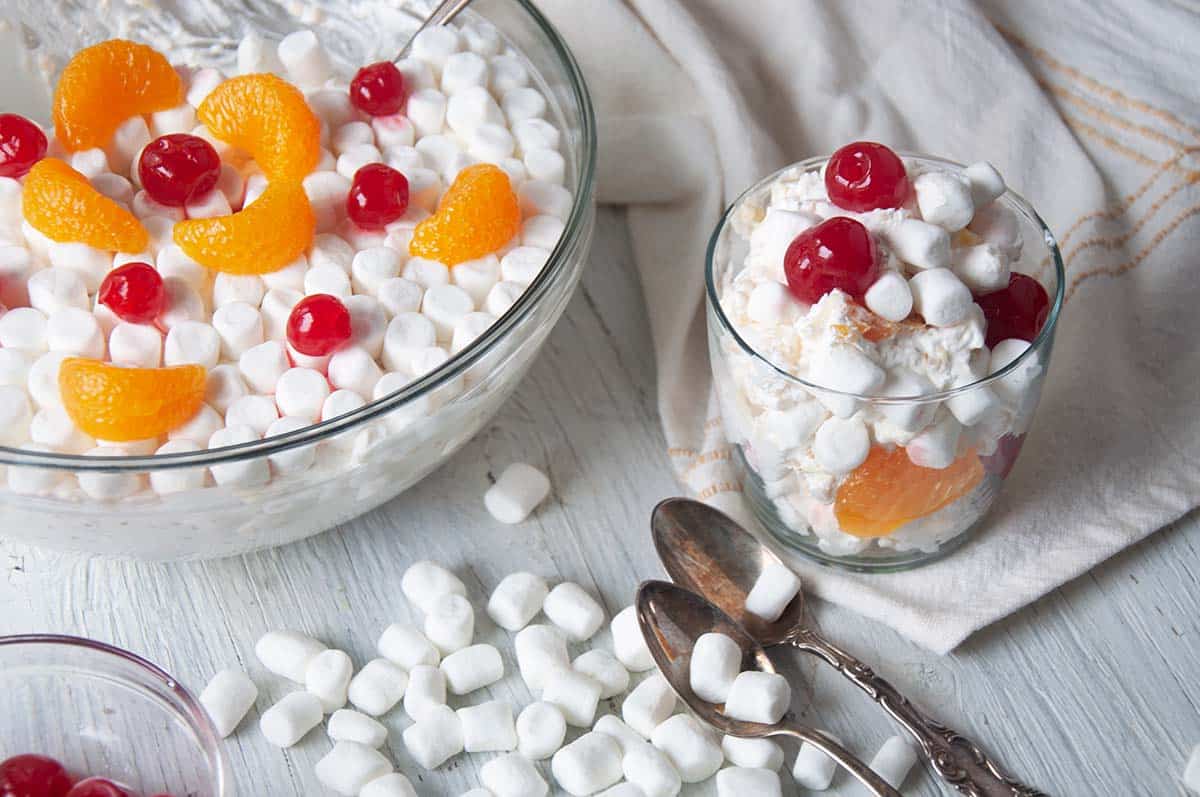 Products I Used in this Recipe
Did You Make This Recipe
I am so glad you gave it a try! If you made this, it would be really great if you could spend a few moments leaving a message and rating in the comments section below. It helps me out and also lets other visitors get a glimpse into your experience. It would be appreciated, but most of all, I appreciate you visiting Ramshackle Pantry, and I hope you check out some of our other recipes.
Print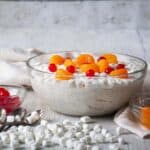 Frog-eye Salad
Author:

Ben

Prep Time:

10 minutes

Cook Time:

15 minutes

Total Time:

25 minutes

Yield:

6

Servings

1

x

Category:

Dessert

Method:

Mix

Cuisine:

American
---
Description
Frog-Eye Salad is a delicious dessert salad that has a very unique name, but I guarantee there is no frogs in it. It is all sweet flavors and acini di pepe that gives the dish its name, as it has a certain appearance. Great comfort food for the holidays and something you should try today!
---
1/2 cup

dry acini di pepe, cooked, drained, and rinsed under cool water

1

16 ounce container whipped cream, thawed

1

8 Ounce Can crushed pineapple, drained

1

8 Ounce Can pineapple tidbits, drained

1

15-Ounce can mandarin oranges (optionally, more for garnish), drained

1 cup

mini marshmallows, more if needed
Maraschino Cherries, for garnish (optional)
---
Instructions
Mix all ingredients except marshmallows and cherries (optional) to large serving dish.
Place in fridge for at least one hour and up to overnight.
Top with marshmallows, cherries (optional), and additional oranges(optional)
Serve
Notes
Dish is named this way because cooked Acini de Pepe resembles frog eyes
Make sure the pasta is cooled before mixing.
Store in refrigerator.
Marshmallows can be organized on top to your preference. This can look very pretty if some time is spent topping in a nice fashion.
---
Nutrition
Serving Size:

¾ Cup

Calories:

287 Calories

Sugar:

31 g

Sodium:

11 mg

Fat:

7 g

Saturated Fat:

4 g

Unsaturated Fat:

3 g

Carbohydrates:

53 g

Fiber:

2 g

Protein:

3 g

Cholesterol:

31 mg