HUGE flavor and a pop of color come together to make the best Frozen Strawberry Margarita. This classic deck sipper can be your today, so get your blender and your flavor pants.
We have really dug deep into the Margarita, explored some history, made an excellent traditional Margarita, and now we are going to sweeten things up with a frozen strawberry margarita. This recipe takes notes from the classic cocktail but then flips the script to make it a poolside favorite for everyone. Get your blender and sweet tooth ready for this Frozen Strawberry Margarita recipe.
Sugar vs Salt
Salt really accentuates the flavors of a traditional Margarita. It can soften any bitterness in the triple sec and brings the lime flavor forward. I think a traditional Margarita might be a bit more of a discerning drink than what I am about to present. The sweetness of this Frozen Strawberry Margarita really is a crowd pleaser. The taste of the tequila almost goes away and is mostly (not all) hidden behind the sweetness of our sugar and bold strawberry flavor.
Additionally, we are really going to candy coat this drink by rimming the glass with sugar instead of salt. I think you can use either, but my recipe calls for sugar. While this slightly moves away from the traditional Margarita, we are also here to explore and make great drinks, right?
Blend That Frozen Strawberry Margarita
I don't know why, but when I think of a margarita, I always first think of that slushy tequila drink that comes in a million flavors. Well, I did know that the traditional margarita was a bit different, but I think this notion of a frozen floofy drink was just the image the media put in my brain. Nice work, liquor marketing managers.
Honestly, I love this drink just as much as the traditional. I am not going to say it is EXACTLY the same, but I have some super summertime memories of going down to the local Stop N Go to get a Slush Puppie. This sort of variation reminds me of an adult version of a slushie.
Fresh Strawberries
Use fresh whenever possible. We have a secret spot where we can harvest wild strawberries once a year and it is a dream come true. I have been working on this drink, as well as eating them plain, as well as making a strawberry mint ice cream from our haul this year. Perhaps I should think about doing a few other infusions while the strawberries are good.
I did also make this recipe with frozen strawberries and it was a different ballgame. The end product ended up a different consistency. While you can use frozen strawberries, I would highly recommend fresh berries for this recipe!
Bad Blenders
Our blender isn't perfect. We should really buy a new one and here is a link to one I would like. Ours has been fine and lasted for a very long time, but it definitely is not perfect for blending Margaritas. I developed this recipe with that in mind and that is why I add the strawberries at the end, after the slushy mix has already been blended. If you have one of them awesome Vitamixes or anything similar, you don't have to worry about that and can just blend with all ingredients.
This truly is a tasty and great Summertime drink. Give the recipe a whirl and let me know what you think. If you like what we are doing here, please subscribe to get updates via email and follow me on Instagram!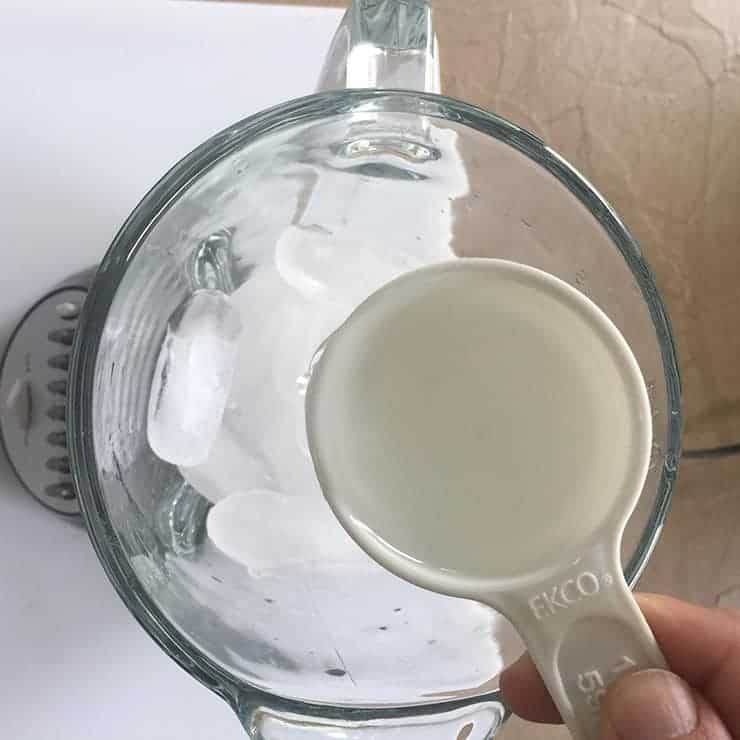 Products I Used In this Recipe
Print
The Best Frozen Strawberry Margarita
---
Author:

Ben Myhre

Prep Time:

3 minutes

Cook Time:

2 minutes

Total Time:

5 Minutes

Yield:

2

cocktails

1

x
Description
Simple, tasty, sweet and a crowd pleaser! This Frozen Strawberry Margarita is a hit for any party or just for sipping on the deck.
---
Scale
Ingredients
Sugar for rimming

2.5 cup

s of ice

4 Ounce

s tequila

2 Ounce

s Cointreau
One lime

1 Ounce

simple syrup

2 cup

s whole strawberries (tops removed)
---
Instructions
Add ice to blender
Add tequila, Cointreau, juice from lime, simple syrup to blender
Blend
Feed strawberries into a blender and blend some more. About 20 seconds or fully blended.
Using the spent lime, moisten margarita glass rim and rim with sugar
Pour contents of blender into margarita glasses
Serve
---
Category:

Cocktails

Method:

Blend

Cuisine:

Mexican
Keywords: Frozen Strawberry Margarita