Flavors of Greece come together in this super flavorful pizza... the Detroit Style Inspired Greek Pizza. So bake this tasty pizza and bring your mind to Greece.
I have been eating SO MUCH pizza lately and I almost didn't include this Detroit Style Greek Pizza in our Detroit Pizza series, but I am glad I did. This Detroit Style Inspired Greek Pizza is super tasty and has an awesome green olive and walnut pesto that gives it a big flavor. This recipe brings delicious Greek flavors to a Detroit style pizza and you will want to make it.
Greek Pizza Toppings
These flavors work so well together, even though it is not a traditional Greek or Detroit style pizza. Of course, we are working with a traditional Detroit crust that has been baked in a Detroit style pan, but we are also bringing traditional Greek flavors to the table.
Greek Pizza Pesto
I decided not to go with a traditional pesto, but instead used an olive, walnut, and spinach combination for ours. Walnuts really didn't strike me as a Greek ingredient, but apparently, the nut has a long history in the region and Ancient Greeks were the first to selectively breed the nut. This pesto really tastes good and was happy I have been able to put my Costco olives to good use outside of the martinis I enjoy. Also, olives are not a normal pesto ingredient, but it really was fun to use and it does add a great taste.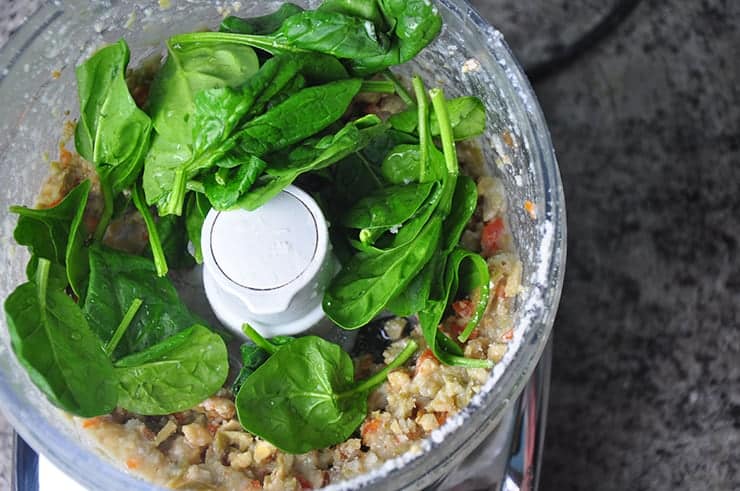 Red Onions, Feta, Artichoke Hearts
The rest of the toppings really just felt right for a Greek pizza and the feeling extended to my dinner table. The smell, color, and taste really come together and work with the pesto to give a great pop of Greek flavors!
Lowering the Temperature
In all of our other Detroit Style Pizzas, we cook our pizza on super high heat. We wanted to get the right amount of melt and combine it with the edges to give that traditional Detroit style feel. We are breaking the rules here a bit, as feta cheese just doesn't melt the same as mozzarella or really most other cheeses.
So, we turn the heat down to 500 Fahrenheit for this bake and end up giving it a little bit more time in the oven. This allows the bottom of this big Greek pizza to get a bit more crispness and not burn the top.
Detroit Style Pan
Like with all of our other Detroit Style Pizza, I used the traditional pan. I am not sure it was quite as necessary in this recipe as the others, but it still worked great.
I was really happy with how this Greek Pizza turned out. Not only does it taste awesome, it makes my kitchen smell fantastic. It has a lot of big, flavorful ingredients that make it something special and a great recipe to store away in your recipe book! I hope you enjoy it and let me know how it goes. If you do like it, please share on Pinterest or Facebook and consider signing up to get updates sent to your inbox.
Products I Used in This Series
Print
📖 Recipe
Detroit Style Inspired Greek Pizza
Author:

Ben Myhre

Prep Time:

2 hours 40 minutes

Cook Time:

20 minutes

Total Time:

3 hours

Yield:

6

large slices

1

x

Category:

Pizza

Method:

Bake

Cuisine:

Greek
---
Description
This is a Detroit Style inspired Greek Pizza that has the comfort of a deep dish and all the big flavors of a Greek Pizza. The Walnut Olive pesto is tasty and adds something really special to this pizza recipe.
---
For Pizza:
200 grams

luke warm water

2 grams

sugar

1 grams

salt

3 grams

Dry Instant Yeast

65 grams

canola oil +

1 tablespoon

to oil pan

350 grams

bread flour

1 cup

crumbled feta cheese

½

medium red onion, thinly sliced

14

Ojunce can delicate baby artichoke hearts, chopped
For Pesto:
½ cup walnuts, whole

10 big Spanish olives

½ parmesan cheese, grated

½ cup olive oil

2 cups spinach

2 garlic cloves

½ teaspoon pepper
---
Instructions
Mix salt, sugar, and water in large bowl
Sprinkle yeast on top and let sit for 5 minutes
Add 65 grams of oil
Slowly mix in Bread Dough until it is all mixed
Put in Mixer with Bread Hook on low for two minutes or knead by hand for 5 minutes
Put in oven with oven light on for 2 hours to let dough rise. If it is cooler in your house, also add a separate container of hot water to sit in oven along side dough
Allow sauce to simmer for 30 minutes and set aside.
After two hours, add remaining oil to Detroit Pizza Pan and spread all around
Stretch dough to cover bottom of pan
Put Pan back into the oven with the light on for another 30 minutes to allow it to rise
Once 30 minutes has passed, remove pizza and preheat to 500° Farenheight, making sure one rack is on bottom space.
Press out any large bubbles from the dough and make sure dough covers bottom. Stretch out, as necessary.
Spread Pesto evenly across pizza and top with artichoke hearts, onions, and feta
Once preheated, add pizza to bottom rack for 15-17 minutes. Watch to make sure it doesn't burn, but you do want a nice golden brown crust with darker edges.
Remove and rest for 5 minutes
First, use knife to release crust on all sided. Then, use spatulas to remove entire pizza and put on cutting board.
Use pizza cutter to cut into 6 pieces.
---