This is a simple, classic, and oh-so-tasty macaroni and cheese. Almost as easy as opening the box, but a hundred times better. This easiest macaroni and cheese recipe is comfort food in a casserole dish.
This is going to be my first run attempt at a macaroni and cheese recipe in our series. It will also be the easiest macaroni and cheese recipe we will use. On this first try, I am going to follow the recipe I just know and have made for a while.
I will make an additional recipe in a few weeks when I have finished my deep dive into macaroni and cheese. The hope is that I (and maybe we) come out of the experience with a better macaroni dish and perhaps learn a bit of science and culinary history along the way. This recipe, however, has always served me well and is the bomb diggity bomb.
Baked or Skillet macaroni cheese for our easiest macaroni and cheese recipe?
I have to be honest that my favorite kind of macaroni and cheese is the kind that is made straight in the pan with no baking. Possibly it is a remnant of the nostalgia I have for macaroni and cheese. It certainly would be an easier recipe to just cook this dish in the pan, but we are going to bring it a step further.
The reasoning is that there are many people who prefer a baked macaroni and cheese, and I get it. It adds additional cheese to the plate and it is hard to go wrong with that. Additionally, it adds an element of crispiness and crust that you just don't get with pan cooked macaroni and cheese. So, for our easiest macaroni and cheese recipe, we are going full monty on the baking.
You are a fancy cook now
By following this recipe, you are basically making one of the 5 French mother sauces, bechamel sauce. Yeah, it sounds fancy, doesn't it? It really isn't all that fancy, but knowing how to make a bechamel sauce (along with the other mother sauces) can give you a lot of power in the kitchen outside of our easiest macaroni and cheese recipe. Enjoy the food!
Did You Try this Macaroni and Cheese Recipe?
Fantastic! I really appreciate you trying this recipe. If you could take a minute and let me know how it went in the comment section below along with a rating, it would be greatly appreciated. Of course, I would love for you to share it on your other social media, but most of all, thank you for visiting Ramshackle Pantry!
Print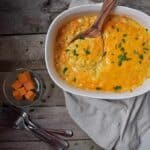 The easiest macaroni and cheese recipe
Author:

Ben Myhre

Prep Time:

20 minutes

Cook Time:

40 Minutes

Total Time:

1 Hour

Yield:

4

Servings

1

x

Category:

Casserole

Method:

Baking

Cuisine:

American
---
Description
This easy, homemade macaroni and cheese recipe is sure to delight. All you need is a few ingredients you probably have at home and a little bit of time.
---
2 cups

dry macaroni

2 cups

whole milk

4 cups

sharp or extra sharp cheddar cheese

¼ cup

all purpose flour

4 Tablespoons

salted butter
Salt and pepper to taste
---
Instructions
Preheat oven to 350° Fahrenheit.

Cook macaroni as directed on package
While macaroni is cooking, in large saucepan melt butter on low
When butter is fully melted, slowly start sprinkling flour in the pan and continuously mix. The idea is that the mixture of flour and butter will form almost a paste.
Pour in just a little of the milk and whisk until smooth. Keep on repeating until all milk is blended in.
Turn heat to medium-high and continuously stir. We want to get the sauce just to boiling and thicken.
When the sauce starts to heat up, you will notice it start to thicken. Just continue to stir and once boiling, continue stirring for one minute.
Remove from direct heat and slowly add 2 cups of the cheese to the bechamel while stirring.
Once this is a smooth sauce, add cheese sauce and drained macaroni to a baking dish and mix together.
Add remaining 2 cups of cheese to top of macaroni and cheese
Put the dish into the oven and bake for 20 minutes or until top layer of cheese is golden brown.
Serve!
---
Keywords: easiest macaroni and cheese