This post may contain affiliate links. As an Amazon Associate I earn from qualifying purchases. Please read our disclosure policy.
The Dutch Baby Pancake looks a little funny, but behind the interesting look is a sweet, delicious and eggy breakfast dish. It is very simple and a great breakfast for when you want an easy, but a filling treat. This Dutch Baby Pancake is top notch and you should get the recipe today.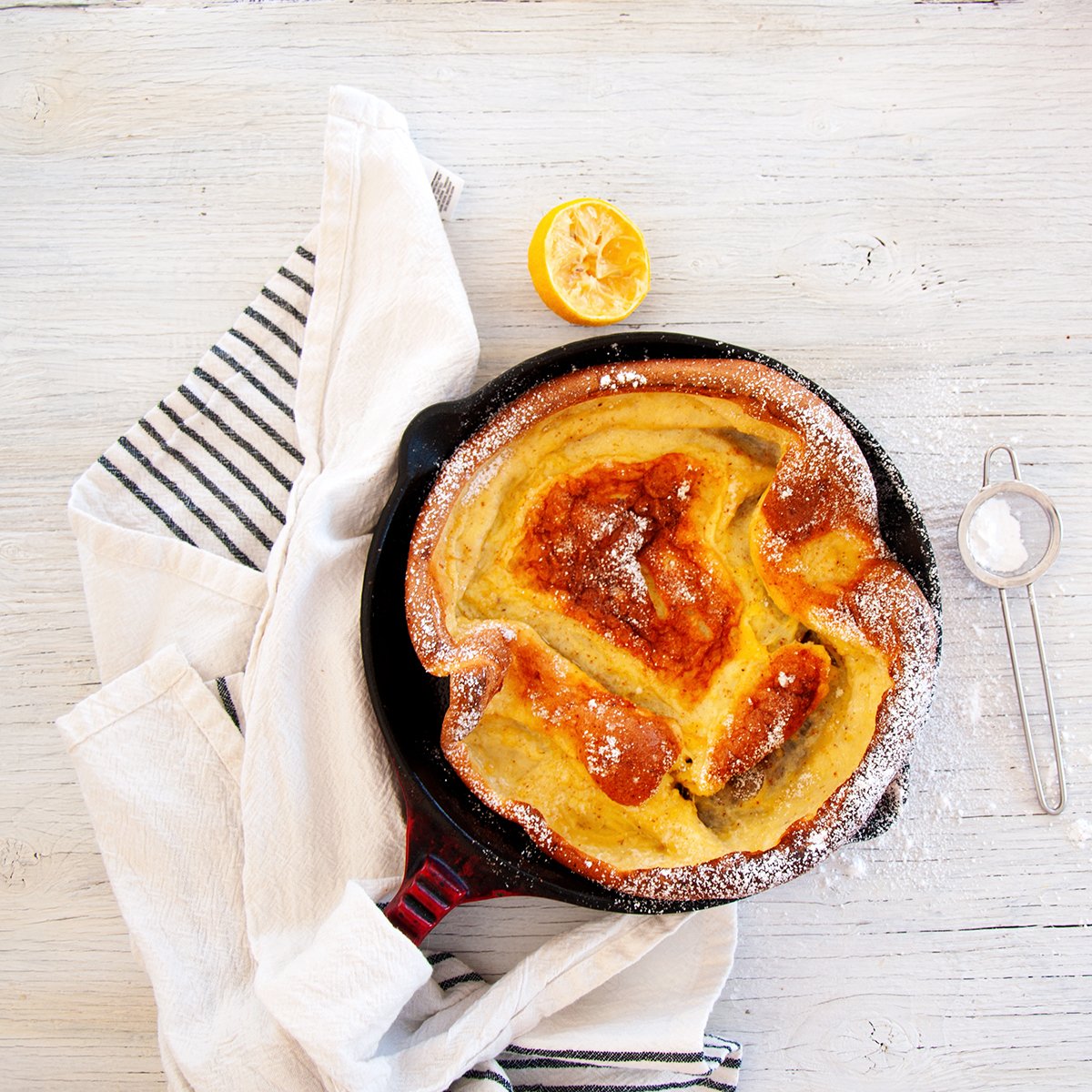 Dutch Baby Pancake Recipe Summary
This is as simple as putting a bit of butter and then an easy batter into a cast-iron skillet and letting that baby cook for a while. If you watch it cook, you will see that it expands really rapidly and makes an interesting and odd shape. It starts off as a buttery, eggy liquid in the bottom of your skillet and then explodes into a poofy and funny looking cake-like thing.
Once this baby is done cooking, you simply remove it and put whatever toppings you want on it. One tradition is to sprinkle a bit of lemon juice on it and then powder it with a touch of powdered sugar.
That is how I like it, but this is great with maple syrup or any other fruit topping. Really, anything that you might add to a pancake or French toast works well for this Dutch Baby.
Using the Cast-Iron Skillet
I have not made this recipe with anything but a 10-inch cast-iron skillet. I would imagine that you could cook this in any oven-safe vessel of the 10-inch variety, but if you do that, just note that I have not tested this in anything other than my trusty cast-iron skillet.
Of course, if you don't have a cast-iron skillet, I would highly recommend you buy one! Run down to your local cooking supply store and pick one up or head on over to Amazon and purchase a cast-iron skillet [Affiliate Link]
Toppings
I really think the sky is the limit with this Dutch Baby recipe. I use a traditional lemon juice and powdered sugar topping, but you could really add almost anything that would go on a French toast or pancakes. Blueberries, raspberries, or any kind of syrup would be good.
In fact, it might be fun to experiment with putting the fruits in the batter. I have not done this yet, but it might work great. It may have even originated from a German pancake recipe where it was common to put apples or other fruits in the batter.
Why Does the Dutch Baby Rise?
This isn't like a bread where yeast is added or like many other recipes where baking powder is added to assist in rising. So, what gives? Science, friends.
Our batter is a liquid. We pour it into the bottom of our skillet and place it in the oven. As the liquid cooks, little air bubbles begin to form at the same time that the structure of the batter begins to solidify. At the same time, our batter begins to produce steam from the heat.
The little air bubbles get trapped, but then expand even larger because of the steam within the bubbles. The little bubbles become big ones and then the heat solidifies the batter even more as time moves on. Before you know it, we have the goofy looking Dutch Baby Pancake.
Similar processes are at work for recipes like popovers and Yorkshire pudding. This recipe is pretty darn close to a Yorkshire pudding. Mostly separated by location (in the name) and that a Dutch Baby does not have savory ingredients like beef drippings.
History of the Dutch Baby Pancake
The story of the Dutch Baby originates in Seattle, Washington at a local restaurant named Manca's Cafe. Manca's was owned by Victor Manca. They may have been serving a variation of a German pancake called Apfelphannkuchen, which is essentially an apple pancake. If you take the apple away from this, it is just pfannkuchen…. or pancake.
Victor Manca began serving this specific variation that we now know as the Dutch Baby Pancake. What makes the Dutch Baby unique, as compared to German pancakes, is that it is baked in the oven and there is no leavening agent.
There is a wide variety of cooking methods and the use of leavening agents for German pancakes. The Dutch Baby is specific about baking and no leavening agent.
A Dutch Baby Pancake is a type of, and has origins in, the German Pancake. At Manca's they served this specific type of German Pancake that is both baked in the oven and has no leavening agent. It caught on.
As a disclaimer, the origins of food items like this are often obscured in history. I was able to find the blog of Manca's ancestor who talks a bit about this and it is where I get this information.
How Did It Get The Name 'Dutch Baby'
The story goes that one of Manca's children named it as a child. She, perhaps, could not pronounce 'deutsch', or German, appropriately, so they went with Dutch. Who knows why they called it a 'baby'. Kids say the darndest things?
Further Back
While I am not going to go too far back into this history, I think it is important to note that pancakes go way back. The Dutch Baby appears to be a derivation of, or one reflection of, a traditional German Pancake. There are many different recipes for German pancakes with different baking methods and leavening agents.
And even beyond any German pancakes, humans have been making some form of the pancake as far back as 30,000 years ago! A bit more recent versions pop up in ancient Greece, dating back to 5 BC.
I think it is fair to say that as long as grains have been ground up and humans have had access to fire for cooking, humans have made some sort of flat cake that is in the realm of pancake. It starts to meld together with the history of bread, particularly if we start looking at flatbreads that have no rising agent.
Dutch Baby Pancake Process Descriptions

Tips For Making Dutch Baby Pancake
Get yourself a cast-iron skillet if you don't already have one!
Use pot holders when handling your hot cast-iron.
When removing the pancake, use a good metal spatula to slide underneath and make sure nothing sticks.
Top with a little lemon juice and powdered sugar, but syrup works well, too.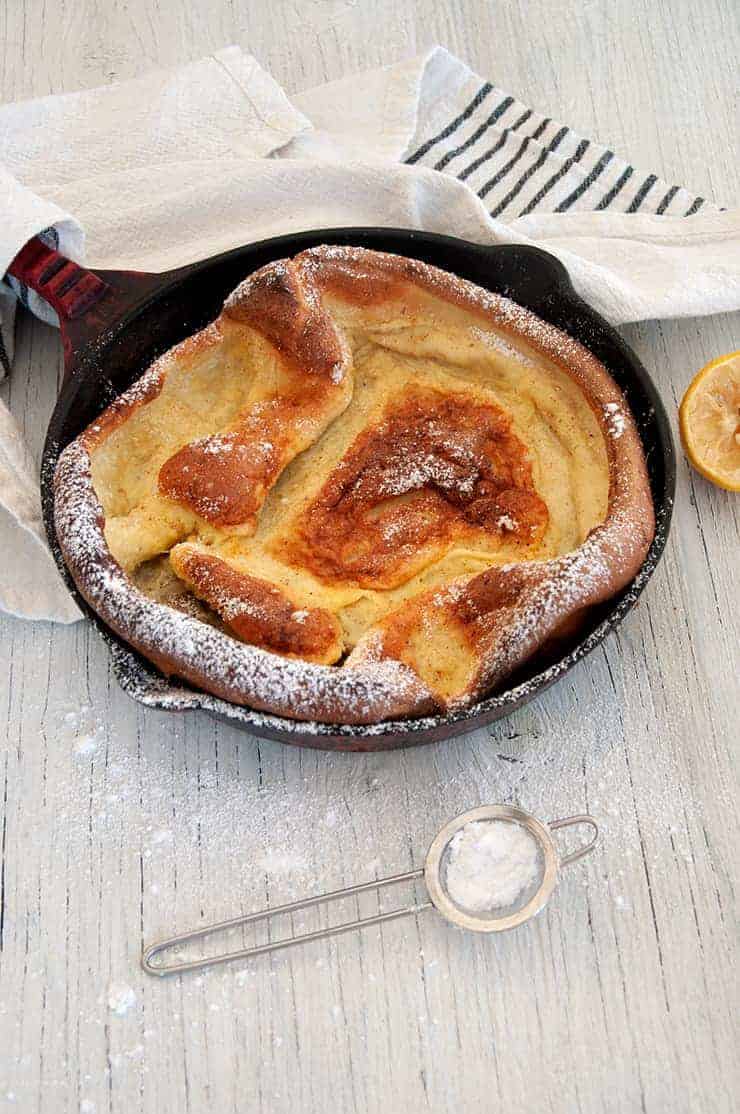 Products Used In This Recipe
Did you make this recipe?
Sweet! I hope you loved it and would love to hear how it went for you. Let me know how it went in the comments section below and leave a rating. If you want to help a guy out, share this Dutch Baby Pancake recipe in your social circles. Add it on Facebook, Pinterest, or email it to your meemaw! Of course, I would love it if you signed up to get updates via email, which should be available on this page.
Print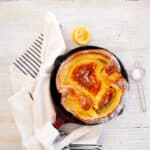 Dutch Baby Pancake Recipe
Author:

Ben Myhre

Prep Time:

5 minutes

Cook Time:

25 minutes

Total Time:

30 minutes

Yield:

4

servings

1

x

Category:

Breakfast

Method:

Baking

Cuisine:

German
---
Description
The Dutch Baby Pancake is a simple and delicious breakfast pancake made in your oven. It has an eggy deliciousness like French Toast and puffs up like a popover. This breakfast classic has become a favorite in our house and can be a favorite in yours, as well!
---
3

eggs

½ cup

whole milk

1 teaspoon

vanilla

½ cup

all-purpose flour

2 tablespoons

granulated sugar
Pinch of Nutmeg

4 tablespoons

butter

1 tablespoon

Lemon Juice, for topping

2 teaspoons

powdered sugar, for topping
---
Instructions
Preheat oven to 425° Fahrenheit
While oven is preheating, add whole milk, eggs, and vanilla to mixing bowl and mix until yolks are broken and everything is well combined.
In separate bowl, combine flour, sugar, and nutmeg and combine.
Slowly add dry ingredients into wet ingredients and whisk until everything is well incorporated and set aside.
Once oven is preheated, add 4 tablespoons of butter to 10″ cast-iron skillet.
Put in middle rack of oven until butter is melted.
Take skillet out and add batter to skillet.
Place back in oven for 20 minutes.
At 20 minutes, turn the oven off and allow the pancake to sit in the closed oven for 5 minutes
Remove and use good metal spatula to remove cake. It might stick just a tad at the bottom, but you can gently free it.
Sprinkle with lemon juice and powdered sugar to taste.
---
Notes
Get yourself a cast-iron skillet [Amazon Affiliate Link] if you don't already have one!
I added dry ingredients into wet. Feel free to do the opposite. No big deal.
Use pot holders when handling your hot cast-iron.
When removing the pancake, use a good metal spatula to slide underneath and make sure nothing sticks.
Top with a little lemon juice and powdered sugar, but syrup works well, too.
---
Nutrition
Serving Size:

1/4 Skillet

Calories:

260

Sugar:

9 g

Sodium:

54 mg

Fat:

16 g

Saturated Fat:

9 g

Unsaturated Fat:

7 g

Carbohydrates:

21 g

Fiber:

1 g

Protein:

7 g

Cholesterol:

169 mg
Keywords: Dutch Baby Pancake