A simple, warm drink meant to soothe your heart and warm your belly with just a touch of spice. This Easy Homemade Honey Ginger Tea is a great way to use fresh ginger and make a soothing drink. Add some honey for a touch of sweet flavor, and enjoy this tea.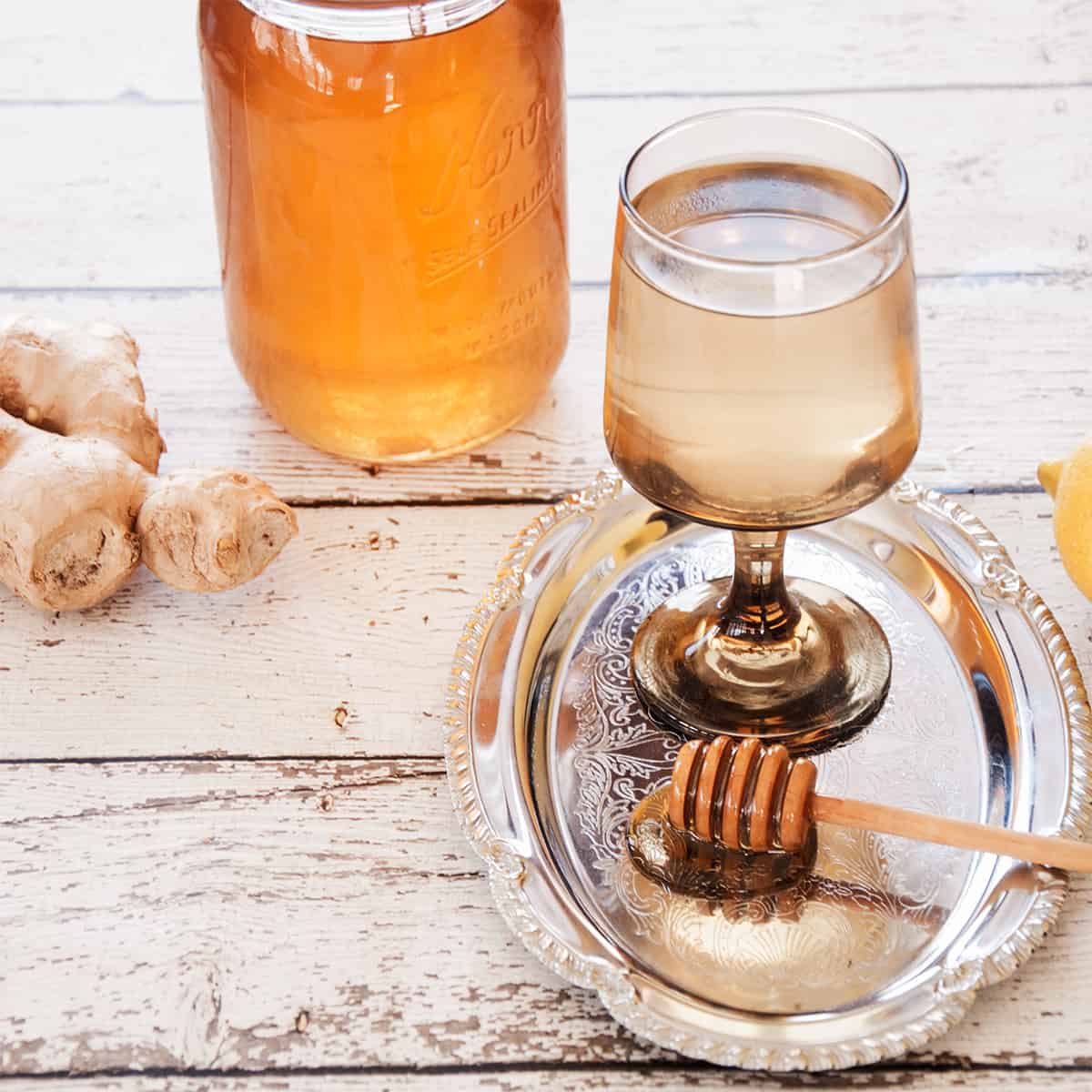 🍵 What makes this recipe special?
Getting enough sleep is one of the most important things a person can do to stay healthy. Today I am going to share a simple Homemade Ginger Tea recipe that helps me get that done.
It helps with sleep, some say ginger and honey are good for you, and it is a warm, simple drink that is easy to make. You don't need bags to make tea and you can make this at home.
As a recipe developer, I often explore new recipes, but it is always fun to be able to share the recipes I use on the regular. This is a super easy recipe and really helps me wind down at night.
If you are looking for some other warm beverages with a bit of adult kick, take a look at our Hot Toddy recipe or our White Russian Coffee drink. If you are more in the mood for warm, healthy food, take a look at this wonderful Garlic Soup recipe or this Buffalo Style Veggie Chicken Sandwich.
What ever you make, make sure to treat yourself!
Jump to:
🍯 Ingredients
This recipe is about as straightforward as it gets with three ingredients.
See the recipe card for quantities. Of course, you might want to add some lemon, but I will leave that up to you.
Ginger
Ginger has properties that help treat nausea and aid in digestive health. It also has properties that reduces muscle pain after workouts.
Because I spend so much time eating all of these fabulous foods, I need to make sure to get to the gym, and I can sometimes end up sore. Getting a dose of ginger before bed can help with my soreness and assist in digesting the delicious foods I make.
Honey
This one is a bit of a mystery for me, but there is some evidence that honey aids sleep quality. I found some anecdotal information that talks about honey and sleep.
Personally, I tend to think that honey gives a brief boost to the system. My body gets sleepy after the initial boost.
I have the added bonus of using honey I harvested from my own beehives. I look for ways to use this wonderful stuff the tough little ladies share with me.
Also, have you ever wondered what those honey-dipping things are called? Unsurprisingly, they are called Honey Dippers and you can get them on Amazon(affiliate link).
🍲 Instructions
Making ginger tea is as simple as taking a bit of chopped ginger and boiling it in water. From there, allow it to cool and store it in your refrigerator.
When ready to use, heat it up and add some honey. I don't add honey until I am ready to serve.
I do this for a few reasons. First, boiling honey may remove some of the product's health benefits. Second, honey can ferment if it has water in it.
Without water, the honey will literally never go bad. Still, as soon as you give it too much water, the potential for fermentation to take place will happen. If you store it in the refrigerator, this won't be as much of a problem, but I still prefer to add it when I serve.
🤷 Substitutions and variations
You can change this up.
Honey - Don't like honey for some reason, don't use it. The drink is fine without it. If you still want a sweetener, agave, sugar, or stevia work great, too.
Lemon - I do not add lemon to the recipe, but you certainly can add it.
Cold vs Hot - Serve this drink hot or cold.
📦 Storage
I store my ginger tea in a mason jar and make a new batch every 3-4 days. I would recommend drinking up your tea within a week if you have it stored in the fridge.
🎓 Ginger Root History Tidbit
Ginger root has a long history of use in tea and other beverages. Ginger root is native to tropical regions of Asia and has been used for centuries in traditional medicine and cooking.
One of the earliest recorded uses of ginger in tea dates back to ancient China, where it was consumed for its purported health benefits and used as a natural remedy for digestive issues. In traditional Chinese medicine, ginger is believed to have properties that can help improve circulation and support the immune system.
Ginger tea has also been popular in other parts of the world for centuries. Ginger tea is often consumed as a natural remedy for cold and flu symptoms, and is believed to have antioxidant and anti-inflammatory properties. I am not a doctor, so don't take this as any sort of medical advice.
Ginger tea has become increasingly popular in the Western world in recent years, and is often enjoyed for its spicy, aromatic flavor and potential health benefits. It is often consumed as a hot beverage, but can also be served chilled or mixed with other ingredients to create a variety of flavored teas.
❓ FAQ
What are the benefits of honey ginger tea?
Some benefits might include anti-inflammation properties, reducing muscle soreness, and boosting the immune system.
Is honey ginger tea good for you?
Honey ginger tea is generally considered to be a healthy drink. Both honey and ginger are believed to have a number of potential health benefits, and combining them in a tea can be a tasty and convenient way to incorporate these ingredients into your diet.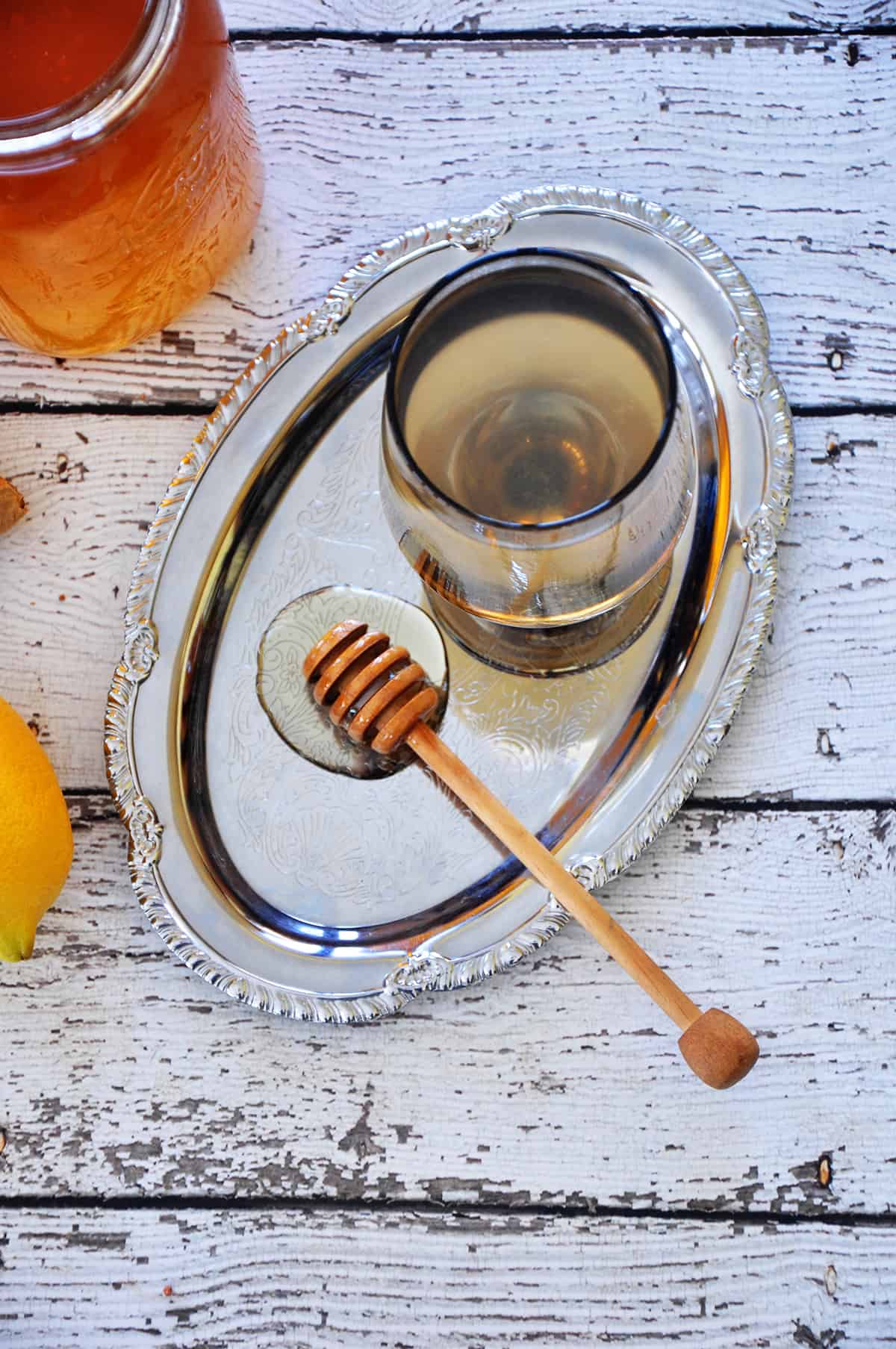 📝 Tips and tricks
A mason jar is a great way to store the tea in your refridgerator.
While some may want to remove the skin from the ginger, I put it right in there. There is nothing wrong with the skin.
🛠 Products used in this recipe
😋 Did you make this recipe?
That is awesome, and thank you so much for giving this Homemade Honey Ginger Tea recipe a try. If you could leave a rating in the comment area below, it would be greatly appreciated. This lets me know how I am doing and also helps others decide if they want to make this recipe. Most of all, thanks for visiting Ramshackle Pantry.
Print
📖 Recipe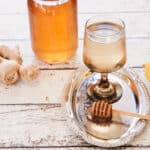 Easy Homemade Ginger Tea With Honey
Author:

Ben Myhre

Prep Time:

5 minutes

Cook Time:

15 minutes

Total Time:

20 minutes

Yield:

4 cups

1

x

Category:

Tea

Method:

Boil

Cuisine:

Health
---
Description
This is a simple nighttime Homemade Ginger Tea that is perfect for helping you sleep.
---
2

to

4

Ounces Ginger washed and roughly chopped

5 cups

of water

4 Tablespoons

Honey
---
Instructions
Add ginger and water to medium pot
Bring to boil and boil for 15 minutes
Cool and put in mason jar
When ready to serve, add water to mug, heat and then add honey
Store any additional ginger water in the refrigerator and use within a few weeks.
---
Notes
A mason jar is a great way to store the tea in your refridgerator.

While some may want to remove the skin from the ginger, I put it right in there. There is nothing wrong with the skin.
Keywords: Homemade Ginger Tea