This Foil Packet Grilled Salmon recipe looks stunning and tastes even better. So many people mess up fish on the grill and I will show you how to get it right! Keep on reading for a great salmon recipe with great grilling tips.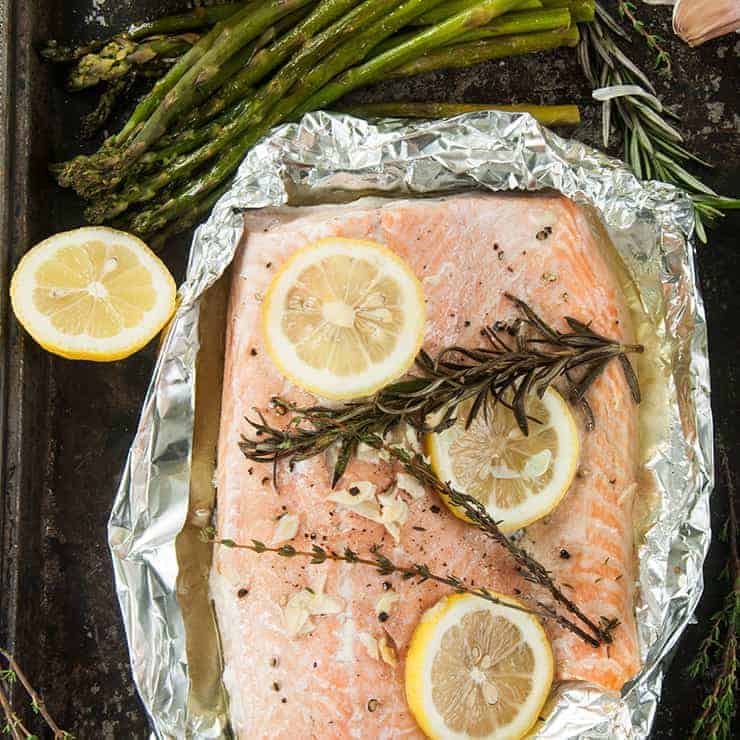 Salmon is a great fish for the grill and while it can be easy to get it wrong, today I am going to show you how to get it right with this Foil Packet Grilled Salmon recipe. Not only does the recipe taste phenomenal, but it also looks stunning. This is a nutritional powerhouse and a great healthy grilled meal. Enjoy this great salmon recipe as part of our grilling series.
Foil Packet Grilled Salmon Recipe Basics
What most people get wrong with grilling salmon is that they don't know how to appropriately temperature the fish. If you don't have a meat thermometer, get one. Just like in our steak and pork chops recipes, being able to pull your meat off the grill at the right time is super important. With fish, it is even more important. It becomes dry really quickly and unenjoyable experience if you cook it too long. 125 is my magic number!
If you are buying a reasonable cut of salmon and can get the temp right, you are going to have an excellent grilling experience.
I choose to cook with an entire salmon fillet. It makes things easier, looks really nice, and makes space management on the grill easier.
The Keys to a Perfect Grilled Salmon Recipe
Getting the right temperature is important in cooking salmon, but getting the best-grilled salmon for the buck does not start when you put your fish on the grill, but when you are at your fishmonger or butcher. Now, I live in the middle of the US, so there isn't exactly an easy way for me to get super fresh fish, but if I can find a good selection in Fargo, ND, you can find good salmon, as well. Heck, you can even get it mail-ordered or let a service like Butcher Box send you great fish and meat.
Choosing the right Salmon for Grilling
It is important to pick the right kind of fish and there is plenty of junk that is being sold. When I go to the market, there is assuredly a freezer burnt frozen fillet that wasn't vacuum packed in the frozen section. In the same store, there are some perfectly acceptable cuts that might even be cheaper than the junk with frost on it. Take some time and pick the right canvas for you to work on. We are looking at fillet cuts of salmon with this review.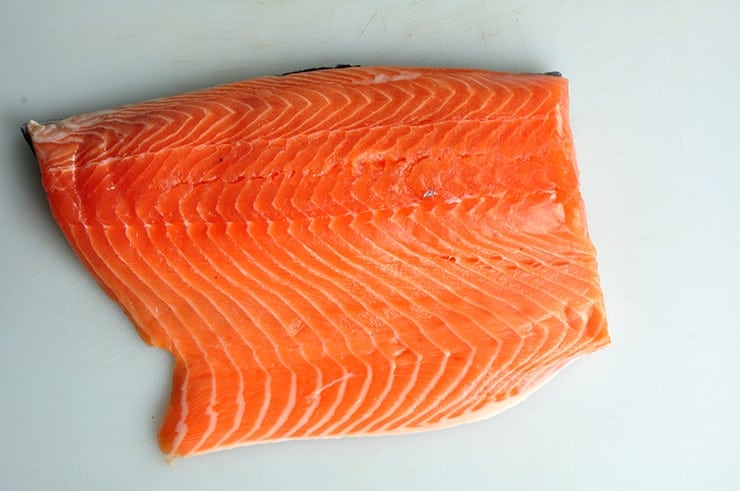 Look at the fish
This should be the easiest one. Just take a look at it. Does the flesh look good? Does it appear worn and old or nice and vibrant? If frozen, has it been packed well and look like they have taken care with the product? Different kinds of fish are going to have different color, so a Pacific Salmon will always be a bit paler than a Sockeye Salmon, but you should be able to see some of the fish next to it. Is there a good looking fillet?
Look at the Ingredients if there is a package
While I would recommend you purchase from the case, prepackaged fish can be fine, as well. Look at the label and what the ingredients are. Anything other than 'fish' would make me do a double take.
What kind of Salmon to choose?
There are different kinds of salmon that can impact your final product. I am cooking with the most common kind of Salmon, the Atlantic. Other great choices are Sockeye, Coho, and King, but these are going to be a bit tougher to find, depending on your location and time of year. Also, they will tend to be a bit more expensive than the common Atlantic Salmon.
Farm or Wild Salmon?
This comes down to personal choice. Wild caught salmon is going to have a more nuanced flavor, as it's food and environment is not controlled. Wild will tend to be leaner than farmed and if you know anything about me, I prefer the fatty stuff. It is no different with salmon and part of the reason the King salmon is so desired is because of the naturally high-fat content. Farmed salmon tends to have fattier content as well. For this post, I am working with a farm-raised Atlantic Salmon. Keep in mind that leaner cuts of salmon will have shorter cook times.
Cut of Salmon for Grilling?
We are cooking with a fillet in this post, but some cuts are superior to others. The goal with the cut is to get the most uniform slab of fish as possible. This allows us to better temp the fish and get a consistent cook on the fillet. So, when you look in the case, look for a fillet that is further away from the tail, nice and thick, and looks almost like a rectangle.
Keep the skin on for this Grilled Salmon recipe
Even if you don't eat the skin (which are great), you should get the fillets with the skin on. It helps protect the salmon flesh when cooking and it tastes great. Buy that fish with the skin on!
Ask your fishmonger or butcher what salmon is best
They are the experts and they have the intimate details of where they get the fish, how it has been handled, the distributor, and how long it has been sitting in the case. So, ask their advice and it is even better if you know and trust them. I don't think they should be the final judge, as that is your job, but they can help you pull in all the other details of your shopping experience to get the best salmon fillet.
Temperature
A disclaimer that you have to make up your own mind on the temps. The USDA recommends cooking fish to 145 Fahrenheit, but that is too done for me. I take my fish off the grill when the thickest part of the cut reaches a temp of 125 degrees Fahrenheit and then let that fish rest.
I set my timer to 18 minutes and then temp the fattiest part of the fish. If it is not at 125, I check again in 4 minutes and continue. If my temp is really close to 125, I might check my temp a little more often.
Resting Salmon
So, your fish has hit the perfect temp and now we wait. Just take it off the grill and let it sit for an additional 5 minutes.
Why The Foil Packet?
I like the foil packet. One obstacle that can happen with cooking salmon on a grill is that the skin can stick to the grates. There is a low chance of this if your grates are super clean and well oiled. I prefer to avoid the problem.
Additionally, it helps keep the flavors of the herbs and lemon inside the packet and touch the entirety of the fillet.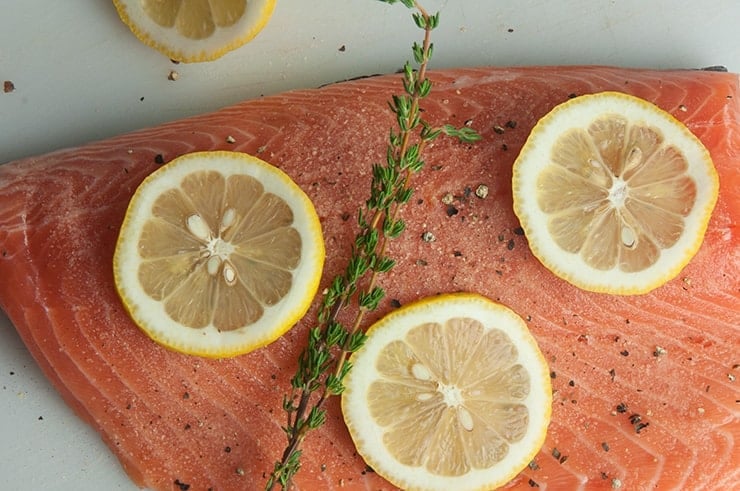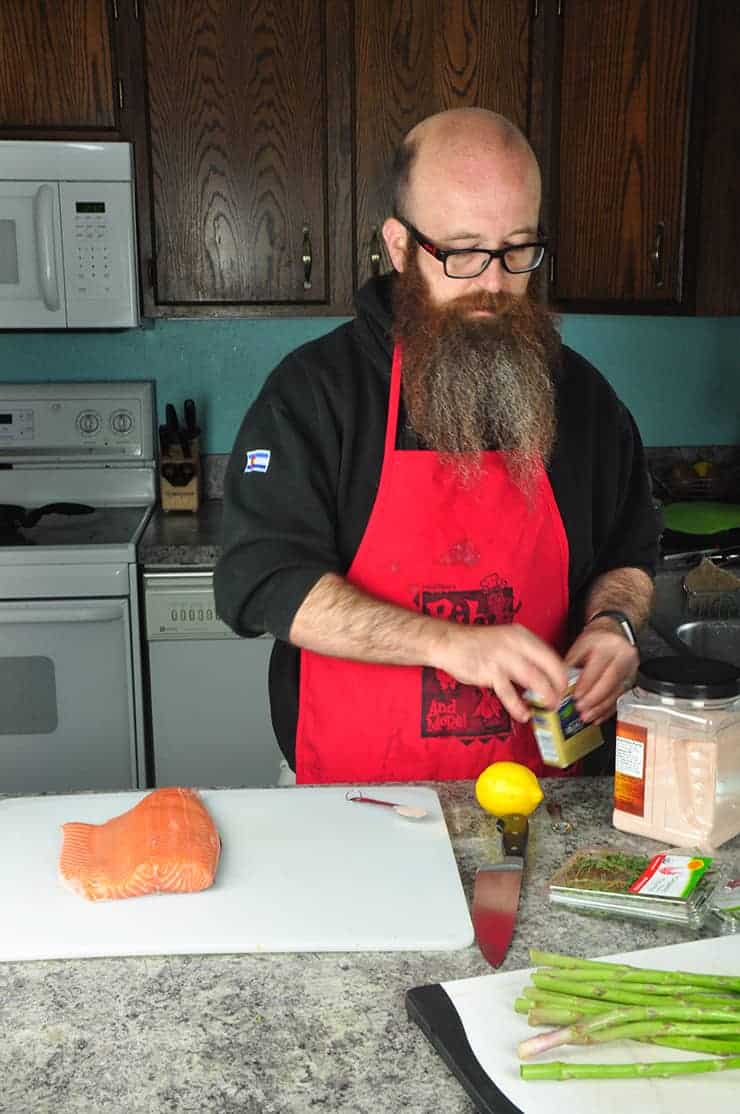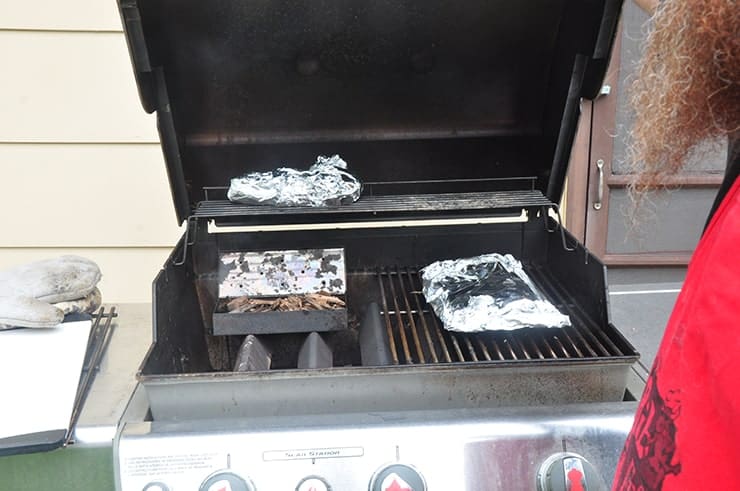 Herbs and spices
I used my favorite herbs (thyme and rosemary) in this recipe, but you can change them out. Dill and basil would be great. There really is a lot of opportunities to make this your own, but if you are not comfortable with experimenting, some fresh thyme and rosemary is going to make this taste awesome.
Smoke that Fillet
I use a gas grill, which means that I miss out on some of that beautiful charcoal flavor that comes with a traditional grill. I combat that with a smoker box! It doesn't work quite as great for things that don't take much time, but a fish fillet takes 20+ minutes, so I get fish going with some Applewood or Mesquite for that time. If anything, my beard ends up smelling like smoked food. Yum.
Grilling salmon is simple, but easy to mess up. Follow my recipe below and read the tips I included in this post to make that great salmon. If you like what we are doing here, please take a minute to share it on Pinterest and make sure to sign up to get email updates.
Products I Used In This Recipe
Print
📖 Recipe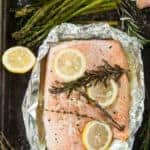 Foil Packet Grilled Salmon Recipe
Author:

Ben Myhre

Prep Time:

10 minutes

Cook Time:

30 minutes

Total Time:

40 minutes

Yield:

4

servings

1

x

Category:

Fish

Method:

Grilling

Cuisine:

American
---
Description
This Foil Packet Grilled Salmon recipe looks stunning and tastes even better. So many people mess up fish on the grill and I will show you how to get it right! Keep on reading for a great salmon recipe with great grilling tips.
---
1 ½

pounds (approximate) salmon fillet

1 teaspoon

salt

½ teaspoon

fresh ground pepper

3

lemon rounds

1

-

2

sprig rosemary

1

-

2

sprig thyme

1 tablespoon

of butter, cut into quarters

1

minced clove of garlic
---
Instructions
Preheat grill to 375° Fahrenheit and allow area for indirect heat
Place salmon fillet on tin foil sheet
Add salt to salmon and rub
Add lemon, herbs, garlic, and butter to salmon
Place second sheet over top of fillet and crimp all sides well
Place foil packet over indirect heat on grill
Grill for 18 minutes and temp thickest part of fillet. If hits 125° Fahrenheit remove immediately. If not, grill for 2-4 more minutes and temp again. Grill until 125° and remove immediately.
Once salmon hits 125° Fahrenheit, remove and allow to rest for 5 minutes.
Uncover, cut and serve!
---
Keywords: Grilled Salmon Recipe