The French Martini combines some fantastic fruit flavors for delicious adult beverage bliss. This cocktail is simple and easy to make, but it tastes like someone has been working on it for a long time. Great for New Year's Eve, any celebration or just a drink to wind down.
Pineapple juice matches so perfectly with raspberry liqueur and vodka for this cocktail thriller. There is no reason that any adult shouldn't try this modern classic at least once.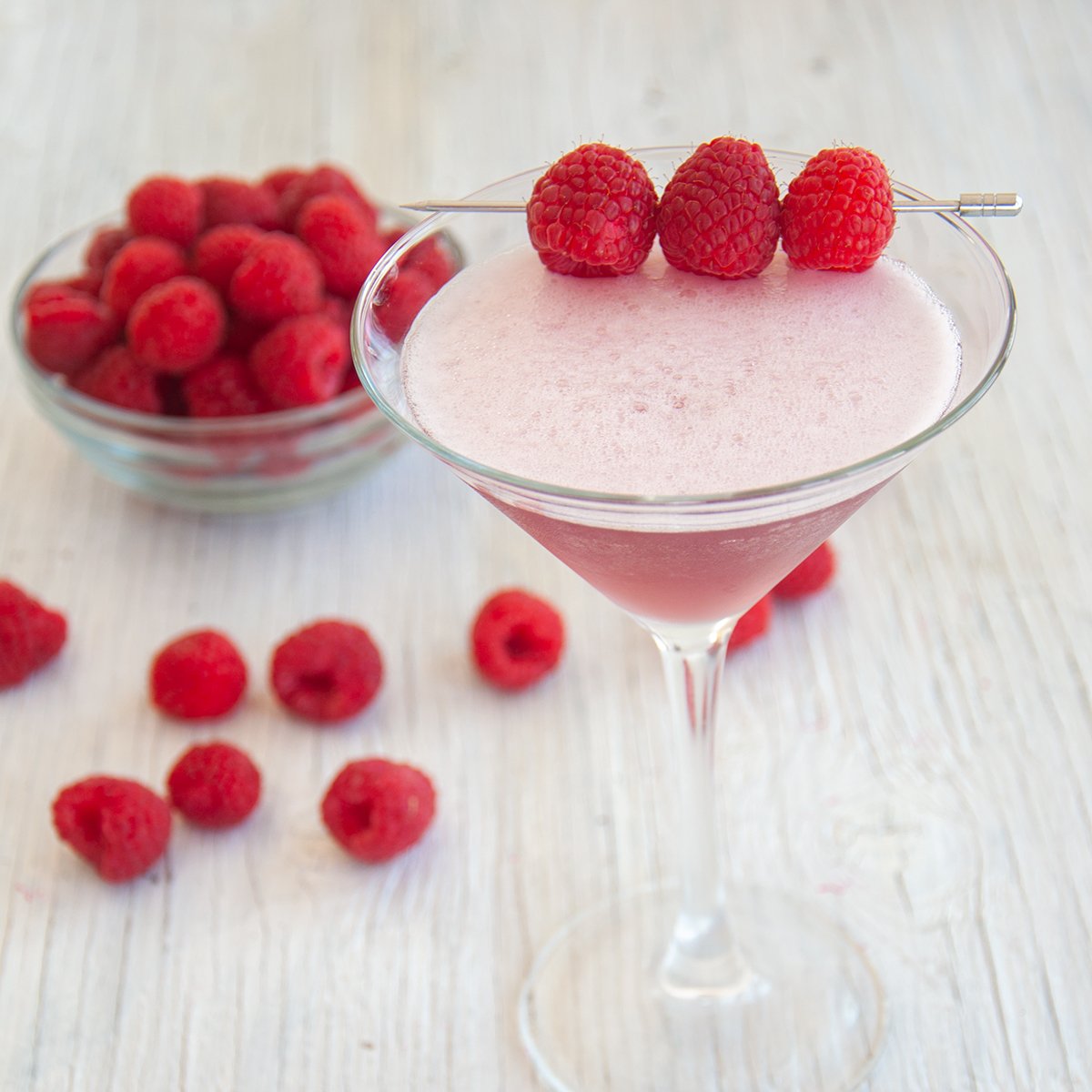 🥂 What makes this recipe special?
One of the things that makes a French Martini special is its unique flavor combination. The combination of vodka, pineapple juice, and raspberry liqueur creates a fruity and sweet drink that is quite distinct from other cocktails.
Overall, a French martini is a delicious and sophisticated cocktail that will impress. This recipe shows you how to make a perfect one!
If you are interested in some other show-stopping cocktails, check out this RumChataTini Cider Cocktail or Appletini.
Jump to:
🤷‍♂️🤷‍♀️ Ok, So It Really Isn't a Martini, But So What?
A proper martini has some mixture of gin or vodka and vermouth. In the tradition of such martinis as the Cosmo and the Appletini, the French Martini follows the same example by taking liberties with the word, Martini.
Perhaps, because it is served in a martini glass, we can then call it a martini? No matter the reasoning, history has decided to call this a martini.
🍍 Ingredients
This cocktail has just a few ingredients that come together to make it fabulous and colorful.
Vodka
Pineapple juice
Chambord
See the recipe card for quantities.
What vodka to use?
First and foremost, I say use what you like! I am, however, reasonably opinionated on vodka. Vodka shouldn't be complicated. The thing about vodka in many cocktails is that it is supposed to hide behind the other flavors. We want vodka to be a neutral spirit and that is literally how the US code defines it:
"Vodka" is neutral spirits so distilled, or so treated after distillation with charcoal or other materials, as to be without distinctive character, aroma, taste, or color.

Cornell Law
As price-conscious individuals, we tend to have a bottle of Kirkland's finest around and use that for many of our drinks. Another vodka that I am very fond of is Smirnoff.
While I am sure there are plenty of Vodka snobs out there who would disagree, I think Smirnoff is a great neutral spirit. It does the job, and it has a neutral taste. We use it in our authentic Moscow Mule, and I wouldn't be afraid to use it in any cocktail where the purpose of the vodka is to get hidden, and it isn't the star of the drink.
Chambord
Chambord is such a lovely raspberry liqueur. While it is low in alcohol percentage, it has a wonderful and vibrant taste. If there is any liqueur that tastes most like fresh raspberries, I would say it is this.
The Chambord brand began in 1982 but claims ties to a liqueur from the late 1600s and history with Louis XIV. Looking at the opulent bottle, it would appear that the ties into history would make sense. This is likely to be a marketing strategy rather than something founded on facts.
I would not be surprised if there were a raspberry liqueur in the late 1600s and if maybe Louix the XIV drank some of it. This correlation does not mean it was a recipe with a direct lineage with the Chambord we know today. It is a nice bottle of liqueur that is probably more related to the 1980s than the 1600s.
These days, it is owned by Brown-Forman, the same group that owns Jack Daniels.
This is not the most inexpensive bottle of booze, but I would recommend that every home bartender has a bottle of it stashed somewhere in the liquor cabinet. First, so you can make a French Martini whenever you want, but also so you can pour a small cup to sip every once in a while. It is that good.
🍲 Instructions
This really is such a simple drink. We combine all of our ingredients into a cocktail shaker filled with ice. Then, we shake, shake, shake, that bad, bad boy.
The shaking serves the purpose of cooling down the drink, but it also adds almost a slight froth and texture to the drink that you would not get from stirring the drink.
Then, pour the cocktail into a chilled martini glass. Does the martini glass need to be chilled? Probably not, but unless all of my ingredients are cold and the vodka is kept in the freezer, I tend to like my martini glasses cold.
🤷 Substitutions and variations
There are a few ways that this can be changed up.
Vodka - I am partial to a simple vodka, like Smirnoff, but use the vodka you like. You could even get fancy with this and use a vanilla vodka, raspberry vodka, or anything that might work well with raspberries and pineapple.
Chambord - Chambord is a brand, but really any raspberry liqueur will work. Chambord is just so dang tasty and we have it around.
📦 Storage
This recipe is not really meant for storage, but for sipping. Shake it up and drink it up. No storage for this one, bub.
🎓 History Tidbit
As with the Moscow Mule history, we have seen cocktail marketing campaigns create classics. And sure, some bar probably started making it first… sometime after 1982 when Chambord began being produced.
If we are to presume that a French Martini absolutely needs Chambord and not some other raspberry/blackberry liqueur, it would have been created after 1982. This is a relatively recent drink and invented in the 1980s.
Like many cocktails, there is a bit of mystery where this drink originated. Some claim that it was created in the bars of a popular NY restauranteur, Kieth Mcnaulty. Others claim it was a genius marketing campaign to promote Chambord. I think either of these could be true.
❓ FAQ
What is the difference between a Martini and a French Martini?
One of the main differences between a Martini and a French Martini is the type of alcohol used as the base. A Martini is made with gin, while a French Martini is made with vodka and raspberry liqueur. In addition, the flavor profile of the two cocktails is quite different, with a Martini having a more savory and herbal flavor due to the gin, and a French Martini having a sweeter and fruitier flavor due to the pineapple juice and raspberry liqueur.
How is a French martini served?
A French martini is typically served in a cocktail glass and garnished with a pineapple wedge or a raspberry.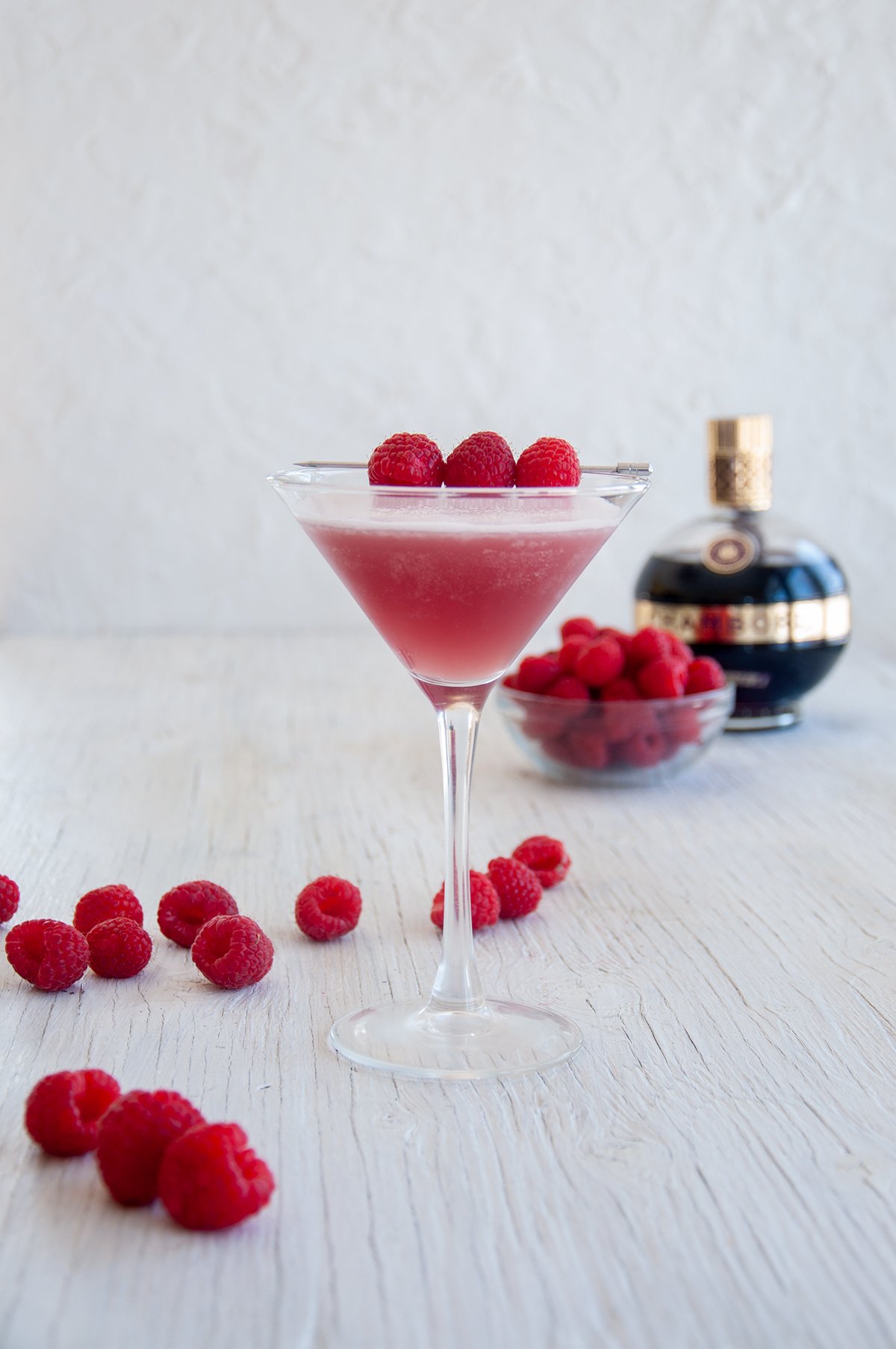 📝 Tips and tricks
Shaken; not stirred!
Use the vodka you have, but a great neutral vodka, like Smirnoff, works really well.
Use a chilled martini glass for best results
🛠 Products used in this recipe
😋 Did you make this recipe?
That is awesome, and thank you so much for giving this French Martini recipe a try. If you could leave a rating in the comment area below, it would be greatly appreciated. This lets me know how I am doing and also helps others decide if they want to make this recipe. Most of all, thanks for visiting Ramshackle Pantry.
Print
📖 Recipe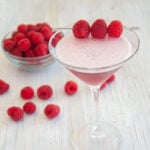 French Martini Cocktail
Author:

Ben Myhre

Prep Time:

2 minutes

Cook Time:

1 minute

Total Time:

3 minutes

Yield:

1

cocktail

1

x

Category:

Cocktail

Method:

Shaker

Cuisine:

American
---
Description
This French Martini cocktail is such a great, fruity Chambord drink. If you love raspberries and pineapple, get out your cocktail shaker for this modern classic.
---
2 ounces

vodka

1 ounce

pineapple juice

¾ ounce

chambord
---
Instructions
Add all ingredients to a shaker with ice.
Shake vigorously for 15 seconds.
Strain into chilled martini glass.
Drink
---
Notes
Shaken; not stirred!
Use the vodka you have, but a great neutral vodka, like Smirnoff, works really well.
Use a chilled martini glass for best results
Nutrition
Serving Size:

1 drink

Calories:

220

Sugar:

12g

Sodium:

5mg

Fat:

0g

Saturated Fat:

0g

Unsaturated Fat:

0g

Trans Fat:

0g

Carbohydrates:

44g

Fiber:

0g

Protein:

0g

Cholesterol:

0g