This post may contain affiliate links. As an Amazon Associate I earn from qualifying purchases. Please read our disclosure policy.
Subtle sweetness and herbaceous flavors combine to make this wonderfully unique Frozen Thyme and Pear Margarita. Fresh thyme and juicy pears are blended with tequila, lime juice, and ice to create a delicious herbal flavor profile.
This Frozen Thyme and Pear Margarita is perfect for sipping on a warm day or serving at your next gathering. Don't forget to garnish with a sprig of thyme and a slice of pear for an extra touch of elegance.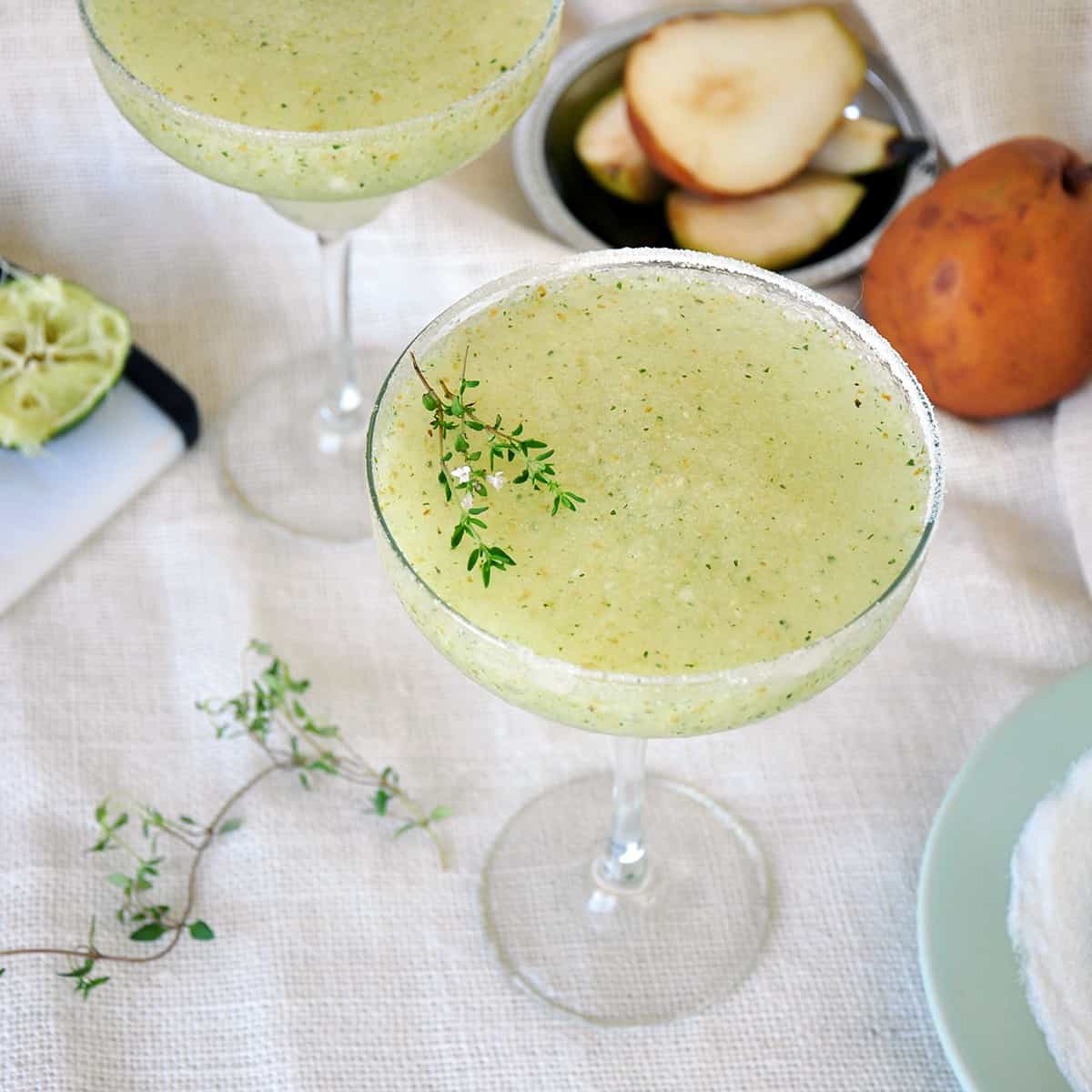 🍐 What makes this recipe special?
I love fresh thyme; if you do, too, this frozen margarita recipe is for you. This twist on the old classic brings some garden notes and wonderful pear flavors.
The combination of thyme and pear is lovely, to begin with, but lending that combination to a margarita is something special. Get out your blender and give this thyme treat a try.
If you want something a bit more traditional, try our Perfect Margarita recipe or give this sweet Frozen Strawberry Margarita a whirl. Looking for a dinner to pair this with? How about this Grilled Blackened Shrimp with Cilantro Lime Sauce. No matter what you make, make sure to treat yourself.
🌿 Ingredients
This recipe has a few different stars between tequila, thyme, and pear, but it does take more ingredients to pull this together. Here is what you will need:
Ice
Tequila Blanco
Triple Sec
Simple syrup
Fresh Thyme
1 pear, cored
Lime
Sugar for rimming
See the recipe card for quantities.
Salt or sugar?
I always waffle on this decision. The traditional margarita recipe has salt on the rim, and there is just no question about that. However, I always say drink what tastes good.
I think some flavors would be better enhanced with a sweetener than salt. Like our Frozen Strawberry Margarita recipe. Sugar. For sure. Yet, some others just call for salt. Sometimes, salt helps bring all the flavors together better than sugar.
In this case, I think the more subtle flavors of a pear and thyme combination are better served with sugar. If we added salt to the rim, I think that would become an overpowering flavor, which isn't what I want.
I want the rim to help the other ingredients be the star. Sugar it is.
The amount of thyme
I struggled a bit with this one. As we were taste-testing this, it seemed that it was a delicate balance between not tasting the thyme at all and being a little overpowering.
Pack it in if thyme is your jam, but I was looking for a subtle flavor. I found that the leaves of three medium sprigs worked best for us. Try it out and if you need more or less, adjust as necessary.
Don't use the thyme stem
If you are not used to working with fresh thyme, this is something you should learn. The stems are not fun to have in your food. They are not very easy to chew, and they can be annoying. Pull the little leaves off of the thyme stem and only use them.
🍲 Instructions
Like most cocktails, the instructions are easy peasy. Moisten a glass with lime juice and rim it with sugar.
Then, add your ingredients to a blender and blend them up. Pour into your rimmed glass and enjoy!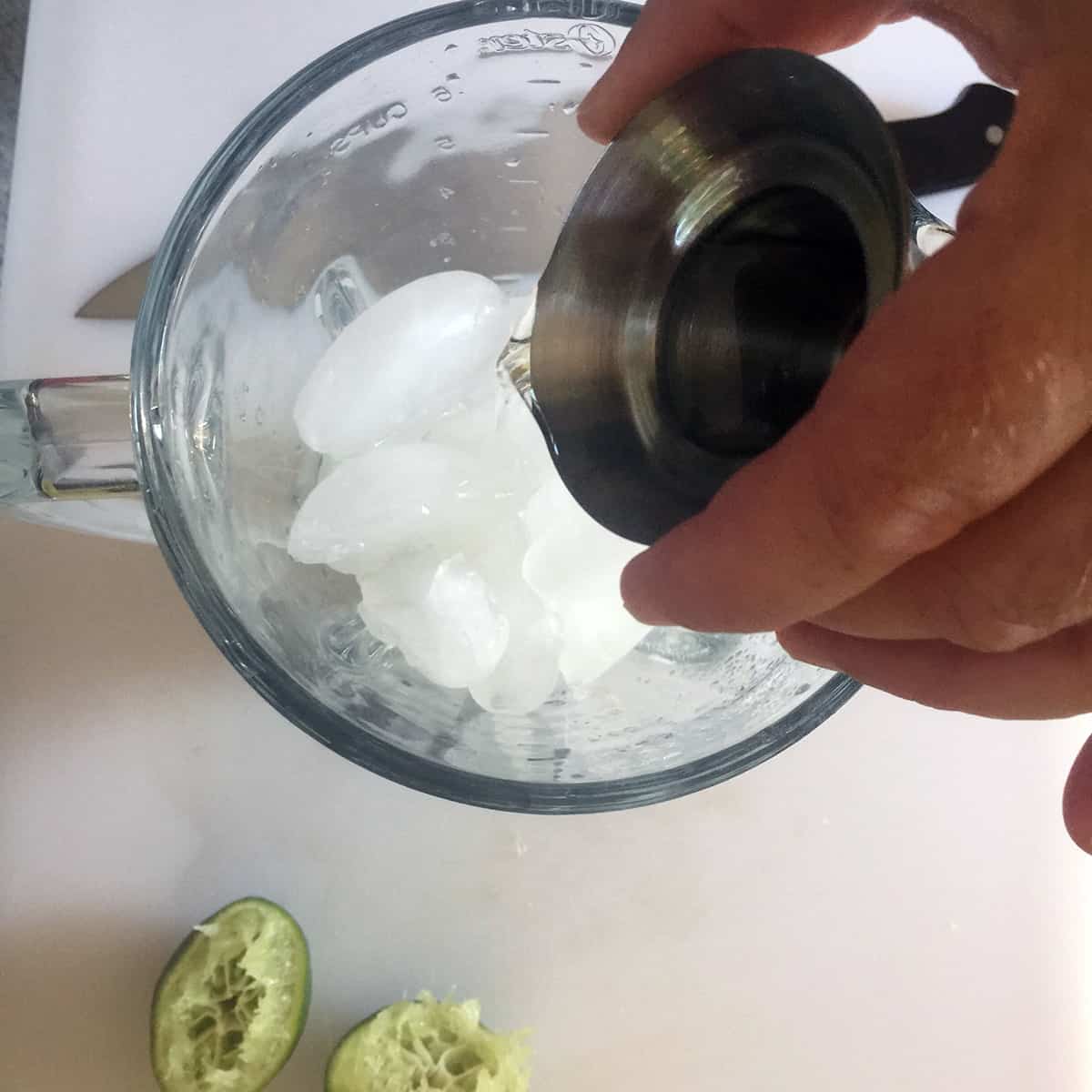 🤷 Substitutions and variations
There are a few ways that this can be changed.
Tequila – The brand of tequila can make this a bit more your own. I use a young, white tequila. If you start using the gold-colored tequilas, you are going to get a wood flavor to your margarita.
Thyme – Use more or less as you see fit!
Triple Sec – Cointreau is my Triple Sec of choice for a margarita, but use what you have!
🎓 History tidbit
We have a great historical write-up in our recipe for the Perfect Margarita, but I don't want to leave you without a tidbit! Did you know that Jimmy Buffet released the song Margaritaville in 1977? It peaked at number 8 on the Billboard Hot 100 but has reached #1 in the hearts of tropical pleasure seekers.
❓ FAQ
What type of tequila should I use in a Margarita?
A good quality blanco or silver tequila is typically used in a Thyme and Pear Margarita. These types of tequila have a clean, smooth flavor that won't overpower the other ingredients.
Can I make a Margarita without alcohol?
Yes, you can make a non-alcoholic version of a Thyme and Pear Margarita by omitting the tequila and using a non-alcoholic substitute, such as grapefruit juice or sparkling water, instead.
What is the best way to garnish a Thyme and Pear Margarita?
A Thyme and Pear Margarita is typically garnished with a sprig of fresh thyme and a slice of pear. This adds an extra touch of flavor and presentation to the cocktail.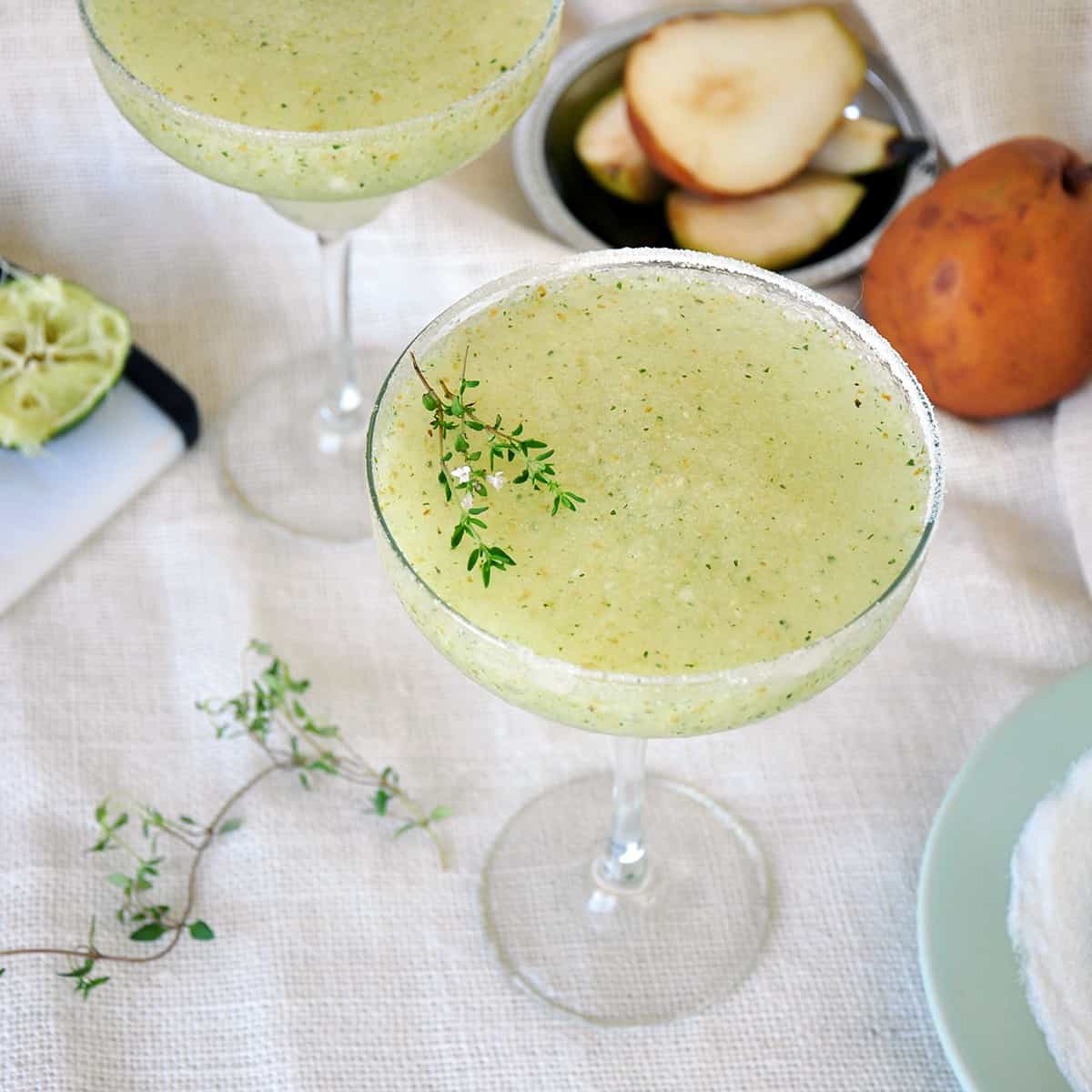 🛠 Products used in this recipe
😋 Did you make this recipe?
That is awesome, and thank you so much for giving this Frozen Thyme and Pear Margarita recipe a try. It would be greatly appreciated if you could leave a rating in the comment area below. This lets me know how I am doing and also helps others decide if they want to make this recipe. Most of all, thanks for visiting Ramshackle Pantry.
Print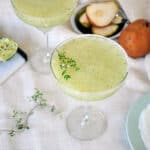 Frozen Thyme and Pear Margarita
Author:

Ben Myhre

Prep Time:

3 minutes

Cook Time:

2 minutes

Total Time:

5 Minutes

Yield:

2

Drinks

1

x

Category:

Cocktail

Method:

Blend

Cuisine:

Mexican
---
Description
This Frozen Thyme and Pear Margarita bring garden flavors to your margarita glass. The Pear and Thyme flavors match so well and it is just enhanced in this adult beverage. The color matches the traditional Margarita, but the flavors are new.
---
2 1/2

cups

ice

4

ounces

tequila blanco

2

ounces

Cointreau

2

ounces

simple syrup

6

medium sprigs of thyme leaves, cleaned (plus

2

sprigs for garnish)

1

ounce

of Lime Juice from approximately 1 fresh lime
sugar for rimming

1

pear, cored and sliced
---
Instructions
Add ice, tequila, Cointreau, simple syrup, lime juice, and thyme leaves to the blender
Moisten margarita glasses with spent lime and rim with sugar
Blend ingredients and add pear intermittently to blend into the margarita
Once completely blended, pour into margarita glasses, garnish, and serve
---