This is a must-know drink for the home bartender. This Perfect Margarita recipe is so delicious and after tasting it, you know why it has gone down in history as one of the best.
The pinnacle of our Margarita series is right now. Today, we are going to make a traditional, perfect Margarita. We have spent time looking at the history of the Margarita and I feel like I have the spirit of the drink in my mind. Today, it all comes together in the cocktail shaker. Like many of the classics, there is not really that much to the drink. While there are many different Margaritas that use sweetener, flavors, and tricks, the classic Margarita stands as a fairly simple drink. There are only a few ingredients and they work well together to help the tequila shine. So, join along while we make a traditional, perfect Margarita.
What Is a Margarita?
A Margarita is a cocktail that consists of tequila, a sweetener (typically an orange liquor), lime, and salt. Yes, there are plenty of different variations of this that cover the whole lexicon of tastes and wants. What we are on the quest for, however, is a perfect margarita. One that embodies the tradition of the drink and tastes fabulous. We will also be making some variation recipes, but today, we are looking for the perfect margarita.
What Is A PERFECT Margarita?
To make a perfect margarita, I feel it necessary to look closer at the ingredients in this drink.
Tequila in a Perfect Margarita
Some tequilas get a brown color. That brown color comes from being aged in oak barrels. Those flavors from the barrel are imparted on the alcohol. The longer they are stored in the barrels, the more these characteristics are taken on by the spirit. This can be great for a tequila connoisseur and tequila sipping, but it isn't what we want for our perfect Margarita. We want fresh, young, tequila that brings us as close to the agave plant as possible. Blanco Tequila is the answer to this. Pick yourself up a nice tequila Blanco for a perfect Margarita.
Can you make great Margaritas with other tequilas? For sure. Just keep in mind that the bolder the oak flavor in your tequila, the more nuanced your Margarita flavors will become. Think of it in terms of a Margarita being a tropical poolside drink. Does the thought of an Oak tree make you feel like you are in the tropics? By a poolside? Probably not. Go for tequila Blanco.
Finally, if you can swing it, go for tequila that is 100% blue agave. Yes, it is going to get a little more expensive, but we are lookin for perfection, here.
We went with Espolon Tequila, which is a reasonably priced pure agave tequila that gets great reviews. Also, I gotta say that the label is pretty badass. A skeleton charging the battlefield on a rooster? haha!
Triple Sec
Triple Sec is an orange liqueur. Cointreau is a brand of triple sec that goes as far back as 1849. That is quite a timeline of history, right? Not only that, as we looked at in our history of the Margarita post, we saw that Cointreau may have been the specific brand that was included in the first Margarita recipe. Oh, did I mention that Cointreau tastes awesome?
For those reasons, we are going to use Cointreau for our perfect Margarita recipe.
Lime
Use fresh limes. Seriously. If there is one simple way to make your Margarita 10 times better, it is to use fresh ingredients.
Salt
You are going to find plenty of recipes calling for a sugar rim on their Margaritas. Heck, I will even be doing this in some of our upcoming recipes. Not for our perfect Margarita. Salt adds a strong accent that balances the bold flavors of the agave, lime, and orange liquor. A traditional Margarita just isn't, without a salty zing to go along with it.
The Magic Ratios for the Perfect Margarita
3:2:1. In other words, for 2 ounces of tequila, you have 1 ounce of Cointreau and half an ounce of lime juice. It really is that simple. Because of the simplicity of this drink, your best bet is to use the best ingredients you can to let your Margarita shine.
I hope you have a great time finding your perfect Margaritaville. Please, take a second to subscribe to my email and follow me on Instagram!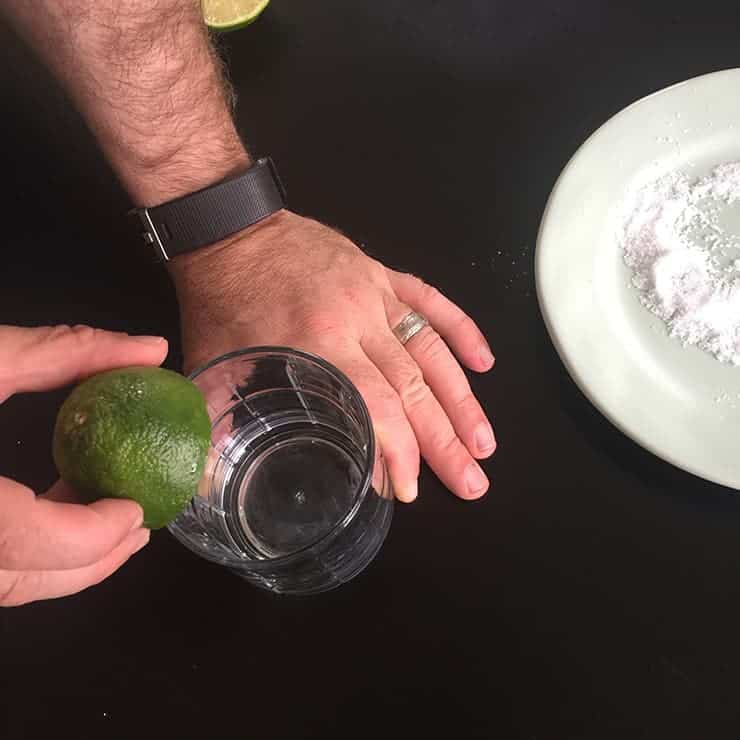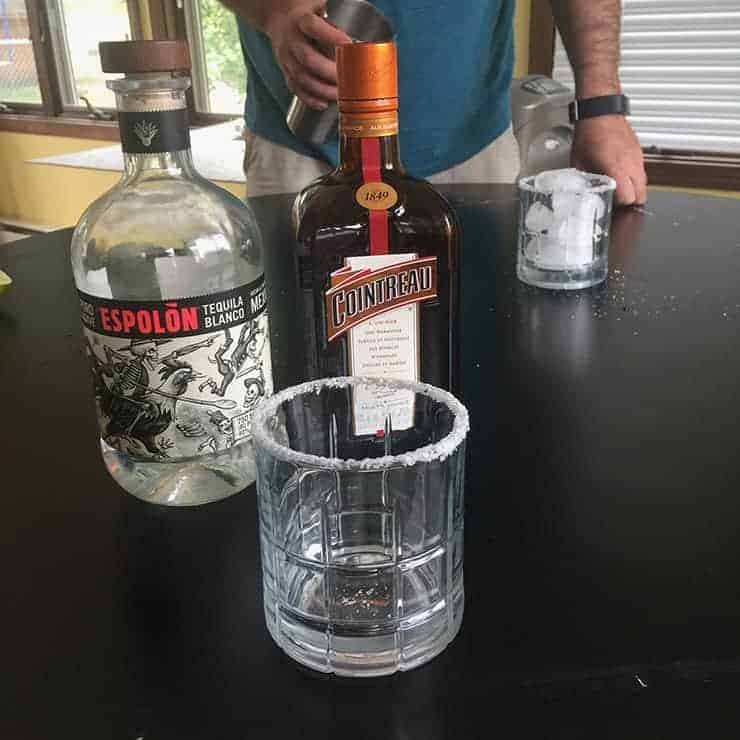 Products Used for this Recipe
Print
How to Make a Perfect Margarita
---
Author:

Ben Myhre

Prep Time:

3 Minutes

Cook Time:

2 Minutes

Total Time:

5 Minutes

Yield:

1

Cocktail

1

x
Description
This classic cocktail is a perfect Summertime sipper and tropical favorite. The Perfect Margarita Recipe is a beautiful thing and I have you covered right here with this recipe!
---
Ice
Salt, for rimming

2 Ounces

Tequila

1 Ounce

of Cointreau Triple Sec

½ Ounce

Lime Juice (about

½

lime)
Small lime wedge, for garnish
---
Instructions
Fill a lowball glass with ice
Cut whole lime in half and run juicy side along rim of glass
Salt moistened rim
Fill Shaker with ice
Add Tequila, Cointreau, and Lime Juice
Shake for 30 seconds
Strain into glass
Garnish and serve
Category:

Cocktails

Method:

Shake

Cuisine:

Mexican
Keywords: Perfect Margarita