This is a must-know drink for the home bartender. A Perfect Margarita recipe is delicious and perfect on a warm Sunny day or as a reminder of Summer in the middle of Winter.
After tasting a great margarita, you know why it has gone down in history as one of the best drinks. Get out your tequila and try this Perfect Margarita recipe today!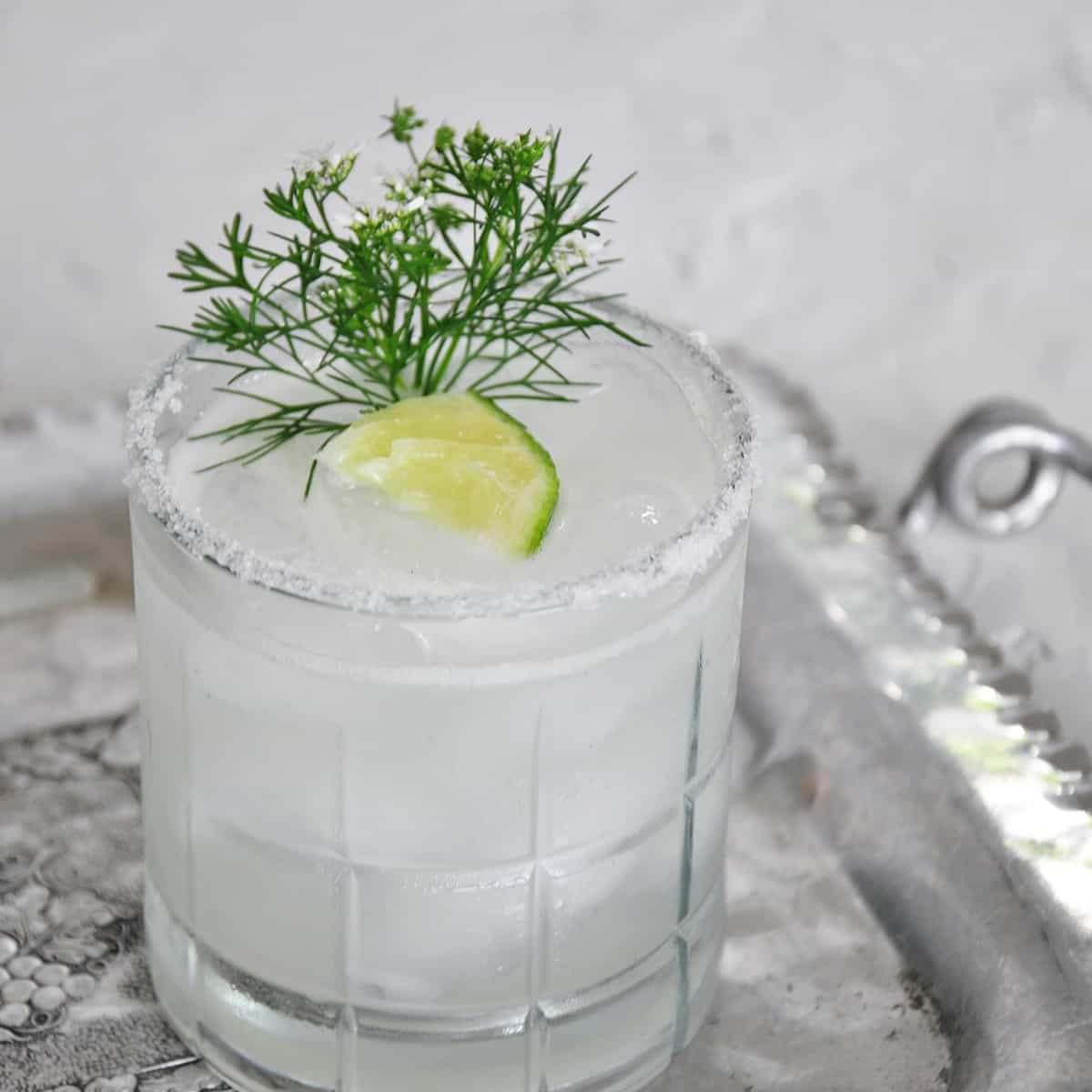 🍹 What makes this recipe special?
This is a traditional, perfect Margarita recipe, making it memorable.
Like many of the classics, there is not much to the drink, but its simplicity makes it much better and it all comes together in the cocktail shaker. Many different Margarita recipes use sweeteners, flavors, and tricks, but a classic Margarita is so good. That is what makes this recipe so special.
If you want something a bit spicier, try our Simple Spicy Margarita with Jalapenos recipe. Or maybe give our Strawberry Frozen Margarita a try. No matter what you make, make sure to treat yourself!
Jump to:
🧂 Ingredients
Just a few ingredients are needed for this, and Tequila is the star, but it takes a few other ingredients. Here is what you will need:
Ice
Salt
Tequila
Triple Sec
Lime Juice
Lime wedge
See the recipe card for quantities.
Tequila
Some tequilas get a brown color. That brown color comes from being aged in oak barrels.
Those flavors from the barrel are imparted on the alcohol. The longer they are stored in the barrels, the more the spirit takes on these characteristics.
This can be great for a tequila connoisseur and tequila sipping, but it isn't what we want for our perfect Margarita. We want fresh, young tequila that brings us as close to the agave plant as possible.
Blanco Tequila is the answer to this. Pick yourself up an excellent tequila Blanco for a perfect Margarita.
Can you make great Margaritas with other tequilas? For sure. Just keep in mind that the bolder the oak flavor in your tequila, the more nuanced your Margarita flavors will become. Think of it in terms of a Margarita being a tropical poolside drink.
Does the thought of an Oak tree make you feel like you are in the tropics? By a poolside? Probably not. Go for tequila Blanco.
Finally, if you can swing it, go for 100% blue agave tequila. Yes, it is going to get a little more expensive, but we are looking for perfection here.
We went with Espolon Tequila, a reasonably priced pure agave tequila that gets great reviews. Also, I gotta say that the label is pretty awesome. A skeleton charging the battlefield on a rooster? Haha!
Triple Sec
Triple Sec is an orange liqueur. Cointreau is a brand of Triple Sec that goes as far back as 1849. That is quite a timeline of history, right?
Not only that, Cointreau may have been the specific brand included in the first Margarita recipe. Oh, did I mention that Cointreau tastes fantastic? For those reasons, we are going to use Cointreau for our perfect Margarita recipe.
Salt
Plenty of recipes call for a sugar rim on their Margaritas. Heck, we have made some interesting rimming salts like this bacon salt recipe.
Sugar isn't for our perfect Margarita. Salt adds a strong accent that balances the bold flavors of the agave, lime, and orange liquor. A traditional Margarita just isn't traditional without a salty zing to go along with it.
🍲 Instructions
A classic Margarita is simple. It is as simple as mixing our cocktail ingredients into an ice-filled shaker and shaking.
Strain the concoction into a salt-rimmed glass that has ice in it. Top with a lime wedge and you are good to go!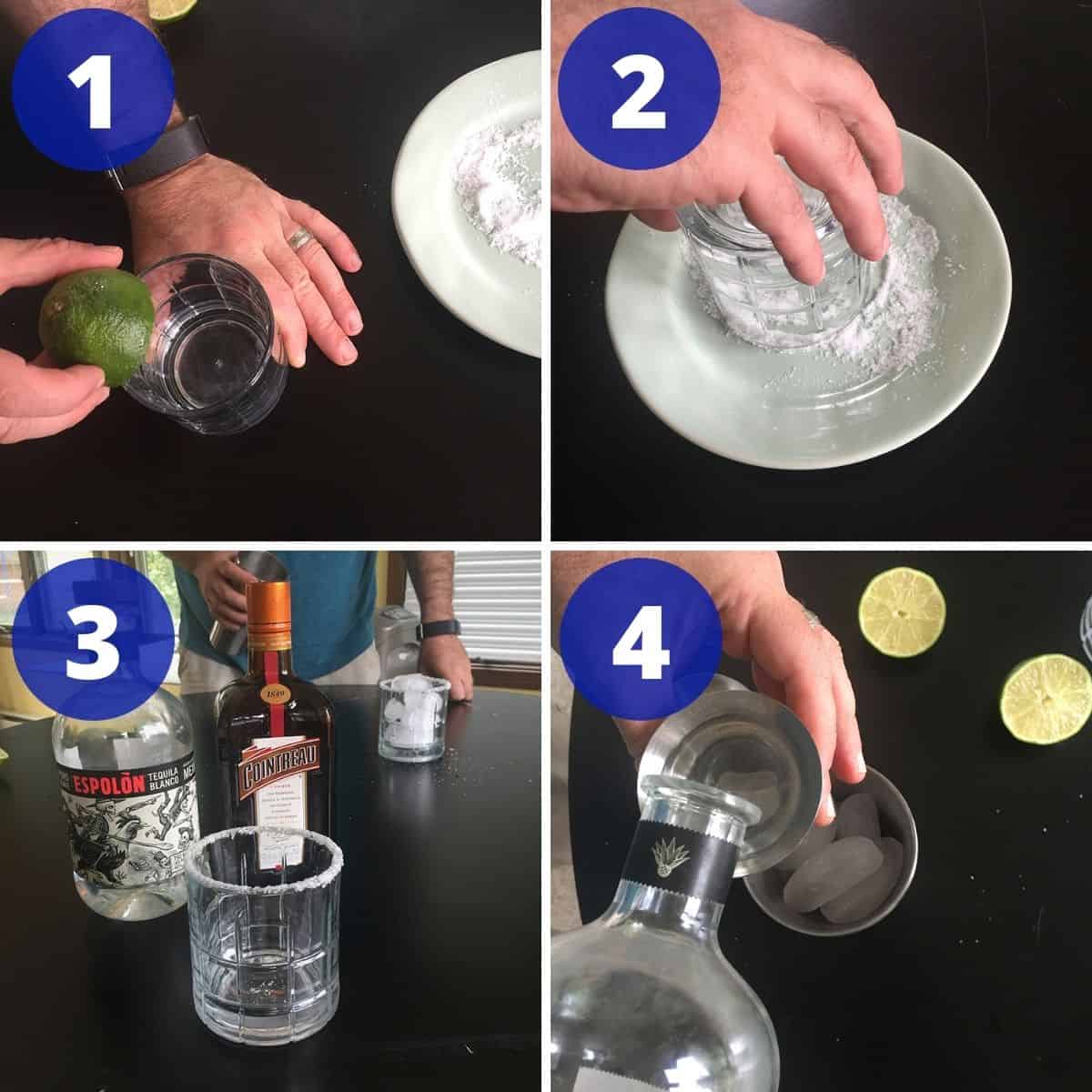 🤷 Substitutions and variations
There are a few ways that this can be changed up.
Tequila Brand - Blanco Tequila is what I use, but you can experiment with other tequilas. I would suggest avoiding the more gold tequilas, but they can also be fine.
Triple Sec - I use a brand called Cointreau, but use what you have or like!
Rim - This cocktail is traditionally rimmed with salt, but you can sweeten it up by using Sugar. You can use flavored salt, as well.
🎓 Margarita History
One thing about food and cocktail history is that it is often filled with myth and marketing, which can muddle the story of a dish. Plenty of muddling goes on with the history of the Margarita, and that is what we will try and wade through today.
We will look at Margarita's history and try to uncover some of the origin stories for the classic cocktail.
Margarita History Baseline - Tequila and Triple Sec!
There is no such thing as a margarita cocktail without tequila and lime, so we can put some definitive timelines around creating this classic drink based on those ingredients.
Tequila Origins - The 1500s
Spanish conquistadors came to North America and were used to harder liquor. They had a taste for brandy, which is twice distilled grapes.
The locals were already making a wine drink from the agave plant. The two cultures fused, and tequila was the end product. All indications are that tequila has been around since the 1500s.
No, the Margarita just did not happen when tequila showed up. It wasn't like 16th Century Jimmy Buffet was just waiting in the corners for tequila to show up so he could create his 16th Century hit "Let me doth take ye, kind sir, to Margaritaville." Other things needed to happen before the cocktail, as we know it, comes to be.
Triple Sec - 1834
I consider triple Sec to be an integral part of the drink and is essential to margarita history. This is also where we can start narrowing things down a bit further.
Triple Sec was invented in 1834, reportedly by a distillery named Combier, which still exists today. By the late 1800s, Triple Sec was a common liquor in the bartender's arsenal of alcohols.
Using this information, I would say our timeline for margarita history has narrowed from 1834 forward, but probably even much later than that. Triple Sec still needed to find notoriety and find its way to tequila.
Tequila was primarily a drink that still lived and breathed in Mexico. Triple Sec was born in Europe.
General Accounts of Margarita History
Most accounts for the origin of the Margarita come from the timeline of about 1930 to 1955. So, I think our best course of action in trying to narrow down the history of these origin stories is to just list them and rate my opinion on their feasibility.
We can cut some of the origin stories out right away due to an advertising campaign in 1945 from Jose Cuervo that featured the Margarita. Because I am interested in the origin story of the Margarita and not the not-origin stories, I am going to leave anything out that has dates following 1945, as I think it is safe to say that they are FALSE.
Carlos Herrera and Marjorie King - Allergies
One of the origin stories involves a bar owner named Carlos Herrera. Herrera reportedly invented the Margarita for Marjorie King in the early 1940s (OR 1938, according to other sources), who was an actress and dancer of the time. King was reportedly allergic to all alcohol except tequila but struggled with the taste.
Herrera pulled together the Margarita, and margarita history was made. According to the LA Times article, Margarita is a Spanish version of Marjorie. I tried to find an interview with Herrera, but I could not find anything, and he passed away in 1992. Possible Origin Truth? Seems Possible
Prohibition Made the Margarita
I own the David Wondrich book, Imbibe!, and he suggests that the Margarita may have simply been a creation from the times of Prohibition. Americans could cross over into Mexico and partake in alcoholic beverages.
There was a casino and golf course that opened up right across the border and was serving tequila drinks as a house drink. Did you know that the Spanish word for daisy is Margarita? Incidentally, there is also a famous cocktail named Daisy and a Rum Daisy recipe. One version of the daisy had virtually the same ingredients as our modern Margarita, minus the tequila.
One thing about drinks in the olden days is that alcohol was often interchangeable for different recipes. So, they may have had a Rum Daisy or a Brandy Daisy or a Whiskey Daisy. This variation was the Tequila Daisy.
The invention of the Margarita may have been the result of Prohibition. This would have placed the creation in the early 30s, and we are unsure when it would have been changed from a Tequila Daisy to a Margarita.
That transition from a Tequila Daisy to a literal Spanish translation of Daisy seems pretty reasonable. Possible Origin Truth? Seems Possible
Francisco Morales at Tommy's Place Bar and Margarita History
I like this origin story quite a bit. The story goes that Francisco invented the drink on the 4th of July in 1942. A woman ordered a magnolia cocktail, but Francisco did not know how to make it.
Instead of telling the truth, he mixed up a drink, and because the name sounded like 'Magnolia", he called it a Margarita. Well, she liked it, and Margarita's history was sealed.
We even have a 1974 interview with Francisco Morales from Texas Monthly that tells the story in his own words. A cool part is that he since moved to the US, became a citizen, and worked a working-class life as a milkman for 25 years before his passing in 1997. Possible Origin Truth? Seems Possible, and we hear it straight from him. I like this one.
Hussong's Cafe
Another popular origin story is that the Margarita was created in 1941 at Hussong's in Baja, MX, by a bartender named Don Carlos Orozo. A German Ambassador to Mexico's daughter, Margarita Henkel, tried it, and the Margarita was born.
While this is a plausible scenario, I have some problems with this version. First, Hussongs does not seem to embrace this story. That raises some suspicions with me when a place like that does not embrace being the inventors of one of the biggest modern cocktails.
Second, outside of Margarita history posts, I barely found any mention of a person named Margarita Henkel. I did find a mention of a person of that name from the 70s with reference to Baja. So, it is plausible that this is the same person.
What really threw me and made me doubt this story is that there was never a German ambassador to Mexico with the last name Henkel. Here is a list of German Ambassadors to Mexico.
It could be that Margarita's last name was changed or that there was some sort of lesser kind of ambassador, perhaps? I did look through a significant portion of that list, looking for a Margarita mentioned but did not find one. That would provide the definitive truth, I suppose.
A normal person might leave it at that. Not me. I went and signed up for the free trial at Ancestry.com to do some research. This further solidified my belief that this is a false origin story in this research.
I did find a few different Margarita Henkels, but one had a father whose name was Eduardo Schweitzer. Another, from Germany, had a maiden name of Bolst. These names are not connected with German Ambassadors to Mexico.
There were two other Margarita Henkel I found that seemed unlikely but could be in the universe of possibility. Very unlikely, but possible. One had a wedding certificate from the 1930s in Arizona, USA to a man named Lindsay Gillis. I did look at Lindsay Gillis and could not find any connection to either Germany or Mexico.
Another was a US census form from Cincinnati, OH, during the 1940 censuses. She could have jet-setted from OH to MX around WWII time. While I cannot 100% nix either of these possibilities, I think it is fair to say that neither of these Margarita Henkels is related to the origin of the Margarita with moderate certainty. I just don't think that THIS Margarita Henkel, referred to in the myth, exists.
Do you know something I do not or see a flaw with my logic? Let me know. I will change this. Possible Origin Truth? I don't think so. Did I just disprove a history myth that has been accepted by many? I think so. Maybe.
There are some other origin stories, but if they occurred after 1945, I just wouldn't cover them in this post, as Jose Cuervo was already advertising Margaritas during that time frame.
We have not narrowed down the exact Margarita history, but I think we have come closer to understanding the history of this classic cocktail. It's time to make a Margarita.
❓ Margarita FAQ
What is the secret to a good margarita?
Ingredients. Fresh lime, good tequila, and the right triple sec. A great margarita does not need to be complicated or fancy. Just use good ingredients and the right ratio of 2 ounces tequila, 1 ounce of triple Sec, and ½ ounce of lime juice.
What is the mix ratio for a classic margarita?
3 parts tequila, 2 parts Triple Sec, and one part lime juice. This specific recipe calls for two ounces of tequila.
📝 Tips and tricks
Use a young Blanco tequila for this margarita recipe
Cointreau is our brand of choice for triple Sec in this recipe
Use fresh limes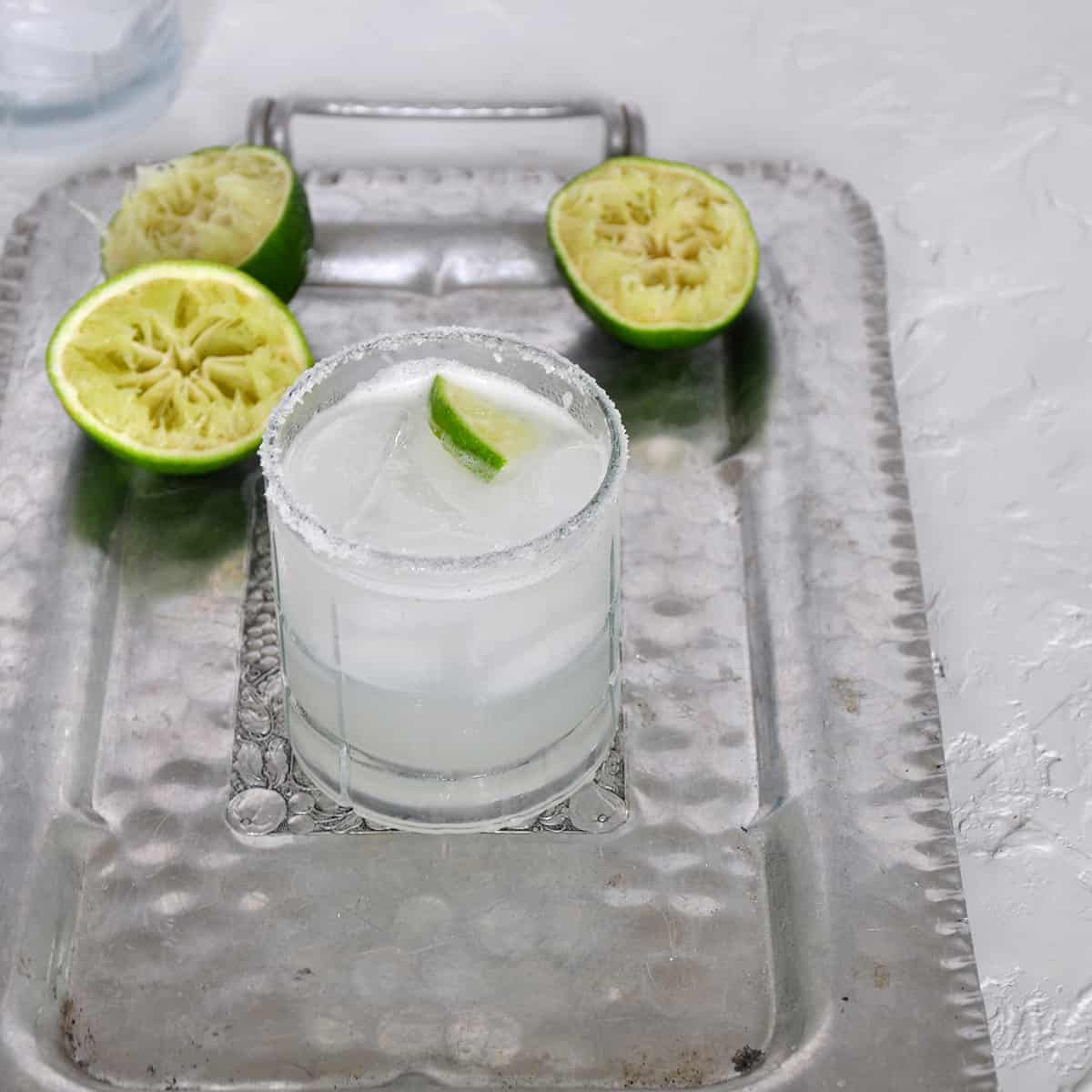 🛠 Products used in this recipe
😋 Did you make this recipe?
That is awesome, and thank you so much for giving this Perfect Margarita recipe a try. If you could leave a rating in the comment area below, it would be greatly appreciated. This lets me know how I am doing and also helps others decide if they want to make this recipe. Most of all, thanks for visiting Ramshackle Pantry.
Print
📖 Recipe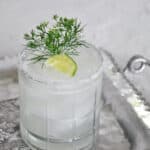 How to Make a Perfect Margarita
Author:

Ben Myhre

Prep Time:

3 Minutes

Cook Time:

2 Minutes

Total Time:

5 Minutes

Yield:

1

Cocktail

1

x

Category:

Cocktails

Method:

Shake

Cuisine:

Mexican
---
Description
This classic cocktail is a perfect Summertime sipper and tropical favorite. The Perfect Margarita Recipe is a beautiful thing and I have you covered right here with this recipe!
---
Ice
Salt, for rimming

2 Ounces

Tequila

1 Ounce

of Cointreau Triple Sec

½ Ounce

Lime Juice (about

½

lime)
Small lime wedge, for garnish
---
Instructions
Fill a lowball glass with ice
Cut whole lime in half and run juicy side along rim of glass
Salt moistened rim
Fill Shaker with ice
Add Tequila, Cointreau, and Lime Juice
Shake for 30 seconds
Strain into glass
Garnish and serve
---
Notes
Use a young Blanco tequila for this margarita recipe
Cointreau is our brand of choice for triple Sec in this recipe
Use fresh limes
Keywords: Perfect Margarita