This post may contain affiliate links. As an Amazon Associate I earn from qualifying purchases. Please read our disclosure policy.
Serve up a spiced pop of Summer flavor with these Grilled Blackened Shrimp. Then, balance it out with our cool refreshing Cilantro Lime sauce recipe.
Quick and easy to make, these go from your grill to your plate in just a few minutes. If you are looking for a great dinner or starter that doesn't need a lot of fuss and muss, give this recipe a try.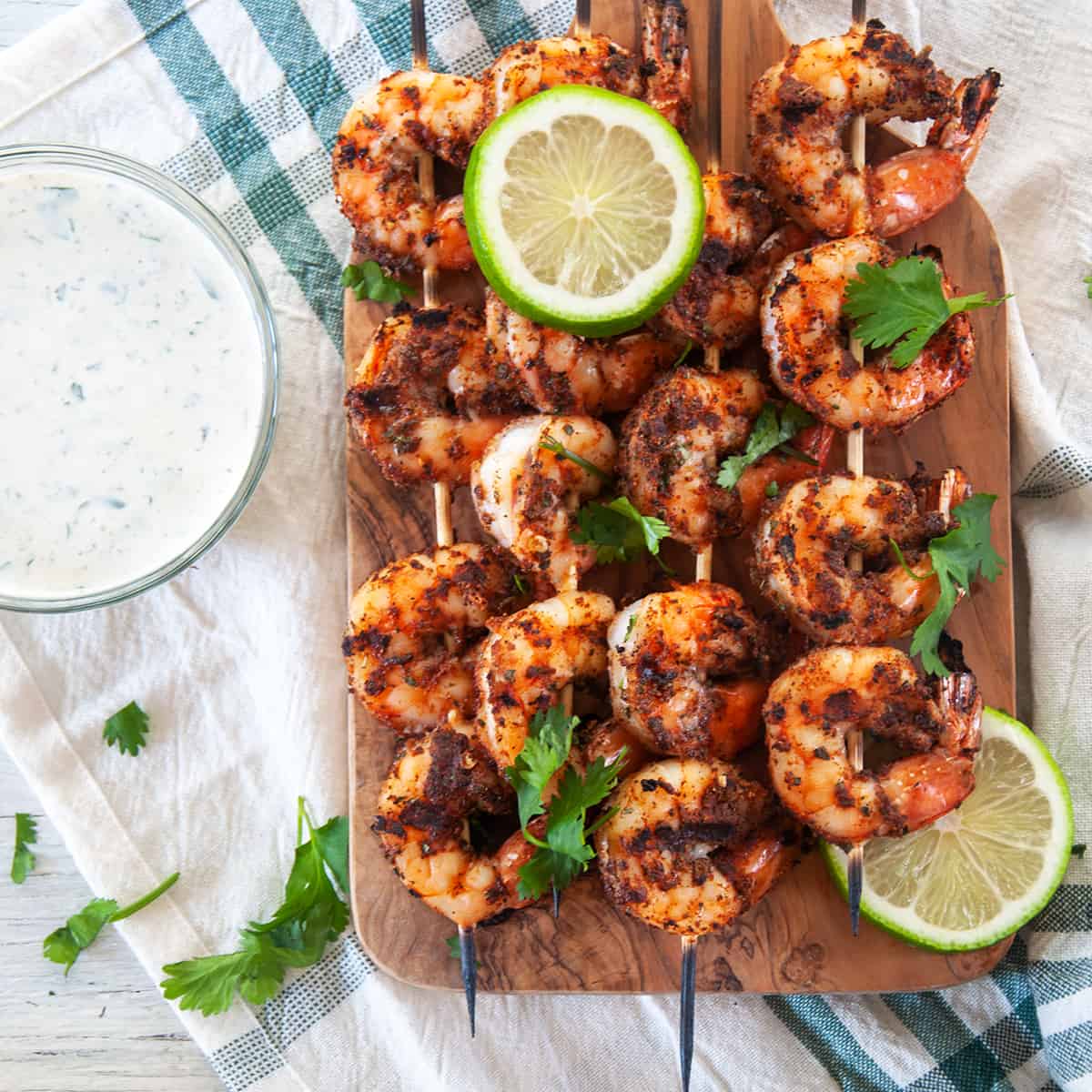 🍤 What makes this recipe special?
A few elements of this recipe make it as special as it is—first, the brine.
Our brine helps moisten the shrimp and gives the best possible flavor. Bringing is a great way to level up a shrimp grilling experience.
Also, the blackening seasoning in this recipe adds a flavorful, wonderful, slightly spicy crust to the shrimp. This unique blackening seasoning is easy and tasty.
Finally, the Cilantro Lime Sauce uniquely contrasts the grilled shrimp skewers. Easy to throw together and a taste bud teaser.
If seafood on the grill is your thing, you can also check out this Grilled Bacon Wrapped Shrimp recipe or Foil Packet Salmon recipe. This Blackened Shrimp Recipe would be perfect with a side of this Watermelon Feta Salad. No matter what you make, make sure to treat yourself!
🔥 Ingredients
Shrimp is the star, but there is more going on! Here is what you will need for this Shrimp recipe:
Salt
Sugar
Water
Shrimp
Pepper
Paprika
Garlic Powder
Onion Powder
Dried Oregano
Cumin
Cayenne pepper
Crushed red pepper
Sour cream
Cilantro
Lime juice
See the recipe card for quantities.
What size of shrimp to use?
I use large, raw, deveined, and tail-on shrimp. Each skewer should comfortably hold four shrimp, but this may depend on the size of your skewers. We, specifically, are using Kirklands Signature 21-25 Count Shrimp.
If you have a different size of shrimp that you want to use, go ahead. You will, however, want to adjust your cooking time to ensure everything is to safe temps.
🍲 Instructions
This is a simple dish. First, much like our recent bacon-wrapped shrimp recipe, I brine the shrimp in salt and water.
While brining, throw together the Cilantro Lime Sauce and set it in the refrigerator. If using wood skewers, now is the time to soak them, too.
Once the shrimp is ready, a quick dip in the easy blackening season to coat the shrimp in flavor. Skewer the blackened shrimp and grill for about 3 minutes and 30 seconds on each side.
Take them off of your grill and serve them with the creamy cilantro lime sauce. Easy, right?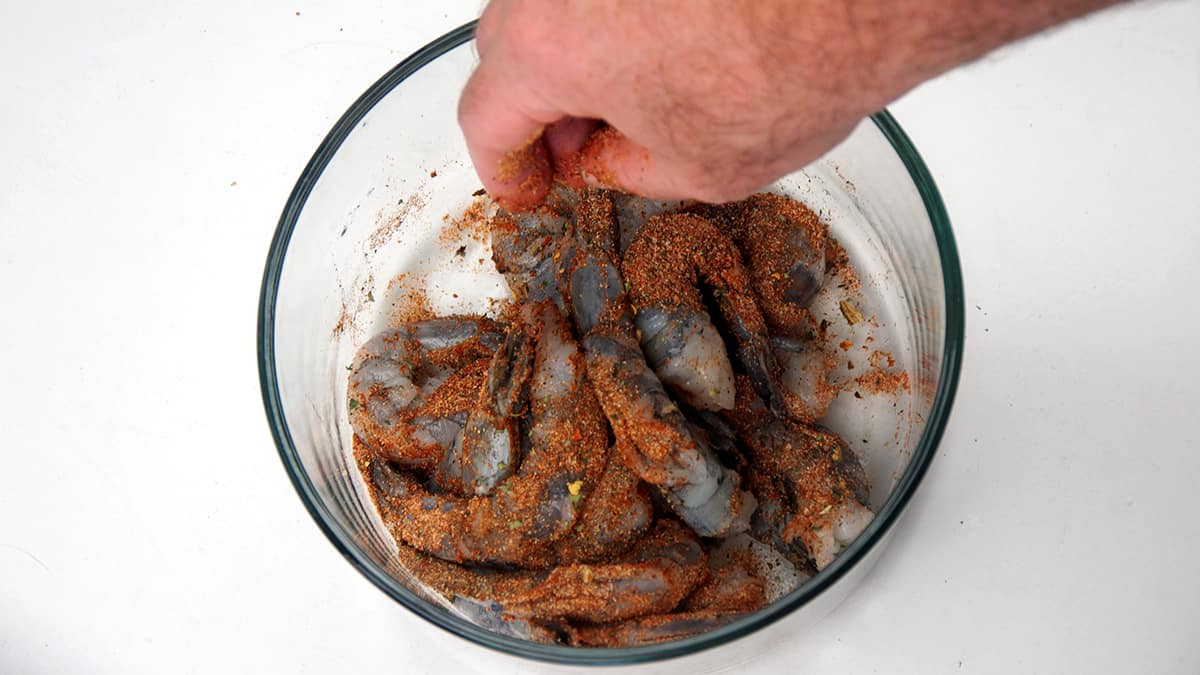 Brining the shrimp
One technique we like to use with grilled shrimp is brining them beforehand in salt and sugar. The salt helps ensure that the shrimp remains tender. The sugar helps ensure it cooks a bit better on the grill.
This step could be skipped, and it would also cut out some prep time, but I really do think it is an important step. Brining shrimp before cooking helps make sure you get the best recipe possible.
Time and temp on the grill
We preheat a lightly oiled grill to 350° Fahrenheit and grill each side for 3 minutes and thirty seconds. Use your best judgment on the time you need for this, but make sure that your shrimp looks to be an appropriate color for food safety.
This recipe should not need that much time on the grill, but you will want to make sure that both sides get a chance to be heated over direct heat. 3 to 4 minutes on each side should be plenty of time.
I do like using both a spatula and tongs when dealing with shrimp, just in case I find some shrimp stilling to my grill grates. If you lightly oil your grill and make sure it is clean, it should be no problem to flip.
Cilantro lime sauce
This recipe makes shrimp that are flavorful and full of spice. The Cilantro Lime sauce brings a light balance to the strong flavors of the shrimp.
You can use any sauce you want to for the shrimp, or none at all, but this is a perfect pairing for the blackened shrimp. Even just some lemon juice would be great. Use what you have, but this sauce is great for this recipe.
The recipe calls for making this while the shrimp is brining, but you can make this up to a day before and save in the refrigerator. This could save you time, and you might benefit from a bit better blending of flavors. That said, it is handy to just make this sauce while you are making the recipe.
🤷 Substitutions and variations
There are a few ways that this can be changed up.
Seasonings – We use several seasonings in the rub and sauce. If you don't like something, omit it. If you love something, you can try adding more! Anything that is similar to a cajun seasoning or belongs in that type of rub would work well.
Brining – The brining is optional but makes for a better final dish.
📦 Storage
The cooked shrimp skewers can be stored in the refrigerator for up to 3-4 days in an airtight container. However, it is recommended to store the cilantro lime sauce separately in a covered container for up to 5-7 days to maintain its freshness and flavor.
You can freeze the cooked shrimp in an airtight container or freezer bag for up to 2-3 months. To reheat, simply thaw the shrimp in the refrigerator overnight and then heat them up in a pan or in the oven until warmed through.
Eating these fresh, however, is ideal.
❓ FAQ
How do I prevent shrimp from sticking to the grill?
To prevent shrimp from sticking to the grill, make sure that the grill grates are clean and well-oiled before cooking. You can also brush the shrimp with a light coat of oil or use a non-stick cooking spray to help prevent sticking. Another tip is to use skewers or a grilling basket to make it easier to flip the shrimp without them falling through the grates.
How do I know when grilled shrimp are cooked?
Grilled shrimp cook very quickly, usually in 2-3 minutes per side, depending on the size of the shrimp. To know when they are cooked, look for the shrimp to turn pink and opaque. Overcooked shrimp will be tough and rubbery, so it's important to keep an eye on them and avoid overcooking.
Can I cook the shrimp in the oven instead of on the grill?
Yes, you can bake the shrimp in the oven at 375°F for 8-10 minutes or until they are cooked through. You can also broil them for 3-4 minutes on each side for a crispier texture.
Can I make cilantro lime sauce ahead of time?
Yes, you can make the cilantro lime sauce up to 24 hours in advance and store it in the refrigerator until ready to use.
📝 Tips and tricks
The brining is optional, but I really recommend it.
If using wood skewers, make sure to soak them for a bit.
You can make the cilantro lime sauce up to a day before.
Preheat to 350° Fahrenheit before cooking on a clean and lightly oiled grill.
Use a Meat Thermometer to make sure everything is at safe temperatures.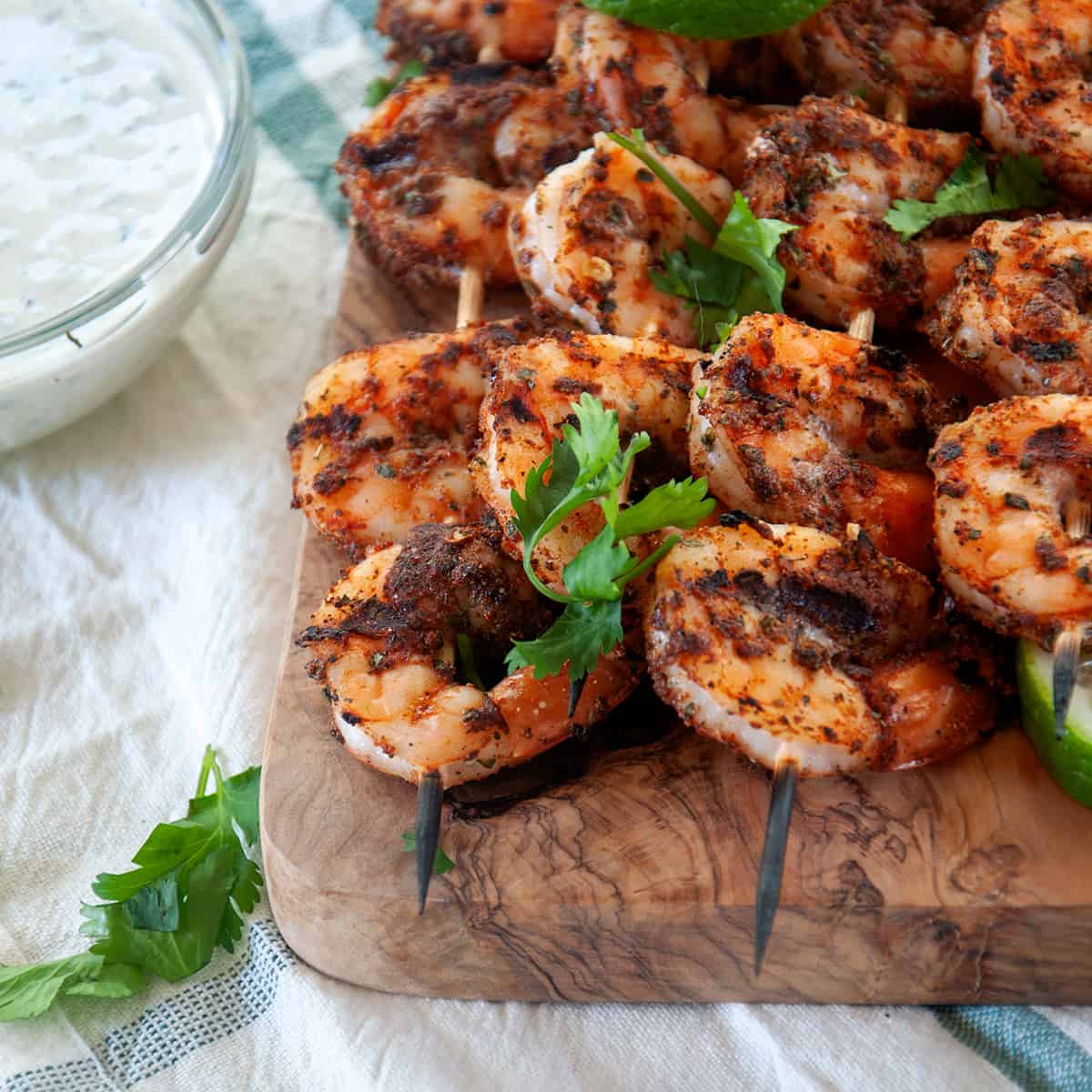 🛠 Products used in this recipe
😋 Did you make this recipe?
That is awesome, and thank you so much for giving this Grilled Blackened Shrimp with Cilantro Lime Sauce recipe a try. If you could leave a rating in the comment area below, it would be greatly appreciated. This lets me know how I am doing and also helps others decide if they want to make this recipe. Most of all, thanks for visiting Ramshackle Pantry.
Print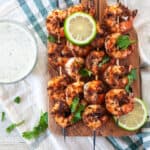 Grilled Blackened Shrimp with Cilantro Lime Sauce
Author:

Ben

Prep Time:

35 minutes

Cook Time:

7 minutes

Total Time:

42 minutes

Yield:

4

skewers

1

x

Category:

Seafood

Method:

Grilling

Cuisine:

American
---
Description
Tasty pops of flavor and bold spice in this Grilled Blackened Shrimp recipe. Don't worry, though, we balance it with a refreshing and creamy Cilantro Lime Sauce. Together, it makes a great Summer pair and perfect for your grill.
---
2 Tablespoons

Salt, for brine

1/4

cup

sugar, for brine

1

quart

Water, for brine

12

Large Shrimp, deveined, shelled, and thawed

1 Teaspoon

Pepper

1 Teaspoon

Paprika

1 1/2 Teaspoon

Garlic Powder

1 Teaspoon

Onion Powder

1 Teaspoon

Dried Oregano

1/2 teaspoon

cumin

1/2 teaspoon

salt

1/4 teaspoon

cayenne pepper

1/4 teaspoon

crushed red pepper
For Cilantro Lime Sauce
1/2

cup

sour cream

1/4

cup

cilantro, finely chopped

1 Tablespoon

lime juice

1 teaspoon

sugar

1/2 teaspoon

salt

1/2 teaspoon

pepper

1/4 teaspoon

garlic powder
---
Instructions
Add Water, 2 Tablespoons Salt, and ¼ cup of sugar to container and mix until combined well
Add shrimp and brine for 30 minutes
If using wood skewers, allow to soak in water for 30 minutes prior to cooking
Mix all Cilantro Lime Sauce in a dish and mix well. You can do this now, but also can do it the night before
Place sauce in refrigerator until ready to use
Combine rest of the dry ingredients into a container and mix.
Once shrimp has soaked/brined for 30 minutes, drain shrimp and toss with dry blackening seasoning we just made.
Skewer shrimp
Lightly oil and preheat grill to 350° Fahrenheit
Cook each skewer over direct medium-high heat for 3 minutes and 30 seconds
Flip and cook for another 3 minutes and 30 seconds.
Remove from grill and serve with cilantro lime sauce.
Notes
The brining is optional, but I really recommend it.
If using wood skewers, make sure to soak them for a bit.
You can make the cilantro lime sauce up to a day before.
Preheat your grill to 350° Fahrenheit before cooking.
Use a Meat Thermometer to make sure everything is at safe temperatures
Nutrition
Serving Size:

1 Skewer

Calories:

248 calories

Sugar:

6 g

Sodium:

789 mg

Fat:

8 g

Saturated Fat:

5 g

Unsaturated Fat:

3 g

Carbohydrates:

9 g

Fiber:

1 g

Protein:

38 g

Cholesterol:

284 mg
Keywords: Blackened Shrimp, Grilled Srhimp